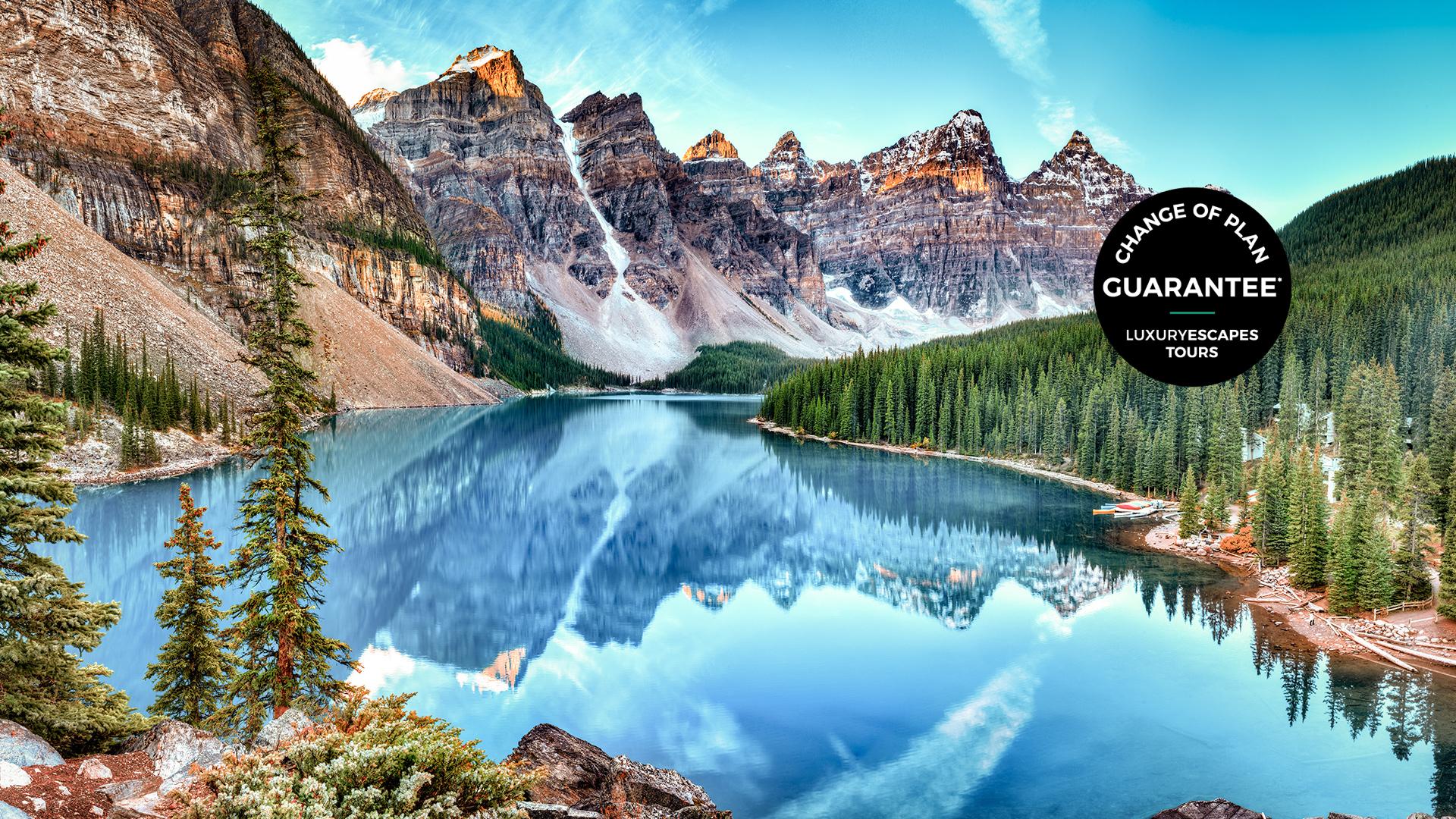 Canadian Rockies 2022: 10-Day Tour with Whale-Watching Cruise & Banff & Jasper National Parks Sightseeing
The untamed grandeur, rugged landscapes and historic sites of the Canadian Rockies await on this spectacular 10-day tour. Watch as the magnificent scenery unfolds before your eyes, travelling from the vibrant city of Calgary to the famed Banff and Jasper National Parks. Marvel at the otherworldly landscapes of Kamloops and Whistler, before arriving in Victoria, the thriving capital of British Columbia, and finishing your tour in Vancouver.
Unbelievable experiences lie waiting to be uncovered, and each day is filled with endless wonder. A bonus inclusion for all Luxury Escapes guests joining the tour is an exhilarating three-hour whale-watching cruise on Victoria's harbour, searching for orcas, minke whales and more. Travel along the Trans-Canada Highway to the rolling foothills of the Rocky Mountains and deep into the heart of Banff, home to Canada's oldest National Park. Travel along the surface of the ancient Athabasca Glacier in Jasper National Park, lay eyes upon beautiful Lake Louise and take a walk on the wild side across the Capilano Suspension Bridge. Get a taste of maritime heritage in Victoria, before arriving in Vancouver, where your tour concludes. Whether you prefer hiking through mountainous national parks, delving deeper into the history of the region or getting your fix of hearty Canadian fare, this incredible tour offers memorable experiences to suit all.
Your tour includes:
Nine nights of handpicked accommodation, including a night at five-star The Sutton Place Hotel Vancouver
Daily breakfast and one dinner
Enjoy an exhilarating three-hour whale-watching excursion in Victoria
Guided city tours in Calgary, Vancouver and Victoria
Tour the famed Lake Louise, Banff and Jasper National Parks
Traverse the Athabasca Glacier via Columbia Icefields Ice Explorer vehicle and step out onto the glacier itself
Spend time in the Butchart Gardens, a floral haven in Victoria
Cross the Capilano Suspension Bridge, offering seven suspended footbridges that offer views 110 feet above the forest floor
Take a ferry cruise through the Gulf Islands to Vancouver Island
The services of an expert tour director and knowledgeable local guides
Transportation in a modern coach
Included porterage at hotels
Provincial taxes included
Your journey takes you to: Calgary – Banff – Jasper – Kamloops – Whistler – Victoria – Vancouver.
Book with confidence: Our Change of Plan Guarantee will permit you to alter your booking, no questions asked up to 90 days before departure. Furthermore, if you are unable to travel as a result of Government travel restrictions, Luxury Escapes will assist you with a date change, provide you with a credit or process a refund for your booking less any non-recoverable costs. See Fine Print for details.
package Options
10 Days from
Valued up to ₱135,014
Inclusion highlights:
Package valid for one person (twin share) – you must purchase TWO packages
Nine nights of handpicked accommodation, including a night at five-star The Sutton Place Hotel Vancouver
Daily breakfast and one dinner
Enjoy an exhilarating three-hour whale-watching excursion in Victoria
Guided city tours in Calgary, Vancouver and Victoria
Tour the famed Lake Louise, Banff and Jasper National Parks
Traverse the Athabasca Glacier via Columbia Icefields Ice Explorer vehicle and step out onto the glacier itself
Spend time in The Butchart Gardens, a floral haven in Victoria
Cross the Capilano Suspension Bridge, offering seven suspended footbridges that offer views 110 feet above the forest floor
Take a ferry cruise through the Gulf Islands to Vancouver Island
The services of an expert tour director and knowledgeable local guides
Transportation by modern tour coach
Included porterage at hotels
Provincial taxes included
10 Days from
Valued up to ₱200,211
Inclusion highlights:
Package valid for one person (solo traveller)
Nine nights of handpicked accommodation, including a night at five-star The Sutton Place Hotel Vancouver
Daily breakfast and one dinner
Enjoy an exhilarating three-hour whale-watching excursion in Victoria
Guided city tours in Calgary, Vancouver and Victoria
Tour the famed Lake Louise, Banff and Jasper National Parks
Traverse the Athabasca Glacier via Columbia Icefields Ice Explorer vehicle and step out onto the glacier itself
Spend time in The Butchart Gardens, a floral haven in Victoria
Cross the Capilano Suspension Bridge, offering seven suspended footbridges that offer views 110 feet above the forest floor
Take a ferry cruise through the Gulf Islands to Vancouver Island
The services of an expert tour director and knowledgeable local guides
Transportation by modern tour coach
Included porterage at hotels
Provincial taxes included