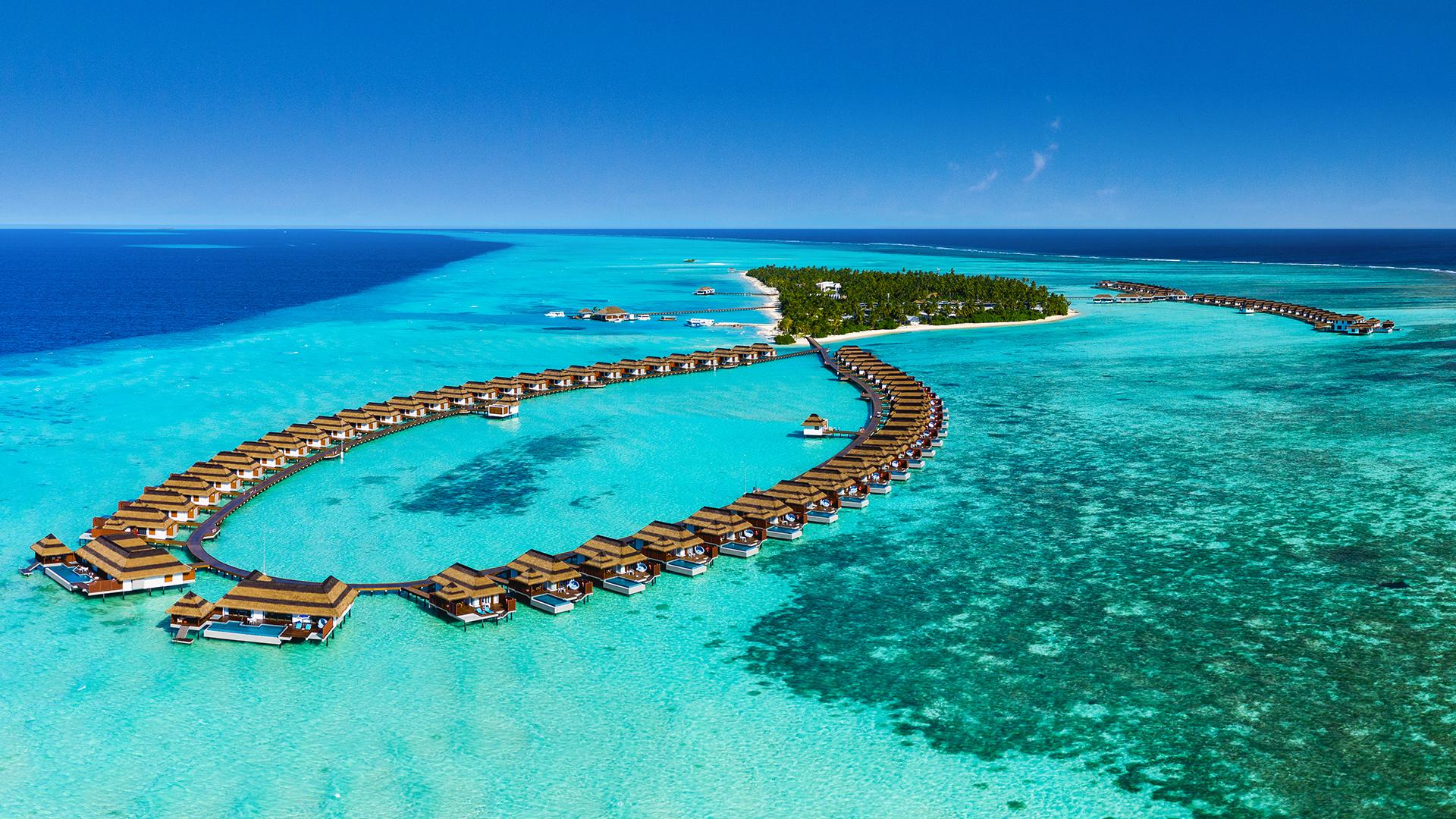 Grand Opening: Ultimate All-Inclusive Pullman Maldives with Unlimited Premium Drinks and Dining
Travel until
Buy now, choose dates later
Lock it in today, choose dates when you're ready
The concept of all-inclusive has been redefined at the brand-new Pullman Maldives Maamutaa. Escape to the most incredible experience of barefoot Maldives luxury with this unbelievable package including daily unlimited dining across six exceptional venues and free-flow premium drinks, including any wine from the 80-bottle 'wine wall'. From a hearty breakfast to a decadent dinner at a choice of three restaurants and a fully stocked minibar replenished twice daily – you will be living like royalty.
Completing this extraordinary escape are return domestic flights (Malé to Koodoo) and speedboat transfers (Koodoo to the resort) plus one-of-a-kind experiences including a tank dive, jet ski safari and Maldives sunset cruise. This is our most incredible all-inclusive deal yet!
Our Tip: Stay eight nights during 2-22 February 2020 and benefit from one exclusive Maldives tandem skydive per person. This incredible experience combines the birds-eye beauty of the Maldives with an unforgettable adrenaline rush and will create memories to last a lifetime (strictly for eight-night stays in February only).
package Options
ALL-INCLUSIVE MALDIVES
Beach Villa
Earn 4,133 KrisFlyer miles
Inclusion highlights:
Inclusions valid for two people
Unlimited all-inclusive à la carte dining across three restaurants and three bars
Free-flow drinks, including premium spirits, sparkling, 'wine wall' with 80 wines and all soft drinks from milkshakes, bubble tea and smoothies to single-origin coffee and specialty teas
Return transfers: complimentary domestic flight from Malé to Kooddoo and speedboat from Kooddoo to the resort
BAREFOOT OCEAN UPGRADE
Ocean Villa
Earn 4,822 KrisFlyer miles
Inclusion highlights:
Inclusions valid for two people
Unlimited all-inclusive à la carte dining across three restaurants and three bars
Free-flow drinks, including premium spirits, sparkling, 'wine wall' with 80 wines and all soft drinks from milkshakes, bubble tea and smoothies to single-origin coffee and specialty teas
Return transfers: complimentary domestic flight from Malé to Kooddoo and speedboat from Kooddoo to the resort
OCEAN POOL VILLA UPGRADE
Ocean Pool Villa
Earn 5,167 KrisFlyer miles
Inclusion highlights:
Inclusions valid for two people
Unlimited all-inclusive à la carte dining across three restaurants and three bars
Free-flow drinks, including premium spirits, sparkling, 'wine wall' with 80 wines and all soft drinks from milkshakes, bubble tea and smoothies to single-origin coffee and specialty teas
Return transfers: complimentary domestic flight from Malé to Kooddoo and speedboat from Kooddoo to the resort
TWO-BEDROOM OCEAN POOL VILLA UPGRADE
Two-Bedroom Ocean Water Villa
Earn 10,334 KrisFlyer miles
Inclusion highlights:
Inclusions valid for four people
Unlimited all-inclusive à la carte dining across three restaurants and three bars
Free-flow drinks, including premium spirits, sparkling, 'wine wall' with 80 wines and all soft drinks from milkshakes, bubble tea and smoothies to single-origin coffee and specialty teas
Return transfers: complimentary domestic flight from Malé to Kooddoo and speedboat from Kooddoo to the resort
*Price is indicative and based on sample return fares (inclusive of booking fees on Low Cost Carriers). To view live pricing, conduct a full search. Luxury Escapes full Terms and Conditions apply