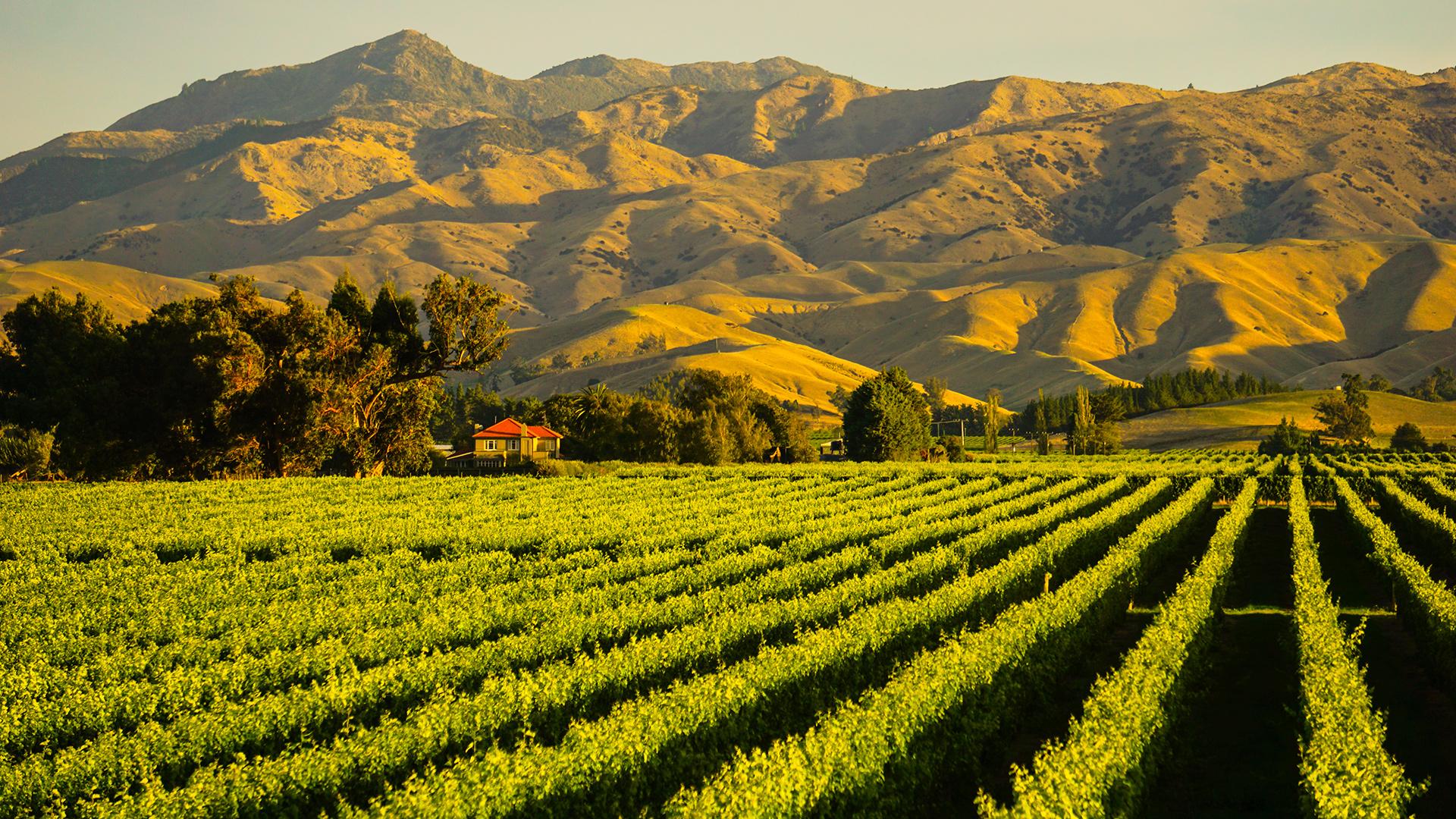 Marlborough Sounds: 6-Day Luxury Small-Group Wine Tour with Decadent Dining, Scenic Cruises & Five-Star Luxe Stay
Leave the living room behind and enjoy your sauvignon blanc in style on this luxurious 6-day small-group tour (max. 12 travellers) through the rolling vineyards, secluded coves and ancient valleys of New Zealand's stunning Marlborough Sounds.
Beginning in Blenheim, the gateway to the iconic Marlborough wine region, enjoy a two-night stay at Blenheim's historic Hotel d'Urville and treat your tastebuds to a fabulous full-day wine tour. Journey through some of the country's most celebrated tipples, from Cloudy Bay's signature chardonnay to Fromm's highly acclaimed pinot noir, and, of course, some of the world's best sauvignon blanc. Continue to picturesque Picton where you'll set sail on a spectacular cruise through the ethereal beauty of Queen Charlotte Sound. Discover a bounty of breathtaking bays and indulge in an exclusive seafood tasting with a jaw-dropping backdrop of forested peaks and ink-blue depths.
Your cruise delivers you to the five-star Bay of Many Coves Resort, a secluded sanctuary set amid 52 hectares of private native bush and bordered by a intricate coastline of sheltered inlets and sandy bays. With three decadent nights at the resort, there's plenty of time to hike through the surrounding forest, kayak around the majestic headlands or idle the days away on your piece of private beach. Join a wilderness expert for a fascinating walk along a pristine section of the Queen Charlotte Track and venture further into untouched paradise: traverse blankets of lush ferns, learn about the region's Māori history and take in unforgettable views across the sound.
You'll also have endless opportunities throughout to share in Marlborough's internationally renowned gourmet heritage with all meals included throughout your tour, in addition to exclusive tastings, fine-dining feasts and a plethora of delicious wines.
Your tour includes:
Five nights of luxury accommodation including two nights at the heritage Hotel d'Urville and three nights at the five-star Bay of Many Coves Resort
All meals throughout your tour including a lavish welcome cheese platter with wine at Hotel d'Urville, a sumptuous seafood tasting onboard your scenic Queen Charlotte Sound cruise, a flavourful feast with wine at Mollies Bar & Restaurant and three fine-dining gourmet experiences with wine at the exclusive Foredeck Restaurant
Pamper your palate with a fabulous full-day wine tour through the magnificent Marlborough region and enjoy exclusive tastings at iconic wineries including Cloudy Bay
Take in the stunning landscapes of the Queen Charlotte Sound on a scenic cruise from picturesque Picton Harbour
Experience the beauty of the Queen Charlotte Track on a guided hike with an expert wilderness guide and gain a fascinating insight into the region's European and Māori history
Cruise through calm waters on a water taxi through the Bay of Many Coves
Enjoy a full day at leisure at the Bay of Many Coves: stroll along the many walking trails, explore the bays by kayak or opt for the once-in-a-lifetime opportunity to swim with wild dolphins
The services of expert driver/guides and knowledgeable local guides
Return transfers from Marlborough/Blenheim Airport (BHE)
Return water taxi transfers
All national park entry fees
Your journey takes you to: Blenheim — Picton — Bay of Many Coves — Blenheim.
Book with confidence: If you are unable to travel as a result of Government travel restrictions, Luxury Escapes will assist you with a date change, provide you with a credit or process a refund for your booking less any non-recoverable costs. See Fine Print for details.
package Options
6 Days From
Valued up to NZ$4,228
Inclusion highlights:
Inclusions valid for one person (twin share) – you must purchase two packages
Five nights of luxury accommodation including two nights at the heritage Hotel d'Urville and three nights at the five-star Bay of Many Coves Resort
All meals throughout your tour including a lavish welcome cheese platter at Hotel d'Urville, a sumptuous seafood tasting onboard your scenic Queen Charlotte Sound cruise, a flavourful feast at Mollies Bar & Restaurant and three fine-dining gourmet experiences at the exclusive Foredeck Restaurant
Pamper your palate with a fabulous full-day wine tour through the magnificent Marlborough region and enjoy exclusive tastings at iconic wineries including Cloudy Bay
6 Days From
Valued up to NZ$4,866
Inclusion highlights:
Inclusions valid for one person (twin share) – you must purchase two packages
Five nights of luxury accommodation including two nights at the heritage Hotel d'Urville and three nights at the five-star Bay of Many Coves Resort
All meals throughout your tour including a lavish welcome cheese platter at Hotel d'Urville, a sumptuous seafood tasting onboard your scenic Queen Charlotte Sound cruise, a flavourful feast at Mollies Bar & Restaurant and three fine-dining gourmet experiences at the exclusive Foredeck Restaurant
Pamper your palate with a fabulous full-day wine tour through the magnificent Marlborough region and enjoy exclusive tastings at iconic wineries including Cloudy Bay
SOLO TRAVELLER (LOW SEASON)
6 Days From
Valued up to NZ$6,289
Inclusion highlights:
Inclusions valid for one person (solo traveller)
Five nights of luxury accommodation including two nights at the heritage Hotel d'Urville and three nights at the five-star Bay of Many Coves Resort
All meals throughout your tour including a lavish welcome cheese platter at Hotel d'Urville, a sumptuous seafood tasting onboard your scenic Queen Charlotte Sound cruise, a flavourful feast at Mollies Bar & Restaurant and three fine-dining gourmet experiences at the exclusive Foredeck Restaurant
Pamper your palate with a fabulous full-day wine tour through the magnificent Marlborough region and enjoy exclusive tastings at iconic wineries including Cloudy Bay
SOLO TRAVELLER (HIGH SEASON)
6 Days From
Valued up to NZ$7,458
Inclusion highlights:
Inclusions valid for one person (solo traveller)
Five nights of luxury accommodation including two nights at the heritage Hotel d'Urville and three nights at the five-star Bay of Many Coves Resort
All meals throughout your tour including a lavish welcome cheese platter at Hotel d'Urville, a sumptuous seafood tasting onboard your scenic Queen Charlotte Sound cruise, a flavourful feast at Mollies Bar & Restaurant and three fine-dining gourmet experiences at the exclusive Foredeck Restaurant
Pamper your palate with a fabulous full-day wine tour through the magnificent Marlborough region and enjoy exclusive tastings at iconic wineries including Cloudy Bay