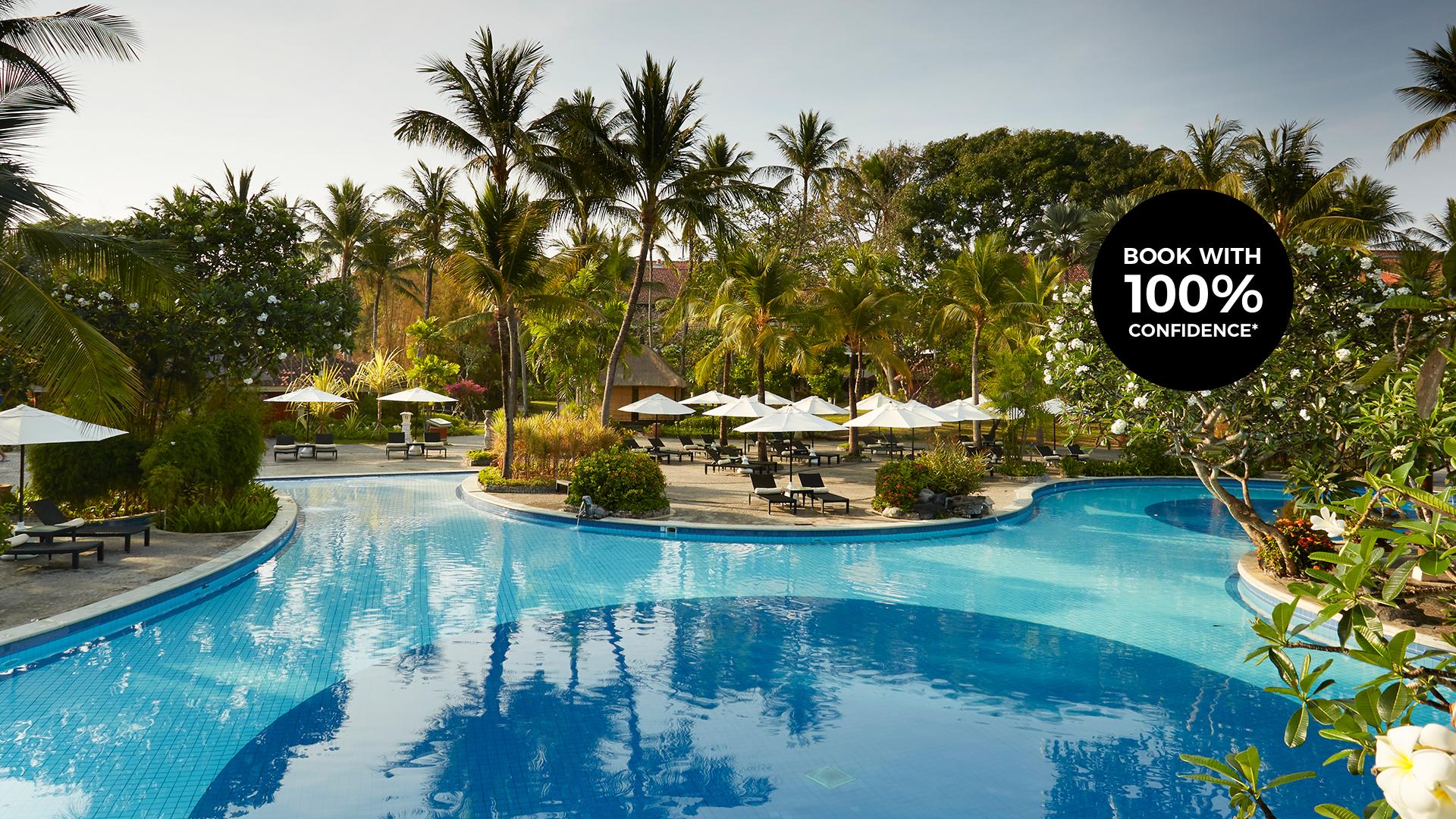 Meliá Bali
Our Best Meliá Bali Deal Ever: All-Inclusive Indulgence with Suite Upgrade & The Level Club Access

Exceptional all-inclusive luxury awaits at the best-selling beachfront Meliá Bali – and one of our most popular deals just got even better... Stay in an upgraded The Level Junior Suite and enjoy access to exclusive The Level benefits, including an adults-only lounge with nightly free-flow cocktails, personalised concierge service, access to a private pool and beach area, and much, much more.
A haven for couples, families or friends, this magnificent resort ensures every whim is catered to. Whether it's a midnight snack, cocktails by the pool or a multi-course feast, you can truly enjoy whatever you want, whenever you want it. Meliá Bali's round-the-clock indulgence takes all-inclusive luxury to a new level.
Perched on the edge of the water and stretching across 10.7 hectares of verdant tropical gardens in Nusa Dua, this idyllic hideaway is what dreams are made of. Ultimate indulgence is assured throughout every moment of your stay as you make use of the 1,500sqm lagoon-style swimming pool, five restaurants serving everything from Japanese teppanyaki to seafood and Balinese specialities, a serene spa, fitness centre, beautiful arrival and departure lounge and more.
Your handpicked inclusions:
All-inclusive unlimited dining: daily buffet breakfast at El Patio, daily lunch at El Patio or Sateria and nightly dinner at Sakura, Lotus Garden, El Patio, Sorrento or Sateria
Unlimited alcoholic and non-alcoholic drinks at all restaurants and bars (local beer and wines, local spirits, cocktails, soft drinks, juices and water)
Complimentary room upgrade from Melia Garden View room to The Level Junior Suite
Unlimited access to The Level Club, including a private pool and beach area, personalised concierge service, nightly free-flow cocktails in The Level Lounge, priority bookings at à la carte restaurants
Arrive in style with airport pick-up from Bali's international airport
Enjoy VIP arrival benefits including personalised check-in/out, a welcome gift and sparkling wine
Make the most of complimentary non-motorised watersports such as canoeing and snorkelling
Daily excursions, including Uluwatu sunset tour, visit to traditional markets or a nearby wine cellar (subject to availability and changes)
Whatever you want, whenever you want it with complimentary 24-hour room service
Keep the indulgence going with daily poolside snacks
Enjoy a complimentary minibar, restocked once daily
Complimentary kids' club access for kids aged 11 years and under
Included ironing of two garments per guest, per stay, on arrival
Pamper yourself with a 25% discount on treatments at YHI Spa
Pool Villa Upgrade: Experience the ultimate hideaway in the gorgeous The Level Garden Villa, separated from the main resort and sheltered by tropical gardens, with access to your own private pool, garden, lounge and outdoor dining area.
Book with 100% Confidence: If for whatever reason you don't want to go on your holiday, you can cancel right up to 14 days before check-in and get a 100% credit to use at Luxury Escapes for any other accommodation offer. Excludes flights, see the Fine Print for details.
package Options
Select your package type
ULTIMATE MELIÁ BALI ESCAPE
The Level Junior Suite
Boasting two floors of luxury and tranquility, this suite is the perfect space to feel at home, complete with gardens views and a generously sized bed
Room Size: 62 m²
Inclusion highlights:
Complimentary upgrade from Melia Garden View room to The Level Junior Suite
All-inclusive unlimited dining: daily buffet breakfast at El Patio, daily lunch at El Patio or Sateria and nightly dinner at Sakura, Lotus Garden, El Patio, Sorrento or Sateria
Unlimited drinks at all restaurants and bars (local beer and wines, local spirits, cocktails, soft drinks, juices and water)
Unlimited access to The Level Club, including a private pool and beach area, personalised concierge service, nightly free-flow cocktails in The Level Lounge, priority bookings at à la carte restaurants and much more
Airport pick-up from Bali's international airport
VIP arrival benefits including personalised check-in and checkout, welcome gift and sparkling wine
Complimentary non-motorised watersports such as canoeing and snorkelling
Daily excursions, including Uluwatu sunset tour, visit to traditional markets or a nearby wine cellar (subject to availability and changes)
Complimentary 24-hour room service
Daily poolside snacks
Complimentary minibar, restocked once daily
Complimentary kids' club access for kids aged 11 years and under
Ironing of two garments per guest, per stay, on arrival
25% discount on treatments at YHI Spa
Check-in: 3pm / Checkout: 12pm
Inclusions valid for up to two guests
THE LEVEL POOL-ACCESS UPGRADE
The Level Lagoon-Access Junior Suite
Step straight into the resort's glittering aquamarine lagoon pool from the private terrace in this expansive suite, the perfect oasis to come home to after sun-kissed day
Room Size: 62 m²
Inclusion highlights:
All-inclusive unlimited dining: daily buffet breakfast at El Patio, daily lunch at El Patio or Sateria and nightly dinner at Sakura, Lotus Garden, El Patio, Sorrento or Sateria
Unlimited drinks at all restaurants and bars (local beer and wines, local spirits, cocktails, soft drinks, juices and water)
Unlimited access to The Level Club, including a private pool and beach area, personalised concierge service, nightly free-flow cocktails in The Level Lounge, priority bookings at à la carte restaurants and much more
Airport pick-up from Bali's international airport
VIP arrival benefits including personalised check-in and checkout, welcome gift and sparkling wine
Complimentary non-motorised watersports such as canoeing and snorkelling
Daily excursions, including Uluwatu sunset tour, visit to traditional markets or a nearby wine cellar (subject to availability and changes)
Complimentary 24-hour room service
Daily poolside snacks
Complimentary minibar, restocked once daily
Complimentary kids' club access for kids aged 11 years and under
Ironing of two garments per guest, per stay, on arrival
25% discount on treatments at YHI Spa
Check-in: 3pm / Checkout: 12pm
Inclusions valid for up to two guests
The Level Family Suite
The whole family will love this expansive split-level Family Room with a master king bedroom with LCD TV, a children's level with twin beds, a main bathroom and a guest powder room on the lower level, plus a balcony overlooking the resort's tropical gardens
Room Size: 62 m²
Inclusion highlights:
All-inclusive unlimited dining: daily buffet breakfast at El Patio, daily lunch at El Patio or Sateria and nightly dinner at Sakura, Lotus Garden, El Patio, Sorrento or Sateria
Unlimited drinks at all restaurants and bars (local beer and wines, local spirits, cocktails, soft drinks, juices and water)
Unlimited access to The Level Club, including a private pool and beach area, personalised concierge service, nightly free-flow cocktails in The Level Lounge, priority bookings at à la carte restaurants and much more
Airport pick-up from Bali's international airport
VIP arrival benefits including personalised check-in and checkout, welcome gift and sparkling wine
Complimentary non-motorised watersports such as canoeing and snorkelling
Daily excursions, including Uluwatu sunset tour, visit to traditional markets or a nearby wine cellar (subject to availability and changes)
Complimentary 24-hour room service
Daily poolside snacks
Complimentary minibar, restocked once daily
Complimentary kids' club access for kids aged 11 years and under
Ironing of two garments per guest, per stay, on arrival
25% discount on treatments at YHI Spa
Check-in: 3pm / Checkout: 12pm
Inclusions valid for up to two adults and two children (11 years and under)
THE LEVEL GARDEN POOL VILLA UPGRADE
The Level Garden Villa
Experience the ultimate hideaway in this gorgeous private pool villa, separated from the main resort and sheltered by tropical gardens, with access to your own private pool, garden, lounge and outdoor dining area
Room Size: 450 m²
Inclusion highlights:
All-inclusive unlimited dining: daily buffet breakfast at El Patio, daily lunch at El Patio or Sateria and nightly dinner at Sakura, Lotus Garden, El Patio, Sorrento or Sateria
Unlimited drinks at all restaurants and bars (local beer and wines, local spirits, cocktails, soft drinks, juices and water)
Unlimited access to The Level Club, including a private pool and beach area, personalised concierge service, nightly free-flow cocktails in The Level Lounge, priority bookings at à la carte restaurants and much more
Airport pick-up from Bali's international airport
VIP arrival benefits including personalised check-in and checkout, welcome gift and sparkling wine
Complimentary non-motorised watersports such as canoeing and snorkelling
Daily excursions, including Uluwatu sunset tour, visit to traditional markets or a nearby wine cellar (subject to availability and changes)
Complimentary 24-hour room service
Daily poolside snacks
Complimentary minibar, restocked once daily
Complimentary kids' club access for kids aged 11 years and under
Ironing of two garments per guest, per stay, on arrival
25% discount on treatments at YHI Spa
Check-in: 3pm / Checkout: 12pm
Inclusions valid for up to two guests