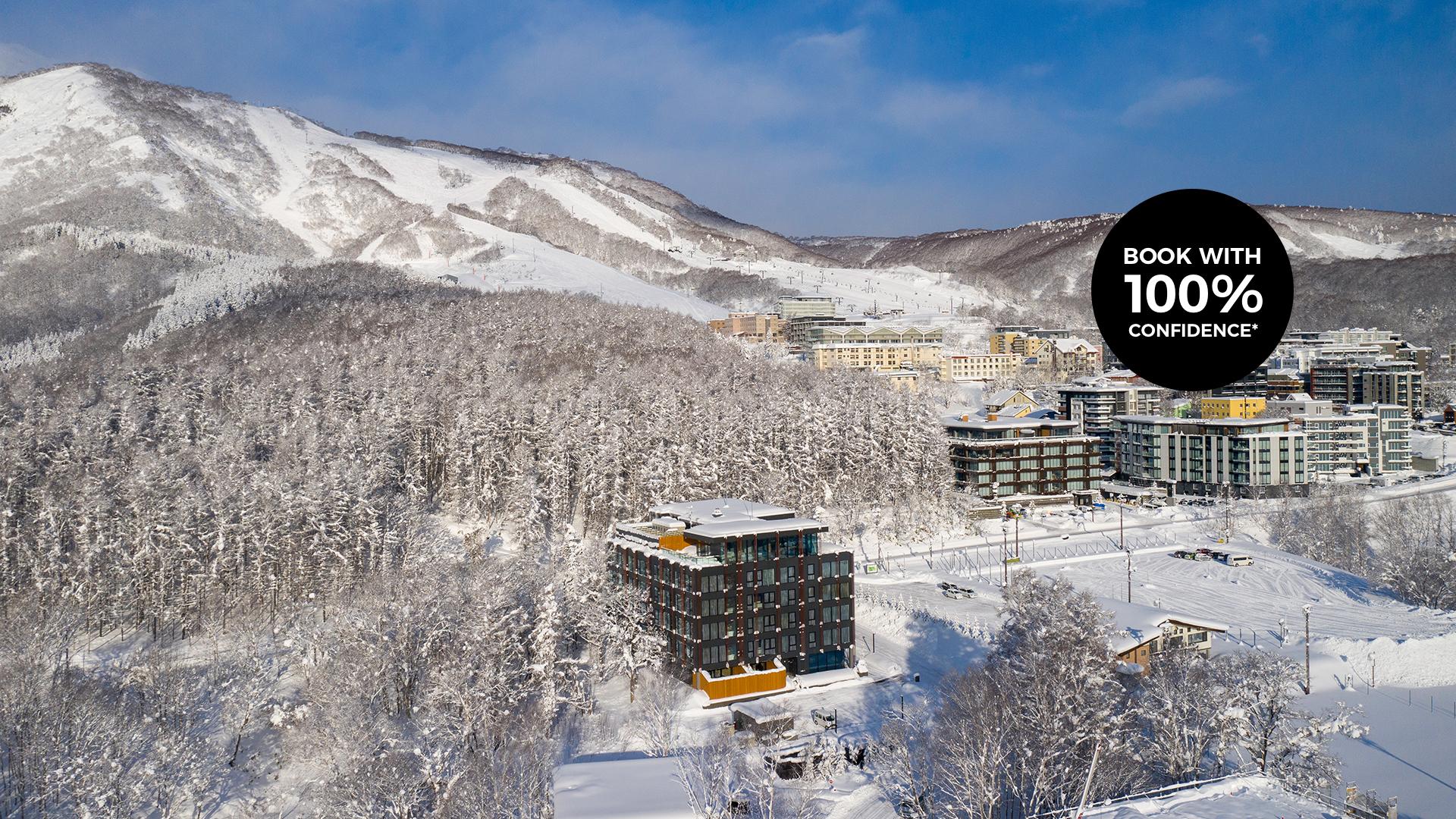 Intuition Niseko
Grand Opening: Niseko Ski Luxury with Daily À La Carte Breakfast, Onsen Access & Travel Until 2023

Encounter a kaleidoscope of winter wonder with an unforgettable stay at the luxuriously appointed, brand-new Intuition Niseko. Hidden within Hokkaido, Japan's premier ski capital, and opening in December 2021, Intuition Niseko invites you to discover the legendary powder of Niseko, take a breath of fresh mountain air and sit back to watch the mist shroud the magnificent Mount Yōtei from within its six storeys.
Discover the vibrancy of Hirafu Village, experience the region's powder-white slopes from the enviably located ski lift and retreat to your private apartment hideaway, nestled within a tranquil forest, where you can soak in the naturally heated thermal waters of the onsite onsen — a quintessentially Japanese experience. Best of all, you can enjoy travel anytime over the next two snow-filled ski seasons!
Your handpicked inclusions:
Start your adventure with daily continental breakfast at the onsite restaurant
Enjoy pure relaxation with complimentary access to the Kagenagashi Onsen
Celebrate your escape with a daily glass of beer, wine or soft drink per person
10% discount on ski lessons, equipment hire and private airport transfers
Family upgrades available: One child (under 12) stays free with daily breakfast when you upgrade to the One-Bedroom Premier Apartment or Two-Bedroom Premier Apartment (valid for up to four guests and one child). Children under 7 receive a free ski lift pass.
Travelling with a larger group? Choose the Two-Bedroom Deluxe or Two-Bedroom Premier Apartment with inclusions for up to four guests. For groups of up to six, choose the Three-Bedroom Yotei Apartment.
Book with 100% Confidence: If for whatever reason you don't want to go on your holiday, you can cancel right up to 30 days before check-in and get a 100% credit to use at Luxury Escapes for any other accommodation offer. Excludes flights, see the Fine Print for details.
package Options
Select your package type
NISEKO GRAND OPENING ESCAPE
Resort Hotel Room
Relax in this elegantly furnished Resort Hotel Room, the perfect place to come home to after a day of skiing or exploring with a serene sitting area and a Nespresso coffee machine
Room Size: 31 m²
Inclusion highlights:
Daily continental breakfast
Complimentary access to the Kagenagashi Onsen
Daily glass of beer, wine or soft drink per person
10% discount on ski lessons, equipment hire and private airport transfers
Check-in: 3pm / Checkout: 10am
Inclusions valid for up to two guests
ONE-BEDROOM DELUXE UPGRADE
One-Bedroom Deluxe Apartment
Make yourself at home in this contemporary, custom-designed apartment, featuring a separate living area with dining and kitchen space
Room Size: 49 m²
Inclusion highlights:
Daily continental breakfast
Complimentary access to the Kagenagashi Onsen
Daily glass of beer, wine or soft drink per person
10% discount on ski lessons, equipment hire and private airport transfers
Check-in: 3pm / Checkout: 10am
Inclusions valid for up to two guests
ONE-BEDROOM PREMIER UPGRADE
One-Bedroom Premier Apartment
Soak up the sun and tranquil views from your light, bright and airy home-away-from-home, complete with your very own lounge area, kitchen and laundry facilities
Room Size: 69 m²
Inclusion highlights:
One child (under 12) stays free with daily breakfast
Daily continental breakfast
Complimentary access to the Kagenagashi Onsen
Daily glass of beer, wine or soft drink per person
10% discount on ski lessons, equipment hire and private airport transfers
Children (under 7) ski free
Check-in: 3pm / Checkout: 10am
Inclusions valid for up to two guests
TWO-BEDROOM DELUXE UPGRADE
Two-Bedroom Deluxe Apartment
Sink into absolute comfort in this two-bedroom, two-bathroom hideaway, complete with a bathtub, custom-designed furnishings, a full kitchen, living and dining area
Room Size: 94 m²
Inclusion highlights:
Daily continental breakfast
Complimentary access to the Kagenagashi Onsen
Daily glass of beer, wine or soft drink per person
10% discount on ski lessons, equipment hire and private airport transfers
Children (under 7) ski free
Check-in: 3pm / Checkout: 10am
Inclusions valid for up to four guests
TWO-BEDROOM PREMIER UPGRADE
Two-Bedroom Premier Apartment
Take a break from the winter wonderland outside and return to the luxury of this two-bedroom, two-bathroom apartment, enviably located on levels 2-6 with a bathtub for post-slope relaxation, a full kitchen and dining area
Room Size: 99 m²
Inclusion highlights:
One child (under 12) stays free with daily breakfast
Daily continental breakfast
Complimentary access to the Kagenagashi Onsen
Daily glass of beer, wine or soft drink per person
10% discount on ski lessons, equipment hire and private airport transfers
Children (under 7) ski free
Check-in: 3pm / Checkout: 10am
Inclusions valid for up to four guests
Three-Bedroom Yōtei Apartment
It doesn't get more heavenly than this three-bedroom, two-bathroom sanctuary: unwind in the deep-soaking bathtub with serene natural vistas, unwind in the open-plan kitchen and dining area or retreat to your private room for a moment of quiet
Room Size: 138 m²
Inclusion highlights:
Daily continental breakfast
Complimentary access to the Kagenagashi Onsen
Daily glass of beer, wine or soft drink per person
10% discount on ski lessons, equipment hire and private airport transfers
Children (under 7) ski free
Check-in: 3pm / Checkout: 10am
Inclusions valid for up to six guests