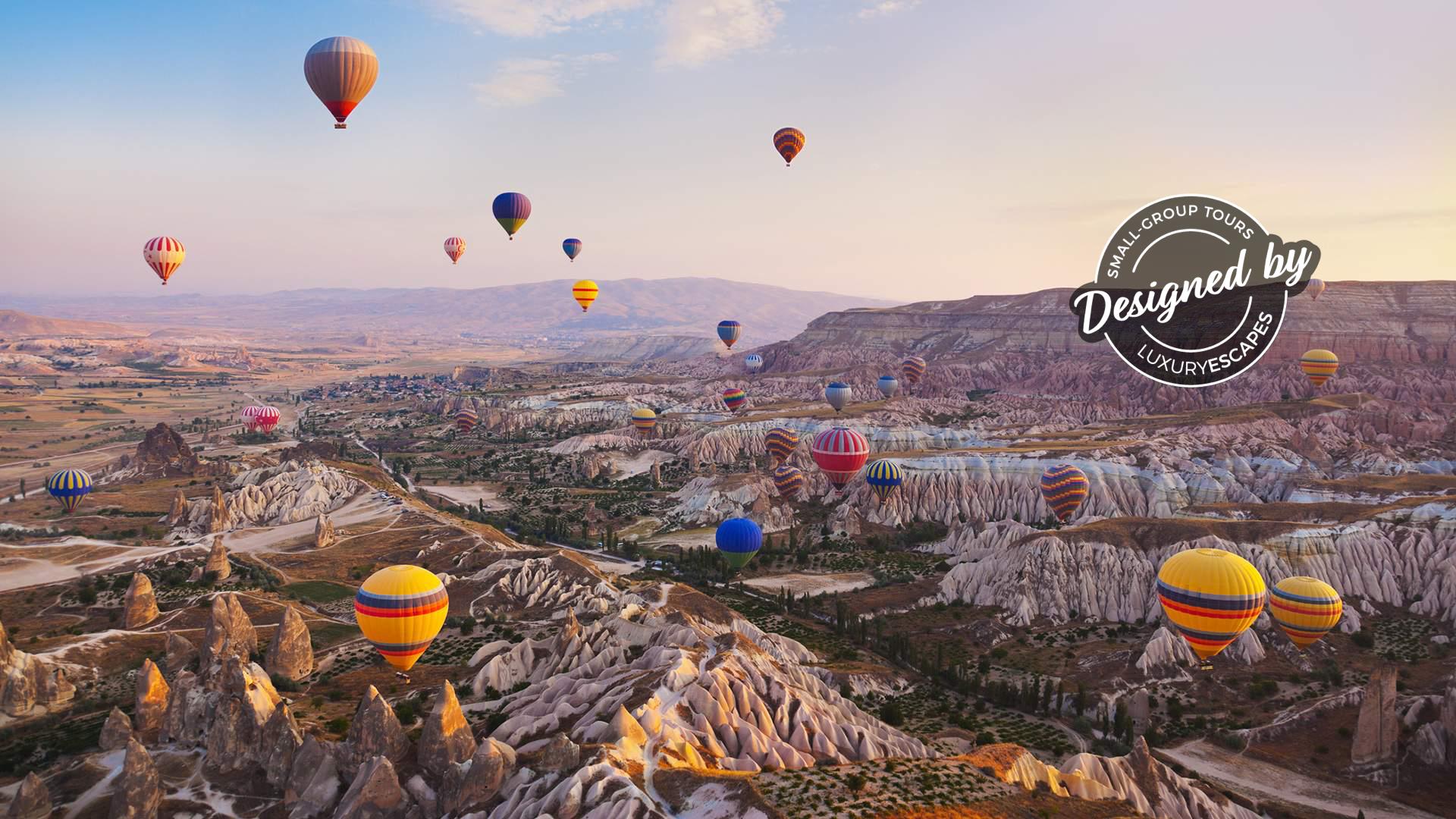 Turkey: 12-Day Luxury Small-Group Ancient History & Culinary Tour with Hot-Air Balloon Ride and Gallipoli Extension
Discover Turkey and its ancient history, wondrous architecture, colourful bazaars and incredible cuisine on a 12-day luxury small-group tour (max. 16 travellers). Float above the valleys of Cappadocia in a hot-air balloon, sail the Mediterranean aboard a traditional gulet and taste authentic local flavours — including a farm-to-plate cooking class in a coastal village and wine tasting in Turkey's deepest underground wine cellar. Includes 11 nights luxury accommodation with stays at Shangri-La Bosphorus and Argos in Cappadocia, daily breakfast and hand-picked gourmet experiences, private transportation, all domestic flights and airport transfers, the services of an expert local, English-speaking guide, insider experiences and so much more.
Gallipoli extension available: Upgrade and extend your tour with two additional nights to visit the UNESCO World Heritage-listed city of Troy and the Gallipoli Peninsula, the scene of one of the most significant battles in Australia and New Zealand's war history.
Your journey takes you to: Istanbul – Bodrum – Pamukkale – Selçuk – Ephesus – Cappadocia – Istanbul.
package Options
12 Days From
Valued up to ₩5,723,412
Sold out
Inclusion highlights:
This package is valid for one person based on twin share — you must purchase two packages
11 nights luxury accommodation including four nights at Shangri-La Bosphorus, two nights at The Marmara Bodrum Hotel, two nights at Celsus Butik, two nights at Argos Hotel and one night at Doga Thermal Health & Spa
Daily breakfast and a selection of gourmet experiences, including a tasting trail through Istanbul's vibrant streets, a farm-to-table traditional Turkish cooking experience, a seafood lunch on board a traditional gulet, dinner with a local Turkish family and more
Domestic flights from Istanbul to Bodrum, Izmir to Kayseri, and Cappadocia to Istanbul
12 Days From
Valued up to ₩7,980,623
Sold out
Inclusion highlights:
This package is valid for one person
11 nights luxury accommodation including four nights at Shangri-La Bosphorus, two nights at The Marmara Bodrum Hotel, two nights at Celsus Butik, two nights at Argos Hotel and one night at Doga Thermal Health & Spa
Daily breakfast and a selection of gourmet experiences, including a tasting trail through Istanbul's vibrant streets, a farm-to-table traditional Turkish cooking experience, a seafood lunch on board a traditional gulet, dinner with a local Turkish family and more
Domestic flights from Istanbul to Bodrum, Izmir to Kayseri, and Cappadocia to Istanbul
14 Days From
Valued up to ₩6,925,168
Sold out
Inclusion highlights:
This package is valid for one person based on twin share — you must purchase two packages
11 nights luxury accommodation including four nights at Shangri-La Bosphorus, two nights at The Marmara Bodrum Hotel, two nights at Celsus Butik, two nights at Argos Hotel and one night at Doga Thermal Health & Spa
Daily breakfast and a selection of gourmet experiences, including a tasting trail through Istanbul's vibrant streets, a farm-to-table traditional Turkish cooking experience, a seafood lunch on board a traditional gulet, dinner with a local Turkish family and more
Domestic flights from Istanbul to Bodrum, Izmir to Kayseri, and Cappadocia to Istanbul
14 Days From
Valued up to ₩9,950,859
Sold out
Inclusion highlights:
This package is valid for one person
11 nights luxury accommodation including four nights at Shangri-La Bosphorus, two nights at The Marmara Bodrum Hotel, two nights at Celsus Butik, two nights at Argos Hotel and one night at Doga Thermal Health & Spa
Daily breakfast and a selection of gourmet experiences, including a tasting trail through Istanbul's vibrant streets, a farm-to-table traditional Turkish cooking experience, a seafood lunch on board a traditional gulet, dinner with a local Turkish family and more
Domestic flights from Istanbul to Bodrum, Izmir to Kayseri, and Cappadocia to Istanbul