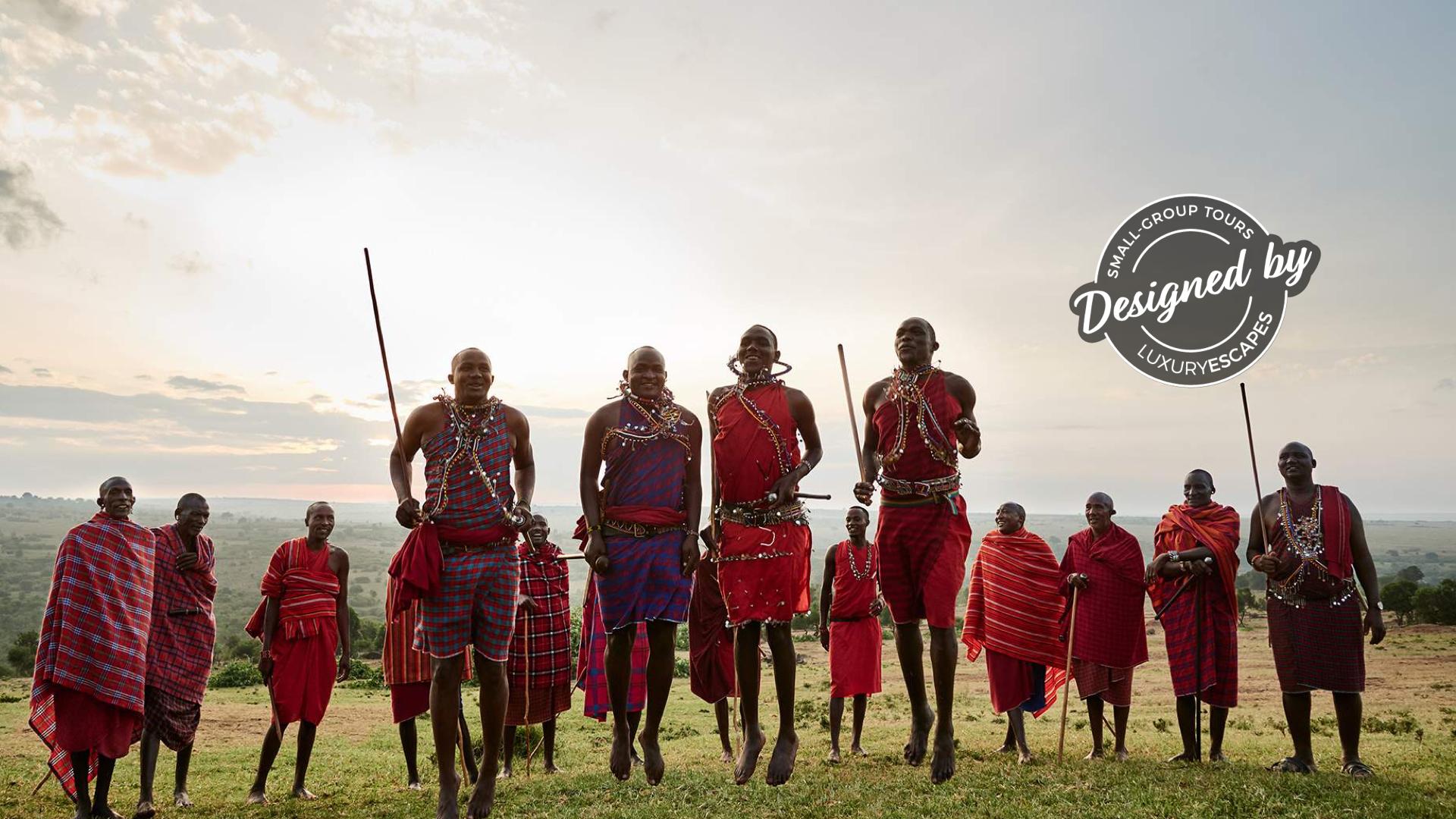 Serengeti & the Maasai Mara: Ultimate 10-Day All-Inclusive Luxury African Safari with Zanzibar Island Extension
Journey to the heart of Africa for the 10-day safari experience of a lifetime through the plains of Tanzania and Kenya's most renowned game reserves. From the depths of the extraordinary Ngorongoro Crater to the wide-open savannahs of the Serengeti and Maasai Mara, there is no better place on earth to experience Africa's finest wildlife. Stay in intimate and glamorous lodges and luxury tented camps located on some of the most iconic sanctuaries in Africa. Enjoy incredible all-inclusive dining and alcoholic drinks, daily morning and afternoon game drives in exclusive custom-built safari vehicles (max. six people per vehicle), spot the iconic 'Big Five' with expert local guides, take part in a thrilling night safari, meet the Maasai community on a cultural village visit and so much more.
Includes nine nights of luxury stays in Tanzania and Kenya, all-inclusive drinks and gourmet dining experiences in breathtaking nature with daily sundowners and canapés, return private transfers and transportation throughout, the services of expert local guides, all sightseeing and entrance fees per itinerary, insider experiences and so much more.
Zanzibar Beach Extension: Extend your tour and see why Zanzibar's beaches stack up as some of the finest in the world, making Lonely Planet's Best in 2020. Stroll the ancient alleyways of the majestic Stone Town, unearth centuries-old landmarks and watch some of the most dazzling sunsets in Africa from the beachfront.
Your journey takes you to: Arusha – Manyara – Ngorongoro Crater Camp – Serengeti National Park – Maasai Mara National Reserve – Nairobi.
Book with confidence: If you are unable to travel as a result of Government travel restrictions, Luxury Escapes will assist you with a date change, provide you with a credit or process a refund for your booking less any non-recoverable costs. See Fine Print for details.
package Options
10 Days From
Valued up to ₩11,014,429
Inclusion highlights:
Packages valid for one person (twin share) – you must purchase two packages
Nine nights of luxury accommodation – including Arusha's newest 5-star hotel the Gran Melia and the newly refurbished Sanctuary Retreats Collection of Ngorongoro Crater Camp, Kichakani Serengeti Camp and Olonana Camp
All-inclusive dining including unique gourmet African bush experiences (from Day 2 onward)
All-inclusive beverages including a selection of soft drinks, house wines, local brand spirits, beers, teas and coffees
10 Days From
Valued up to ₩11,806,322
Inclusion highlights:
Packages valid for one person (twin share) – you must purchase two packages
Nine nights of luxury accommodation – including Arusha's newest 5-star hotel the Gran Melia and the newly refurbished Sanctuary Retreats Collection of Ngorongoro Crater Camp, Kichakani Serengeti Camp and Olonana Camp
All-inclusive dining including unique gourmet African bush experiences (from Day 2 onward)
All-inclusive beverages including a selection of soft drinks, house wines, local brand spirits, beers, teas and coffees
MIGRATION SEASON – TWIN SHARE
10 Days From
Valued up to ₩13,354,875
Inclusion highlights:
Packages valid for one person (twin share) – you must purchase two packages
Nine nights of luxury accommodation – including Arusha's newest 5-star hotel the Gran Melia and the newly refurbished Sanctuary Retreats Collection of Ngorongoro Crater Camp, Kichakani Serengeti Camp and Olonana Camp
All-inclusive dining including unique gourmet African bush experiences (from Day 2 onward)
All-inclusive beverages including a selection of soft drinks, house wines, local brand spirits, beers, teas and coffees
LOW SEASON – SOLO TRAVELLER
10 Days From
Valued up to ₩13,496,599
Inclusion highlights:
Packages valid for one person (solo traveller)
Nine nights of luxury accommodation – including Arusha's newest 5-star hotel the Gran Melia and the newly refurbished Sanctuary Retreats Collection of Ngorongoro Crater Camp, Kichakani Serengeti Camp and Olonana Camp
All-inclusive dining including unique gourmet African bush experiences (from Day 2 onward)
All-inclusive beverages including a selection of soft drinks, house wines, local brand spirits, beers, teas and coffees
HIGH SEASON – SOLO TRAVELLER
10 Days From
Valued up to ₩14,252,460
Inclusion highlights:
Packages valid for one person (solo traveller)
Nine nights of luxury accommodation – including Arusha's newest 5-star hotel the Gran Melia and the newly refurbished Sanctuary Retreats Collection of Ngorongoro Crater Camp, Kichakani Serengeti Camp and Olonana Camp
All-inclusive dining including unique gourmet African bush experiences (from Day 2 onward)
All-inclusive beverages including a selection of soft drinks, house wines, local brand spirits, beers, teas and coffees
MIGRATION SEASON – SOLO TRAVELLER
10 Days From
Valued up to ₩15,671,300
Inclusion highlights:
Packages valid for one person (solo traveller)
Nine nights of luxury accommodation – including Arusha's newest 5-star hotel the Gran Melia and the newly refurbished Sanctuary Retreats Collection of Ngorongoro Crater Camp, Kichakani Serengeti Camp and Olonana Camp
All-inclusive dining including unique gourmet African bush experiences (from Day 2 onward)
All-inclusive beverages including a selection of soft drinks, house wines, local brand spirits, beers, teas and coffees
LOW SEASON – ZANZIBAR BEACH EXTENSION – TWIN SHARE
14 Days From
Valued up to ₩14,146,768
Inclusion highlights:
Packages valid for one person (twin share) – you must purchase two packages
Nine nights of luxury accommodation – including Arusha's newest 5-star hotel the Gran Melia and the newly refurbished Sanctuary Retreats Collection of Ngorongoro Crater Camp, Kichakani Serengeti Camp and Olonana Camp
All-inclusive dining including unique gourmet African bush experiences (from Day 2 onward)
All-inclusive beverages including a selection of soft drinks, house wines, local brand spirits, beers, teas and coffees
HIGH SEASON – ZANZIBAR BEACH EXTENSION – TWIN SHARE
14 Days From
Valued up to ₩14,938,660
Inclusion highlights:
Packages valid for one person (twin share) – you must purchase two packages
Nine nights of luxury accommodation – including Arusha's newest 5-star hotel the Gran Melia and the newly refurbished Sanctuary Retreats Collection of Ngorongoro Crater Camp, Kichakani Serengeti Camp and Olonana Camp
All-inclusive dining including unique gourmet African bush experiences (from Day 2 onward)
All-inclusive beverages including a selection of soft drinks, house wines, local brand spirits, beers, teas and coffees
MIGRATION SEASON – ZANZIBAR BEACH EXTENSION – TWIN SHARE
14 Days From
Valued up to ₩16,486,413
Inclusion highlights:
Packages valid for one person (twin share) – you must purchase two packages
Nine nights of luxury accommodation – including Arusha's newest 5-star hotel the Gran Melia and the newly refurbished Sanctuary Retreats Collection of Ngorongoro Crater Camp, Kichakani Serengeti Camp and Olonana Camp
All-inclusive dining including unique gourmet African bush experiences (from Day 2 onward)
All-inclusive beverages including a selection of soft drinks, house wines, local brand spirits, beers, teas and coffees
LOW SEASON – ZANZIBAR BEACH EXTENSION – SOLO TRAVELLER
14 Days From
Valued up to ₩17,562,554
Inclusion highlights:
Packages valid for one person (solo traveller)
Nine nights of luxury accommodation – including Arusha's newest 5-star hotel the Gran Melia and the newly refurbished Sanctuary Retreats Collection of Ngorongoro Crater Camp, Kichakani Serengeti Camp and Olonana Camp
All-inclusive dining including unique gourmet African bush experiences (from Day 2 onward)
All-inclusive beverages including a selection of soft drinks, house wines, local brand spirits, beers, teas and coffees
HIGH SEASON – ZANZIBAR BEACH EXTENSION – SOLO TRAVELLER
14 Days From
Valued up to ₩18,318,415
Inclusion highlights:
Packages valid for one person (solo traveller)
Nine nights of luxury accommodation – including Arusha's newest 5-star hotel the Gran Melia and the newly refurbished Sanctuary Retreats Collection of Ngorongoro Crater Camp, Kichakani Serengeti Camp and Olonana Camp
All-inclusive dining including unique gourmet African bush experiences (from Day 2 onward)
All-inclusive beverages including a selection of soft drinks, house wines, local brand spirits, beers, teas and coffees
MIGRATION SEASON – ZANZIBAR BEACH EXTENSION – SOLO TRAVELLER
14 Days From
Valued up to ₩17,562,554
Inclusion highlights:
Packages valid for one person (solo traveller)
Nine nights of luxury accommodation – including Arusha's newest 5-star hotel the Gran Melia and the newly refurbished Sanctuary Retreats Collection of Ngorongoro Crater Camp, Kichakani Serengeti Camp and Olonana Camp
All-inclusive dining including unique gourmet African bush experiences (from Day 2 onward)
All-inclusive beverages including a selection of soft drinks, house wines, local brand spirits, beers, teas and coffees