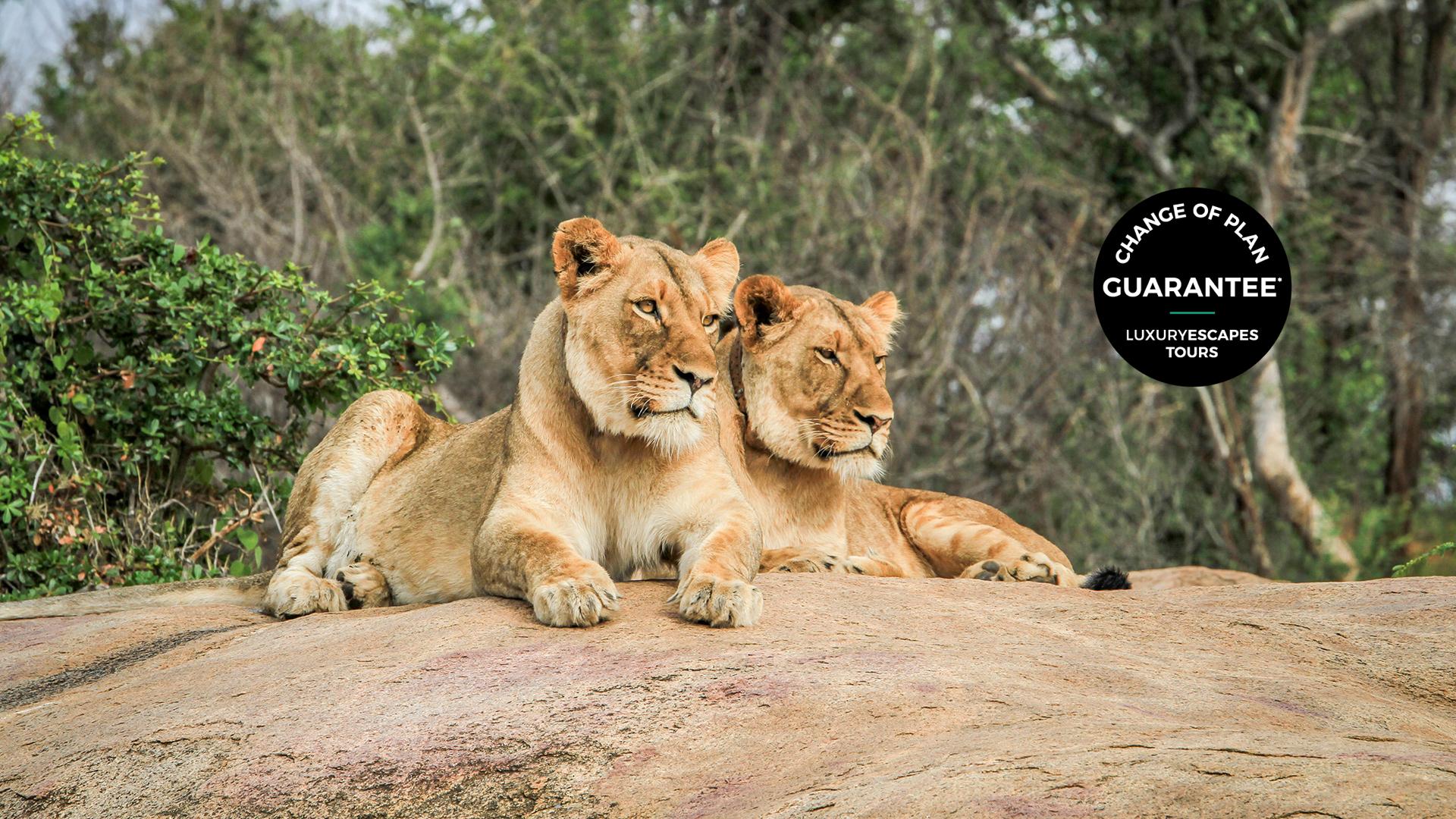 South Africa: 12-Day Small-Group Tour with Garden Route Road Trip & Kruger National Park Game Drives
Teeming with prolific wildlife, glorious landscapes and intricate history, South Africa is a land full of untamed, unmatched and unforgettable experiences. Discover it in all its glory on this unmissable 12-day small-group tour (max. 18 travellers), taking you on a journey from Cape Town to Johannesburg, through some of South Africa's most incredible landscapes.
You will leave no stone unturned as you follow South Africa's ultimate road trip, the Garden Route, gain a fascinating insight into Johannesburg's Apartheid history, experience the best game viewing Africa has to offer in Kruger National Park and dine under the star-swept skies. Visit important historic sites, admire dramatic coastline, trace the iconic Panorama Route and visit unique animal sanctuaries along the way, such as Birds of Eden Sanctuary and Monkeyland Primate Sanctuary.
Your tour includes 11 nights of handpicked accommodation — including a boutique stay in a 1902 Victorian homestead, one night in a 1940s village in Tsitsikamma National Park and three nights at Protea Hotel Kruger Gate by Marriott — daily breakfast, and unique wining and dining experiences as per the itinerary, including a Garden Route local wine estate tasting. Enjoy guided tours and the services of expert English-speaking guides, a one-way internal flight from Port Elizabeth to Johannesburg, a lagoon cruise to Featherbed Nature Reserve, 4WD safaris through Kruger National Park, incredible experiences and so much more.
Your journey takes you to: Cape Town — Mossel Bay — Oudtshoorn — Knysna — Tsitsikamma National Park — Johannesburg — Kruger National Park — Mpumalanga— Johannesburg.
Book with confidence: Our Change of Plan Guarantee will permit you to alter your booking, no questions asked up to 90 days before departure. Furthermore, if you are unable to travel as a result of Government travel restrictions, Luxury Escapes will assist you with a date change, provide you with a credit or process a refund for your booking less any non-recoverable costs. See Fine Print for details.
package Options
2021 TWIN SHARE — LOW SEASON
12 Days From
Valued up to ₩2,610,394
Inclusion highlights:
Inclusions valid for one person (twin share) — you must purchase two packages
Eleven nights of handpicked accommodation — including a boutique stay in a 1902 Victorian homestead, one night in a 1940s village in Tsitsikamma National Park and three nights at Protea Hotel Kruger Gate by Marriott
Daily breakfast, one lunch and four unique dining experiences under the stars
Local wine tasting at a Garden Route wine estate
2021 TWIN SHARE — HIGH SEASON
12 Days From
Valued up to ₩2,666,345
Inclusion highlights:
Inclusions valid for one person (twin share) — you must purchase two packages
Eleven nights of handpicked accommodation — including a boutique stay in a 1902 Victorian homestead, one night in a 1940s village in Tsitsikamma National Park and three nights at Protea Hotel Kruger Gate by Marriott
Daily breakfast, one lunch and four unique dining experiences under the stars
Local wine tasting at a Garden Route wine estate
2022 TWIN SHARE — LOW SEASON
12 Days From
Valued up to ₩2,871,433
Inclusion highlights:
Inclusions valid for one person (twin share) — you must purchase two packages
Eleven nights of handpicked accommodation — including a boutique stay in a 1902 Victorian homestead, one night in a 1940s village in Tsitsikamma National Park and three nights at Protea Hotel Kruger Gate by Marriott
Daily breakfast, one lunch and four unique dining experiences under the stars
Local wine tasting at a Garden Route wine estate
2022 TWIN SHARE — HIGH SEASON
12 Days From
Valued up to ₩2,932,980
Inclusion highlights:
Inclusions valid for one person (twin share) — you must purchase two packages
Eleven nights of handpicked accommodation — including a boutique stay in a 1902 Victorian homestead, one night in a 1940s village in Tsitsikamma National Park and three nights at Protea Hotel Kruger Gate by Marriott
Daily breakfast, one lunch and four unique dining experiences under the stars
Local wine tasting at a Garden Route wine estate
2021 SOLO TRAVELER — LOW SEASON
12 Days From
Valued up to ₩3,066,297
Inclusion highlights:
Inclusions valid for one person (solo traveller)
Eleven nights of handpicked accommodation — including a boutique stay in a 1902 Victorian homestead, one night in a 1940s village in Tsitsikamma National Park and three nights at Protea Hotel Kruger Gate by Marriott
Daily breakfast, one lunch and four unique dining experiences under the stars
Local wine tasting at a Garden Route wine estate
2021 SOLO TRAVELER — HIGH SEASON
12 Days From
Valued up to ₩3,122,249
Inclusion highlights:
Inclusions valid for one person (solo traveller)
Eleven nights of handpicked accommodation — including a boutique stay in a 1902 Victorian homestead, one night in a 1940s village in Tsitsikamma National Park and three nights at Protea Hotel Kruger Gate by Marriott
Daily breakfast, one lunch and four unique dining experiences under the stars
Local wine tasting at a Garden Route wine estate
2022 SOLO TRAVELER — LOW SEASON
12 Days From
Valued up to ₩3,372,927
Inclusion highlights:
Inclusions valid for one person (solo traveller)
Eleven nights of handpicked accommodation — including a boutique stay in a 1902 Victorian homestead, one night in a 1940s village in Tsitsikamma National Park and three nights at Protea Hotel Kruger Gate by Marriott
Daily breakfast, one lunch and four unique dining experiences under the stars
Local wine tasting at a Garden Route wine estate
2022 SOLO TRAVELER — HIGH SEASON
12 Days From
Valued up to ₩3,434,474
Inclusion highlights:
Inclusions valid for one person (solo traveller)
Eleven nights of handpicked accommodation — including a boutique stay in a 1902 Victorian homestead, one night in a 1940s village in Tsitsikamma National Park and three nights at Protea Hotel Kruger Gate by Marriott
Daily breakfast, one lunch and four unique dining experiences under the stars
Local wine tasting at a Garden Route wine estate