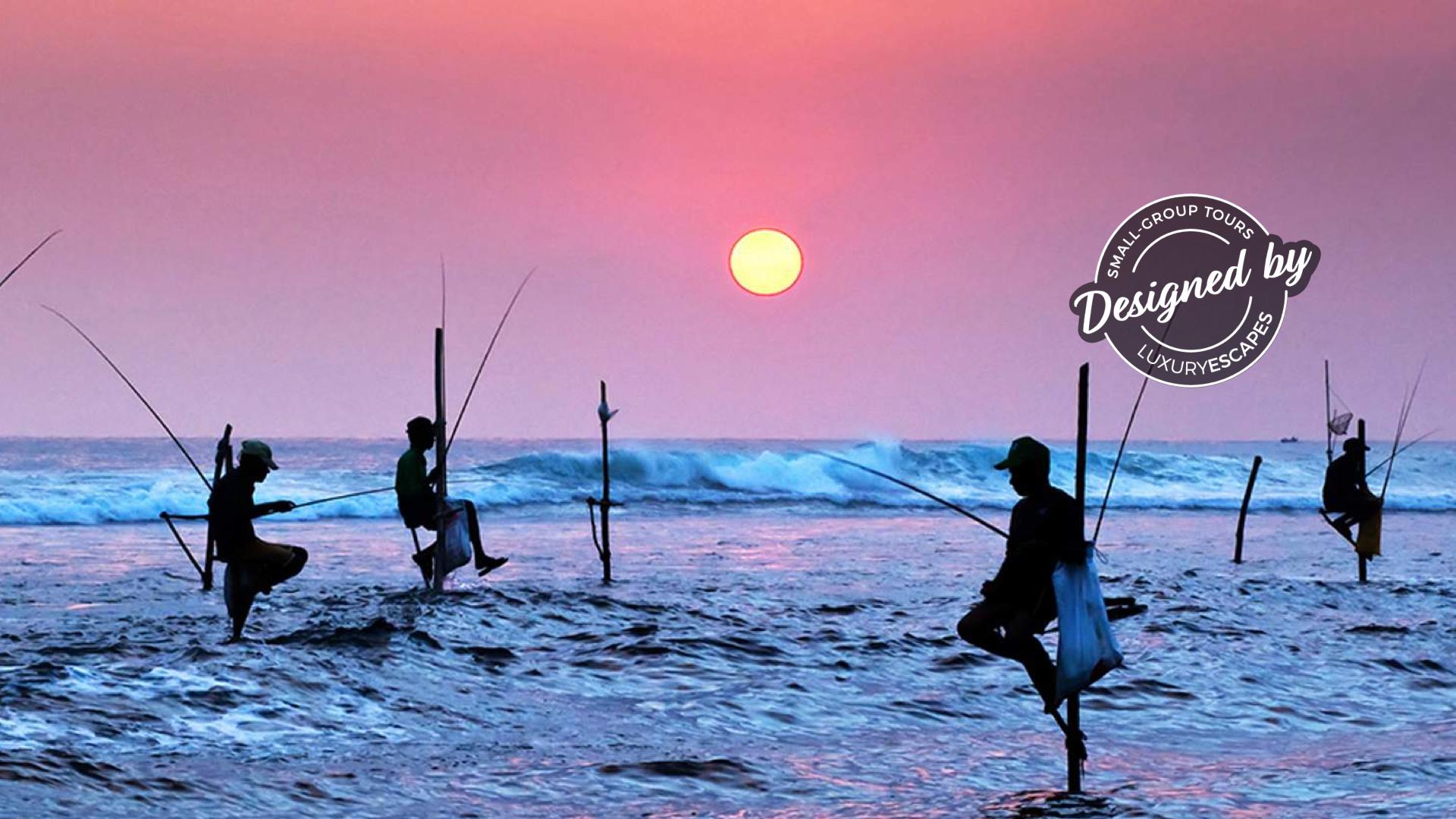 Sri Lanka 2021: A 12-Day Luxury Small-Group Tour through Tea Plantations and Yala National Park with Maldives Extension
Fall in love with the unspoiled beauty of Sri Lanka on this 12-day luxury small-group tour (max. 16 travellers). Stay in five-star style as you journey through the striking landscapes of this island nation and discover the bustling Sri Lankan capital of Colombo, the 150-year old tradition of the tea plantations and the unique game animals of Yala National Park. Includes daily breakfast, a selection of handpicked lunches and dinners, a tea picking experience and high tea in Nuwara Eliya, a thrilling jeep safari, an indulgent massage, private transportation and transfers throughout, expert local guides and insider experiences.
Maldives extension available with a five-day, all-inclusive indulgent escape in an Overwater Villa with return flights from Sri Lanka included.
package Options
Inclusion highlights:
Packages valid for one person (twin share) – low season
11 nights of five-star accommodation across Sri Lanka including two nights at the award-winning Vil Uyana in Sigiriya, a luxurious stay at the newly built Jetwing Kandy Gallery, two nights at the recently refurbished Grand Hotel oozing colonial charm in the heart of the tea plantations in Nuwara Eliya, and a luxury safari stay at the Jetwing Yala surrounded by Yala National Park overlooking the sea, two nights at the newly refurbished Jetwing Lighthouse in Galle, and a night at the historic Galle Face Hotel in Colombo
Daily breakfast and select dining experiences
Experience an unforgettable morning jeep safari tour in Yala National Park
Inclusion highlights:
Packages valid for one person (twin share) – high season
11 nights of five-star accommodation across Sri Lanka including two nights at the award-winning Vil Uyana in Sigiriya, a luxurious stay at the newly built Jetwing Kandy Gallery, two nights at the recently refurbished Grand Hotel oozing colonial charm in the heart of the tea plantations in Nuwara Eliya, and a luxury safari stay at the Jetwing Yala surrounded by Yala National Park overlooking the sea, two nights at the newly refurbished Jetwing Lighthouse in Galle, and a night at the historic Galle Face Hotel in Colombo
Daily breakfast and select dining experiences
Experience an unforgettable morning jeep safari tour in Yala National Park
SOLO TRAVELLER – LOW SEASON
Inclusion highlights:
Packages valid for one person (solo traveller) – low season
11 nights of five-star accommodation across Sri Lanka including two nights at the award-winning Vil Uyana in Sigiriya, a luxurious stay at the newly built Jetwing Kandy Gallery, two nights at the recently refurbished Grand Hotel oozing colonial charm in the heart of the tea plantations in Nuwara Eliya, and a luxury safari stay at the Jetwing Yala surrounded by Yala National Park overlooking the sea, two nights at the newly refurbished Jetwing Lighthouse in Galle, and a night at the historic Galle Face Hotel in Colombo
Daily breakfast and select dining experiences
Experience an unforgettable morning jeep safari tour in Yala National Park
SOLO TRAVELLER – HIGH SEASON
Inclusion highlights:
Packages valid for one person (solo traveller) – high season
11 nights of five-star accommodation across Sri Lanka including two nights at the award-winning Vil Uyana in Sigiriya, a luxurious stay at the newly built Jetwing Kandy Gallery, two nights at the recently refurbished Grand Hotel oozing colonial charm in the heart of the tea plantations in Nuwara Eliya, and a luxury safari stay at the Jetwing Yala surrounded by Yala National Park overlooking the sea, two nights at the newly refurbished Jetwing Lighthouse in Galle, and a night at the historic Galle Face Hotel in Colombo
Daily breakfast and select dining experiences
Experience an unforgettable morning jeep safari tour in Yala National Park