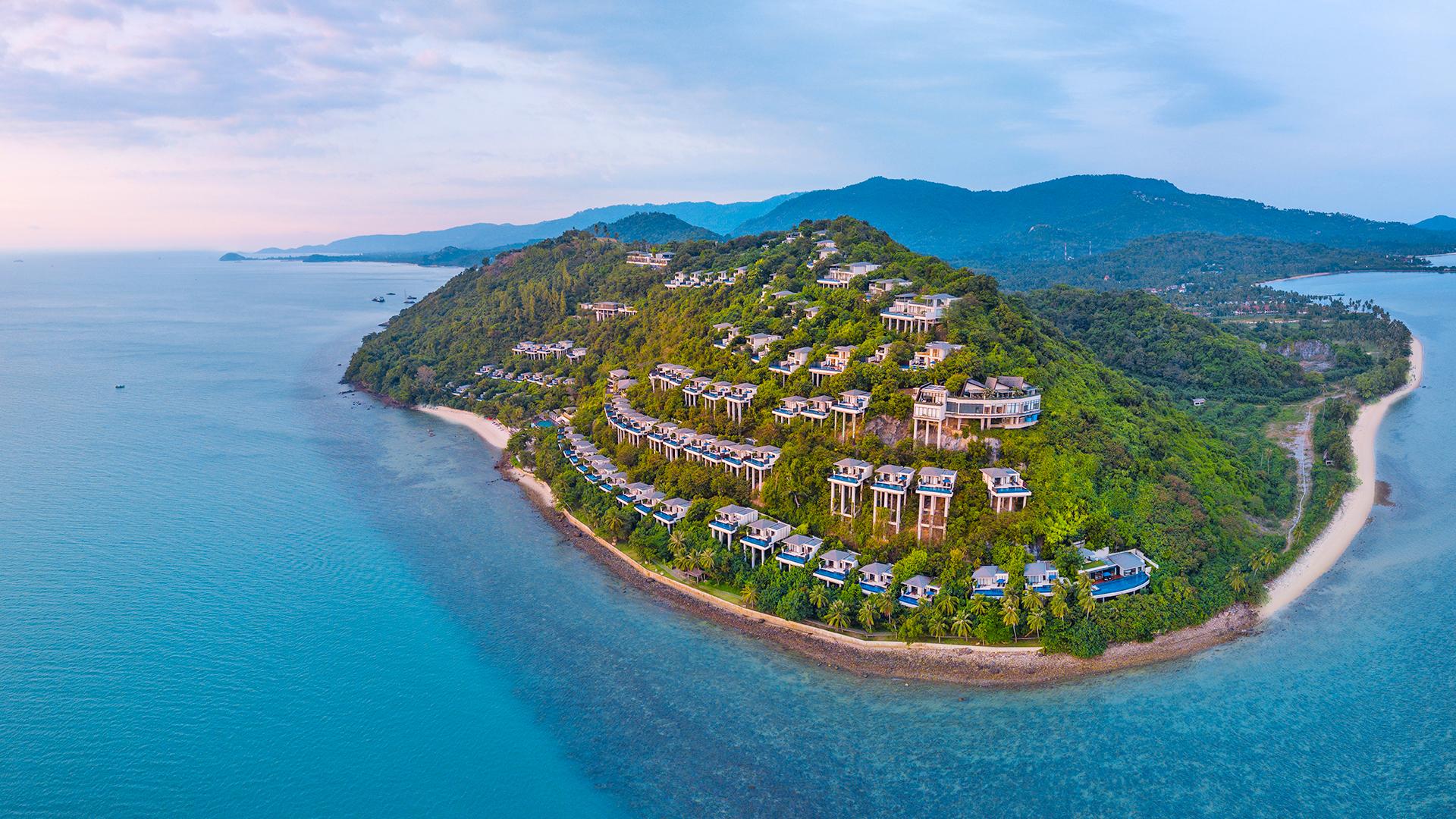 Luxe Pool Villa Retreat with Daily Breakfast, Choice of Lunch or Dinner and Cocktails
On the southern tip of Koh Samui, clinging to a palm-studded headland with stunning Gulf of Thailand vistas, the Conrad Koh Samui feels like a world of its own. Incredibly spacious and luxurious villas – all with infinity pools and sun terraces – stretch across the hillside, offering breathtaking sea views and incredible seclusion just 45 minutes from the airport. Be swept away with daily international buffet breakfast, daily multi-course lunches or dinners, one daily cocktail per adult, one 60-minute spa treatment each and return airport transfers.
Plus, one child (aged 11 years and under) stays free with daily breakfast and your choice of daily lunch or dinner.
package Options
POOL VILLA RETREAT
One-Bedroom Tropical Island Pool Villa
Inclusion highlights:
Inclusions valid for two adults
One signature 11-course degustation dinner at the award-winning Jahn Restaurant
Daily multi-course à la carte lunches or dinners at your choice of Zest or Azure Bar & Grill
Daily buffet breakfast at Zest and daily cocktail per person at KO Lounge
One 60-minute massage per person at Conrad Spa Koh Samui
Private return airport transfers from Samui International Airport
OCEAN VIEW VILLA UPGRADE
One-Bedroom Ocean View Pool Villa
Inclusion highlights:
Inclusions valid for two adults
One signature 11-course degustation dining experience at the award-winning Jahn Restaurant
Daily multi-course à la carte lunches or dinners at your choice of Zest or Azure Bar & Grill
Daily buffet breakfast at Zest and daily cocktail per person at KO Lounge
One 60-minute massage per person at Conrad Spa Koh Samui
Private return transfers from Samui International Airport
VIP FIVE ISLANDS UPGRADE
One-Bedroom Five Islands Pool Villa
Inclusion highlights:
Inclusions valid for two adults
One signature 11-course degustation dining experience at the award-winning Jahn Restaurant
Daily multi-course à la carte lunches or dinners at your choice of Zest or Azure Bar & Grill
Daily buffet breakfast at Zest and daily cocktail per person at KO Lounge
One 60-minute massage per person at Conrad Spa Koh Samui
Private return airport transfers from Samui International Airport
INFINITY VILLA UPGRADE
One-Bedroom Infinity Pool Villa
Inclusion highlights:
Inclusions valid for two adults
One signature 11-course degustation dining experience at the award-winning Jahn Restaurant
Daily multi-course à la carte lunches or dinners at your choice of Zest or Azure Bar & Grill
Daily buffet breakfast at Zest and daily cocktail per person at KO Lounge
One 60-minute massage per person at Conrad Spa Koh Samui
Private return airport transfers from Samui International Airport