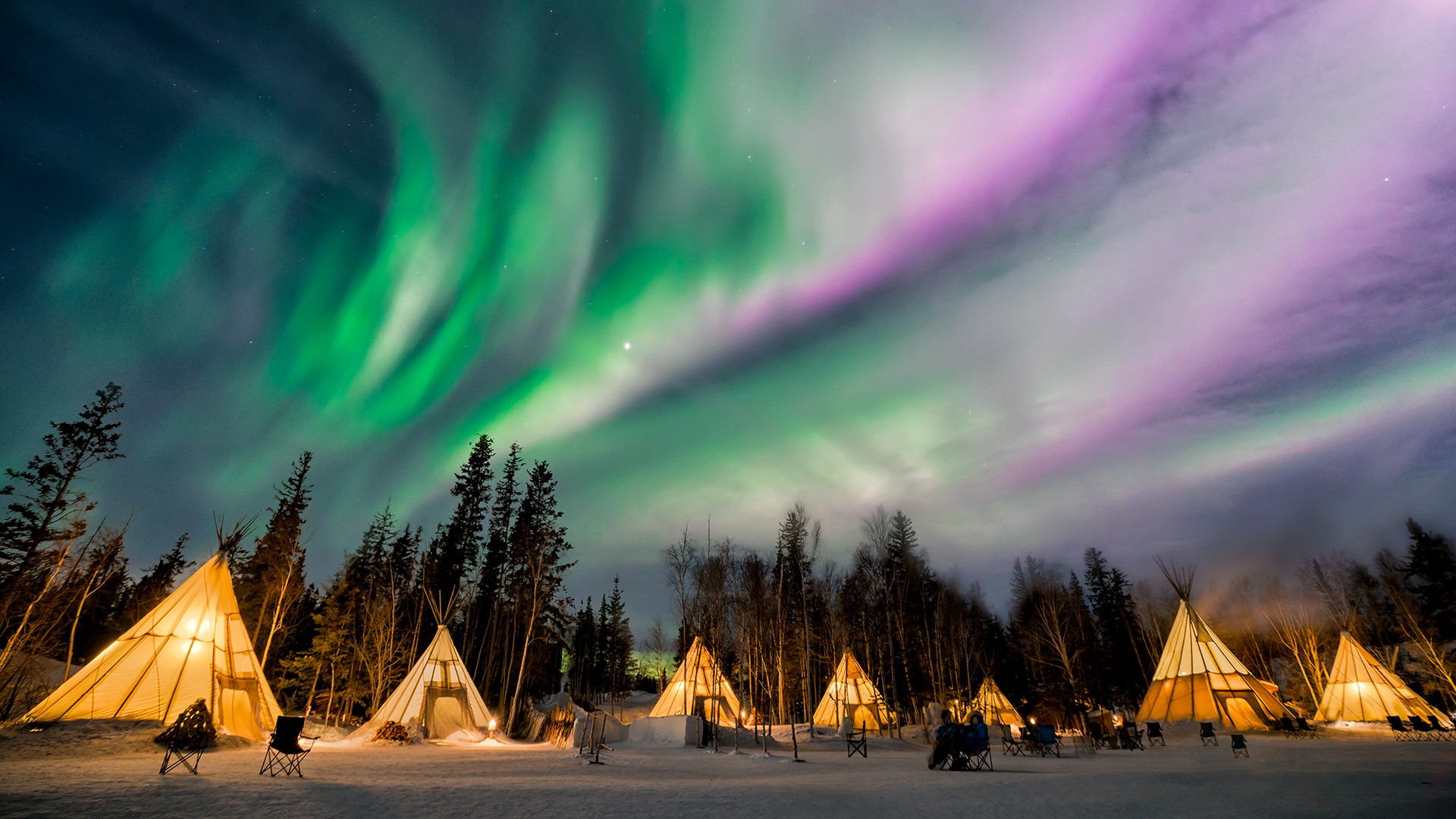 Canada's West: 12-Day Luxury Small-Group Winter Tour with Northern Lights Viewing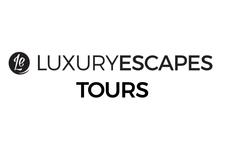 Witness the winter wonderland magic of Canada's West – the best place in the world for watching the spectacular Northern Lights – on a 12-day luxury small-group tour (max. 16 travellers). Experience Vancouver, the vibrant waterfront city with nature on its doorstep, home to foodies' paradise Gastown, where you'll take a progressive food tour with matching wines, beers and cocktails. Then, travel to wildly beautiful Banff National Park for unforgettable moments including an evening ice walk of Johnston Canyon and a picture-perfect sleigh ride through the Rockies. Enjoy two nights at the iconic Fairmont Château Lake Louise, where you'll learn to snowshoe and indulge in a fabulous Fairmont afternoon tea. Chase the Northern Lights in Yellowknife — which enjoys at least 200 starlit viewing nights a year — and warm up by the woodfire in dedicated teepees in Aurora Village, where you can watch the striking Northern Lights dance across the sky from the comfort of heated chairs that spin 360 degrees.
Your journey takes you to: Vancouver – Calgary – Banff — Lake Louise – Calgary – Yellowknife.
Christmas departure available: Experience the wonder of Christmas from this winter wonderland with a special 15 December 2022 departure. Spend Christmas Eve and Day in Yellow Knife's The Explorer Hotel, hidden in a remote tepee village away from the city lights, offering unsurpassed Aurora viewing.
package Options
Twin Share — 2022 — Christmas Departure
12 Days from
Includes taxes & fees
Sold out
Inclusion highlights:
Package valid for one person (twin share) – you must purchase two packages
Includes private room with ensuite throughout tour with king or queen bed, or two bed options
Eleven nights luxury accommodation and feature stays, including two nights at the magical Fairmont Château Lake Louise and three nights in the Aurora capital at The Explorer Hotel, Yellowknife's best hotel
Daily breakfast and select dining experiences, including a traditional afternoon tea at Fairmont Château Lake Louise and a cosy fondue dinner
Three nights of spectacular Northern Lights viewing at Aurora Village, in heated tepees with bespoke heated chairs that spin 360 degrees
Take a guided evening walk of Johnston Canyon in Banff
Dogsled over a frozen lake in Yellowknife and take a sleigh ride through the Canadian Rockies
Ascend in the Banff Gondola to the pinnacle of Sulphur Mountain for 360-degree mountain views
Go mountaintop snowshoeing with an expert guide in Banff National Park
Visit Stanley Park, Granville Island and more on a city tour of Vancouver
Explore the gastronomy of Gastown on a private foodie tour, rated one of the world's best by Forbes
Complimentary loaned winter clothing pack during your stay in Yellowknife, including Canadian goosedown parkas, winter pants, boots, mitts and face mask
Private transportation in custom-designed vehicles
Roundtrip airport transfers and transportation during the tour
Services of expert local and wildlife guides
Domestic flights from Vancouver to Calgary and Calgary to Yellowknife
National park and airport fees
12 Days from
Includes taxes & fees
Sold out
Inclusion highlights:
Package valid for one person (twin share) – you must purchase two packages
Includes private room with ensuite throughout tour with king or queen bed, or two bed options
Eleven nights luxury accommodation and feature stays, including two nights at the magical Fairmont Château Lake Louise and three nights in the Aurora capital at The Explorer Hotel, Yellowknife's best hotel
Daily breakfast and select dining experiences, including a traditional afternoon tea at Fairmont Château Lake Louise and a cosy fondue dinner
Three nights of spectacular Northern Lights viewing at Aurora Village, in heated tepees with bespoke heated chairs that spin 360 degrees
Take a guided evening walk of Johnston Canyon in Banff
Dogsled over a frozen lake in Yellowknife and take a sleigh ride through the Canadian Rockies
Ascend in the Banff Gondola to the pinnacle of Sulphur Mountain for 360-degree mountain views
Go mountaintop snowshoeing with an expert guide in Banff National Park
Visit Stanley Park, Granville Island and more on a city tour of Vancouver
Explore the gastronomy of Gastown on a private foodie tour, rated one of the world's best by Forbes
Complimentary loaned winter clothing pack during your stay in Yellowknife, including Canadian goosedown parkas, winter pants, boots, mitts and face mask
Private transportation in custom-designed vehicles
Roundtrip airport transfers and transportation during the tour
Services of expert local and wildlife guides
Domestic flights from Vancouver to Calgary and Calgary to Yellowknife
National park and airport fees
Solo Traveller — 2022 — Christmas Departure
12 Days from
Includes taxes & fees
Sold out
Inclusion highlights:
Package valid for one person (solo traveller)
Includes private room with ensuite throughout tour with king or queen bed, or two bed options
Eleven nights luxury accommodation and feature stays, including two nights at the magical Fairmont Château Lake Louise and three nights in the Aurora capital at The Explorer Hotel, Yellowknife's best hotel
Daily breakfast and select dining experiences, including a traditional afternoon tea at Fairmont Château Lake Louise and a cosy fondue dinner
Three nights of spectacular Northern Lights viewing at Aurora Village, in heated tepees with bespoke heated chairs that spin 360 degrees
Take a guided evening walk of Johnston Canyon in Banff
Dogsled over a frozen lake in Yellowknife and take a sleigh ride through the Canadian Rockies
Ascend in the Banff Gondola to the pinnacle of Sulphur Mountain for 360-degree mountain views
Go mountaintop snowshoeing with an expert guide in Banff National Park
Visit Stanley Park, Granville Island and more on a city tour of Vancouver
Explore the gastronomy of Gastown on a private foodie tour, rated one of the world's best by Forbes
Complimentary loaned winter clothing pack during your stay in Yellowknife, including Canadian goosedown parkas, winter pants, boots, mitts and face mask
Private transportation in custom-designed vehicles
Roundtrip airport transfers and transportation during the tour
Services of expert local and wildlife guides
Domestic flights from Vancouver to Calgary and Calgary to Yellowknife
National park and airport fees
Solo Traveller — 2022/2023
12 Days from
Includes taxes & fees
Sold out
Inclusion highlights:
Package valid for one person (solo traveller)
Includes private room with ensuite throughout tour with king or queen bed, or two bed options
Eleven nights luxury accommodation and feature stays, including two nights at the magical Fairmont Château Lake Louise and three nights in the Aurora capital at The Explorer Hotel, Yellowknife's best hotel
Daily breakfast and select dining experiences, including a traditional afternoon tea at Fairmont Château Lake Louise and a cosy fondue dinner
Three nights of spectacular Northern Lights viewing at Aurora Village, in heated tepees with bespoke heated chairs that spin 360 degrees
Take a guided evening walk of Johnston Canyon in Banff
Dogsled over a frozen lake in Yellowknife and take a sleigh ride through the Canadian Rockies
Ascend in the Banff Gondola to the pinnacle of Sulphur Mountain for 360-degree mountain views
Go mountaintop snowshoeing with an expert guide in Banff National Park
Visit Stanley Park, Granville Island and more on a city tour of Vancouver
Explore the gastronomy of Gastown on a private foodie tour, rated one of the world's best by Forbes
Complimentary loaned winter clothing pack during your stay in Yellowknife, including Canadian goosedown parkas, winter pants, boots, mitts and face mask
Private transportation in custom-designed vehicles
Roundtrip airport transfers and transportation during the tour
Services of expert local and wildlife guides
Domestic flights from Vancouver to Calgary and Calgary to Yellowknife
National park and airport fees