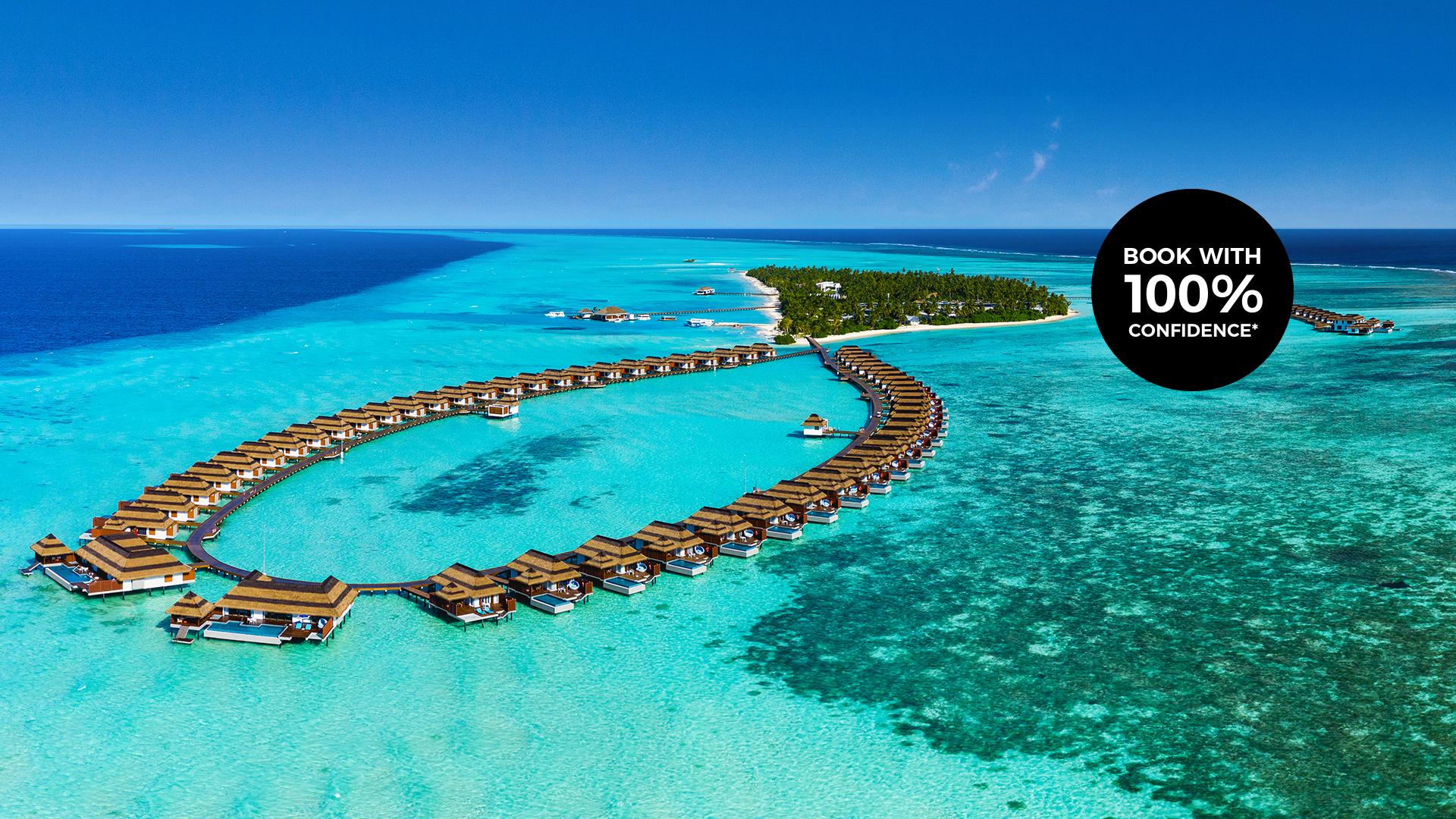 Pullman Maldives Maamutaa Resort
Ultimate All-Inclusive Pullman Maldives with Unlimited Premium Drinks & Dining

The concept of all-inclusive has been redefined at Pullman Maldives Maamutaa. Experience barefoot Maldives luxury with this unbelievable package including daily unlimited dining across six exceptional venues and free-flow premium drinks, including any wine from the 80-bottle 'wine wall'. From a hearty breakfast to a decadent dinner at a choice of three restaurants and a fully stocked minibar replenished twice daily – you will be living like royalty.
A paradise of crystal-clear ocean and dazzling white sand, the Maldives is the quintessential honeymoon destination, a bucket-list experience and one of the most indulgent vacations you'll ever take. Completing this extraordinary escape is roundtrip domestic flights (Malé to Kooddoo and back) and speedboat transfers (Kooddoo to the resort) plus your choice of snorkelling, sunset fishing or a romantic sunset cruise. This is our most incredible all-inclusive deal yet.
Your handpicked inclusions:
Unlimited all-inclusive à la carte dining across three restaurants and three bars
Free-flow drinks, including premium spirits, sparkling, 'wine wall' with 80 wines and all soft drinks from milkshakes, bubble tea and smoothies to single-origin coffee and specialty teas
Roundtrip transfers: complimentary domestic flight to and from Malé to Kooddoo and speedboat from Kooddoo to the resort and back
Choice of ONE of the following per person: 60-minute spa treatment, 30-minute jet ski safari or one tank dive (certified divers only)
Choice of TWO of the following for two: guided snorkelling, sunset fishing or sunset cruise
Minibar replenished twice daily
Travelling with friends and family? Upgrade to a breathtaking Two-Bedroom Ocean Pool Villa (235sqm), with packages valid for four people.
Book with 100% Confidence: If for whatever reason you don't want to go on your holiday, you can cancel right up to 14 days before check-in and get a 100% credit to use at Luxury Escapes for any other accommodation offer. Excludes flights, see the Fine Print for details.
Earn CV Points on this holiday
package Options
Select your package type
Beach Villa
Listen to a soundtrack of rustling palms and gently lapping waves from the indoor-outdoor bath area with two showers and an indulgent island tub in this Beach Villa, where a spacious private terrace catches the sea breeze and a secluded pathway leads from landscaped gardens to the turquoise Indian Ocean
Room Size: 200 m²
Inclusion highlights:
Unlimited all-inclusive à la carte dining across three restaurants and three bars
Free-flow drinks, including premium spirits, sparkling, 'wine wall' with 80 wines and all soft drinks from milkshakes, bubble tea and smoothies to single-origin coffee and specialty teas
Roundtrip transfers: complimentary domestic flights to and from Kooddoo and speedboat to and from the resort
Choice of TWO of the following for two: guided snorkelling, sunset fishing or sunset cruise
Minibar replenished twice daily
Check-in: 2pm / Checkout: 12pm
Inclusions valid for two people
Ocean Villa
There's nothing quite like stepping outside your private villa onto steps that lead directly down from an expansive timber terrace into the turquoise Indian Ocean, lounging on your private deck or watching vibrant marine life through an illuminated glass opening in the floor of this Ocean Villa
Room Size: 160 m²
Inclusion highlights:
Unlimited all-inclusive à la carte dining across three restaurants and three bars
Free-flow drinks, including premium spirits, sparkling, 'wine wall' with 80 wines and all soft drinks from milkshakes, bubble tea and smoothies to single-origin coffee and specialty teas
Roundtrip transfers: complimentary domestic flights to and from Kooddoo and speedboat to and from the resort
Choice of TWO of the following for two: guided snorkelling, sunset fishing or sunset cruise
Minibar replenished twice daily
Check-in: 2pm / Checkout: 12pm
Inclusions valid for two people
Ocean Pool Villa
Nestled above the glistening turquoise lagoon, this Ocean Pool Villa invites you to wake up to endless ocean views and the relaxing sound of waves, and float away in your private pool on the terrace with steps leading directly into the ocean
Room Size: 165 m²
Inclusion highlights:
Unlimited all-inclusive à la carte dining across three restaurants and three bars
Free-flow drinks, including premium spirits, sparkling, 'wine wall' with 80 wines and all soft drinks from milkshakes, bubble tea and smoothies to single-origin coffee and specialty teas
Roundtrip transfers: complimentary domestic flights to and from Kooddoo and speedboat to and from the resort
Choice of TWO of the following for two: guided snorkelling, sunset fishing or sunset cruise
Minibar replenished twice daily
Check-in: 2pm / Checkout: 12pm
Inclusions valid for two people
TWO-BEDROOM OCEAN POOL VILLA UPGRADE
Two-Bedroom Ocean Pool Villa
With direct lagoon access and a private pool, this private villa is the perfect overwater retreat for a family. Unwind in total seclusion with an expansive outdoor area, two bedrooms separated by the living area and two ensuite bathrooms
Room Size: 440 m²
Inclusion highlights:
Unlimited all-inclusive à la carte dining across three restaurants and three bars
Free-flow drinks, including premium spirits, sparkling, 'wine wall' with 80 wines and all soft drinks from milkshakes, bubble tea and smoothies to single-origin coffee and specialty teas
Roundtrip transfers: complimentary domestic flights to and from Kooddoo and speedboat to and from the resort
Choice of TWO of the following for two: guided snorkelling, sunset fishing or sunset cruise
Minibar replenished twice daily
Check-in: 2pm / Checkout: 12pm
Inclusions valid for four people