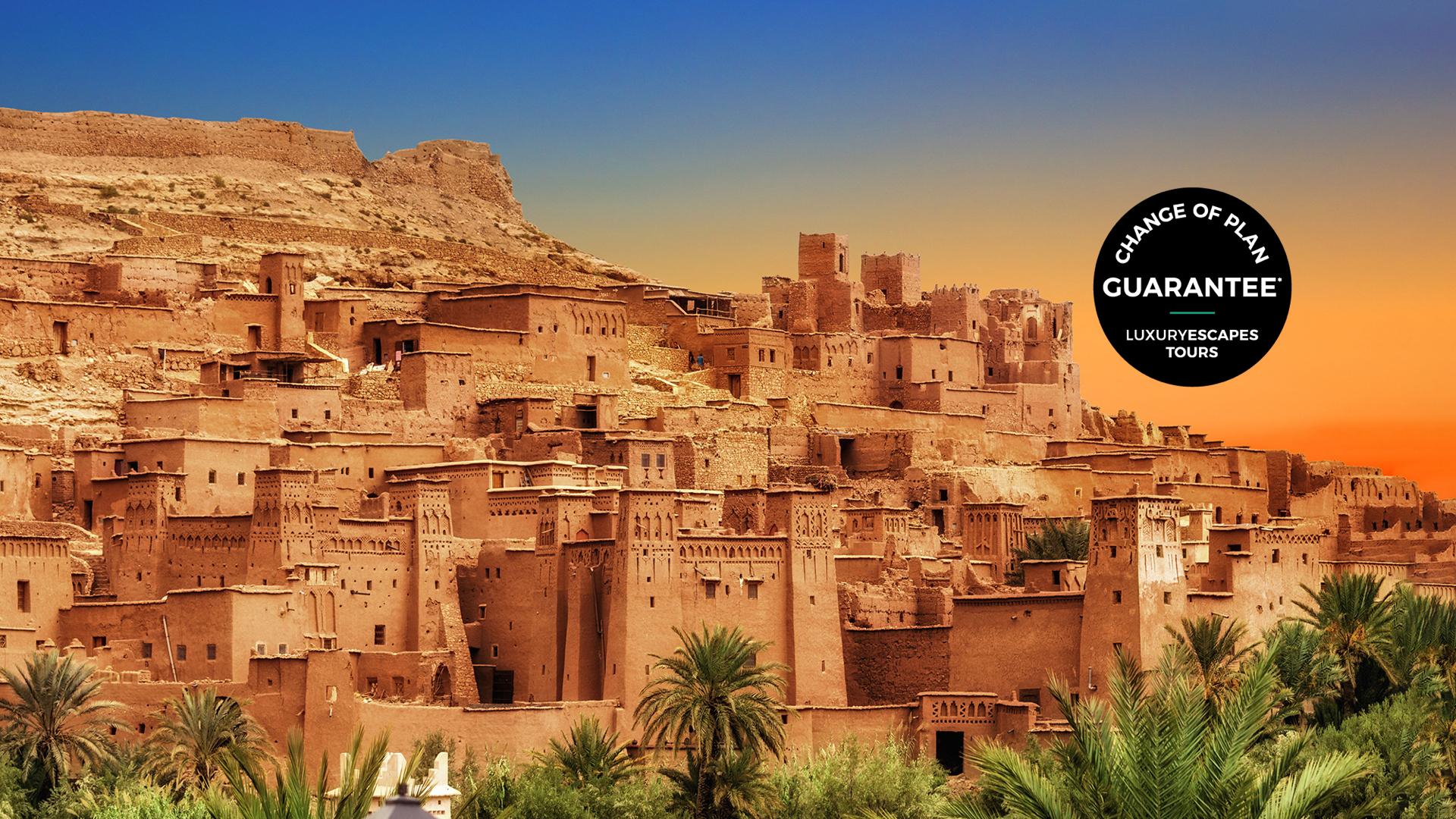 Morocco: 10-Day Small-Group Cultural Tour from Casablanca with Guided Tours, Desert Stays, Camel Ride & Jeep Safari
Unravel the storied wonders of centuries-old ksars, glittering mosaics and carnivalesque bazaars during a 10-day small-group tour of Morocco (max. 12 travellers). Home to grand squares, exotic sights and fragrant cuisine, Morocco's extravagant pleasures are simply tailor-made for travellers. From medieval medinas and sand-swept deserts to sprawling modern cities, its rich spiritual and cultural traditions are felt in every footstep. Uncover it all while staying in premium accommodation, sharing experiences with a small group of like-minded travellers.
Embrace Casablanca's European-flavoured urban sophistication, fall instantly in love with the charm of Fez, slow march across the Sahara astride a camel before stirring up the sand on a 4x4 expedition and stroll between the powder-pink medina mazes in Marrakesh. Accompanied by English-speaking, local guides, traverse the breathtaking landscapes by coach, from rocky deserts to protected kasbahs and rugged sea walls, and everything in between.
Your tour includes:
Nine nights of deluxe accommodation, including the Grand Mogador City Center in Casablanca, Palais Medina & Spa Hotel in Fez and Le Méridien N'Fis in Marrakesh
Daily breakfast and additional dining experiences as specified in the itinerary, including nine breakfasts and eight dinners
A guided tour of Fez, including the Bab Bou Jeloud Gate, Mausoleum of Moulay Idriss, and much more
An unforgettable sunrise experience on camelback and a 4x4 safari in Erfoud
A guided tour of Aït Benhaddou, a UNESCO World Heritage Site and almost 1,000-year-old ksar, now used as a Hollywood movie set
Meet with a local Berber family over homemade tea
Enjoy an evening at the Fantasia Moroccan Dinner and Cultural Show
Dive into the labyrinth-like bazaars around Jemaa El-Fnaa Square, Marrakesh
Visit an argan oil cooperative in one of the only argan oil-producing regions in the world
Watch a stunning sunset over the ocean at Rick's Café — a recreated café inspired by the movie Casablanca
All sightseeing and entrance fees as detailed in the itinerary
The services of an expert local travel director
Hotel taxes and porterage fees
Tips at hotels and restaurants
Complimentary Wi-Fi where possible
Private airport transfers and air-conditioned transportation throughout
Your journey takes you to: Casablanca — Rabat — Meknes — Fez — Midelt — Erfoud — Tinghir — Ouarzazate — Aït Benhaddou — Marrakesh — Essaouira — Casablanca.
Book with confidence: Our Change of Plan Guarantee will permit you to alter your booking, no questions asked up to 90 days before departure. Furthermore, if you are unable to travel as a result of Government travel restrictions, Luxury Escapes will assist you with a date change, provide you with a credit or process a refund for your booking less any non-recoverable costs. See Fine Print for details.
package Options
10 Days from
Valued up to ₹219,346
Inclusion highlights:
Packages valid for one person (twin share) – you must purchase two packages
Nine nights of deluxe accommodation, including the Grand Mogador City Center in Casablanca, Palais Medina & Spa Hotel in Fez and Le Méridien N'Fis in Marrakesh
Daily breakfast and additional dining experiences as specified in the itinerary, including nine breakfasts and eight dinners
A guided tour of Fez, including the Bab Bou Jeloud Gate, Mausoleum of Moulay Idriss, and much more
An unforgettable sunrise experience on camelback and a 4x4 safari in Erfoud
A guided tour of Aït Benhaddou, a UNESCO World Heritage-listed site and almost 1,000-year-old ksar, now used as a Hollywood movie set
Meet with a local Berber family over homemade tea
Enjoy an evening at the Fantasia Moroccan Dinner and Cultural Show
Dive into the labyrinth-like bazaars around Jemaa El-Fnaa Square, Marrakesh
Visit an argan oil cooperative in one of the only argan oil-producing regions in the world
Watch a stunning sunset over the ocean at Rick's Café — a recreated café inspired by the movie Casablanca
All sightseeing and entrance fees as detailed in the itinerary
The services of an expert local travel director
Hotel taxes and porterage fees
Tips at hotels and restaurants
Complimentary Wi-Fi where possible
Private airport transfers and air-conditioned transportation throughout
10 Days from
Valued up to ₹318,079
Inclusion highlights:
Packages valid for one person
Nine nights of deluxe accommodation, including the Grand Mogador City Center in Casablanca, Palais Medina & Spa Hotel in Fez and Le Méridien N'Fis in Marrakesh
Daily breakfast and additional dining experiences as specified in the itinerary, including nine breakfasts and eight dinners
A guided tour of Fez, including the Bab Bou Jeloud Gate, Mausoleum of Moulay Idriss, and much more
An unforgettable sunrise experience on camelback and a 4x4 safari in Erfoud
A guided tour of Aït Benhaddou, a UNESCO World Heritage-listed site and almost 1,000-year-old ksar, now used as a Hollywood movie set
Meet with a local Berber family over homemade tea
Enjoy an evening at the Fantasia Moroccan Dinner and Cultural Show
Dive into the labyrinth-like bazaars around Jemaa El-Fnaa Square, Marrakesh
Visit an argan oil cooperative in one of the only argan oil-producing regions in the world
Watch a stunning sunset over the ocean at Rick's Café — a recreated café inspired by the movie Casablanca
All sightseeing and entrance fees as detailed in the itinerary
The services of an expert local travel director
Hotel taxes and porterage fees
Tips at hotels and restaurants
Complimentary Wi-Fi where possible
Private airport transfers and air-conditioned transportation throughout