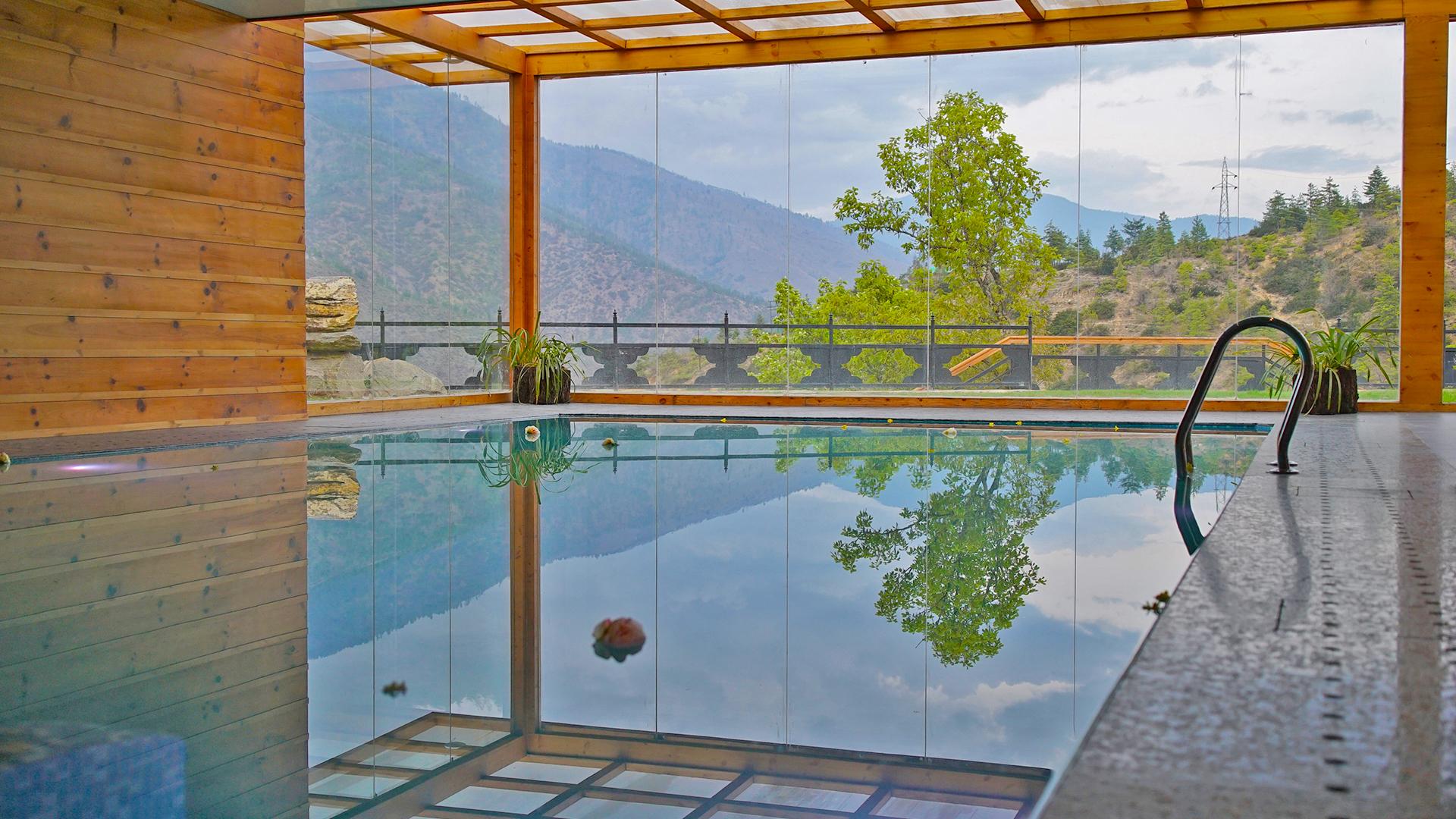 Mountainside Retreat with Exquisite Dining Inclusions and Nightly Drinks
An amalgamation of the old and the new, Thimphu is a real treat for anyone who wants to experience the wonders of culture and the convenience of the modern world. The brand-new Dewa Thimphu by Realm offers the ideal way to experience the heart of Bhutan. Dewa is Bhutanese for peace and the resort personifies exactly that with its calm ambiance and stunning views of the valley. Enjoy two or three-night stay at this serene resort and enjoy daily buffet breakfast, nightly cocktails, a three-course lunch and daily dinner for two, one 60-minute spa treatment and more.
Package Options
---
Inclusion Highlights:
Inclusions valid for two adults
Daily three-course dinner
Sumptuous daily breakfast
A nightly cocktail per person
Inclusion Highlights:
Inclusions valid for two adults
A Bhutanese cooking session during your stay
Daily three-course dinner
Sumptuous daily breakfast
Located just outside the city of Thimphu, this boutique luxury resort is built to give you a feeling of living in a mountain cabin. Cozy and warm, the rooms are amongst the largest in the city. The hotel also houses a restaurant, library, spa and an indoor heated swimming pool.
Want to extend your time in Buthan? Check out Escapes Club's exclusive offer to the newly opened The Pema by Realm, a striking property ideally located within walking distance to all the iconic attractions of Thimphu.
What You'll Love…
The Room – The Luxury of space with stunning valley views
The Deluxe rooms at the hotel are well-appointed with plush furnishings and rustic décor. Over 750sqft in size, they come with separate living and dining areas along with a large, private terrace. The rooms contain all modern comforts including complimentary bottled water, in-room tea and coffee maker, a refrigerator and an in-room safe.
All rooms are floor heated and come with high speed internet access, laundry services as well as in-room dining facilities (additional charges apply).
The Food – Sumptuous breakfast, nightly cocktails and a three-course meal
The restaurant at the Dewa Thimphu by Realm resort offers a range of dining options from a variety of cuisines including some mouthwatering Bhutanese specialties, prepared using locally sourced, fresh produce. Dine on a delicious assortment of dishes including Methi paneer, Jasha maroo: spicy Bhutanese chicken stew or Saag coriander chicken. Start your day with a hearty breakfast buffet, enjoy one three-course lunch and daily three-course dinners whilst gazing into picturesque valley views.
The hotel even offers lovely dining spots within the property, for romantic and celebratory dinners.
BONUS: Staying three nights? Enjoy a hands-on, Bhutanese cooking class, followed by a delicious meal in which you can try all the delicacies you have cooked.
The Relaxation – An idyllic retreat where to rest and rejuvenate
An ideal place to rest your tired feet after exploring the city is the resort's spa. The spa at Dewa Thimphu by Realm, offers three treatment rooms, including a couple's treatment room. The menu has popular treatments like Balinese, Swedish and deep-tissue massages. The resort also features an indoor heated swimming pool, steam and sauna facilities and a well-equipped fitness centre.
See & Do – Discover Bhutan
The hotel is conveniently located just outside the city, so that you can enjoy the solitude and quiet while still being within easy reach of all the city and surrounding region has to offer.
If you're in the mood to explore, you may want to pay a visit to this Buddhist monastery and fortress rolled into one. Trashi Chhoe currently serves as the Bhutanese king's working office; this regal dzong lies to the north of the city and was also the site of the formal coronation of the fifth king in 2008 and hosts the city's biggest annual bash, the colourful tsechu festivities.
Another nearby Buddhist monastery, Tango Goemba was originally built in the 15th century by Lama Drukpa Kunley. With a rich history, Tango serves as learning centre for Bhutanese culture with a lot of religious leaders having gone through their training here. Or, you may want to visit the Tigers Nest monastery. Also known as Paro Taktsang, this is a prominent Himalayan Buddhist sacred site located near Paro. A collection of buildings perched on a cliff, Tigers Nest is a must-do when visiting Bhutan especially given the scenic views which only get better as you go higher.
Popularly known as the painting school, the National Institute for Zorig Chusum trains young students in 13 different types of traditional arts from Bhutan. The school also has a showroom where they sell art made by the students themselves so you can take home a souvenir.
​
Why you should book with us
7-day 'Change of Mind' Refund
Get a full refund on your accommodation, no questions asked
Best Price Guarantee
Found a better price? We'll match it… plus more.
VIP Quality Assured
Choose your dates now or decide when to travel later