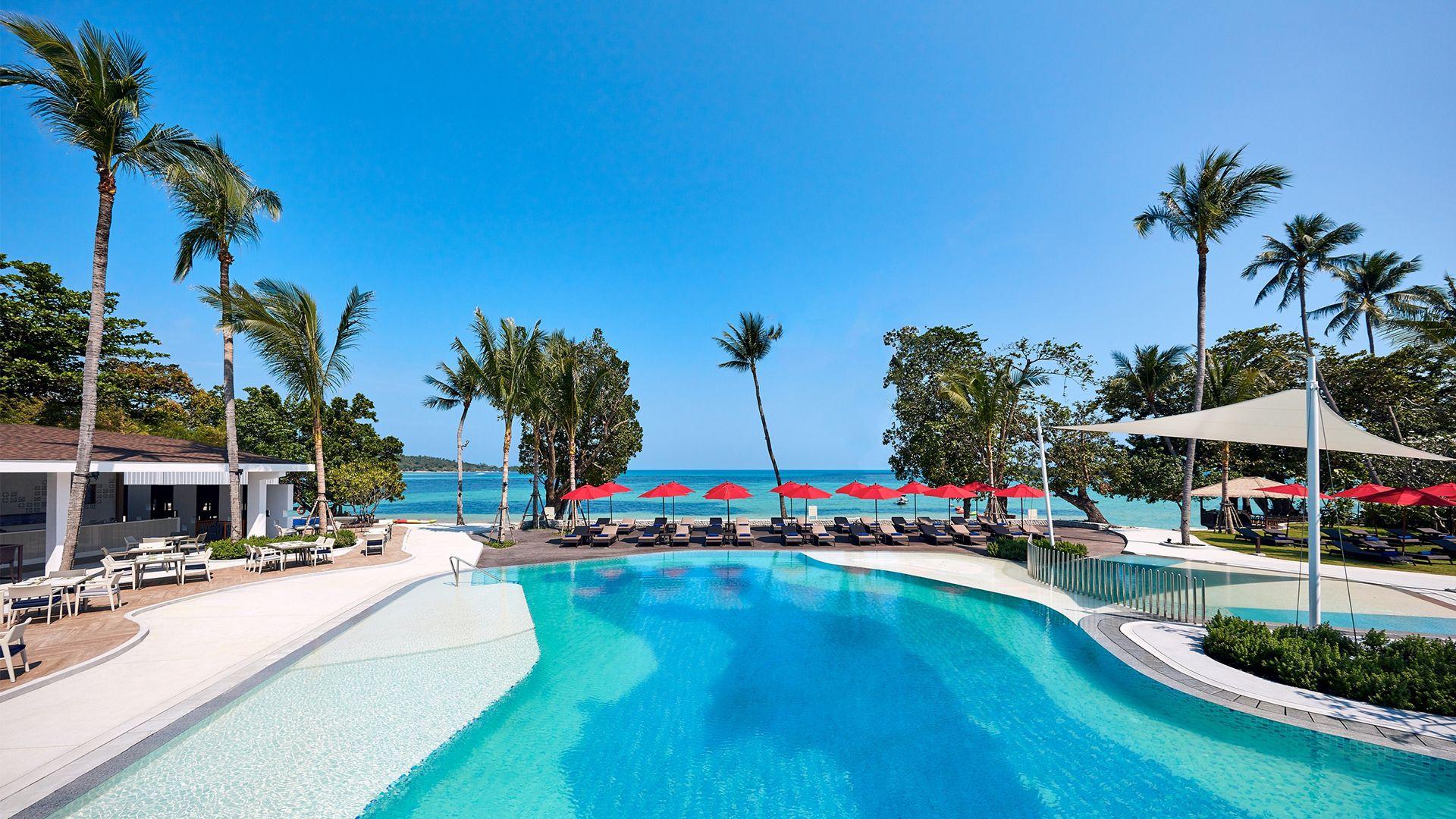 Koh Samui Beachside Luxury with Daily Cocktails and Dining Inclusions
Experience Koh Samui's relaxed island vibe and discover why Chaweng Beach is one of its most popular beaches with a luxurious retreat at Amari Koh Samui. Find blissful seclusion on this impressive stretch of beach known for its pristine white sand and clear blue waters, or choose from one of the resort's two swimming pools to laze your days away. You'll be pampered with a buffet breakfast every day, indulgent dining experiences, daily cocktails, a 60-minute massage per adult and round-trip transfers from Koh Samui Airport.
Treat the whole family to a sun-kissed escape: check out the Family Upgrade, with two children aged 11 years and under staying for free with daily breakfast, round-trip airport transfers and free meals when dining with adults.
package Options
ISLAND ESCAPE
Superior Garden Wing Room
Inclusion highlights:
Inclusions valid for two adults
A three-course 'Taste of Thailand' dinner
Daily breakfast and daily cocktails
Round-trip transfers from Koh Samui
VIP UPGRADE
Deluxe Thai Village
Inclusion highlights:
Inclusions valid for two adults
A three-course 'Taste of Thailand' dinner
Daily breakfast and daily cocktails
Round-trip transfers from Koh Samui
CELEBRITY UPGRADE
Deluxe Pool View Room
Inclusion highlights:
Inclusions valid for two adults
A three-course 'Taste of Thailand' dinner
Daily breakfast and daily cocktails
Round-trip transfers from Koh Samui
FAMILY UPGRADE
Deluxe Family Duplex
Inclusion highlights:
Two children aged 11 years and under stay free
A three-course 'Taste of Thailand' dinner
Daily breakfast and daily cocktails
Round-trip transfers from Koh Samui
ISLAND ESCAPE
Superior Garden Wing Room
Inclusion highlights:
Inclusions valid for two adults
Two three-course 'Taste of Thailand' dinners
Daily breakfast and nightly cocktails
Round-trip transfers from Koh Samui Airport
VIP UPGRADE
Deluxe Thai Village
Inclusion highlights:
Inclusions valid for two adults
Two three-course 'Taste of Thailand' dinners
Daily breakfast and nightly cocktails
Round-trip transfers from Koh Samui Airport
CELEBRITY UPGRADE
Deluxe Pool View Room
Inclusion highlights:
Inclusions valid for two adults
Two three-course 'Taste of Thailand' dinners
Daily breakfast and nightly cocktails
Round-trip transfers from Koh Samui Airport
FAMILY UPGRADE
Deluxe Family Duplex
Inclusion highlights:
Two children aged 11 years and under stay free
Two three-course 'Taste of Thailand' dinners
Daily breakfast and nightly cocktails
Round-trip transfers from Koh Samui Airport
ISLAND ESCAPE
Superior Garden Wing Room
Inclusion highlights:
Inclusions valid for two adults
A three-course dining experience at Prego Italian restaurant
Two three-course 'Taste of Thailand' dinners
Daily breakfast and daily cocktails
Round-trip transfers from Koh Samui Airport
VIP UPGRADE
Deluxe Thai Village
Inclusion highlights:
Inclusions valid for two adults
A three-course dining experience at Prego Italian restaurant
Two three-course 'Taste of Thailand' dinners
Daily breakfast and daily cocktails
Round-trip transfers from Koh Samui Airport
CELEBRITY UPGRADE
Deluxe Pool View Room
Inclusion highlights:
Inclusions valid for two adults
A three-course dining experience at Prego Italian restaurant
Two three-course 'Taste of Thailand' dinners
Daily breakfast and daily cocktails
Round-trip transfers from Koh Samui Airport
FAMILY UPGRADE
Deluxe Family Duplex
Inclusion highlights:
Two children aged 11 years and under stay free
A three-course dining experience at Prego Italian restaurant
Two three-course 'Taste of Thailand' dinners
Daily breakfast and daily cocktails
Round-trip transfers from Koh Samui Airport