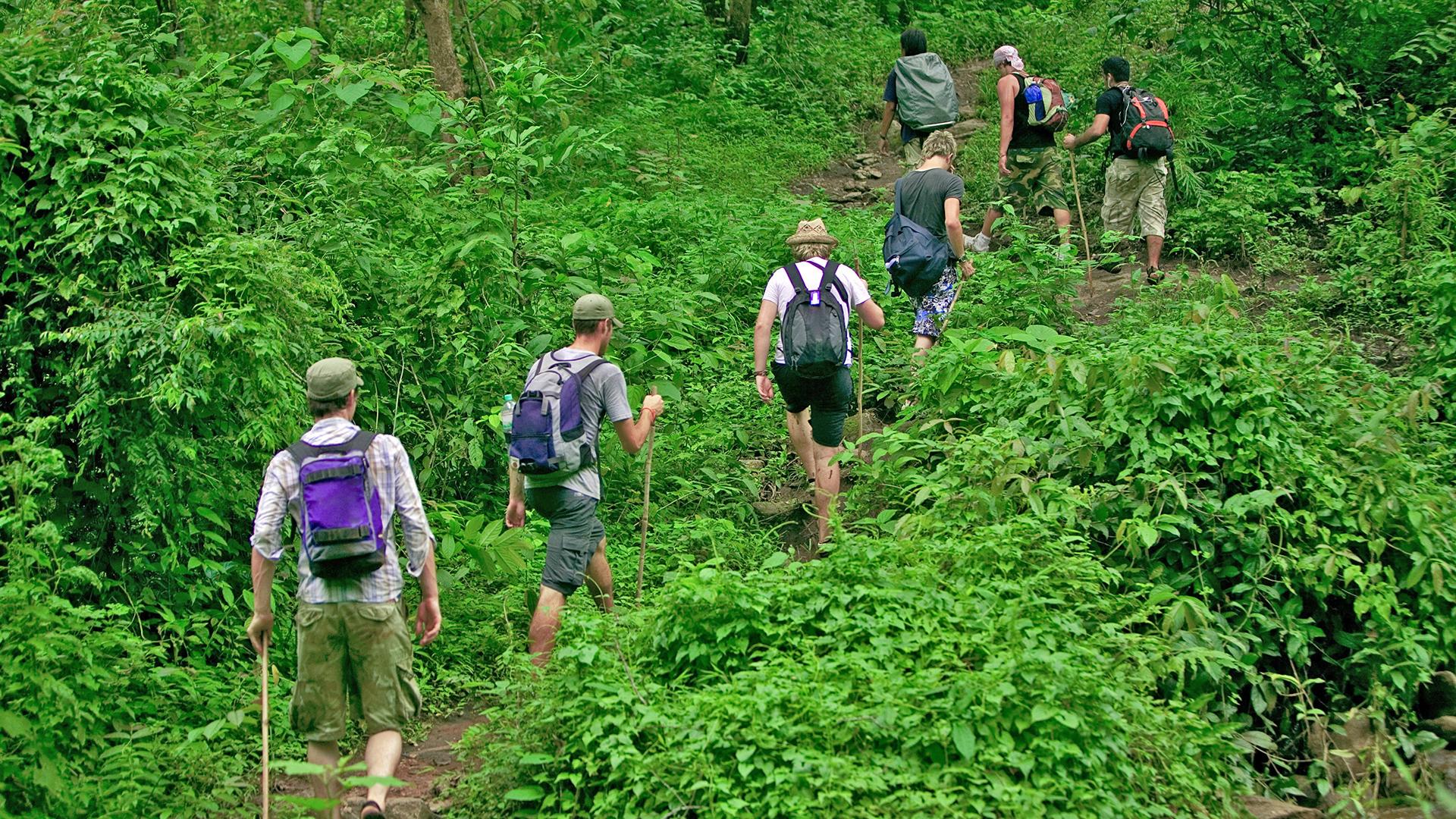 Kokoda Track 2022 Small-Group Tour with All Meals: Anzac Day Dawn Service & Trekking Options Available
Undertake a unique pilgrimage that immerses you in Australia's proud wartime history. Walk in the footsteps of our soldiers as you retrace the events of the Kokoda Campaign on this small-group walking tour (max. 15 travellers). This unique blend of adventure, great storytelling and living history will bring to life the dramatic highs and lows, victories, and poignant stories of the service and sacrifice of soldiers, carriers and everyday people who were caught up in the turmoil of jungle warfare. Includes internal flights within Papua New Guinea, all accommodation, all on-ground transportation and transfers as per the itinerary, meals, knowledgeable local guides, excursions and more.
Your tour includes:
Six nights of unique accommodation along the Kokoda Track
Daily breakfast, lunch and dinner
Visit Owen Stanley Range, Owers' and McDonalds Corners and Koitaki Showgrounds
Pay your respects to fallen soldiers at Bomana War Cemetery
Witness an official service on Kokoda 80th Anniversary
Visit the northern Beachheads of Buna, Gona and Sanananda
Return domestic economy-class flights between Port Moresby and Kokoda
All on-ground transfers as per the itinerary
Kokoda historical t-shirt to take home as a souvenir
The services of an expert Australian guide and other experienced local guides
Alternative Tour Options Available: Immerse yourself in the past as you embark on a pilgrimage like no other with nine, 11 and 12-day tour options available (trekking and non-trekking options are available, as per packages).
Anzac Day Dawn Service: Reflect upon the courage and sacrifice of the Australian and New Zealand soldiers at an Anzac Day Dawn Service, where you'll get to watch the sunrise over the Cross of Remembrance and hear the bugle sounds of the Last Post.
Your journey takes you to: Port Moresby – Kokoda – Kovello Village – Komo – Popondetta – Beachheads – Gona – Sanananda – Buna – Port Moresby.
Book with confidence: You can rest easy knowing that should you not be able to travel as a result of Government travel restrictions, even right up to the day of departure Luxury Escapes will assist you with a date change, provide you with a credit or process a refund for your booking less any non-recoverable costs. See below for full terms and conditions.
package Options
12-DAY TREKKING TOUR WITH ANZAC DAWN SERVICE – TWIN SHARE
12 Days from
Valued up to ₹228,902
Sold out
Inclusion highlights:
Packages valid for one person (twin share) – you MUST purchase TWO packages
11 nights of unique accommodation along the Kokoda Track
Anzac Day Dawn Service with lunch at Royal Port Moresby Yacht Club
Return domestic economy-class flights between Port Moresby and Popondetta (or visa versa)
Certificate of completion and a commemorative medallion
Daily breakfast, lunch and dinner
Excursions to Isurava Battlefield and Memorial, Con's Rock, Eora Creek, Mt. Bellamy, Maguli Ridge and Imita Ridge "Golden Staircase"
Visit Moss Forest, Kagi, Efogi, Menari, Ua-Ule Creek, Owers Corner and Bomana Cemetery
Commemorative service at Brigade Hill
Pre-trip advice and training
Kokoda Historical Trekking shirt
The services of an expert Australian guide and other experienced local guides
7-DAY 80TH ANNIVERSARY NON-TREK TOUR – TWIN SHARE
7 Days from
Valued up to ₹223,108
Sold out
Inclusion highlights:
Packages valid for one person (twin share) – you MUST purchase TWO packages
Six nights of unique accommodation along the Kokoda Track
Daily breakfast, lunch and dinner
Excursions to Owen Stanley Range, Owers' and McDonalds Corners and Koitaki Showgrounds
Pay your respects to fallen soldiers at Bomana War Cemetery
Witness an official service on Kokoda 80th Anniversary
Visit the northern Beachheads of Buna, Gona and Sanananda
Return domestic economy-class flights between Port Moresby and Kokoda
All on-ground transfers as per the itinerary
Kokoda historical t-shirt to take home as a souvenir
The services of an expert Australian guide and other experienced local guides
11-DAY TREKKING TOUR – TWIN SHARE
11 Days from
Valued up to ₹223,108
Sold out
Inclusion highlights:
Packages valid for one person (twin share) – you MUST purchase TWO packages
10 nights of unique accommodation along the Kokoda Track
Return domestic economy-class flights between Port Moresby and Popondetta (or visa versa)
Certificate of completion and a commemorative medallion
Daily breakfast, lunch and dinner
Excursions to Isurava Battlefield and Memorial, Con's Rock, Eora Creek, Mt. Bellamy, Maguli Ridge and Imita Ridge "Golden Staircase"
Visit Moss Forest, Kagi, Efogi, Menari, Ua-Ule Creek, Owers Corner and Bomana Cemetery
Commemorative service at Brigade Hill
Pre-trip advice and training
All on-ground transfers as per the itinerary
Kokoda Historical Trekking shirt
The services of an expert Australian guide and other experienced local guides
9-DAY NON-TREK TOUR WITH ANZAC DAWN SERVICE – TWIN SHARE
9 Days from
Valued up to ₹223,108
Sold out
Inclusion highlights:
Packages valid for one person (twin share) – you MUST purchase TWO packages
Anzac Day Dawn Service with gunfire breakfast
Eight nights of unique accommodation along the Kokoda Track
Daily breakfast, lunch and dinner
Excursions to Owen Stanley Range, Owers' and McDonalds Corners and Koitaki Showgrounds
Pay your respects to fallen soldiers at Bomana War Cemetery
Witness an official service on Kokoda 80th Anniversary
Visit the northern Beachheads of Buna, Gona and Sanananda
Return domestic economy-class flights between Port Moresby and Kokoda
All on-ground transfers as per the itinerary
Kokoda historical t-shirt to take home as a souvenir
The services of an expert Australian guide and other experienced local guides
Related Travel
Kokoda Track 2022: 7-Day Small-Group Walking Tour