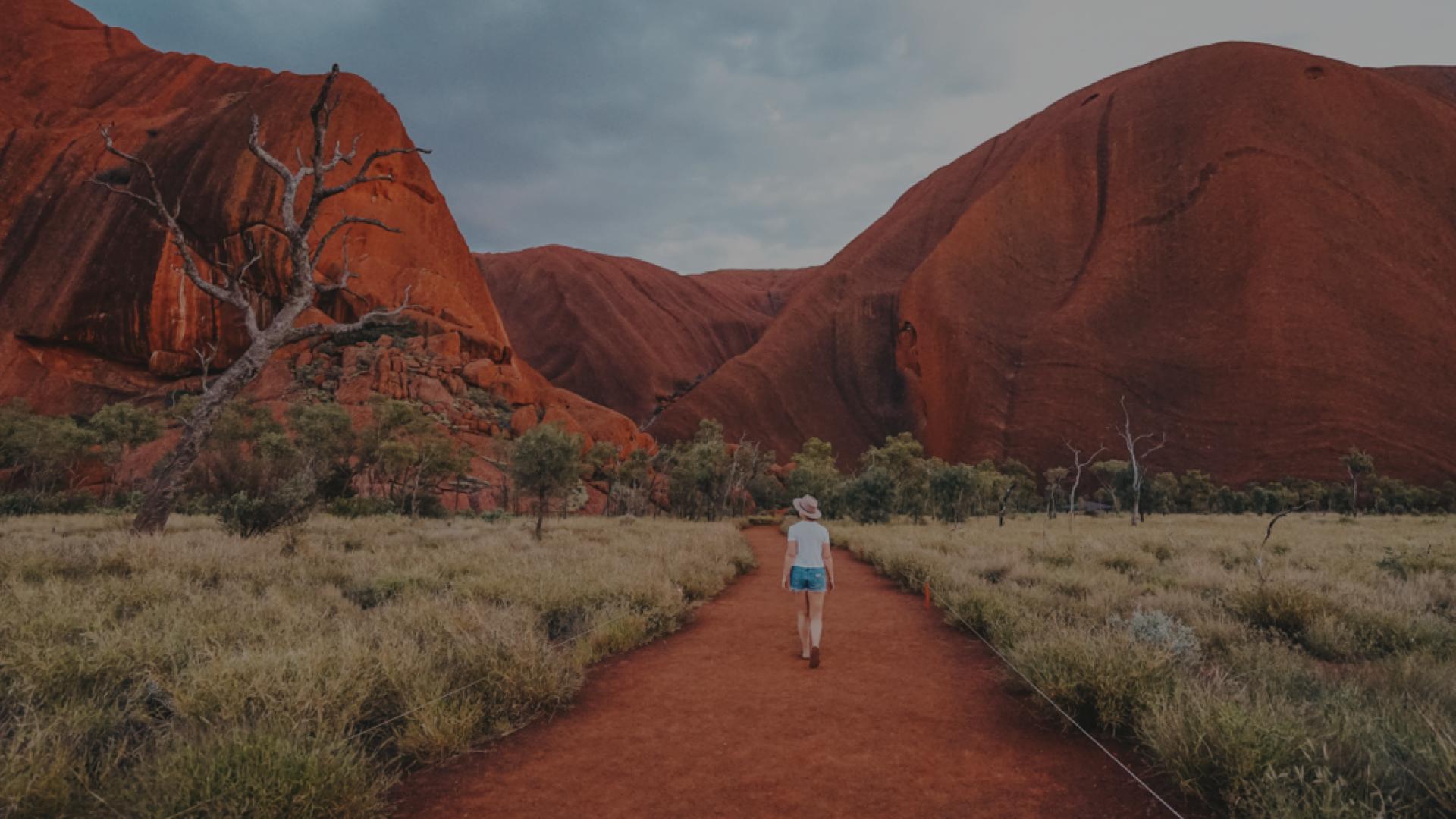 Northern Territory
Listen to birdsong in national parks, taste bush tucker around an open fire, see blazing sunsets and starry skies, and feel ancient culture at every turn.
Get exclusive offers to Northern Territory and other amazing destinations
1,206,988 people like us
Get exclusive offers to Northern Territory and other amazing destinations
1,206,988 people like us
Our favourite escapes in the Northern Territory
We are currently sold out of our Northern Territory escapes!
Our travel experts are working hard on curating new Northern Territory offers. In the meantime check out our available offers in other exciting destinations.
Travel guides and inspiration
Seek new adventures on ancient land
You'll find Australia's biggest experiences in its smallest capital, Darwin. In the heart of town, buildings are splashed with colourful graffiti while galleries showcase local Aboriginal art. Darwin's food scene is just as vibrant: Indonesian cuisine rolls in with the waves from nearby Southeast Asia, harbourfront bars feature sweeping views across the ocean as well as feasts of its bounty, and as balmy nights draw in, the NT's flaming sunsets flood Mindil Beach market.
Outside the capital lie a collection of incredible national parks. Just south of Darwin, Litchfield National Park offers towering termite mounds and cascading falls perfect for a dip, while those that prefer to stay dry can kayak through Nitmiluk National Park, a breathtaking region layered with ancient stories deeper than its spectacular sandstone gorges. Boasting World Heritage status and a saltwater-crocodile-to-man ratio of 20:1, Australia's largest national park, Kakadu, is an untouched landscape entwined with over 50,000 years of Aboriginal culture.
Continue south and you'll reach a region synonymous with the NT: the Red Centre. The tropics roll into an ombre of outback desert hues, revealing a vast landscape dotted with expansive cattle stations, historic stock routes and wayside roadhouses. Down-to-earth Alice Springs, a small town with big-city pleasures from craft beer to vegan eats, is your launchpad for the country's most iconic experiences, including the breathtaking rim walk at Kings Canyon, the striking formations of Kata Tjuta and the World Heritage-listed Uluru. This spectacular natural formation speaks of timeless wonder and rich Indigenous culture. Capture its changing colours on a sunrise camel ride or skydive for unbeatable aerial views. As night falls, embrace the outback magic with a once-in-a-lifetime Field of Light and fine dining experience under the stars, before retreating in five-star style to Sails in the Desert, an iconic oasis crowning the outback's soul-stirring landscape.
Undoubtedly, the source of the NT's magic comes from those who know the land best, the Indigenous Australians whose Dreamtime stories invite you to connect with your senses to seek a truly different experience. Find a deeper understanding of iconic sites with traditional-owner guides, or apply for permits to visit Aboriginal communities in Arnhem Land or the Tiwi Islands to experience some of the country's best-preserved rock art and most pristine landscapes.
There has never been a better time to tick unmissable Aussie stays off your travel to-do list – and this iconic outback oasis is your launchpad for delving deep into Australia's ancient Indigenous roots.