Join now to view member prices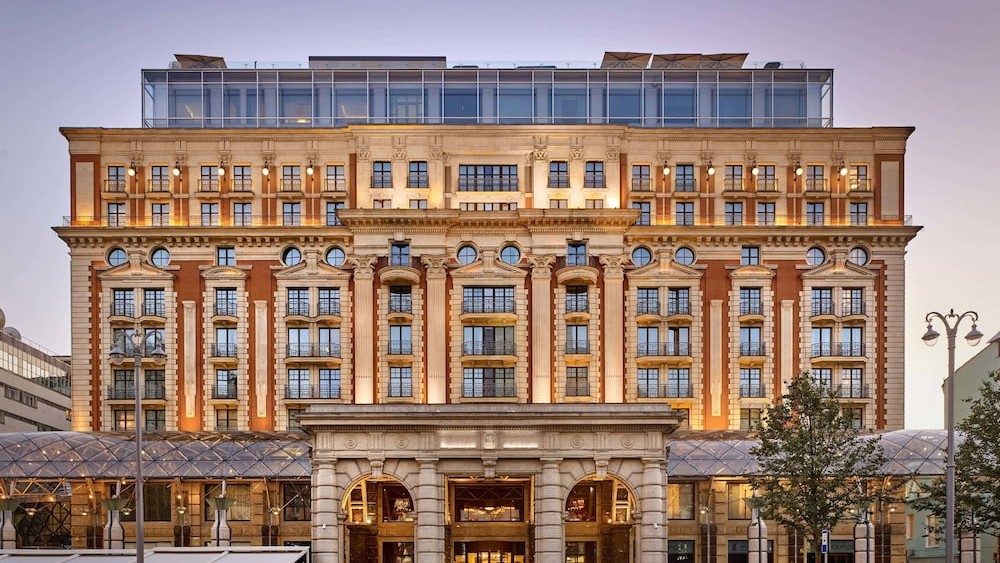 The Ritz-Carlton, Moscow
Partner Property
Rooms
Make yourself at home in one of the 334 guestrooms featuring refrigerators and iPod docking stations. Your memory foam bed comes with down comforters and premium bedding. Wired and wireless Internet access is complimentary, while 47-inch LCD televisions with satellite programming provide entertainment. Bathrooms with separate bathtubs and showers feature deep soaking bathtubs and rainfall showerheads.
Facilities
Relax at the full-service spa, where you can enjoy massages, body treatments, and facials. You're sure to appreciate the recreational amenities, including an indoor pool, a spa tub, and a sauna. Additional features at this Beaux Arts hotel include complimentary wireless Internet access, concierge services, and a hair salon.
Dining
Enjoy a meal at Sartoria Lamberti, or stay in and take advantage of the hotel's 24-hour room service. Buffet breakfasts are available daily from 7:00 AM to noon for a fee.
package Options
Select your package type
Club Room, 1 Double Bed, Non Smoking (Red Square,Club Lounge Access,Larger)
Size: 42m²
Sleeps: 3 guests
City view
Members get access to exclusive rates
About the room:
Maximum room capacity:
3 guests

(up to 3 adults, up to 2 children)
Room facilities:
Bedroom
Linens provided
Blackout drapes/curtains
Down comforter
Rollaway/extra beds (surcharge)
Premium bedding
Wardrobe or closet
Separate sitting area
Pillow menu
In-room climate control (heating)
Desk
Memory foam mattress
In-room climate control (air conditioning)
Hypo-allergenic bedding available
Bathroom
Separate bathtub and shower
Towels provided
Free toiletries
Bathrobes
Hand-held showerhead
Hair dryer
Deep soaking bathtub
Designer toiletries
Rainfall showerhead
Bidet
Entertainment
Pay movies
Satellite TV service
iPod docking station
Television
Art supplies
LCD TV
Premium TV channels
Internet
Free WiFi
Free wired Internet
Food and drink
Electric kettle
Champagne service
Espresso maker
Coffee/tea maker
Free bottled water
Minibar
Refrigerator
Family friendly
Child-size slippers
Free cribs/infant beds
Highchair
Accessible
Lowered electrical outlets in bathroom
Visual fire alarm
Lever door handles
Grab bar - in shower
Lowered peephole/view port in door
Height-adjustable showerhead
Grab bar - near toilet
Lowered locks/deadbolt
More
Pet-friendly room
Connecting/adjoining rooms available
Iron/ironing board
Daily housekeeping
Separate dining area
In-room massage available
In-room safe (laptop compatible)
Electrical adapters/chargers
Phone
Soundproofed rooms
Turndown service
Room service (24 hours)
Slippers
Non-Smoking
Laptop-friendly workspace
Club Room, 1 King Bed, Non Smoking
Size: 42m²
Sleeps: 3 guests
City view
Members get access to exclusive rates
About the room:
Maximum room capacity:
3 guests

(up to 3 adults, up to 2 children)
Room facilities:
Bedroom
Linens provided
Blackout drapes/curtains
Down comforter
Rollaway/extra beds (surcharge)
Premium bedding
Wardrobe or closet
Separate sitting area
Pillow menu
In-room climate control (heating)
Desk
Memory foam mattress
In-room climate control (air conditioning)
Hypo-allergenic bedding available
Bathroom
Separate bathtub and shower
Towels provided
Free toiletries
Bathrobes
Hand-held showerhead
Hair dryer
Deep soaking bathtub
Designer toiletries
Rainfall showerhead
Bidet
Entertainment
Pay movies
Satellite TV service
iPod docking station
Television
Art supplies
LCD TV
Premium TV channels
Internet
Free WiFi
Free wired Internet
Food and drink
Electric kettle
Champagne service
Espresso maker
Coffee/tea maker
Free bottled water
Minibar
Refrigerator
Family friendly
Child-size slippers
Free cribs/infant beds
Highchair
Accessible
Lowered electrical outlets in bathroom
Doorbell/telephone notification
Visual fire alarm
Lever door handles
Grab bar - in shower
Lowered peephole/view port in door
Height-adjustable showerhead
Grab bar - near toilet
Lowered locks/deadbolt
More
Pet-friendly room
Connecting/adjoining rooms available
Iron/ironing board
Daily housekeeping
Separate dining area
In-room massage available
Business lounge access
In-room safe (laptop compatible)
Electrical adapters/chargers
Phone
Soundproofed rooms
Turndown service
Room service (24 hours)
Slippers
Non-Smoking
Laptop-friendly workspace
Deluxe Room, 1 King Bed, Non Smoking, City View
Size: 43m²
Sleeps: 3 guests
City view
Members get access to exclusive rates
About the room:
Maximum room capacity:
3 guests

(up to 3 adults, up to 2 children)
Room facilities:
Bedroom
Linens provided
Blackout drapes/curtains
Down comforter
Rollaway/extra beds (surcharge)
Premium bedding
Wardrobe or closet
Separate sitting area
Pillow menu
In-room climate control (heating)
Desk
Memory foam mattress
In-room climate control (air conditioning)
Hypo-allergenic bedding available
Bathroom
Separate bathtub and shower
Towels provided
Free toiletries
Bathrobes
Hand-held showerhead
Hair dryer
Deep soaking bathtub
Designer toiletries
Rainfall showerhead
Bidet
Entertainment
Pay movies
Satellite TV service
iPod docking station
Television
Art supplies
LCD TV
Premium TV channels
Internet
Free WiFi
Free wired Internet
Food and drink
Electric kettle
Champagne service
Espresso maker
Coffee/tea maker
Free bottled water
Minibar
Refrigerator
Family friendly
Child-size slippers
Free cribs/infant beds
Highchair
Accessible
Lowered electrical outlets in bathroom
Visual fire alarm
Lever door handles
Grab bar - in shower
Lowered peephole/view port in door
Height-adjustable showerhead
Grab bar - near toilet
Lowered locks/deadbolt
More
Pet-friendly room
Connecting/adjoining rooms available
Iron/ironing board
Daily housekeeping
Separate dining area
In-room massage available
In-room safe (laptop compatible)
Electrical adapters/chargers
Phone
Soundproofed rooms
Turndown service
Room service (24 hours)
Slippers
Non-Smoking
Laptop-friendly workspace
Executive Suite, 1 Bedroom, Non Smoking
Size: 63m²
Sleeps: 3 guests
Courtyard view
Members get access to exclusive rates
About the room:
Maximum room capacity:
3 guests

(up to 3 adults, up to 2 children)
Room facilities:
Bedroom
Linens provided
Blackout drapes/curtains
Down comforter
Separate bedroom
Rollaway/extra beds (surcharge)
Premium bedding
Wardrobe or closet
Separate sitting area
Pillow menu
In-room climate control (heating)
Desk
Memory foam mattress
In-room climate control (air conditioning)
Hypo-allergenic bedding available
Bathroom
Separate bathtub and shower
Towels provided
Free toiletries
Bathrobes
Hand-held showerhead
Hair dryer
Deep soaking bathtub
Designer toiletries
Rainfall showerhead
Bidet
Entertainment
Pay movies
Satellite TV service
iPod docking station
Television
Art supplies
LCD TV
Premium TV channels
Internet
Free WiFi
Free wired Internet
Food and drink
Electric kettle
Champagne service
Espresso maker
Coffee/tea maker
Free bottled water
Minibar
Refrigerator
Family friendly
Child-size slippers
Free cribs/infant beds
Highchair
Accessible
Lowered electrical outlets in bathroom
Visual fire alarm
Lever door handles
Grab bar - in shower
Lowered peephole/view port in door
Height-adjustable showerhead
Grab bar - near toilet
Lowered locks/deadbolt
More
Pet-friendly room
Connecting/adjoining rooms available
Iron/ironing board
Daily housekeeping
Separate dining area
In-room massage available
In-room safe (laptop compatible)
Electrical adapters/chargers
Phone
Soundproofed rooms
Turndown service
Room service (24 hours)
Slippers
Non-Smoking
Laptop-friendly workspace
Superior Room, 1 King Bed, Non Smoking, Courtyard View
Size: 42m²
Sleeps: 3 guests
Courtyard view
Members get access to exclusive rates
About the room:
Maximum room capacity:
3 guests

(up to 3 adults, up to 2 children)
Room facilities:
Bedroom
Linens provided
Blackout drapes/curtains
Down comforter
Rollaway/extra beds (surcharge)
Premium bedding
Wardrobe or closet
Separate sitting area
Pillow menu
In-room climate control (heating)
Desk
Memory foam mattress
In-room climate control (air conditioning)
Hypo-allergenic bedding available
Bathroom
Separate bathtub and shower
Towels provided
Free toiletries
Bathrobes
Hand-held showerhead
Hair dryer
Deep soaking bathtub
Designer toiletries
Rainfall showerhead
Bidet
Entertainment
Pay movies
Satellite TV service
iPod docking station
Television
Art supplies
LCD TV
Premium TV channels
Internet
Free WiFi
Free wired Internet
Food and drink
Electric kettle
Champagne service
Espresso maker
Coffee/tea maker
Free bottled water
Minibar
Refrigerator
Family friendly
Child-size slippers
Free cribs/infant beds
Highchair
Accessible
Lowered electrical outlets in bathroom
Doorbell/telephone notification
Visual fire alarm
Lever door handles
Grab bar - in shower
Lowered peephole/view port in door
Roll-in shower
Bathroom emergency pull cord
Wheelchair accessible
Height-adjustable showerhead
Transfer shower
Grab bar - near toilet
Wheelchair-width doorways
Lowered locks/deadbolt
More
Pet-friendly room
Connecting/adjoining rooms available
Iron/ironing board
Daily housekeeping
Separate dining area
In-room massage available
In-room safe (laptop compatible)
Electrical adapters/chargers
Phone
Soundproofed rooms
Turndown service
Room service (24 hours)
Slippers
Non-Smoking
Laptop-friendly workspace
Club Suite, 1 Bedroom, Non Smoking
Size: 124m²
Sleeps: 3 guests
City view
Members get access to exclusive rates
About the room:
Maximum room capacity:
3 guests

(up to 3 adults, up to 2 children)
Room facilities:
Bedroom
Linens provided
Blackout drapes/curtains
Down comforter
Separate bedroom
Rollaway/extra beds (surcharge)
Premium bedding
Wardrobe or closet
Separate sitting area
Pillow menu
In-room climate control (heating)
Desk
Memory foam mattress
In-room climate control (air conditioning)
Hypo-allergenic bedding available
Bathroom
Separate bathtub and shower
Towels provided
Free toiletries
Bathrobes
Hand-held showerhead
Hair dryer
Deep soaking bathtub
Designer toiletries
Rainfall showerhead
Bidet
Entertainment
Pay movies
Satellite TV service
iPod docking station
Television
Art supplies
LCD TV
Premium TV channels
Internet
Free WiFi
Free wired Internet
Food and drink
Electric kettle
Champagne service
Espresso maker
Coffee/tea maker
Free bottled water
Minibar
Refrigerator
Family friendly
Child-size slippers
Free cribs/infant beds
Highchair
Accessible
Lowered electrical outlets in bathroom
Visual fire alarm
Lever door handles
Grab bar - in shower
Lowered peephole/view port in door
Height-adjustable showerhead
Grab bar - near toilet
Lowered locks/deadbolt
More
Pet-friendly room
Connecting/adjoining rooms available
Iron/ironing board
Daily housekeeping
Separate dining area
In-room massage available
Business lounge access
In-room safe (laptop compatible)
Electrical adapters/chargers
Phone
Soundproofed rooms
Turndown service
Room service (24 hours)
Slippers
Non-Smoking
Laptop-friendly workspace
Superior Room, 2 Double Beds, Non Smoking, City View
Size: 42m²
Sleeps: 3 guests
City view
Members get access to exclusive rates
About the room:
Maximum room capacity:
3 guests

(up to 3 adults, up to 2 children)
Room facilities:
Bedroom
Linens provided
Blackout drapes/curtains
Down comforter
Rollaway/extra beds (surcharge)
Premium bedding
Wardrobe or closet
Separate sitting area
Pillow menu
In-room climate control (heating)
Desk
Memory foam mattress
In-room climate control (air conditioning)
Hypo-allergenic bedding available
Bathroom
Separate bathtub and shower
Towels provided
Free toiletries
Bathrobes
Hand-held showerhead
Hair dryer
Deep soaking bathtub
Designer toiletries
Rainfall showerhead
Bidet
Entertainment
Pay movies
Satellite TV service
iPod docking station
Television
Art supplies
LCD TV
Premium TV channels
Internet
Free WiFi
Free wired Internet
Food and drink
Electric kettle
Champagne service
Espresso maker
Coffee/tea maker
Free bottled water
Minibar
Refrigerator
Family friendly
Child-size slippers
Free cribs/infant beds
Highchair
Accessible
Lowered electrical outlets in bathroom
Visual fire alarm
Lever door handles
Grab bar - in shower
Lowered peephole/view port in door
Height-adjustable showerhead
Grab bar - near toilet
Lowered locks/deadbolt
More
Pet-friendly room
Connecting/adjoining rooms available
Iron/ironing board
Daily housekeeping
Separate dining area
In-room massage available
In-room safe (laptop compatible)
Electrical adapters/chargers
Phone
Soundproofed rooms
Turndown service
Room service (24 hours)
Slippers
Non-Smoking
Laptop-friendly workspace
Club Room, 2 Double Beds, Non Smoking
Size: 42m²
Sleeps: 3 guests
City view
Members get access to exclusive rates
About the room:
Maximum room capacity:
3 guests

(up to 3 adults, up to 2 children)
Room facilities:
Bedroom
Linens provided
Blackout drapes/curtains
Down comforter
Rollaway/extra beds (surcharge)
Premium bedding
Wardrobe or closet
Separate sitting area
Pillow menu
In-room climate control (heating)
Desk
Memory foam mattress
In-room climate control (air conditioning)
Hypo-allergenic bedding available
Bathroom
Separate bathtub and shower
Towels provided
Free toiletries
Bathrobes
Hand-held showerhead
Hair dryer
Deep soaking bathtub
Designer toiletries
Rainfall showerhead
Bidet
Entertainment
Pay movies
Satellite TV service
iPod docking station
Television
Art supplies
LCD TV
Premium TV channels
Internet
Free WiFi
Free wired Internet
Food and drink
Electric kettle
Champagne service
Espresso maker
Coffee/tea maker
Free bottled water
Minibar
Refrigerator
Family friendly
Child-size slippers
Free cribs/infant beds
Highchair
Accessible
Lowered electrical outlets in bathroom
Visual fire alarm
Lever door handles
Grab bar - in shower
Lowered peephole/view port in door
Height-adjustable showerhead
Grab bar - near toilet
Lowered locks/deadbolt
More
Pet-friendly room
Connecting/adjoining rooms available
Iron/ironing board
Daily housekeeping
Separate dining area
In-room massage available
Business lounge access
In-room safe (laptop compatible)
Electrical adapters/chargers
Phone
Soundproofed rooms
Turndown service
Room service (24 hours)
Slippers
Non-Smoking
Laptop-friendly workspace
Club Room, 1 Double Bed, Non Smoking
Size: 42m²
Sleeps: 3 guests
City view
Members get access to exclusive rates
About the room:
Maximum room capacity:
3 guests

(up to 3 adults, up to 2 children)
Room facilities:
Bedroom
Linens provided
Blackout drapes/curtains
Down comforter
Rollaway/extra beds (surcharge)
Premium bedding
Wardrobe or closet
Separate sitting area
Pillow menu
In-room climate control (heating)
Desk
Memory foam mattress
In-room climate control (air conditioning)
Hypo-allergenic bedding available
Bathroom
Separate bathtub and shower
Towels provided
Free toiletries
Bathrobes
Hand-held showerhead
Hair dryer
Deep soaking bathtub
Designer toiletries
Rainfall showerhead
Bidet
Entertainment
Pay movies
Satellite TV service
iPod docking station
Television
Art supplies
LCD TV
Premium TV channels
Internet
Free WiFi
Free wired Internet
Food and drink
Electric kettle
Champagne service
Espresso maker
Coffee/tea maker
Free bottled water
Minibar
Refrigerator
Family friendly
Child-size slippers
Free cribs/infant beds
Highchair
Accessible
Lowered electrical outlets in bathroom
Visual fire alarm
Lever door handles
Grab bar - in shower
Lowered peephole/view port in door
Height-adjustable showerhead
Grab bar - near toilet
Lowered locks/deadbolt
More
Pet-friendly room
Connecting/adjoining rooms available
Iron/ironing board
Daily housekeeping
Separate dining area
In-room massage available
In-room safe (laptop compatible)
Electrical adapters/chargers
Phone
Soundproofed rooms
Turndown service
Room service (24 hours)
Slippers
Non-Smoking
Laptop-friendly workspace
Club Suite, 1 Bedroom, Non Smoking
Size: 80m²
Sleeps: 3 guests
City view
Members get access to exclusive rates
About the room:
Maximum room capacity:
3 guests

(up to 3 adults, up to 2 children)
Room facilities:
Bedroom
Linens provided
Blackout drapes/curtains
Down comforter
Rollaway/extra beds (surcharge)
Premium bedding
Wardrobe or closet
Separate sitting area
Pillow menu
In-room climate control (heating)
Desk
Memory foam mattress
In-room climate control (air conditioning)
Hypo-allergenic bedding available
Bathroom
Separate bathtub and shower
Towels provided
Free toiletries
Bathrobes
Hand-held showerhead
Hair dryer
Deep soaking bathtub
Designer toiletries
Rainfall showerhead
Bidet
Entertainment
Pay movies
Satellite TV service
iPod docking station
Television
Art supplies
LCD TV
Premium TV channels
Internet
Free WiFi
Free wired Internet
Food and drink
Electric kettle
Champagne service
Espresso maker
Coffee/tea maker
Free bottled water
Minibar
Refrigerator
Family friendly
Child-size slippers
Free cribs/infant beds
Highchair
Accessible
Lowered electrical outlets in bathroom
Visual fire alarm
Lever door handles
Grab bar - in shower
Lowered peephole/view port in door
Height-adjustable showerhead
Grab bar - near toilet
Lowered locks/deadbolt
More
Pet-friendly room
Connecting/adjoining rooms available
Iron/ironing board
Daily housekeeping
Separate dining area
In-room massage available
In-room safe (laptop compatible)
Electrical adapters/chargers
Phone
Soundproofed rooms
Turndown service
Room service (24 hours)
Slippers
Non-Smoking
Laptop-friendly workspace
Grand Deluxe Room, 2 Double Beds, Non Smoking, City View
Size: 42m²
Sleeps: 3 guests
City view
Members get access to exclusive rates
About the room:
Maximum room capacity:
3 guests

(up to 3 adults, up to 2 children)
Room facilities:
Bedroom
Linens provided
Blackout drapes/curtains
Down comforter
Rollaway/extra beds (surcharge)
Premium bedding
Wardrobe or closet
Separate sitting area
Pillow menu
In-room climate control (heating)
Desk
Memory foam mattress
In-room climate control (air conditioning)
Hypo-allergenic bedding available
Bathroom
Separate bathtub and shower
Towels provided
Free toiletries
Bathrobes
Hand-held showerhead
Hair dryer
Deep soaking bathtub
Designer toiletries
Rainfall showerhead
Bidet
Entertainment
Pay movies
Satellite TV service
iPod docking station
Television
Art supplies
LCD TV
Premium TV channels
Internet
Free WiFi
Free wired Internet
Food and drink
Electric kettle
Champagne service
Espresso maker
Coffee/tea maker
Free bottled water
Minibar
Refrigerator
Family friendly
Child-size slippers
Free cribs/infant beds
Highchair
Accessible
Lowered electrical outlets in bathroom
Visual fire alarm
Lever door handles
Grab bar - in shower
Lowered peephole/view port in door
Height-adjustable showerhead
Grab bar - near toilet
Lowered locks/deadbolt
More
Pet-friendly room
Connecting/adjoining rooms available
Iron/ironing board
Daily housekeeping
Separate dining area
In-room massage available
In-room safe (laptop compatible)
Electrical adapters/chargers
Phone
Soundproofed rooms
Turndown service
Room service (24 hours)
Slippers
Non-Smoking
Laptop-friendly workspace
Grand Deluxe Room, 1 King Bed, Non Smoking, City View
Size: 42m²
Sleeps: 3 guests
City view
Members get access to exclusive rates
About the room:
Maximum room capacity:
3 guests

(up to 3 adults, up to 2 children)
Room facilities:
Bedroom
Linens provided
Blackout drapes/curtains
Down comforter
Rollaway/extra beds (surcharge)
Premium bedding
Wardrobe or closet
Separate sitting area
Pillow menu
In-room climate control (heating)
Desk
Memory foam mattress
In-room climate control (air conditioning)
Hypo-allergenic bedding available
Bathroom
Separate bathtub and shower
Towels provided
Free toiletries
Bathrobes
Hand-held showerhead
Hair dryer
Deep soaking bathtub
Designer toiletries
Rainfall showerhead
Bidet
Entertainment
Pay movies
Satellite TV service
iPod docking station
Television
Art supplies
LCD TV
Premium TV channels
Internet
Free WiFi
Free wired Internet
Food and drink
Electric kettle
Champagne service
Espresso maker
Coffee/tea maker
Free bottled water
Minibar
Refrigerator
Family friendly
Child-size slippers
Free cribs/infant beds
Highchair
Accessible
Lowered electrical outlets in bathroom
Visual fire alarm
Lever door handles
Grab bar - in shower
Lowered peephole/view port in door
Height-adjustable showerhead
Grab bar - near toilet
Lowered locks/deadbolt
More
Pet-friendly room
Connecting/adjoining rooms available
Iron/ironing board
Daily housekeeping
Separate dining area
In-room massage available
In-room safe (laptop compatible)
Electrical adapters/chargers
Phone
Soundproofed rooms
Turndown service
Room service (24 hours)
Slippers
Non-Smoking
Laptop-friendly workspace
Sign up for instant access
Exclusive hand-picked offers
1,315,267 followers
---