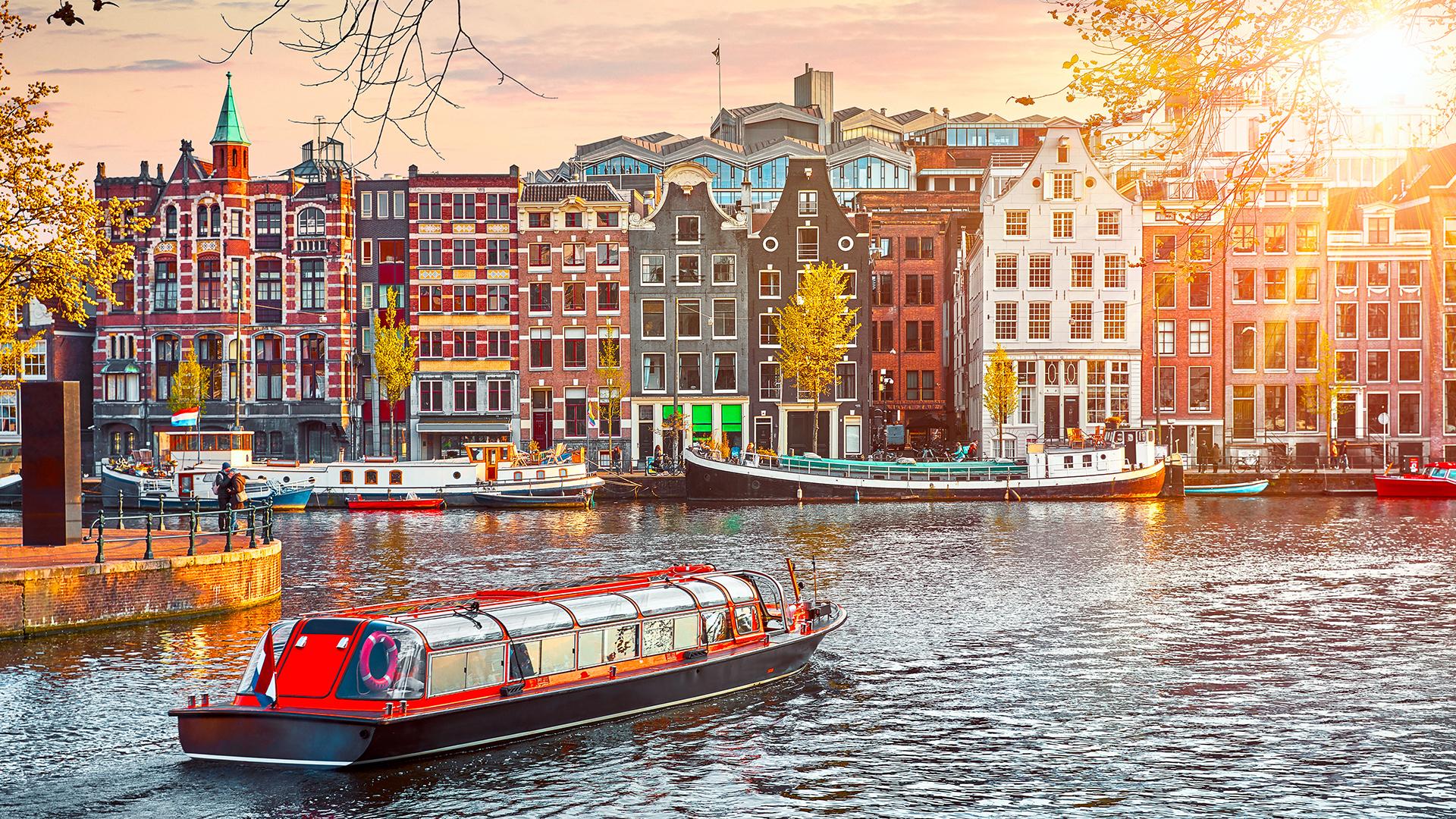 The Netherlands & Belgium – A 5-Day Luxury Small-Group Tour with Incredible Insider Experiences
Visit The Netherlands and Belgium in style on a five-day luxury small-group tour (max. 16 travellers). Staying in some of the finest handpicked accommodation, you will visit Amsterdam, the Dutch countryside, The Hague, Delft, Rotterdam, Brussels and Bruges. Includes daily breakfast, a selection of handpicked lunches and dinners, a four-course dinner cruise in Amsterdam, a private tour of the Dutch countryside with cheese tasting and windmill visit, a canal cruise and chocolate tasting in Bruges, a walking tour of Brussels with beer tasting, plus many more fantastic insider experiences.
Package Options
---
Inclusion Highlights:
Valid for one person (twin share) - you must purchase two packages
Four nights of luxury accommodation, including two nights at the chic Hotel Kimpton de Witt in Amsterdam and two nights in the luxurious Warwick Hotel, located in the heart of Brussels
Daily breakfast plus select dining experiences
Welcome dinner cruise through Amsterdam's picturesque canals
Inclusion Highlights:
Valid for one person
Four nights of luxury accommodation, including two nights at the chic Hotel Kimpton de Witt in Amsterdam and two nights in the luxurious Warwick Hotel, located in the heart of Brussels
Daily breakfast plus select dining experiences
Welcome dinner cruise through Amsterdam's picturesque canals
Combine the charm of The Netherlands with the romance, history and good food of Belgium on this five-day tour. While on your tour, you will be able to explore The Netherlands' quaint villages and windmills, and taste their delicious cheeses. In Belgium, take in the beauty of Bruges' UNESCO protected medieval core, experience the romance of the bridges and canals by boat and taste the fantastic beer and chocolate Belgium is known for.
Experience the ultimate in European Elegance with a 15-Day Luxury River Cruise Exclusive to Luxury Escapes members
Want to explore more of Europe on your getaway? Join Luxury Escapes for an experience of a lifetime on our 15-Day Luxury River Cruise. Spend 15 days cruising t he Danube, Main and Rhine rivers on board one of the most luxurious vessels cruising the European waterways. There's no better way to discover the magical beauty of Hungary, antiquity of Germany, charming aura of Austria and ancient cities of Slovakia than on board Luxury Escapes' private, five-star luxury river cruise charter. Book your cruise to depart before or after your tour of Amsterdam and Belgium and enjoy a First Class rail journey from Brussels to Cologne or Cologne to Amsterdam. With just three exclusive departures only, spaces are limited.
What You'll Love...
The Luxury Accommodation – The finest hotels in the heart of Amsterdam and Brussels
Located in prime positioning in Amsterdam's city centre, the luxury boutique Kimpton De Witt Hotel exudes a modern approach to luxury through fresh, refined rooms and imaginative spaces steeped in inspired Dutch design - including a wall of flowers at the entrance, a nod to the country's famous tulip fields.
The hotel is home to the funky House Bar, specialising in craft cocktails, and Miss Louisa Café, a speakeasy serving espresso coffee and traditional Dutch beignets, delicious small doughnuts dusted with icing sugar. The courtyard provides an excellent respite from a day of exploring.
All rooms boast Gaiam yoga mats, Marie-Stella-Maris natural body and skin care amenities, Frette robes, Tube Audio Bluetooth speakers by LEFF Amsterdam, and Nespresso coffee machines.
Your base in Belgium is the Warwick Brussels Hotel, where you will be treated to the feel of Old World elegance with the added convenience of modern facilities. Located in the heart of Belgium's awe-inspiring architecture and culture, this hotel is a perfect base for exploring. Comfortable rooms await at the end of the day and feature luxury antique touches, rich coloured decor, large flat-screen TVs, luxurious bedding, high-speed internet and contemporary bathroom facilities.
On site you will also find Chutney's Restaurant, serving Belgian specialties, and Bubbles Bar, offering an extensive cocktail list. The Chutney's menu is full of traditional delights, including the 'Best Seller Plate', which features local delicacies, fresh mussels and Chateaubriand steak.
The Experiences & Sights – A four-course dinner cruise, city walking tours, windmill visit, Belgian beer tasting and more
Your tour begins in Amsterdam, a city rich with culture, culinary delights and bustling food and flower markets.
Here, enjoy an evening cruise on the beautifully lit canal. Included is a delectable four-course dinner for you to savour as you pass the colourful picture-book houses that line the water.
Experience a walking tour of Amsterdam, taking you to some of the city's most interesting sites, including the Mint Tower, Rokin street and canal, the floating flower market, Dam Square, the Royal Palace, the Nieuwe Kerk church and the National Monument, the Beurs van Berlage, Central Station, St. Nicholas Church and the Jewish quarter of the 17th century.
Swap the city for the countryside with an exclusive insider tour of Zaanse Schans, the picturesque windmill village, with its typical green-timbered houses and warehouses. Immerse yourself in Dutch culture with a visit to a working windmill, a stop at a local cheese farm for a cheese-making demonstration and tasting, and a look inside the shop of a traditional clog maker.
Experience more of Holland with a trip to The Hague, the seat of The Netherlands' Parliament and Peace Palace, housing the International Court of Justice. Enjoy a traditional lunch at a farm in Delft, before visiting a factory producing Delftware, the blue-and-white pottery the city is famous for. Rotterdam is next on the list, with a tour here taking you past the banks of the Meuse, to the old port and the city's striking yellow cube houses.
The Belgian half of your tour begins with a trip to Bruges and the dreamy Lake of Love. Embark on a walking tour here, taking in Saint John's Hospital, Our Lady's Church with the statue by Michelangelo (optional), the Market Square with the Belfry, and the medieval Chapel of the Holy Blood.
Refuel with an included lunch and a stop at one of Belgium's renowned chocolatiers, with a chance to try some of their famous bonbons and pralines.
Enjoy a three-hour walking tour of Brussels, a place best discovered on foot. Tick off iconic sites including the majestic Grand Place, the famous Manneken Pis, the murals of Tintin, the Royal Palace, stroll through the elegant Sablon, admire the majestic courthouse and much more.
A sumptuous three-course farewell dinner with your new-found friends marks the end of your tour, with two glasses of wine, beer or soft drink included.
Your Package Includes:
Four nights of luxury accommodation, including two nights at the chic Hotel Kimpton de Witt in Amsterdam and two nights in the luxurious Warwick Hotel, located in the heart of Brussels
Daily breakfast plus select dining experiences
Welcome dinner cruise through Amsterdam's picturesque canals
Visit to the beautiful Dutch countryside to see traditional windmills, clog making and local markets
Special tastings, including traditionally produced Dutch cheeses, local Belgian beers, and a stop at one of Bruges' renowned chocolatiers
Tour The Hague, home of the Dutch Parliament and stunning gothic-style architecture
Visit the miniature city of Madurodam - home to a range of 1:25 scale model replicas of famous Dutch landmarks and historical sites
Tour the Royal Delft factory, famous world over for its great blue-and-white pottery
Tour Rotterdam, famous for its modern architecture, the old port and the striking yellow cube houses
Visit the historic town of Bruges, including a cruise on the canals
Walking tour of Brussels including beer tasting
Private return airport transfers
Expert local guides, insider experiences, private transportation, sightseeing and entrance fees throughout the tour itinerary
European River Cruise Experience
Those booking this tour in conjunction with the Luxury Escapes European River Cruise Charter will enjoy a First Class Rail ticket from Brussels to Cologne (pre-cruise) or Cologne to Amsterdam (post-cruise)
​
The '7 day change of mind guarantee' does not apply for Tour bookings. Due to the high demand and limited departures any cancellation / refund requests must be made within 48 hours of purchase. Otherwise, the standard Luxury Escapes Refund Policy applies.
After you have made your booking, please follow the instructions on your confirmation email and ensure you complete your traveller information details within 48 hours.
Important: Please allow for travelling time from Australia. International flights are not included in your package and must be purchased separately. It is your responsibility to make your own travel arrangements and ensure that you arrive in Amsterdam on your chosen tour start date.
Please ensure you arrive in Amsterdam before 12pm on Day 1 and out of Brussels at any time after breakfast on Day 5.
If you are embarking on this tour before the Luxury Escapes River Cruise Charter, you will be transferred to Brussels Train Station for your included First Class Rail journey from Brussels to Cologne on Day 5. You will need to make your own way from Cologne Train Station to the port to start your cruise.
If you are embarking on this tour after the Luxury Escapes River Cruise Charter, you will need to make your own way to Cologne Station for your included First Class Rail journey from Cologne to Amsterdam on Day 1. You will be met on arrival in Amsterdam and transferred to your hotel.
Valid for select departure dates from Amsterdam:
21 April 2020
16 July 2020
20 July 2020
Instant Booking: To secure your dates at purchase, click 'Instant Booking' and select your preferred package. Once your preferred package is selected you'll click through to 'Choose Your Dates of Travel' and will be able to enter in your preferred tour commencement date.
Tour includes accommodation at the following hotels or similar:
Hotel Kimpton de Witt, Amsterdam (Queen/Deluxe Twin Room)
Brussels Warwick Hotel, Brussels (Classic Room)
Accommodation is subject to availability and may be substituted for a hotel of a similar standard.
Maximum Room Capacity: Two adults, using double or twin bedding.
Maximum tour capacity is 16 people, minimum tour capacity is two people.
Arrival and departure transfers are only available on the first and last day of the tour. Any arrivals and departures outside of these days will need to make their own arrangements to/from the airport.
Travellers should have a basic level of physical fitness and mobility and must be able to negotiate uneven surfaces, climb stairs and board boats.
Your passport must be valid at least SIX months beyond your intended stay overseas.
The package is valid for ONE PERSON aged 18 years or older (based on twin share). If you are travelling with another person you must purchase TWO PACKAGES, otherwise if travelling alone, you must purchase the SoloTraveller package option. See the package options for further details. Solo travellers will get their own room throughout the tour.
All surcharges are payable directly to Luxury Escapes.
Dining inclusions do not include beverages (unless otherwise stated) and menu options are subject to change.
Additional expenses such as (but not limited to) international flights, visa fees, travel insurance, additional activities and anything not listed on the itinerary are not included with this package.
Tipping and gratuities are not included in the package and are at your own discretion (as a guide, approx. US$10-15 per person, per day is the industry standard).
Package cannot be split.
Travel insurance is compulsory. We suggest purchasing travel insurance as soon as possible after purchasing this package.
Strictly no refunds for this package for amendments and change of date.
Not valid in conjunction with any other offer or on existing reservations.
Any unused portion of the package is non-refundable and cannot be exchanged for other services or cash.
Please Note: Disability access is limited during the tour, please consider this when making your booking.
Before making a reservation, please ensure that the name on the reservation is the same as it appears on your passport. An error may result in a name change penalty. Luxury Escapes accepts no responsibility for accuracy of name on the travel documents.
The value and comparative savings have been determined based on published rack rates and the value of inclusions. Please be advised that rack rates may not be reflective of actual rates being charged, dependent on the timing and manner of your booking and therefore are only indicative of the level of saving.
Occasionally our itineraries are updated prior to departure to incorporate improvements stemming from past travellers' feedback as well as updates from our ground operators. Please note that while we operate successful tours in this region throughout the year, some changes may be necessary due to inclement weather and common seasonal changes to timetables and transport routes. This can happen with little notice so please be prepared for modifications to the route. The order and timing of included activities may also vary from time to time.
All activities and services are subject to availability.
Please note that full terms and conditions apply.
Booking Guarantee
Exclusively negotiated offers. We go direct to ensure you get the best price possible.
Quality guaranteed.