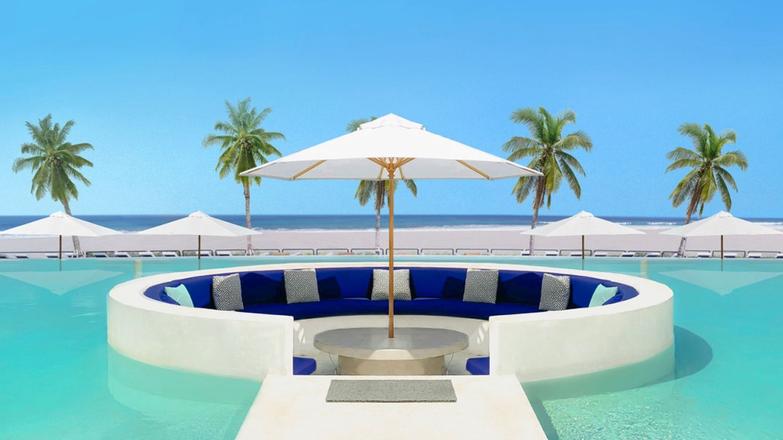 Dive into a Sunsoaked Bali Girls Getaway
8 days
  ·  
2 places
  ·  
2 countries
Get away with the girls on an indulgent trip focused on food, spa treatments, and relaxation.
Let's begin in Bali's capital of cool, Seminyak at TS Suites Seminyak, a hop, skip and short shuttle from Double Six Beach away. Uber stylish with its very own nightclub, Jenja, this cool retreat naturally lends itself to being the perfect place to spend a gals' getaway.
Drop off your bags and make a beeline for the 50-metre sky-high infinity pool for a refreshing dip. At the pool bar, order a cocktail or light snacks any time of the night.
For dinner, make your way to the five-star Pullman Bali Legian Beach — a short, five-minute drive away — for a special four-course dinner experience. Surrounded by tropical gardens to create a serene sanctuary, the hotels offers the choice of Western, Indonesian Flavour or Balinese Family Style set menus. Whether you're craving burrata cheese with pesto, Gado Gado with fried tofu and peanut sauce, or traditional Ayam Kuah Cundang, you'll savour vibrant flavours and mouthwatering bites that are sure to hit the spot.
After dinner, gather your group and make your way back to your hotel, where you can take advantage of the onsite rooftop entertainment precinct, open until 11pm.
Day 1
Ngurah Rai International Airport (DPS)
Return transfers included in your package.
Bali, Indonesia
TS Suites Seminyak
TS Suites Seminyak
Day 1 - Day 8 • 7 nights • 2 adults
Jl. Nakula No.18, Seminyak, Bali, Indonesia
There's only one correct way to start the your first full day at TS Suites, and that's with brunch. Available until 10.30am, you can enjoy a well-deserved sleep in before slowly making your way to TSea Leisure Club for a perfect brew and a beautiful plate of food from the bountiful buffet.
Nowhere does relaxation quite like Bali, so it's a given that the first stop on your escape should be to the five-star REVĪVŌ Wellness Resort, a relaxing Nusa Dua retreat spread across three hectares of enchanting teak tree forest.
Spend half the day in total wellness overload, beginning with a 60-minute group fitness class before a wholesome and organic three-course lunch. A dip in the pool or steam in the sauna is the perfect way to fully unwind before an indulgent 60-minute signature REVĪVŌ massage.
After your wellness immersion, exploring Nusa Dua is a must. Spend the rest of the day in complete bliss, lounging on the shores of popular beaches like Pandawa Beach or Pantai Geger, or take a nice long walk along the coast on the Nusa Dua Promenade.
Your day doesn't really begin until 12pm today, so you can enjoy a revitalising dip in the serenity of the 50-metre infinity pool before venturing down to breakfast and gathering with the girls onboard the Double Six shuttle bus. From here, you can literally walk all the way to Canggu, passing Seminyak Beach and Petitenget Beach. It takes approximately just over an hour along the stunning coastline to meander to your destination: iconic Café del Mar Bali Beach Club (depending on the type of walker you are, of course).
If you need a reprieve along the way, be sure to stop into Revolver Espresso for a Melbourne-worthy latte or refreshing killer chiller with blended espresso and lashings of whipped cream. Of course, if you're keen (it is before 12pm), your journey will take you past Bali icons KU DE TA and Potato Head Beach Club, both open from 8am (don't say we didn't warn you).
Arriving at your Ibiza-esque oasis, you'll be whisked into a world of undeniable Mediterranean flair to Southeast Asia. Spend the day switching between refreshing dips in sapphire infinity pool and lounging on your private daybed while looking over incredible panoramas of the Indian Ocean. Enjoy a one-pan pizza to share underneath the welcome shade of your daybed's white parasol and while away the rest of the day listening to laidback tunes, sipping your favourite drink (not included) and enjoying the good vibes.
When in Bali, is there a better way to start a morning than with a private cooking class and trip to the local markets? We're going with 'no'. Though, given your destination is only a four-minute walk away, you won't actually have to rise that early (you're on holiday after all).
Balinese cuisine is an explosion of flavours and spices designed to get the mouth watering and the stomach rumbling. From rich satay to succulent babi guling (roasted pork) and classic Nasi Goreng, the food in Bali is guaranteed to have you coming back for more. Immerse yourself in the culinary goodness at THE HAVEN Bali, where you'll join the executive chef for a market visit to gather your fresh ingredients before cooking (and eating) a three-course lunchtime feast alongside a bottle of ice-cold beer.
After your cooking class, why not get pampered at Bodyworks, a Moroccan-inspired spa on Jl. Lebak Sari. Offering heavenly massages, manicures and pedicures, facials and waxing treatments, the serene space is your one-stop shop for afternoons of relaxation. Book in for a 50-minute Balinese full-body massage or exfoliation treatment, before putting your best foot forward with a Bodyworks pedi.
For dinner, order a Gojek bike or car (the equivalent of Uber in Bali or hop in a Bluebird tax) and venture to Mauri Restaurant for a taste of Italy. The chic Italian eatery on Jl. Petitenget brings a slice of Puglia to Seminyak, taking inspiration from centuries-old culinary traditions to offer a contemporary Mediterranean dining experience.
Expect dishes like parmigiana d'astice (lobster, fried eggplant, tomato, stracciatella cheese, basil) and smoked black Angus beef tenderloin with foie gras, pumpkin, carrot and a honey and ginger jus.
After all the walking on Day 3, it only makes sense that you give your feet some well-deserved recovery time with a one-hour foot reflexology massage. This 60 minutes of heaven takes place at the five-star oasis of Nandini Jungle Resort & Spa and ends with a rejuvenating foot scrub and a warm bath with aromatic oils. Your toes will be thanking you for a lavish pampering, especially ahead of your half-day private guided tour.
Begin with a visit to the temple of Mengwi before enjoying a perfectly-timed, magnificent sunset at the spectacular Tanah Lot Temple. Be sure your phone is charged and at the ready (is it really a girls trip if there's no photographic evidence of it?). Afterwards, be transferred back to your hotel and seek out some deliciousness for dinner.
From perfectly poached eggs and crispy bacon to world class coffees and freshly squeezed juices, there's nothing more worth the wake-up than a proper brunch... which is why a visit to Jackson Lily's in the heart of Seminyak must be on the cards.
Wake up hungry and pull up a chair to your shared table, as you're treated to six courses of decadent brunch favourites over two glorious hours. Begin easy with a tropical fruit plate with Bali sea salt and lime, then crunch down on a deliciously buttery croissant or get stuck into lobster and coconut laksa. Brunch without smashed avocado and a poached egg simply isn't brunch, so it's not surprising this takes out your fourth course. Though, if you're not into this breakfast staple, you can choose from the likes of a mini fry up or a mud crab and clam omelette. Courses five and six round out the feast with lavish raisin toast topped with white chocolate mousse and hot jam donuts. Of course, the good times keep flowing with bottomless sparkling wine, local beer and cocktails. This is a guaranteed way to start your day with a bang!
As brunch comes to close, keep the good times rolling and head to the legendary Potato Head Beach Club (if you haven't already) — an absolute must-do while in Bali. Featuring an eclectic design alongside unforgettable ocean views and inventive cocktails, a day at this beach club is guaranteed to be a day well spent.
Stay at Potato Head through the evening, or head outside and bar-hop along Seminyak's main strip, visiting other icons like Motel Mexicola, Mrs Sippy and Seasalt Seminyak.
Your second-to-last day can only mean one thing... a journey to Kayumanis Jimbaran Private Estate & Spa for a blissful two-hour spa package. This relaxing ritual involves a therapeutic massage, followed by a full-body scrub to revive tired skin and stimulate circulation. Finishing off with a serene bathing ritual will leave you feeling like you're on on cloud nine.
Remember how we said evidence of a girl's trip was a must? Well, a professional TravelShoot of your time with your nearest and dearest is the only way to ensure everyone gets their perfect angle. Take dazzling holiday snapshots on or around Uluwatu Beach or Petitenget Beach Seminyak.
For your final night in Bali, the possibilities are endless. Watch the sunset from the famous Double Six Beach, enjoy an absolutely unforgettable dining experience at the likes of Barbacoa or Mama San Bali, head upstairs at Double-Six Luxury Hotel and take in the views from the rooftop bar, or — if you haven't already — visit the buzzing onsite Jenja nightclub at your hotel.
Saying goodbye to Bali is never easy, but it's easier with 3pm checkout. You can still enjoy one last swim in the infinity pool or one final cocktail at the rooftop pool bar before your VIP deluxe airport transfer arrives to whisk you away to Bali International Airport.
Day 8
Ngurah Rai International Airport (DPS)
Return transfers included in your package.
Want to go on this trip? Start planning yours today!
Make it your own by saving individual trip items or customising this entire trip below