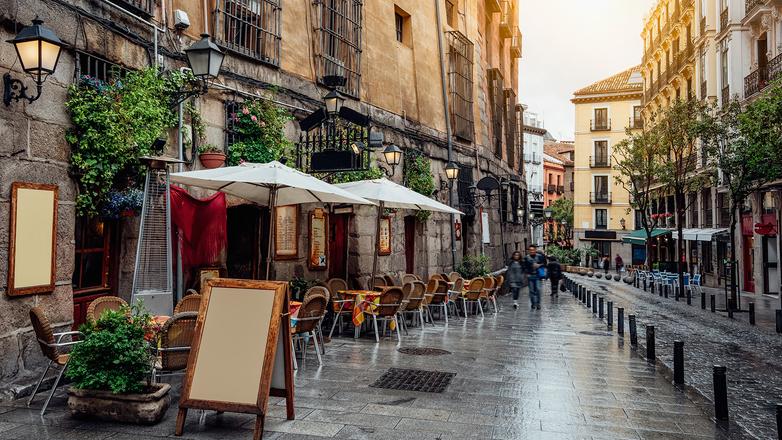 Taste Spain's Iconic Culinary Highlights
7 days
  ·  
3 places
  ·  
1 country
Sip and sample your way through rolling hills on this 6-day culinary extravaganza through northern Spain.
Hola! Welcome to Spain's elegant capital, Madrid, a city of chic boulevards and renowned repositories of Europe's finest art. Madrid is a modern metropolis of innovative cuisine and boutique shops. Take a walking tour to see the city's highlights and indulge in a tapas tasting tour to enjoy the best food in the city or visit the must-see Casa Mingo- famous for its roasted chicken and cider. You are also spoilt for choice when it comes to sport with two major league football teams to watch.
Madrid Spain
H10 Villa de la Reina
H10 Villa de la Reina
Day 1 - Day 3 • 2 nights • 2 adults
Gran Vía, 22, E-28013, Madrid Centre, Madrid
Make your stay in this world-renowned wine province full of indulgence with sip-by-sip tours of the Basque country and spend slow days meandering the romantic streets hopping tapas bars.
Take a detour to the port city of Bilbao and treat yourself to a full-day journey through the Basque regions sights and wineries. Visit the medieval village of Laguardia and peruse the streets of Vitoria on your tour before sitting down for a well-deserved local spread at lunch.
Arrive at San Sebastian, a beautiful coastal city located in the Basque Country, known for its stunning beaches, vibrant culinary scene, and picturesque Old Town. Highlights of the area include the famous La Concha beach, the iconic Parte Vieja (Old Town) with its narrow streets and pintxo bars, and the contemporary art museum, the Guggenheim Bilbao, located just a short drive away. You can also enjoy hiking in the nearby mountains, surfing on the beaches, and exploring the rich Basque culture and history.
We recommend visiting these delicious spots: Bar Nestor - Known for its legendary tortilla, this tiny bar in the Old Town is a must-visit. They also serve amazing steak, tomatoes, and foie gras. Bar Txepetxa - A seafood lover's paradise, Bar Txepetxa is famous for its creative and delicious pintxos featuring different types of anchovies. La Cuchara de San Telmo - Located in the charming Old Town, La Cuchara de San Telmo is known for its traditional and innovative pintxos, including pork cheeks, and scallops. Be prepared to wait in line, but it's worth it!
San Sebastián Spain
Hotel Arima & Spa
Hotel Arima & Spa
Day 4 - Day 7 • 3 nights • 2 adults
Paseo de Miramón, 162, 20014 Donostia-San Sebastian, SS, Spain
La Rioja, Spain
Santa María Briones
Santa María Briones
Want to go on this trip? Start planning yours today!
Make it your own by saving individual trip items or customising this entire trip below