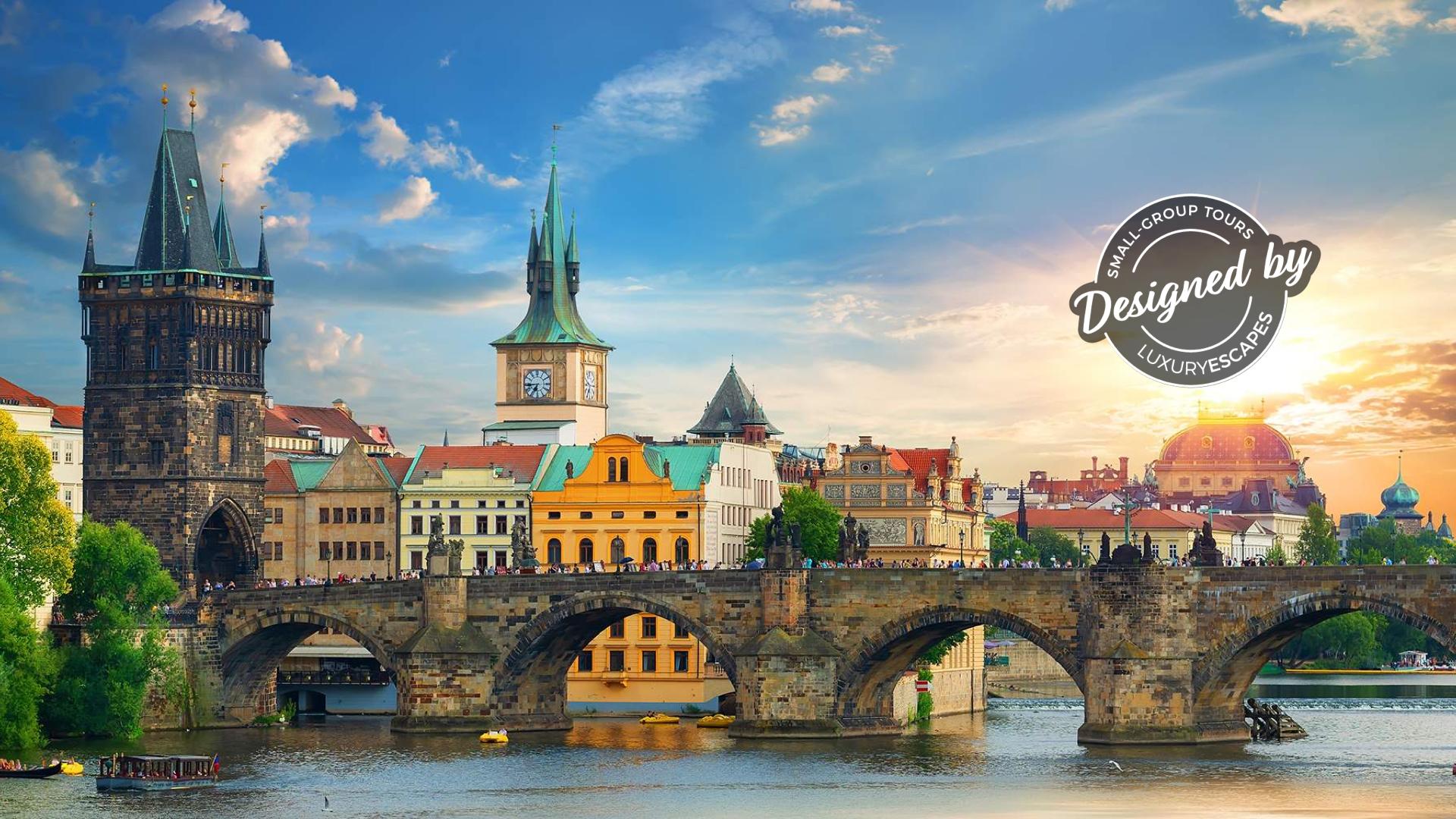 Budapest, Vienna & Prague: 8-Day Luxury Small-Group Tour with Schönbrunn Palace & Prague Castle Visit
Discover the timeless beauty of Budapest, Vienna and Prague on an eight-day luxury small-group tour (max. 16 travellers). Beginning in Hungary, explore Budapest, a unique city of two halves that straddles the Danube River. Marvel at the stunning Hungarian Parliament Building, wander royal palaces and Ottoman-era spas in Buda, then take in the fine museums and Art Nouveau buildings in Pest. Immerse yourself in imperial nostalgia in Vienna, visiting the landmark St. Stephen's Cathedral, Belvedere Palace and Schönbrunn Palace, the main summer residence of the royal Habsburg family. Travel to Prague via Český Krumlov, a charming UNESCO World Heritage-listed town known for its quaint houses and fairytale-like grand castle. Your tour concludes in Prague, where a city tour introduces you to the stunning Prague Castle complex – also UNESCO World Heritage listed – ornate Old Royal Palace, St. George's Basilica and St. Vitus Cathedral.
Includes luxury accommodation – two nights at the boutique Mystery Hotel Budapest, three nights at the Andaz Vienna Am Belvedere, part of the renowned Hyatt group, and two nights at the Boutique Hotel Jalta in Prague – daily breakfast and two dinners, private transfers and transportation throughout, the services of expert local guides, all sightseeing and entrance fees and so much more.
Your journey takes you to: Budapest – Vienna – Schönbrunn Palace – Český Krumlov – Prague.
package Options
8 Days From
Valued up to Rp48.275.000
Sold out
Inclusion highlights:
This package is valid for one person based on twin share – you must purchase two packages
Seven nights of luxury accommodation – including two nights at the boutique Mystery Hotel Budapest, three nights at the Andaz Vienna Am Belvedere, part of the renowned Hyatt group, and two nights at the Boutique Hotel Jalta in Prague
Daily breakfast and two dinners
Budapest city tour including the Hungarian Parliament Building, Fisherman's Bastion and Matthias Church
8 Days From
Valued up to Rp53.826.625
Sold out
Inclusion highlights:
This package is valid for one person based on twin share – you must purchase two packages
Seven nights of luxury accommodation – including two nights at the boutique Mystery Hotel Budapest, three nights at the Andaz Vienna Am Belvedere, part of the renowned Hyatt group, and two nights at the Boutique Hotel Jalta in Prague
Daily breakfast and two dinners
Budapest city tour including the Hungarian Parliament Building, Fisherman's Bastion and Matthias Church
SOLO TRAVELLER – LOW SEASON
8 Days From
Valued up to Rp74.053.850
Sold out
Inclusion highlights:
This package is valid for one person
Seven nights of luxury accommodation – including two nights at the boutique Mystery Hotel Budapest, three nights at the Andaz Vienna Am Belvedere, part of the renowned Hyatt group, and two nights at the Boutique Hotel Jalta in Prague
Daily breakfast and two dinners
Budapest city tour including the Hungarian Parliament Building, Fisherman's Bastion and Matthias Church
SOLO TRAVELLER – HIGH SEASON
8 Days From
Valued up to Rp85.157.100
Sold out
Inclusion highlights:
This package is valid for one person
Seven nights of luxury accommodation – including two nights at the boutique Mystery Hotel Budapest, three nights at the Andaz Vienna Am Belvedere, part of the renowned Hyatt group, and two nights at the Boutique Hotel Jalta in Prague
Daily breakfast and two dinners
Budapest city tour including the Hungarian Parliament Building, Fisherman's Bastion and Matthias Church