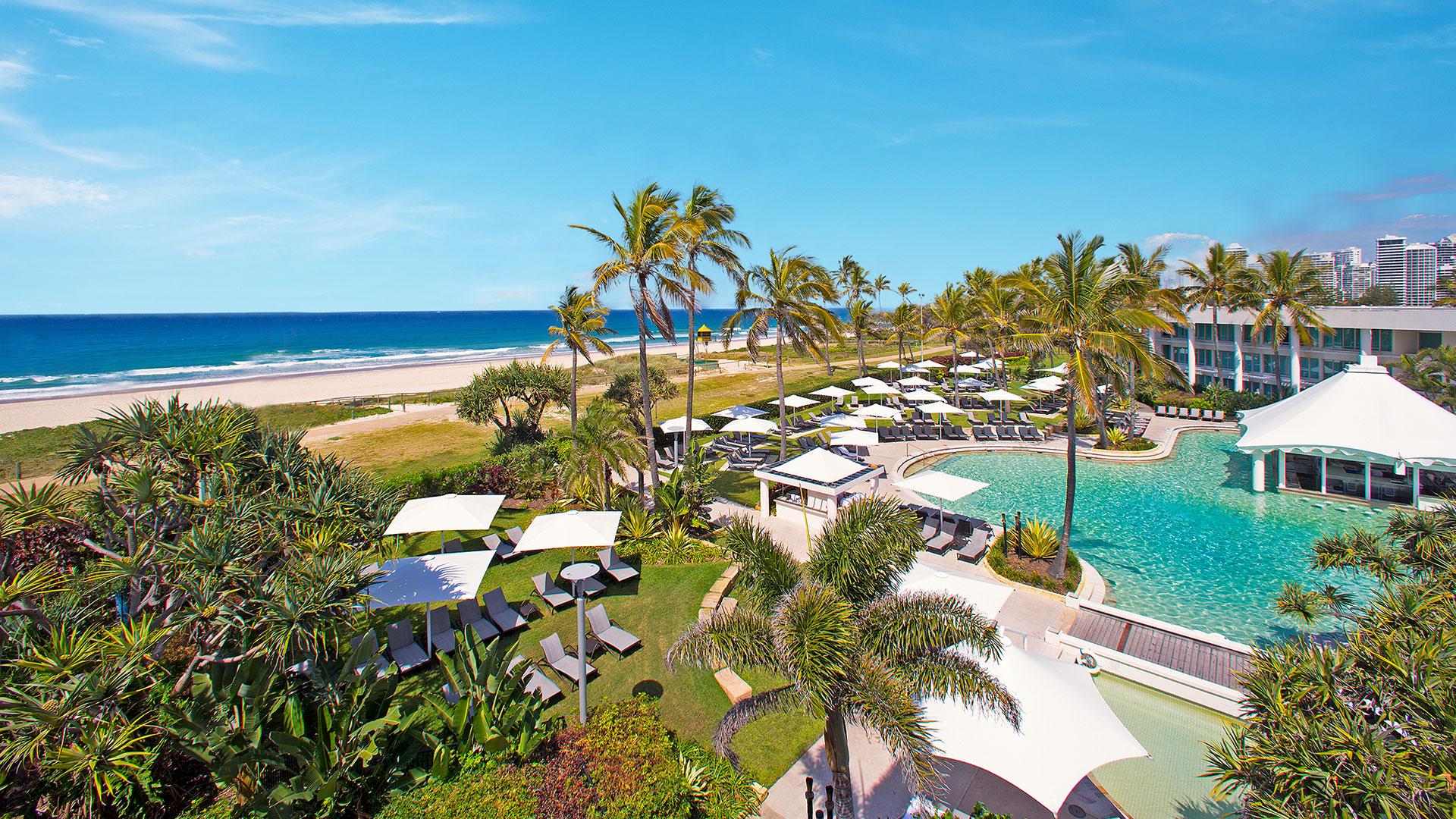 Sheraton Grand Mirage Resort Gold Coast
Sheraton Luxury at the Gold Coast's Only Five-Star Beachfront Resort with Daily Dining, Nightly Drinks & A$100 Credit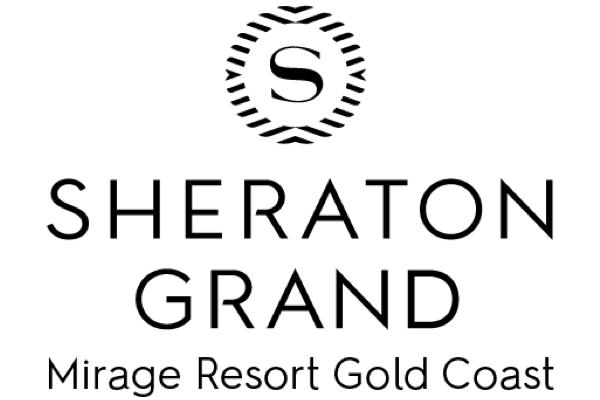 Immerse yourself in the epitome of coastal luxury at the multi-award-winning Sheraton Grand Mirage Resort, the Gold Coast's only five-star beachfront retreat. Oozing Hawaii-meets-Miami chic, this glamorous Main Beach icon is the perfect sun-kissed sanctuary just outside the buzz of Surfers Paradise.
From the renowned Terraces Restaurant — offering one of the finest seafood dinners in the Gold Coast — to the swim-up bar, six hectares of sparkling lagoons and perfectly manicured gardens, and a champagne stretch of patrolled beachfront, this five-star hotel feels like a mirage. The location is equally mesmerising. The breathtaking blue waters lap at its doorstep, one of the Gold Coast's major tourist attractions, Sea World, is within strolling distance, iconic Cavill Avenue is a 10-minute drive away and upmarket shopping and restaurant precinct Marina Mirage is just next door.
Your handpicked inclusions:
Begin days in paradise with breakfast at the iconic Terraces Restaurant
An ocean-to-plate dining experience at one of the Gold Coast's best seafood dinners at Terraces Restaurant, once per stay for two adults (or swap for meat dishes if you prefer)
Let yourself truly indulge with A$100 resort credit per room to enjoy on onsite dining and more
Cheers to your glamorous escape with a nightly glass of beer, wine or soft drink at Pearls Bar or Oasis Pool Bar
Upload pictures of this iconic stay with unlimited premium Wi-Fi
Travelling with family? Up to two children (aged 12 years and under) stay free in existing bedding (accommodation only) across all room types. See individual packages for details. For plenty of space for all the family, select the Mirage Twin Room with two double beds.
Lagoon-view upgrade available: Experience more space to unwind in the Lagoon-View Room, a spacious waterside abode with tranquil lagoon vistas and a marble ensuite with bathtub.
Partial Ocean-View upgrade available: Elevate the luxury of your stay in a Partial Ocean-View Upgrade, featuring a private balcony, a romantic spa bath, a Nespresso coffee machine and serene coastal vistas.
3 to 9 nights from
HK$5,249
Incl. taxes & fees
Valued up to HK$13,188
Hotel + flights
HK$20,375*
Two Adults
Incl. taxes & fees
Valued up to HK$28,314
This offer has SOLD OUT
Browse all hotel offers
package Options
Select your package type
SHERATON LUXURY — FAMILY TWIN
Mirage Twin Room
Spacious and breezy coastal-inspired room with two Sheraton Signature Double beds, perfect for a family, with lounge area and marble ensuite with an oversized bath
Inclusion highlights:
Up to two children aged 12 years and under stay free in existing bedding (accommodation only)
Daily breakfast at the iconic Terraces Restaurant
One ocean-to-plate seafood dinner at Terraces Restaurant for two adults
A$100 resort credit per room
Hotel
Total from
HK$5,249
Incl. taxes & fees
Valued up to HK$13,188
SOLD OUT
Hotel + flights
Total from
HK$20,375*
Two Adults
Incl. taxes & fees
Valued up to HK$28,314
SOLD OUT
SHERATON LUXURY — KING ROOM
Mirage King Room
Spacious coastal-inspired room with Sheraton Signature King bed, lounge area and marble ensuite with an oversized bath
Inclusion highlights:
Up to two children aged 12 years and under stay free in existing bedding (accommodation only)
Daily breakfast at the iconic Terraces Restaurant
One ocean-to-plate seafood dinner at Terraces Restaurant for two adults
A$100 resort credit per room
Hotel
Total from
HK$5,249
Incl. taxes & fees
Valued up to HK$13,188
SOLD OUT
Hotel + flights
Total from
HK$20,375*
Two Adults
Incl. taxes & fees
Valued up to HK$28,314
SOLD OUT
Spa Studio
Expansive private studio with a romantic spa bath, a spacious lounge area with sofa bed and a coffee machine
Inclusion highlights:
Up to two children aged 12 years and under stay free in existing bedding (accommodation only)
Daily breakfast at the iconic Terraces Restaurant
One ocean-to-plate seafood dinner at Terraces Restaurant for two adults
A$100 resort credit per room
Hotel
Total from
HK$5,799
Incl. taxes & fees
Valued up to HK$14,889
SOLD OUT
Hotel + flights
Total from
HK$20,925*
Two Adults
Incl. taxes & fees
Valued up to HK$30,015
SOLD OUT
Lagoon-View Room
Admire tranquil lagoon views from your spacious waterside abode, featuring Sheraton signature bedding, a plush sitting area and marble ensuite with bathtub
Inclusion highlights:
Up to two children aged 12 years and under stay free in existing bedding (accommodation only)
Daily breakfast at the iconic Terraces Restaurant
One ocean-to-plate seafood dinner at Terraces Restaurant for two adults
A$100 resort credit per room
Hotel
Total from
HK$5,799
Incl. taxes & fees
Valued up to HK$15,290
SOLD OUT
Hotel + flights
Total from
HK$20,925*
Two Adults
Incl. taxes & fees
Valued up to HK$30,416
SOLD OUT
PARTIAL OCEAN-VIEW UPGRADE
Partial Ocean-View Room
Wake up to soothing partial ocean views from this spacious room, featuring a panoramic windows and a marble ensuite
Inclusion highlights:
Up to two children aged 12 years and under stay free in existing bedding (accommodation only)
Daily breakfast at the iconic Terraces Restaurant
One ocean-to-plate seafood dinner at Terraces Restaurant for two adults
A$100 resort credit per room
Hotel
Total from
HK$6,099
Incl. taxes & fees
Valued up to HK$16,093
SOLD OUT
Hotel + flights
Total from
HK$21,225*
Two Adults
Incl. taxes & fees
Valued up to HK$31,219
SOLD OUT
*Price is indicative and based on sample return fares (inclusive of booking fees on Low Cost Carriers). To view live pricing, conduct a full search. Luxury Escapes full Terms and Conditions apply