Immerse Yourself in Japan's North Star
Carrie Hutchinson • Luxury Escapes Magazine #6 • All Nippon Airways (ANA)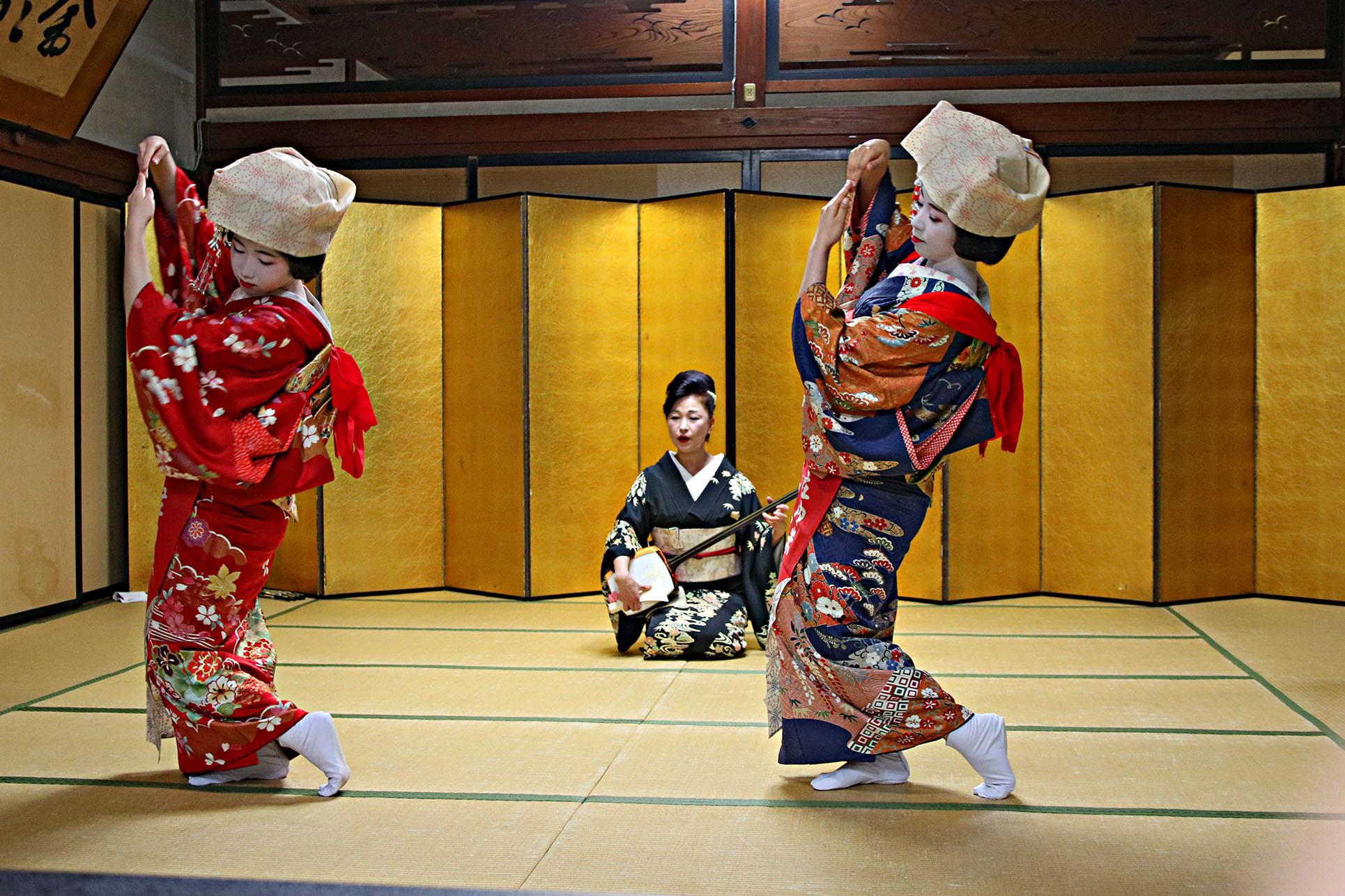 In the northeast of honshu, Japan's largest island, Carrie Hutchinson immerses herself in ancient culture, outstanding landscapes and hot springs.
Dewa Sanzan has three sacred mountains: Haguro, Gassan and Yudono. Rain is falling lightly as Kazuhiro Hayasaka stands before a large sign, pointing out the different sections of the path up Mount Haguro. Hayasaka-san is a Yamabushi priest, one of a group of ascetic monks who are believed to have special powers. These men, when they are not leading people into the hills, spend their time in the forest at one with nature.
Like this story? Subscribe to Luxury Escapes Magazine, your passport to luxury travel.
We are going to trek with Hayasaka to Haguro's 415-metre summit, much of it in silence, contemplating life, happiness and prosperity. He tells us to watch for carvings on the 2,446 steps. Find all 33 and your dreams will come true.
Yamabushi priest Kazuhiro Hayasaka at the grandpa cedar and five-storey pagoda. Carrie Hutchinson
The morning began at a pilgrim lodge in the village of Touge. Daisin-bo usually receives pilgrims from Chiba Prefecture, east of Tokyo, but today Hayasaka is in charge of our group, here to sample the experience. Pilgrims normally come during summer, climb the three mountains, fast, spend time in smoke rooms and meditate beneath cold waterfalls. In recent years, Hayasaka has welcomed repeat visitors.
"This mountain has 1,400 years of history of spiritual rebirth," he explains. "I'm increasingly hearing that people in the modern world are looking for retreat or reconnection. There are many reasons for people to come to this place, but the most important is to let your body be in nature."
The weather's inclemency means we are soon the only walkers tackling the stone steps. We cross a bridge over a stream lined by autumnal foliage. Hayasaka stops at the thousand-year-old grandpa cedar and five-storey pagoda, which was built in the tenth century. After breaks, he blows his horagai, a horn made from a conch shell, before we move onwards.
The steps grow gradually steeper and I allow the rest of the group to pull ahead. In silence I begin to appreciate the elements as the pilgrims might. The wind lashes the canopy of ancient cedars, turning it into a troupe of howling dancers. Gold and orange leaves blow across the path. Close to the top of the mountain, fog rolls in, giving the landscape a ghostly appearance. Inside the Sanjin Gosaiden shrine, we follow warmed hallways to a temple to offer the mountain gods a gift, then are presented with a hearty vegetarian feast prepared using foraged mountain vegetables. I realise during lunch that I didn't see a single one of the 33 carvings.
Traditional Take
Mount Haguro is in the central ranges of Japan's main island of Honshu. About 35 kilometres southeast of the coastal city of Sakata, it is part of the region known as Tohoku. The pace is slower and the crowds thinner making this area feel a million miles from Tokyo, even if it's only an hour's flight away. It is also somewhere visitors can see tradition at work.
Atsushi Suzuki is the third generation of his family to work behind the counter of Daruma Sushi, opened by his grandfather in 1937. He uses a precise blend of rice to get the perfect consistency and knows exactly when each fish should be prepared to ensure maximum flavour. He plates individual pieces of sushi and hands them across the counter. There's amberjack marinated in soy sauce, sole lightly flavoured with salt and sesame, and salmon that's been blow-torched. A piece of abalone is almost crunchy after the softness of the fish. There's also anago, the saltwater eel that has become more popular due to the depletion of the freshwater variety known as unagi. After lunch, instead of the nap so desperately needed, we head to Hatsumago, a distillery that opened in 1893 and one of the few to produce all of its sake using the kimoto method. It takes two months to make, but this particular step happens at the beginning, with brewers adding a yeast starter to koji (steamed rice) and water then stirring it by hand every few hours for about three weeks.
As one of the workers stands above a vat mixing with a large paddle, you can feel the heat coming off the porridge-like substance. "We're proud of having a very orthodox technique that has been passed down from generation to generation," says head brewer Hideyuki Goto.
Hatsumago's sparkling sake. Carrie Hutchinson
Rice is an important ingredient for both sushi and sake, but it's also central to Suiden Terrasse. The low-slung hotel, designed by architect Shigeru Ban, sits within rice paddies. All pale wood and minimal fittings, it's an incredibly calming space, especially when you stare out the window and see geese sifting for food in the harvested fields.
Dancing Dream
While lawmakers in Kyoto are trying to ensure geishas aren't being harassed by tourists, in Sakata, museum and teahouse Somaro has been created for people to meet maiko (trainee geishas). Tonight, however, two of them and their teacher are meeting us at Shinchaya, an old inn.
"It means 'small bells'," says Kozuso of her name, as she shakes a tiny chime attached to her waist wrap. She is currently guiding 10 students, including Ichika and Konatsu who are with her tonight, through years of intensive training.
"As well as learning to dance, the maikos also take other classes, like politics, so that they can talk to customers," she explains.
Maiko Ichika performing with fans. Carrie Hutchinson
As we plough through courses of pickled chrysanthemum, scallops, fried halibut and sashimi, the three perform. The two younger women use fans and hats, sing a call and response, and dance gracefully before us, while Kozuso plays the shamisen. "Each of the maiko cultures has its own distinctions," Kozuso tells us when they are finished and she joins us at the low table. "The dancing here is more lively because it's a fisherman's town and the fishermen need more spirit," she adds then laughs.
Mountain Magic
While we're by the sea now, the mountains aren't far away. Here, luxury ryokans attract visitors who come to soak in their onsens and partake in excellent food. It is here, too, you can visit the Kokeshi Museum, which displays thousands of traditional wooden dolls. These toys have been made right across Japan from the end of the Edo period, and each region is known for its style of decoration.
Also in the mountains is one of this region's newer fixations. The cool climate and pure river waters were all the enticement Takeshi Taketsuru needed to know this was the ideal location for his uncle's second Nikka distillery.
Masataka Taketsuru had travelled to Scotland in 1918 to learn the art of creating whisky – one of the first Japanese nationals to do so – and, after returning, built a distillery near Sapporo. But he believed terroir could influence whisky flavour and so sent his nephew to find another site. At the Miyagikyo set-up, pot stills are used to make a fruity single malt aged in sherry casks. Visitors can tour the facilities, stroll the park-like surrounds and enjoy tastings of the products created at both distilleries.
Almost a decade on
On the other side of the mountains and set on Honshu's east coast is Sendai, the capital of Tohoku. In 2011, the city's coastal areas were severely damaged during the tsunami. Even now, especially near the airport, you can still see the flattened earth, which has been rehabilitated and turned into farmland, but head into the sky on a helicopter sightseeing tour and you can see what took the brunt of the huge wave.
Rairaikyo Gorge near Akiu. Carrie Hutchinson
Just off the coastline are the hundreds of granite outcrops known as the Matsushima Islands. As the sun begins to set, glorious colours appear below. The sea is a shade of sapphire. Islands, large and small, are thick with vegetation at their heart and rimmed by pale beaches. Ferries travelling between the bodies of land leave trails of white water. Haze on the mainland mountains turns a dusky rose colour.
"If they weren't there, the damage to the city might have been much worse," says the pilot as we bank back towards the airport. As the light begins to fade, we see a towering statue, Sendai Daikannon, the goddess of compassion and mercy. She watches over the city, holding a wishing gem in her right hand – one that you hope brings good fortune to the region for many years to come.
Getting there
All Nippon Airways (ANA) has double daily flights from Sydney to Tokyo and direct daily flights from Perth.
From there you can take an ANA flight to Shonai, a half-hour from Sakata or the Tohoku Shinkansen to Sendai.
Stay
Contemporary Suiden Terrasse highlights local produce in its restaurant and shop.
Chikusenso Mt Zao Onsen Resort & Spa has a public onsen, a bar, and a kaiseki restaurant called Kamajin.
Ryokan Saryo Souen is built in a mid-century style and has minimalist guestrooms overlooking a traditional Japanese garden.