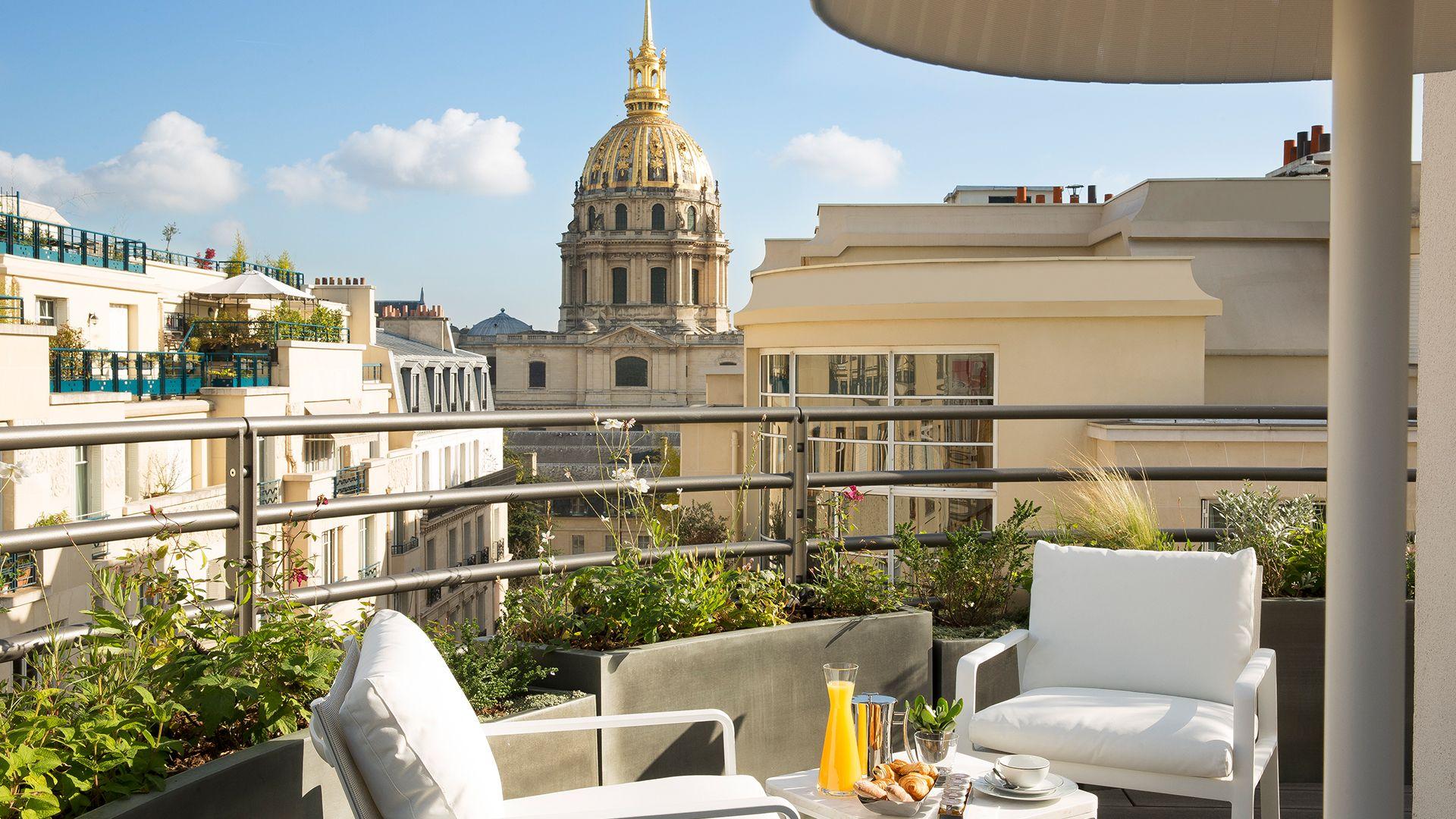 Five-Star Paris Art Deco Stay Near the Eiffel Tower
Hidden within the striking wraparound facade of a 1930s telephone exchange, the Hôtel Le Cinq Codet has been transformed into a stylish see-and-be-seen haven in the heart of Paris. On arrival, clink your welcome glasses of French champagne and find a welcome box of chocolates in your cosy Classic Room. Daily, savour a quintessential French breakfast before embarking on an exploration of the glittering City of Lights.
Upgrade to a Junior Suite to enjoy tickets to a scenic Seine River cruise and a platter of cheese, cold meats and wine on the hotel's patio.
package Options
ART DECO ELEGANCE
Classic Room
Inclusion highlights:
Inclusions valid for two adults
Daily breakfast at Chiquette Restaurant
A glass of champagne each
A welcome box of chocolates on arrival
SUPERIOR UPGRADE
Superior Room
Inclusion highlights:
Inclusions valid for two adults
Daily breakfast at Chiquette Restaurant
A glass of champagne each
A welcome box of chocolates on arrival
VIP SUITE UPGRADE
Junior Suite
Inclusion highlights:
Inclusions valid for two adults
Cheese and cold meats alongside a glass of white, rosé or red wine each at The Patio
Tickets for a scenic Seine River cruise with Bateaux Parisiens for two
Daily breakfast at Chiquette Restaurant
ART DECO ELEGANCE
Classic Room
Inclusion highlights:
Inclusions valid for two adults
Daily breakfast at Chiquette Restaurant
A glass of champagne each
A welcome box of chocolates on arrival
SUPERIOR UPGRADE
Superior Room
Inclusion highlights:
Inclusions valid for two adults
Daily breakfast at Chiquette Restaurant
A glass of champagne each
A welcome box of chocolates on arrival
VIP SUITE UPGRADE
Junior Suite
Inclusion highlights:
Inclusions valid for two adults
Cheese and cold meats alongside a glass of white, rosé or red wine each at The Patio
Tickets for a scenic Seine River cruise with Bateaux Parisiens for two
Daily breakfast at Chiquette Restaurant
ART DECO ELEGANCE
Classic Room
Inclusion highlights:
Inclusions valid for two adults
Daily breakfast at Chiquette Restaurant
A glass of champagne each
A welcome box of chocolates on arrival
SUPERIOR UPGRADE
Superior Room
Inclusion highlights:
Inclusions valid for two adults
Daily breakfast at Chiquette Restaurant
A glass of champagne each
A welcome box of chocolates on arrival
VIP SUITE UPGRADE
Junior Suite
Inclusion highlights:
Inclusions valid for two adults
Cheese and cold meats alongside a glass of white, rosé or red wine each at The Patio
Tickets for a scenic Seine River cruise with Bateaux Parisiens for two
Daily breakfast at Chiquette Restaurant