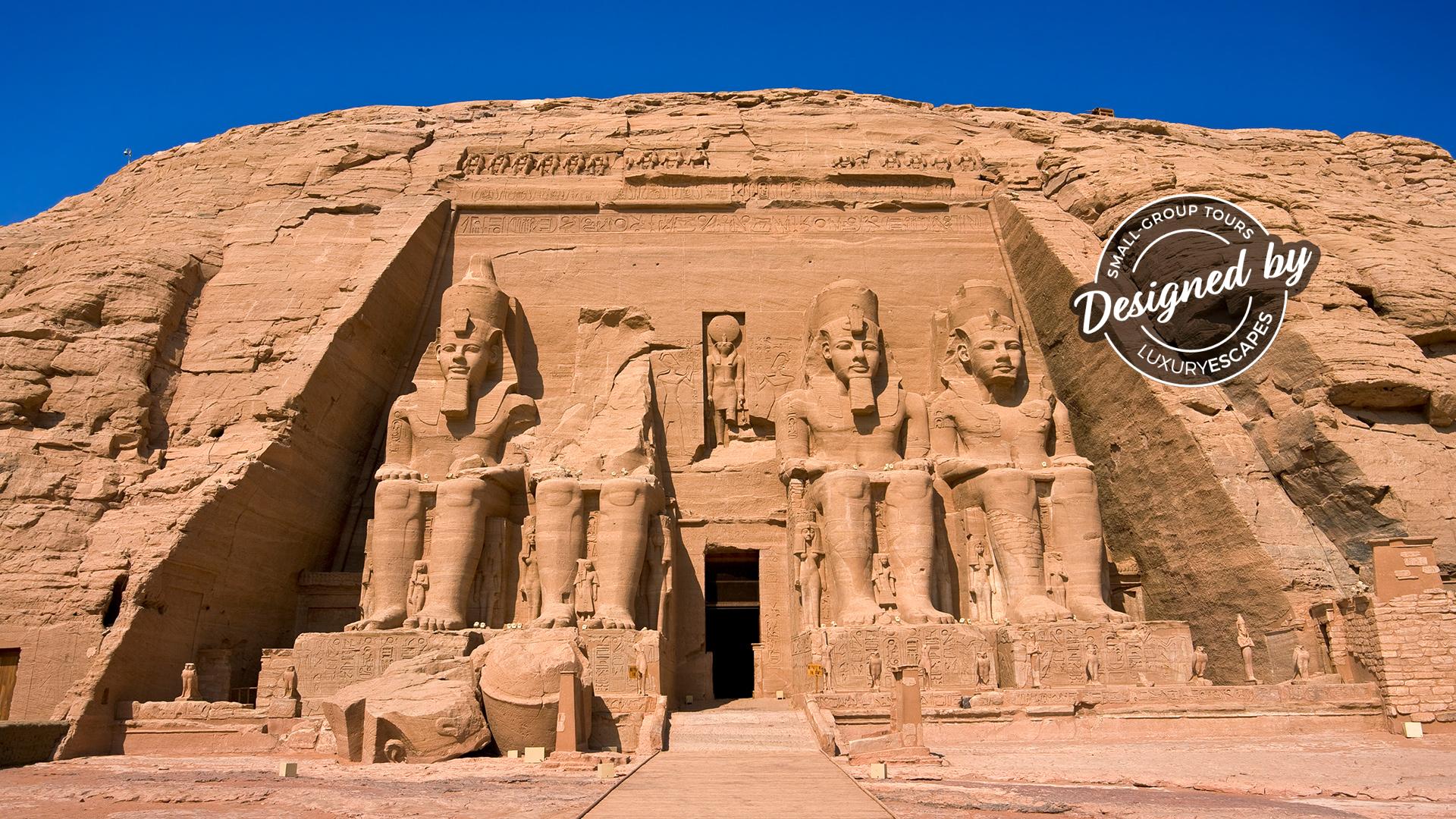 Egypt 2021: A Luxury Small-Group Tour with Four Seasons Opulence and Boutique Nile River Cruise
Step back in time to an ancient land of pharaohs and pyramids on this once-in-a-lifetime nine-day, luxury small-group tour and Nile River cruise (max. 16 travellers). Stay in unparalleled Four Seasons opulence and visit the only remaining Wonder of the Ancient World, the Great Pyramid of Giza, and the astounding Valley of the Kings – home to the tomb of Tutankhamun. Let the vivid colours of Cairo's Grand Bazaar enchant you and relax onboard the intimate M.S. Mayflower luxury ship while sailing up the Nile River, with stops at the Temple of Luxor, UNESCO World Heritage-listed Theban Necropolis burial site, Temple of Edfu and more. Finally, fly to the spectacular Abu Simbel, part of the UNESCO World Heritage-listed Nubian Monuments site.
Includes five-star accommodation at the prestigious Four Seasons Cairo at the First Residence and a four-night luxurious Nile cruise aboard the elegant M.S. Mayflower, breakfast daily and a selection of gourmet experiences, all internal flights, private transfers and transportation, a tour of Abu Simbel with return flights, the services of expert local guides, all sightseeing and entrance fees and so much more.
Sharm El Sheikh and Red Sea Extension: Extend your tour and spend four extra days discovering the treasures of Sharm El Sheikh and the world's warmest sea, bursting with an incredible reef system, coral gardens and shipwrecks.
package Options
Inclusion highlights:
Inclusions valid for one person based on twin share – you must purchase two packages
Four nights of luxury accommodation in Egypt's best five-star hotels, including three nights at Four Seasons Cairo at the First Residence and a night at Hilton Heliopolis Towers, Cairo
Four-night luxury Nile cruise aboard the boutique M.S. Mayflower, offering an intimate luxury cruising experience
All-inclusive food prepared by award-winning chefs throughout your cruise
Inclusion highlights:
Inclusions valid for one person based on twin share – you must purchase two packages
Four nights of luxury accommodation in Egypt's best five-star hotels, including three nights at Four Seasons Cairo at the First Residence and a night at Hilton Heliopolis Towers, Cairo
Four-night luxury Nile cruise aboard the boutique M.S. Mayflower, offering an intimate luxury cruising experience
All-inclusive food prepared by award-winning chefs throughout your cruise
SOLO TRAVELLER – LOW SEASON
Inclusion highlights:
Inclusions valid for one person
Four nights of luxury accommodation in Egypt's best five-star hotels, including three nights at Four Seasons Cairo at the First Residence and a night at Hilton Heliopolis Towers, Cairo
Four-night luxury Nile cruise aboard the boutique M.S. Mayflower, offering an intimate luxury cruising experience
All-inclusive food prepared by award-winning chefs throughout your cruise
SOLO TRAVELLER – HIGH SEASON
Inclusion highlights:
Inclusions valid for one person
Four nights of luxury accommodation in Egypt's best five-star hotels, including three nights at Four Seasons Cairo at the First Residence and a night at Hilton Heliopolis Towers, Cairo
Four-night luxury Nile cruise aboard the boutique M.S. Mayflower, offering an intimate luxury cruising experience
All-inclusive food prepared by award-winning chefs throughout your cruise