Lights On Vivid Sydney: Unmissable Events Week by Week
Indigenous artwork on Sydney Opera House. A panel with Magda Szubanski. And all the lights. It can only mean one thing: Vivid Sydney is back!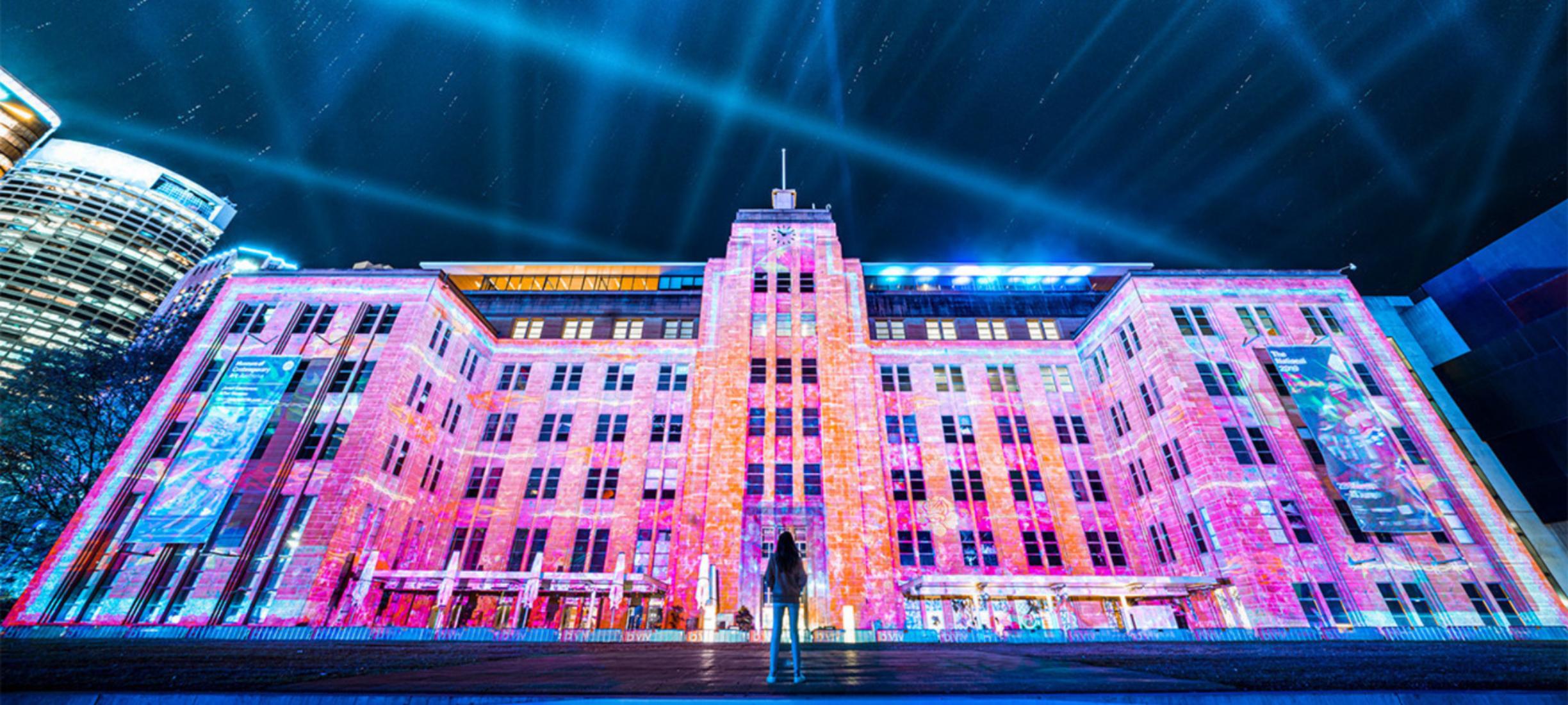 Taking place over 23 incredible days from 6–28 August 2021, Sydney's dazzling festival of light, music and ideas is just another reason to Holiday Here This Year, bringing together innovative artists and thinkers from all over the world, transforming the city into a playground of culture, art and kaleidoscopic colour. From French feasting over a neo-noir film to game-changing discussions from some of the country's leading voices and, of course, breathtaking light installations, you can expect to be illuminated at every turn.
With events peppered throughout Barangaroo, Circular Quay, Darling Harbour, Luna Park and The Rocks, navigating the plentiful program can be harder said than done. We've done the work for you, highlighting the must-see events, week by week.
Ready to book your Sydney escape? View our hotel packages.
All images courtesy of Destination NSW and Vivid Sydney 2021.
Recurring Events: 6–28 August 2021
No matter which week you decide on, these recurring events will be a constant highlight throughout Vivid Sydney's 23-day run. And while there's plenty more to discover, these are just a few that should definitely be on your radar.
The Lights
It would be impossible to cover Vivid Sydney's best bits without mentioning the multitude of light installations dotted around the city. While each one is a masterpiece in itself, there are a couple of must-sees: Vorax (Customs House), New York Sunday (MCA), Symbiosis (The Rocks), Ephemeral (Darling Harbour), Lighting the Sails (Opera House), Point of View (The Rocks), Chronoharp (Barangaroo) and Beautiful Life (Darling Harbour).
Where and when: Various CBD locations (6–11pm).
Short films
A swathe of short films will also be on show for the entirety of the festival, giving visitors a fleeting yet fantastic look into the lives of their subjects. Visible, an inclusive film about a teenager with trisomy 21 (Down syndrome) who decides to assume the persona of a superhero, is showing at Darling Harbour, while an animated tale of Australia's first celebrity, Billy Blue, is broadcasting from The Rocks.
Where and when: Darling Harbour and The Rocks (6–11pm)
Week 1: Week commencing 2 August 2021
Kick-off Vivid Sydney in style at Future Art is Vivid, an immersive and interactive NFT Crypto-Art, music and dance event at Cockle Bay, Darling Harbour. Engage all your senses as you wander past 22 new artworks from the world's best crypto-artists, which combine HD projects, digital display frames, augmented reality (AR), virtual reality (VR) and live performances. Crypto-artists Giant Swan and Marcomatic will also be on hand to challenge your perceptions about the value of digital art.
Where and when: Cockle Bay Wharf, Darling Park (6–7 August 2021)
No matter your age, Rhodes Creative will inspire and engage with a series of creative workshops for the whole family. Ever wondered how those glittering visuals are projected onto the Sydney Opera House? Explore the basics of video projection mapping at the Sculpting with Light workshop on Friday 6 August. On Saturday 14 August, you can learn how to generate your own augmented reality (18+ only) or on Friday 20 August embrace the flexible side of robotics at the family-friendly Simple Soft Robotics workshop.
Where and when: Rhodes (From 6 August 2021, select dates throughout Vivid Sydney)
Week 2: Week commencing 9 August 2021
Travel back in time and space for an immersive experience that ignites your gustatory, olfactory and visual senses like no other at Magnums & Movies, specially curated by Restaurant Hubert. Hosted at the beautifully restored Theatre Royale, the evening starts with a screening of Jean Luc-Godard's 1965 neo-noir film, Alphaville, before pausing for an indulgent French feast during intermission. Unlimited magnums of wine will be passed down the aisles throughout so you can top yourself up, ensuring you're well fed and watered as you dive into Godard's dystopic future.
Where and when: Restaurant Normandy, Sydney (From 9 August 2021, 6–10pm)
On Saturday 14 August, party specialists, Picnic, are laying down a tasty spread of underground dance music at the Sydney Opera House Studio, welcoming the likes of Wax'o Paradiso, Simon TK and Edd Fisher. Follow the DJs as they take you on a wild ride through the sounds and sensations of classic disco, house and techno. Electronic music guru Adi Toohey, club master Ben Fester, genre-hopping DJ Lauren Hansom and Picnic mastermind Kali will also be hitting the decks for the magical and now-iconic Picnic Party.
Where and when: Sydney Opera House (14 August 2021, 9pm–2.30am)
Join comedian Magda Szubanski AO and journalist and bestselling author Julia Baird for a fireside chat as they explore the healing power of the arts and laughter at Sydney Town Hall. Over 90 minutes, expect to laugh and maybe shed a tear as the two women discuss the importance of taking a stand for what you believe in, the joys of self-acceptance and why laughter truly is the best medicine, framed within Magda's coming-of-age as a gay woman.
Where and when: Sydney Town Hall (15 August 2021, 1-2.30pm)
Week 3: Week commencing 16 August 2021
Rated one of the globe's best watering holes in The World's 50 Best Bars list 2020, Cantina OK! is popping up at Carriageworks for two weeks only, bringing with it a unique mix of signature cocktails, nightclub vibes and immersive visual art experience to the streets of Eveleigh. Chef Luke Powell – of LP's and Bella Brutta – is in charge of the food, while the drinks menu celebrates the bevy of delicious drops produced in Sydney and local surrounds, with the likes of Altos Tequila, Atomic Beer Project and Grifter Brewing Company making an appearance.
Where and when: Eveleigh (19–28 August 2021, 5–11.30pm)
Musician, singer, actor and producer Briggs (famed for his work on Matt Groening's Netflix series Disenchantment) and YouTube sensation Nat's What I Reckon (renowned for his swear-heavy cooking tutorials) are sharing the stage for one night only, chatting all things mental health, music and bloody good food. With moderator Nakkiah Lui, this unlikely pair will give advice on how they are shaking up their respective industries and riffing on what they've listened to and eaten along the way.
Where and when: Sydney Town Hall (22 Aug, 5pm–6:30pm)
Advocate, radio presenter, writer and actor, Jameela Jamil is no wilting flower – in fact, outside of her star-making turn on The Good Place, she's enchanted millions of fans with her wicked wit and outspoken crusade on body positivity through her podcast 'I Weigh' (and tweets calling out the Kardashians on Twitter). She joins local trailblazer and bestselling author Jamila Rizvi via video chat at the Sydney Town Hall to talk all things body positivity, social media, diet trends and mental health. A self-described 'feminist in progress', Jameela will discuss the importance of a healthy self-image that goes 'beyond flesh and bone', diversity on stage and screens, and her approach to celebrating progress, not perfection.
Where and when: Sydney Town Hall (22 Aug, 1–2.30pm)
Week 4: Week commencing 23 August 2021
If you haven't already heard of Budjerah, you will soon – this superstar has risen through the ranks over the last 12 months to become one of the country's hottest new music acts. Fresh off the release of his self-titled debut EP, the 19-year-old Coodjinburra man from the Bundjalung nation is bringing his warm, rich sound to Vivid Live, with an intimate show at the Utzon Room at the Sydney Opera House. With a mentor in Matt Corby and a soulful R&B pop sound, Budjerah is bound for big things, so best to catch him while you can!
Where and when: Sydney Opera House (26 August 2021, 8–9pm)
You know about audiobooks and podcasts, but have you heard of audio films? Audio Drama (audio description or AD) is like a turbo-charged audiobook and set to be the next big thing in film and television, delivering a sensory experience that frees audiences from screens. Experience AD as intended in this two-hour session, listening to a selection of clips from popular films and TV shows, before discussing them with an expert panel of AD professionals, filmmakers, distributors and AD fans.
Where and when: University of Technology (23 August 2021, 6–8pm)