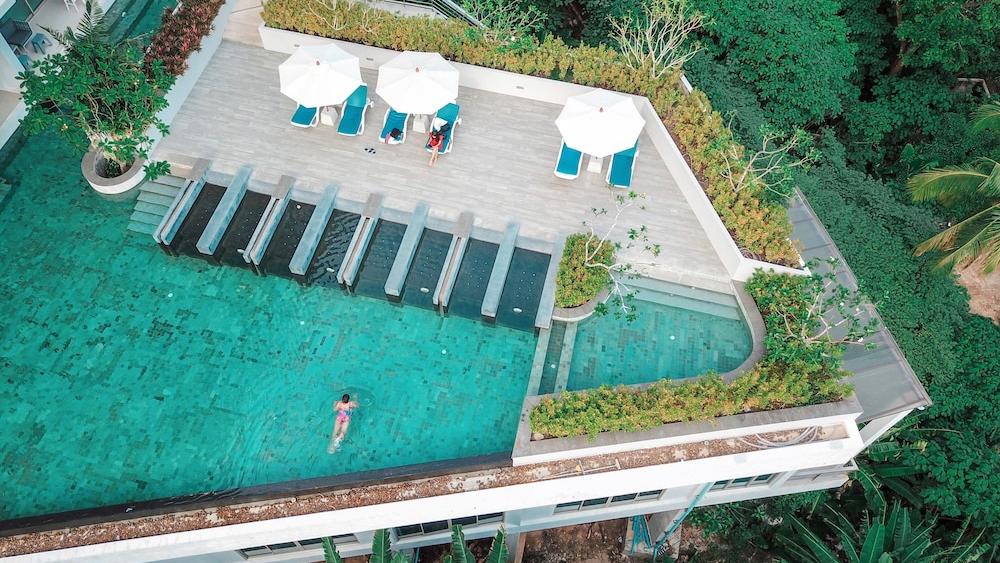 Karon, Phuket
Veloche Group
Rooms
Make yourself at home in one of the 120 air-conditioned rooms featuring kitchenettes with full-sized refrigerators/freezers and stovetops. Rooms have private balconies or patios. 45-inch flat-screen televisions with cable programming provide entertainment, while complimentary wireless Internet access keeps you connected. Conveniences include phones, as well as safes and desks.
Facilities
Make use of convenient amenities, which include complimentary wireless Internet access and concierge services.
Dining
Buffet breakfasts are available daily from 6:30 AM to 10:30 AM for a fee.
Popular Facilities
Free WiFi
Air Conditioning
Housekeeping
24/7 Front Desk
Laundry
Breakfast Available
View all facilities
package Options
Select your package type
Size: 55m²
Sleeps: 2 guests
About the room:
Maximum room capacity:
2 guests

(up to 2 adults, up to 1 child)
Room facilities:
Bedroom
Linens provided
Separate sitting area
Air conditioning
Desk
Bathroom
Towels provided
Free toiletries
Shower only
Bathrobes
Hair dryer
Entertainment
Cable TV service
Television
Flat-panel TV
Food and drink
Cookware, dishware, and utensils
Full-sized refrigerator/freezer
Kitchenette
Stovetop
More
Housekeeping - once per stay
Balcony or patio
Limited housekeeping
Separate dining area
Window screens
In-room massage available
In-room safe
Electrical adapters/chargers
Phone
Non-Smoking
About the room:
Maximum room capacity:
3 guests

(up to 2 adults, up to 2 children)
Room facilities:
Bedroom
Linens provided
Separate sitting area
Air conditioning
Desk
Bathroom
Towels provided
Free toiletries
Shower only
Bathrobes
Hair dryer
Entertainment
Cable TV service
Television
Flat-panel TV
Food and drink
Cookware, dishware, and utensils
Full-sized refrigerator/freezer
Kitchenette
Stovetop
More
Housekeeping - once per stay
Balcony or patio
Limited housekeeping
Separate dining area
Window screens
In-room massage available
In-room safe
Electrical adapters/chargers
Phone
Non-Smoking
About the room:
Maximum room capacity:
2 guests

(up to 2 adults, up to 1 child)
Room facilities:
Bedroom
Linens provided
Separate sitting area
Air conditioning
Desk
Bathroom
Towels provided
Free toiletries
Shower only
Bathrobes
Hair dryer
Entertainment
Cable TV service
Television
Flat-panel TV
Food and drink
Cookware, dishware, and utensils
Full-sized refrigerator/freezer
Kitchenette
Stovetop
More
Housekeeping - once per stay
Balcony or patio
Limited housekeeping
Separate dining area
Window screens
In-room massage available
In-room safe
Electrical adapters/chargers
Phone
Non-Smoking
About the room:
Maximum room capacity:
2 guests

(up to 2 adults, up to 1 child)
Room facilities:
Bedroom
Linens provided
Separate sitting area
Air conditioning
Desk
Bathroom
Towels provided
Free toiletries
Shower only
Bathrobes
Hair dryer
Entertainment
Cable TV service
Television
Flat-panel TV
Food and drink
Cookware, dishware, and utensils
Full-sized refrigerator/freezer
Kitchenette
Stovetop
More
Housekeeping - once per stay
Balcony or patio
Limited housekeeping
Separate dining area
Window screens
In-room massage available
In-room safe
Electrical adapters/chargers
Phone
Non-Smoking
About the room:
Maximum room capacity:
2 guests

(up to 2 adults, up to 1 child)
Room facilities:
Bedroom
Linens provided
Separate sitting area
Air conditioning
Desk
Bathroom
Towels provided
Free toiletries
Shower only
Bathrobes
Hair dryer
Entertainment
Cable TV service
Television
Flat-panel TV
Food and drink
Cookware, dishware, and utensils
Full-sized refrigerator/freezer
Kitchenette
Stovetop
More
Housekeeping - once per stay
Balcony or patio
Limited housekeeping
Separate dining area
Window screens
In-room massage available
In-room safe
Electrical adapters/chargers
Phone
Non-Smoking
About the room:
Maximum room capacity:
4 guests

(up to 4 adults, up to 3 children)
Room facilities:
Bedroom
Linens provided
Separate sitting area
Air conditioning
Desk
Bathroom
Towels provided
Free toiletries
Shower only
Bathrobes
Hair dryer
Entertainment
Cable TV service
Television
Flat-panel TV
Food and drink
Cookware, dishware, and utensils
Full-sized refrigerator/freezer
Kitchenette
Stovetop
More
Housekeeping - once per stay
Balcony or patio
Limited housekeeping
Separate dining area
Window screens
In-room massage available
In-room safe
Electrical adapters/chargers
Phone
Non-Smoking
2 Bedroom Superior Jacuzzi
About the room:
Maximum room capacity:
4 guests

(up to 4 adults, up to 3 children)
Room facilities:
Bedroom
Linens provided
Separate sitting area
Air conditioning
Desk
Bathroom
Towels provided
Free toiletries
Shower only
Bathrobes
Hair dryer
Entertainment
Cable TV service
Television
Flat-panel TV
Food and drink
Cookware, dishware, and utensils
Full-sized refrigerator/freezer
Kitchenette
Stovetop
More
Housekeeping - once per stay
Balcony or patio
Limited housekeeping
Separate dining area
Window screens
In-room massage available
In-room safe
Electrical adapters/chargers
Phone
Non-Smoking
About the room:
Maximum room capacity:
4 guests

(up to 4 adults, up to 3 children)
Room facilities:
Bedroom
Linens provided
Separate sitting area
Air conditioning
Desk
Bathroom
Towels provided
Free toiletries
Shower only
Bathrobes
Hair dryer
Entertainment
Cable TV service
Television
Flat-panel TV
Food and drink
Cookware, dishware, and utensils
Full-sized refrigerator/freezer
Kitchenette
Stovetop
More
Housekeeping - once per stay
Balcony or patio
Limited housekeeping
Separate dining area
Window screens
In-room massage available
In-room safe
Electrical adapters/chargers
Phone
Non-Smoking
About the room:
Maximum room capacity:
4 guests

(up to 4 adults, up to 3 children)
Room facilities:
Bedroom
Linens provided
Separate sitting area
Air conditioning
Desk
Bathroom
Towels provided
Free toiletries
Shower only
Bathrobes
Hair dryer
Entertainment
Cable TV service
Television
Flat-panel TV
Food and drink
Cookware, dishware, and utensils
Full-sized refrigerator/freezer
Kitchenette
Stovetop
More
Housekeeping - once per stay
Balcony or patio
Limited housekeeping
Separate dining area
Window screens
In-room massage available
In-room safe
Electrical adapters/chargers
Phone
Non-Smoking
Sleeps: 2 guests
Pool view, Sea view
About the room:
Maximum room capacity:
2 guests

(up to 2 adults, up to 1 child)
Room facilities:
Bedroom
Linens provided
Separate sitting area
Air conditioning
Desk
Bathroom
Towels provided
Free toiletries
Shower only
Bathrobes
Hair dryer
Entertainment
Cable TV service
Television
Flat-panel TV
Food and drink
Cookware, dishware, and utensils
Full-sized refrigerator/freezer
Kitchenette
Stovetop
More
Housekeeping - once per stay
Balcony or patio
Limited housekeeping
Separate dining area
Window screens
In-room massage available
In-room safe
Electrical adapters/chargers
Phone
Non-Smoking
About the room:
Maximum room capacity:
4 guests

(up to 4 adults, up to 3 children)
Room facilities:
Bedroom
Linens provided
Separate sitting area
Air conditioning
Desk
Bathroom
Towels provided
Free toiletries
Shower only
Bathrobes
Hair dryer
Entertainment
Cable TV service
Television
Flat-panel TV
Food and drink
Cookware, dishware, and utensils
Full-sized refrigerator/freezer
Kitchenette
Stovetop
More
Housekeeping - once per stay
Balcony or patio
Limited housekeeping
Separate dining area
Window screens
In-room massage available
In-room safe
Electrical adapters/chargers
Phone
Non-Smoking
About the room:
Maximum room capacity:
4 guests

(up to 4 adults, up to 3 children)
Room facilities:
Bedroom
Linens provided
Separate sitting area
Air conditioning
Desk
Bathroom
Towels provided
Free toiletries
Shower only
Bathrobes
Hair dryer
Entertainment
Cable TV service
Television
Flat-panel TV
Food and drink
Cookware, dishware, and utensils
Full-sized refrigerator/freezer
Kitchenette
Stovetop
More
Housekeeping - once per stay
Balcony or patio
Limited housekeeping
Separate dining area
Window screens
In-room massage available
In-room safe
Electrical adapters/chargers
Phone
Non-Smoking
2 Bedroom Grand Pool Side
About the room:
Maximum room capacity:
4 guests

(up to 4 adults, up to 3 children)
Room facilities:
Bedroom
Linens provided
Separate sitting area
Air conditioning
Desk
Bathroom
Towels provided
Free toiletries
Shower only
Bathrobes
Hair dryer
Entertainment
Cable TV service
Television
Flat-panel TV
Food and drink
Cookware, dishware, and utensils
Full-sized refrigerator/freezer
Kitchenette
Stovetop
More
Housekeeping - once per stay
Balcony or patio
Limited housekeeping
Separate dining area
Window screens
In-room massage available
In-room safe
Electrical adapters/chargers
Phone
Non-Smoking
About the room:
Maximum room capacity:
6 guests

(up to 6 adults, up to 5 children)
Room facilities:
Bedroom
Linens provided
Separate sitting area
Air conditioning
Desk
Bathroom
Towels provided
Free toiletries
Shower only
Bathrobes
Hair dryer
Entertainment
Cable TV service
Television
Flat-panel TV
Food and drink
Cookware, dishware, and utensils
Full-sized refrigerator/freezer
Kitchenette
Stovetop
More
Housekeeping - once per stay
Balcony or patio
Limited housekeeping
Separate dining area
Window screens
In-room massage available
In-room safe
Electrical adapters/chargers
Phone
Non-Smoking
Sleeps: 4 guests
Ocean view
About the room:
Maximum room capacity:
4 guests

(up to 4 adults, up to 2 children)
Room facilities:
Bedroom
Linens provided
Separate sitting area
Air conditioning
Desk
Bathroom
Towels provided
Free toiletries
Shower only
Bathrobes
Hair dryer
Entertainment
Cable TV service
Television
Flat-panel TV
Food and drink
Cookware, dishware, and utensils
Full-sized refrigerator/freezer
Kitchenette
Stovetop
More
Housekeeping - once per stay
Balcony or patio
Limited housekeeping
Separate dining area
Window screens
In-room massage available
In-room safe
Electrical adapters/chargers
Phone
Non-Smoking