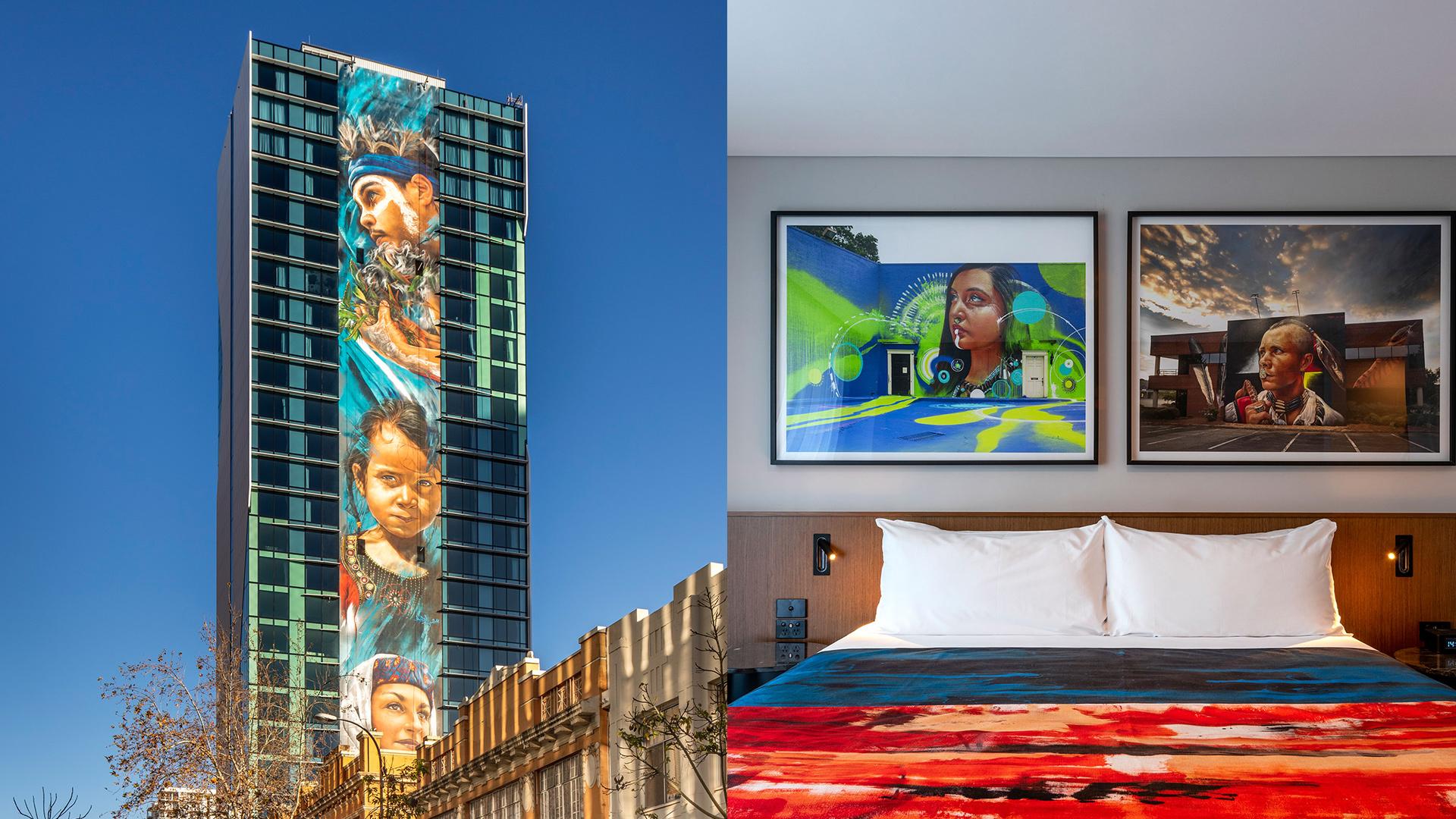 Grand Opening: Perth's First Art Series Hotel with Nightly Cocktails
Perth's first Art Series Hotel invites you to stay within a multicultural masterpiece inspired by renowned street artist Matt Adnate, in the bustling heart of Perth's CBD. Be amongst the first to experience this new artistic feat with a stay at The Adnate, home to one of the world's largest 'mega murals' - spanning a monumental 25 storeys. Spend two nights in a boutique Studio King with signature Matt Adnate artwork, daily à la carte and continental buffet breakfast for two, a nightly cocktail for two designed by Australia's most awarded bartender, an AU$50 food and drink credit to use at Hyde Perth Kitchen + Cocktails and guaranteed 12pm late checkout so you can enjoy the tranquil atmosphere and surroundings of The Adnate at your leisure.

Book now. Pay Later.
Package Options
---
GRAND OPENING ESCAPE
Studio King
Inclusion Highlights:
Inclusions valid for two adults
Daily à la carte and continental buffet breakfast for two at the Hyde Perth Kitchen + Bar
A nightly cocktail for two designed by Australia's most awarded bartender at Hyde Perth Kitchen + Bar
An AU$50 food and drink credit to use at Hyde Perth Kitchen + Bar
ART LOVERS' UPGRADE
Studio Twin
Inclusion Highlights:
Inclusions valid for two adults
Daily à la carte and continental buffet breakfast for two at the Hyde Perth Kitchen + Bar
A nightly cocktail for two designed by Australia's most awarded bartender at Hyde Perth Kitchen + Bar
An AU$50 food and drink credit to use at Hyde Perth Kitchen + Bar
ART LOVERS' GROUP UPGRADE
Two Bedroom Interconnecting
Inclusion Highlights:
Inclusions valid for four people
Daily à la carte and continental buffet breakfast for four at the Hyde Perth Kitchen + Bar
A nightly cocktail for four designed by Australia's most awarded bartender at Hyde Perth Kitchen + Bar
An AU$50 food and drink credit to use at Hyde Perth Kitchen + Bar
GRAND OPENING ESCAPE
Studio King
Inclusion Highlights:
Inclusions valid for two adults
Daily à la carte and continental buffet breakfast for two at the Hyde Perth Kitchen + Bar
A nightly cocktail for two designed by Australia's most awarded bartender at Hyde Perth Kitchen + Bar
An AU$50 food and drink credit to use at Hyde Perth Kitchen + Bar
ART LOVERS' UPGRADE
Studio Twin
Inclusion Highlights:
Inclusions valid for two adults
Daily à la carte and continental buffet breakfast for two at the Hyde Perth Kitchen + Bar
A nightly cocktail for two designed by Australia's most awarded bartender at Hyde Perth Kitchen + Bar
An AU$50 food and drink credit to use at Hyde Perth Kitchen + Bar
ART LOVERS' GROUP UPGRADE
Two Bedroom Interconnecting
Inclusion Highlights:
Inclusions valid for four people
Daily à la carte and continental buffet breakfast for four at the Hyde Perth Kitchen + Bar
A nightly cocktail for four designed by Australia's most awarded bartender at Hyde Perth Kitchen + Bar
An AU$50 food and drink credit to use at Hyde Perth Kitchen + Bar
*Price is indicative and based on sample return fares (inclusive of booking fees on Low Cost Carriers). To view live pricing, conduct a full search. Luxury Escapes full Terms and Conditions apply