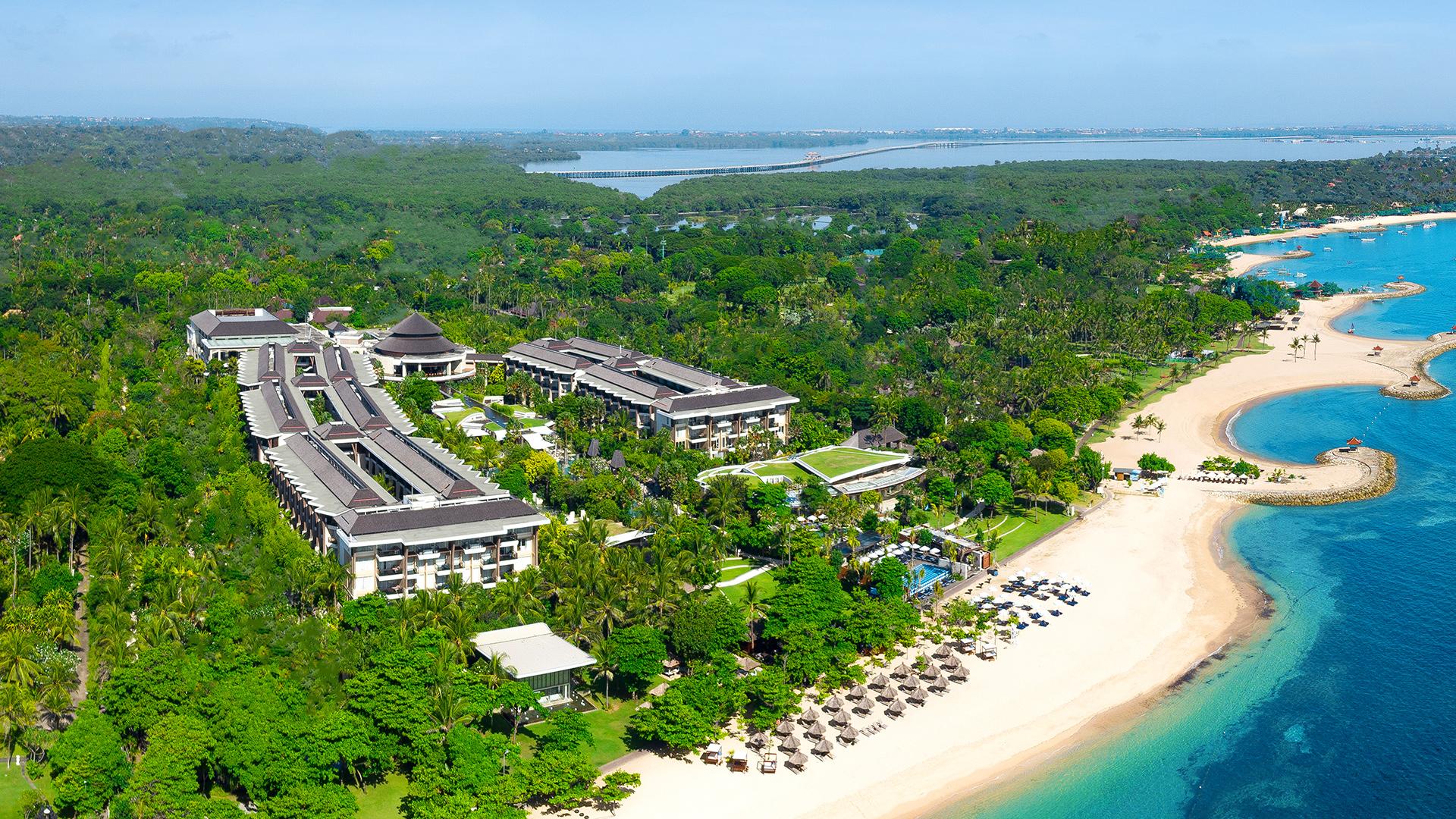 Sofitel Beachfront Escape at Indonesia's Leading Resort
Indulge in French-inspired elegance at the five-star Sofitel Bali Nusa Dua Beach Resort, located on a private stretch of pristine beach. Relax at the So Spa, the generous lagoon pool or at the resort's crowning glory, the new Manarai Beach House beach club. Your escape includes daily buffet breakfast, three dinners, one 45-minute massage per adult, a cocktail each and starter to share between two adults at Manarai Beach House, a one-way private airport transfer, yoga and cooking classes, and much more. Plus, two children (aged eight years and under) stay free with daily kids' club and meals per package inclusions. An interconnecting room upgrade is available for those travelling with older children (aged 11 years and under).

Book now. Pay Later.
package Options
---
SOFITEL BALI ESCAPE
Luxury Room
Inclusion Highlights:
Inclusions valid for two adults (two kids aged eight years and under stay free on existing bedding and a single rollaway with daily kids' club and meals per package inclusions)
Daily buffet breakfast
Two buffet dinners at Kwee Zeen
One three-course set-menu dinner at Cucina
LAGOON VIEW UPGRADE
Luxury Lagoon View Room
Inclusion Highlights:
Inclusions valid for two adults (two kids aged eight years and under stay free on existing bedding and a single rollaway with daily kids' club and meals per package inclusions)
One BBQ dinner at Toya Beach Bar and Grill
Daily buffet breakfast
Two buffet dinners at Kwee Zeen
POOL ACCESS UPGRADE
Luxury Pool Access Room
Inclusion Highlights:
Inclusions valid for two adults (two kids aged eight years and under stay free on existing bedding and a single rollaway with daily kids' club and meals per package inclusions)
One BBQ dinner at Toya Beach Bar and Grill
Daily buffet breakfast
Two buffet dinners at Kwee Zeen
FAMILY UPGRADE
Luxury Room - Interconnecting
Inclusion Highlights:
Inclusions valid for two adults (Up to two children aged 11 years and under stay free with daily kids' club and meals per package inclusions)
One BBQ dinner at Toya Beach Bar and Grill
Daily buffet breakfast
Two buffet dinners at Kwee Zeen
SOFITEL BALI ESCAPE
Luxury Room
Inclusion Highlights:
Inclusions valid for two adults (two kids aged eight years and under stay free on existing bedding and a single rollaway with daily kids' club and meals per package inclusions)
Daily buffet breakfast
Two buffet dinners at Kwee Zeen
One three-course set-menu dinner at Cucina
LAGOON VIEW UPGRADE
Luxury Lagoon View Room
Inclusion Highlights:
Inclusions valid for two adults (two kids aged eight years and under stay free on existing bedding and a single rollaway with daily kids' club and meals per package inclusions)
One BBQ dinner at Toya Beach Bar and Grill
Daily buffet breakfast
Two buffet dinners at Kwee Zeen
POOL ACCESS UPGRADE
Luxury Pool Access Room
Inclusion Highlights:
Inclusions valid for two adults (two kids aged eight years and under stay free on existing bedding and a single rollaway with daily kids' club and meals per package inclusions)
One BBQ dinner at Toya Beach Bar and Grill
Daily buffet breakfast
Two buffet dinners at Kwee Zeen
FAMILY UPGRADE
Luxury Room - Interconnecting
Inclusion Highlights:
Inclusions valid for two adults (Up to two children aged 11 years and under stay free with daily kids' club and meals per package inclusions)
One BBQ dinner at Toya Beach Bar and Grill
Daily buffet breakfast
Two buffet dinners at Kwee Zeen
*Price is indicative and based on sample return fares (inclusive of booking fees on Low Cost Carriers). To view live pricing, conduct a full search. Luxury Escapes full Terms and Conditions apply