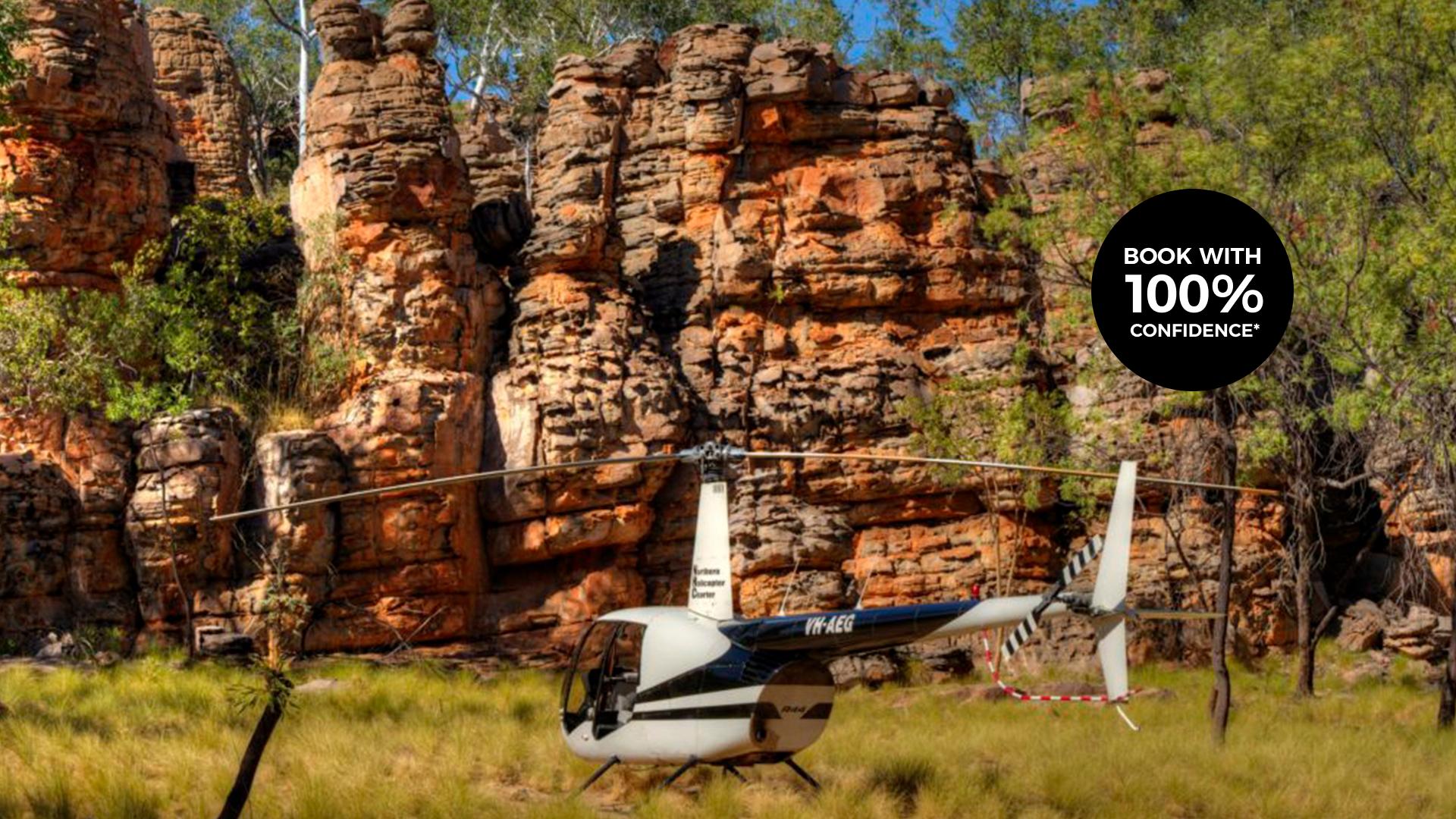 Northern Territory & Queensland

• view map
Savannah Way 2022: 12-Day Outback Journey from Darwin to Cairns with Great Barrier Reef Cruise & Helicopter Flights
Take a thrilling journey from Darwin to Cairns via Australia's iconic Savannah Way on a 12-day small-group tour (max. 16 travellers). Connecting five incredible World Heritage areas, this 3,700km span of tropical savannahs links the treasures of the Northern Territory with Tropical North Queensland.
Discover the Darwin to Cairns stretch in style (with select departure dates operating in reverse), travelling via comfortable air-conditioned coach and stopping off for handpicked stays en route. Watch as arid outback transforms into lush coastal scenery, visiting rushing waterfalls, awe-inspiring gorges and quaint towns along the way. Two incredible helicopter flights guarantee to elevate your experience: first in Limmen National Park, as you soar over the Southern Lost City and Lorella Springs; then in Queensland, where you'll take to the skies over the vast Great Barrier Reef.
Travelling via some of Australia's most astounding scenery, soak in the beauty of the wild with unique outback experiences, Aboriginal cultural tours and unforgettable nature encounters.
Your tour includes:
11 nights of handpicked accommodation, from rustic outback stays to five-star luxury in Cairns at Crystalbrook Flynn
Daily breakfast, 10 lunches and 10 dinners, including welcome and farewell dinners with matched wines
Two incredible scenic helicopter flights: first in Limmen National Park, then over the Great Barrier Reef
Katherine Gorge cruise in Nitmiluk National Park
Visit the WWII airbase and aircraft hangar at Daly Waters
Marrija 4WD Cultural Tour with exclusive access to Australia's largest salt pans
Discover the old-world wonders of Croydon Heritage Precinct
Visit the TerrEstrial Georgetown Centre, containing the Ted Elliott Mineral Collection
Take a tour and wildlife cruise through Cobbold Gorge (shared experience)
Watch for native wildlife during a Gulf Savannah sunset with sparkling wine
Learn the secrets of Undara's lava tubes
Full-day Outer Great Barrier Reef cruise with opportunities for snorkelling and diving
Transportation in a private air-conditioned vehicle throughout the tour
The services of an expert local driver-guide (plus a tour director for groups of 10+)
Roundtrip airport transfers
All entrance fees and sightseeing per the itinerary
Your journey takes you to: Darwin – Katherine – Lorella Springs – Burketown – Karumba – Cobbold Gorge – Undara – Cairns (or in reverse).
Book with 100% Confidence: Right up until 60 days before departure you can enjoy unlimited, free date changes, or cancel and get a 100% credit to use at Luxury Escapes for any other Limited Time Lux Exclusive accommodation, tour or cruise offer. Excludes flights, see the Fine Print for details.
Furthermore, if you are unable to travel on your tour as a result of Government travel restrictions, even right up to the day of departure, Luxury Escapes will assist you with a date change. We can also provide you with a credit or refund for your booking (less any non-recoverable costs). See below for full terms and conditions.
Please note: Depending on your chosen departure date, this tour will travel Darwin to Cairns or Cairns to Darwin. Please select your date carefully when booking.
Interest-free payment options available 

package Options
TWIN SHARE – DARWIN TO CAIRNS
12 Days from
Valued up to A$13,891
Inclusion highlights:
Package valid for one person (twin share) — you must purchase two packages
Includes private room and bath throughout tour with king or queen bed, or two bed options
11 nights of handpicked accommodation, from rustic outback stays to five-star luxury in Cairns at Crystalbrook Flynn
Daily breakfast, 10 lunches and 10 dinners, including welcome and farewell dinners with matched wines
Two incredible scenic helicopter flights: first in Limmen National Park, then over the Great Barrier Reef
Katherine Gorge cruise in Nitmiluk National Park
Visit the WWII airbase and aircraft hangar at Daly Waters
Marrija 4WD Cultural Tour with exclusive access to Australia's largest salt pans
Discover the old-world wonders of Croydon Heritage Precinct
Visit the TerrEstrial Centre, containing the Ted Elliott Mineral Collection, in Georgetown
Take a tour and wildlife cruise through Cobbold Gorge (shared experience)
Watch for native wildlife during a Gulf Savannah sunset with sparkling wine
Learn the secrets of Undara's lava tubes
Enjoy a full-day Outer Great Barrier Reef cruise with opportunities for snorkelling, diving and more
Transportation in a private air-conditioned vehicle throughout the tour
The services of an expert local driver-guide (plus a tour director for groups of 10+)
Roundtrip airport transfers
All entrance fees and sightseeing per the itinerary
TWIN SHARE – CAIRNS TO DARWIN
12 Days from
Valued up to A$13,891
Inclusion highlights:
Package valid for one person (twin share) — you must purchase two packages
Includes private room and bath throughout tour with king or queen bed, or two bed options
11 nights of handpicked accommodation, from rustic outback stays to five-star luxury in Cairns at Crystalbrook Flynn
Daily breakfast, 10 lunches and 10 dinners, including welcome and farewell dinners with matched wines
Two incredible scenic helicopter flights: first in Limmen National Park, then over the Great Barrier Reef
Katherine Gorge cruise in Nitmiluk National Park
Visit the WWII airbase and aircraft hangar at Daly Waters
Marrija 4WD Cultural Tour with exclusive access to Australia's largest salt pans
Discover the old-world wonders of Croydon Heritage Precinct
Visit the TerrEstrial Centre, containing the Ted Elliott Mineral Collection, in Georgetown
Take a tour and wildlife cruise through Cobbold Gorge (shared experience)
Watch for native wildlife during a Gulf Savannah sunset with sparkling wine
Learn the secrets of Undara's lava tubes
Enjoy a full-day Outer Great Barrier Reef cruise with opportunities for snorkelling, diving and more
Transportation in a private air-conditioned vehicle throughout the tour
The services of an expert local driver-guide (plus a tour director for groups of 10+)
Roundtrip airport transfers
All entrance fees and sightseeing per the itinerary
SOLO TRAVELLER – DARWIN TO CAIRNS
12 Days from
Valued up to A$14,787
Inclusion highlights:
Package valid for one person (solo traveller)
Includes private room and bath throughout tour with king or queen bed, or two bed options
11 nights of handpicked accommodation, from rustic outback stays to five-star luxury in Cairns at Crystalbrook Flynn
Daily breakfast, 10 lunches and 10 dinners, including welcome and farewell dinners with matched wines
Two incredible scenic helicopter flights: first in Limmen National Park, then over the Great Barrier Reef
Katherine Gorge cruise in Nitmiluk National Park
Visit the WWII airbase and aircraft hangar at Daly Waters
Marrija 4WD Cultural Tour with exclusive access to Australia's largest salt pans
Discover the old-world wonders of Croydon Heritage Precinct
Visit the TerrEstrial Centre, containing the Ted Elliott Mineral Collection, in Georgetown
Take a tour and wildlife cruise through Cobbold Gorge (shared experience)
Watch for native wildlife during a Gulf Savannah sunset with sparkling wine
Learn the secrets of Undara's lava tubes
Enjoy a full-day Outer Great Barrier Reef cruise with opportunities for snorkelling, diving and more
Transportation in a private air-conditioned vehicle throughout the tour
The services of an expert local driver-guide (plus a tour director for groups of 10+)
Roundtrip airport transfers
All entrance fees and sightseeing per the itinerary
SOLO TRAVELLER – CAIRNS TO DARWIN
12 Days from
Valued up to A$14,787
Inclusion highlights:
Package valid for one person (solo traveller)
Includes private room and bath throughout tour with king or queen bed, or two bed options
11 nights of handpicked accommodation, from rustic outback stays to five-star luxury in Cairns at Crystalbrook Flynn
Daily breakfast, 10 lunches and 10 dinners, including welcome and farewell dinners with matched wines
Two incredible scenic helicopter flights: first in Limmen National Park, then over the Great Barrier Reef
Katherine Gorge cruise in Nitmiluk National Park
Visit the WWII airbase and aircraft hangar at Daly Waters
Marrija 4WD Cultural Tour with exclusive access to Australia's largest salt pans
Discover the old-world wonders of Croydon Heritage Precinct
Visit the TerrEstrial Centre, containing the Ted Elliott Mineral Collection, in Georgetown
Take a tour and wildlife cruise through Cobbold Gorge (shared experience)
Watch for native wildlife during a Gulf Savannah sunset with sparkling wine
Learn the secrets of Undara's lava tubes
Enjoy a full-day Outer Great Barrier Reef cruise with opportunities for snorkelling, diving and more
Transportation in a private air-conditioned vehicle throughout the tour
The services of an expert local driver-guide (plus a tour director for groups of 10+)
Roundtrip airport transfers
All entrance fees and sightseeing per the itinerary