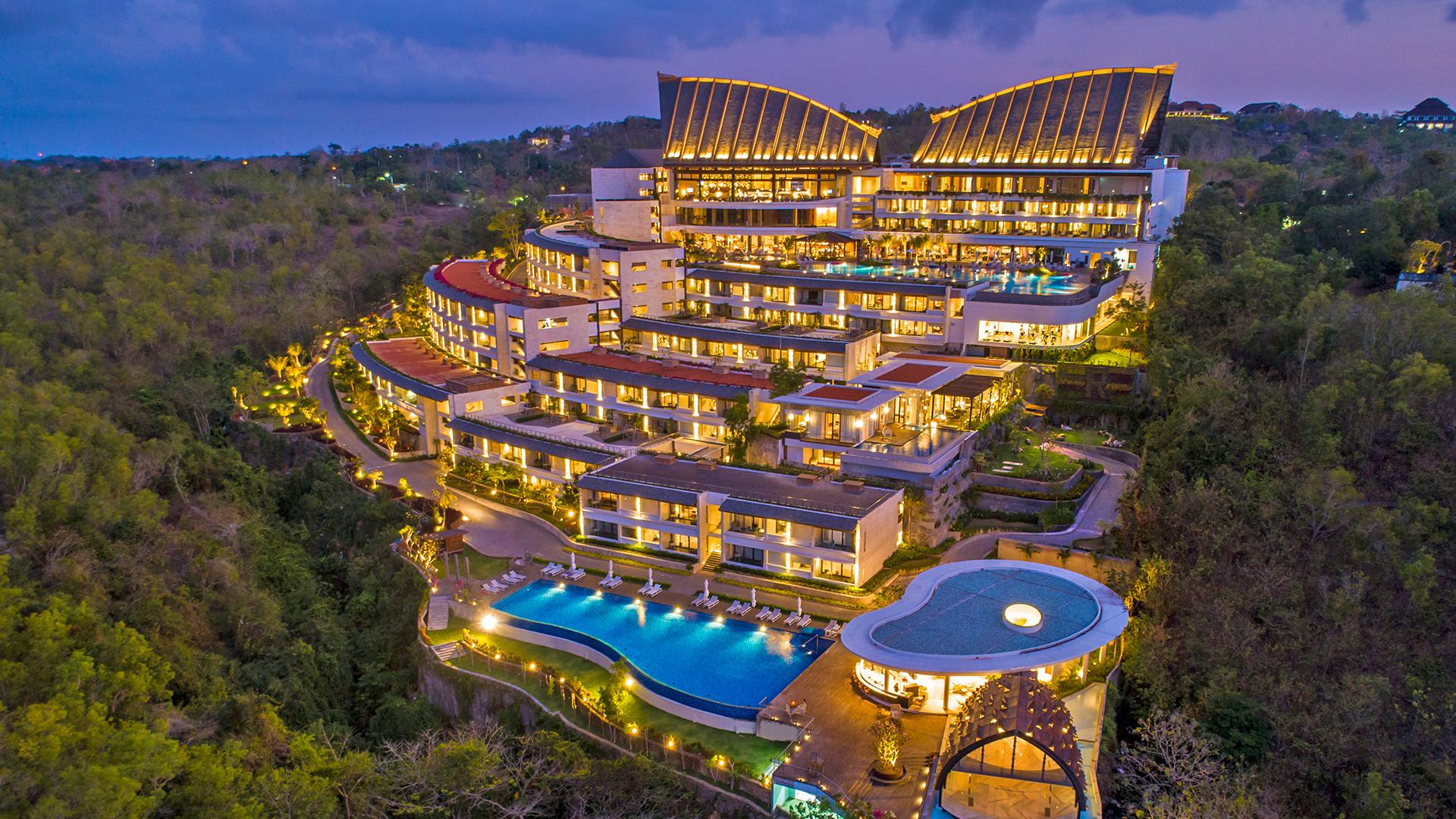 Spectacular Uluwatu Escape with Exquisite Dining Inclusions and Nightly Drinks
Secluded luxury and endless ocean views await at the award-winning Renaissance Bali Uluwatu Resort & Spa – a sanctuary of serenity surrounded by dramatic cliffs, brought to you by the internationally renowned Marriott brand. Experience modern luxury at its finest, soak up the chilled-out vibes of Uluwatu and receive the full VIP treatment at this lifestyle resort with daily buffet breakfast, a traditional Balinese buffet dinner, two lavish two-course dining experiences, nightly cocktails, two 45-minute massages per adult and a convenient airport pick up from Bali's Denpasar Airport.

Book now. Pay Later.
package Options
---
ULUWATU ESCAPE
Deluxe Room Garden View
Inclusion Highlights:
Inclusions valid for two adults
Daily breakfast and nightly cocktails
Three dining experiences
Two 45-minute Balinese massages per person
Inclusion Highlights:
Inclusions valid for two adults
Daily breakfast and nightly cocktails
Three dining experiences
Two 45-minute Balinese massages per person
FAMILY UPGRADE
Family Loft Suite
Inclusion Highlights:
Inclusions valid for two adults
Two children aged 11 years and under stay free
Daily breakfast and nightly cocktails
Three dining experiences
Two 45-minute Balinese massages per adult
ULUWATU ESCAPE
Deluxe Room Garden View
Inclusion Highlights:
Inclusions valid for two adults
Daily breakfast and nightly cocktails
Three dining experiences
Two 45-minute Balinese massages per person
Inclusion Highlights:
Inclusions valid for two adults
Daily breakfast and nightly cocktails
Three dining experiences
Two 45-minute Balinese massages per person
FAMILY UPGRADE
Family Loft Suite
Inclusion Highlights:
Inclusions valid for two adults
Two children aged 11 years and under stay free
Daily breakfast and nightly cocktails
Three dining experiences
Two 45-minute Balinese massages per adult
ULUWATU ESCAPE
Deluxe Room Garden View
Inclusion Highlights:
Inclusions valid for two adults
Daily breakfast and nightly cocktails
Three dining experiences
Two 45-minute Balinese massages per person
Inclusion Highlights:
Inclusions valid for two adults
Daily breakfast and nightly cocktails
Three dining experiences
Two 45-minute Balinese massages per person
FAMILY UPGRADE
Family Loft Suite
Inclusion Highlights:
Inclusions valid for two adults
Two children aged 11 years and under stay free
Daily breakfast and nightly cocktails
Three dining experiences
Two 45-minute Balinese massages per adult
*Price is indicative and based on sample return fares (inclusive of booking fees on Low Cost Carriers). To view live pricing, conduct a full search. Luxury Escapes full Terms and Conditions apply