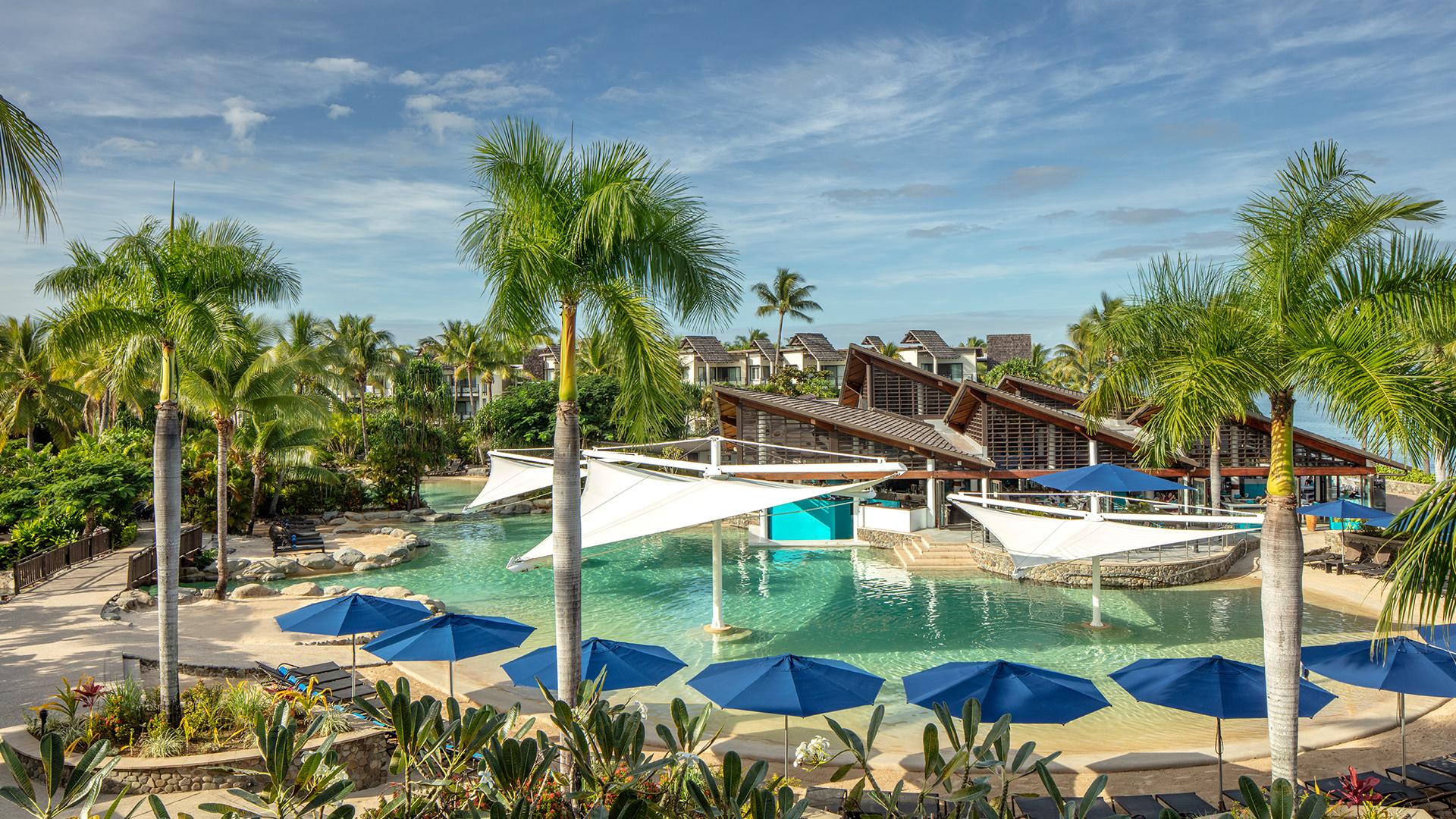 Denarau Island Oasis with Decadent Dining Inclusions & Nightly Drinks
A honeymooner's dream, a family's paradise and an adventure lover's playground, discover the best of Fiji with a stay at the award-winning Radisson Blu Resort Fiji, less than thirty minutes from Nadi Airport and home to three of Denarau Island's top-rated restaurants as voted on TripAdvisor. Set your watch to island time and unwind with decadent dining inclusions including daily buffet breakfast, a dinner for two adults at Chantara Thai Restaurant, two à la carte lunches for two adults at Blu Bar & Grill or Chantara Thai Restaurant and a nightly glass of refreshing beer, wine or a house cocktail. Voted the number one family resort in Fiji on TripAdvisor, this resort sets the benchmark for an indulgent Fiji family escape with free accommodation and meals for one child 12 years and under and one infant (conditions apply). Or upgrade to a family package to take two children!

Book now. Pay Later.
package Options
FIJI OASIS
Standard Garden View Room
Inclusion highlights:
Inclusions valid for two adults
One child 12 and under and one infant stay free and eat free with two dining adults
Daily buffet breakfast for two adults at Blu Bar & Grill
A one-time dinner for two adults at Chantara Thai Restaurant with a main and your choice of a vegetable or rice side dish (exclusions apply)
LAGOON RETREAT UPGRADE
Superior Lagoon View Room
Inclusion highlights:
Inclusions valid for two adults
One child 12 and under and one infant stay free and eat free with two dining adults
Daily buffet breakfast for two adults at Blu Bar & Grill
A one-time dinner for two adults at Chantara Thai Restaurant with a main and your choice of a vegetable or rice side dish (exclusions apply)
FAMILY OASIS UPGRADE
Garden View One Bedroom Suite
Inclusion highlights:
Inclusions valid for two adults and two children (12 and under)
Two children 12 and under stay free and eat free with two dining adults
Daily buffet breakfast for two adults at Blu Bar & Grill
A one-time dinner for two adults at Chantara Thai Restaurant with a main and your choice of a vegetable or rice side dish (exclusions apply)
FAMILY ULTIMATE RETREAT
Garden View Two Bedroom Suite
Inclusion highlights:
Inclusions valid for two adults and two children (12 and under)
Two children 12 and under stay free and eat free with two dining adults
Daily buffet breakfast for two adults at Blu Bar & Grill
A one-time dinner for two adults at Chantara Thai Restaurant with a main and your choice of a vegetable or rice side dish (exclusions apply)
FIJI OASIS
Standard Garden View Room
Inclusion highlights:
Inclusions valid for two adults
One child 12 and under and one infant stay free and eat free with two dining adults
Daily buffet breakfast for two adults at Blu Bar & Grill
A one-time dinner for two adults at Chantara Thai Restaurant with a main and your choice of a vegetable or rice side dish (exclusions apply)
LAGOON RETREAT UPGRADE
Superior Lagoon View Room
Inclusion highlights:
Inclusions valid for two adults
One child 12 and under and one infant stay free and eat free with two dining adults
Daily buffet breakfast for two adults at Blu Bar & Grill
A one-time dinner for two adults at Chantara Thai Restaurant with a main and your choice of a vegetable or rice side dish (exclusions apply)
FAMILY OASIS UPGRADE
Garden View One Bedroom Suite
Inclusion highlights:
Inclusions valid for two adults and two children (12 and under)
Two children 12 and under stay free and eat free with two dining adults
Daily buffet breakfast for two adults at Blu Bar & Grill
A one-time dinner for two adults at Chantara Thai Restaurant with a main and your choice of a vegetable or rice side dish (exclusions apply)
FAMILY ULTIMATE RETREAT
Garden View Two Bedroom Suite
Inclusion highlights:
Inclusions valid for two adults and two children (12 and under)
Two children 12 and under stay free and eat free with two dining adults
Daily buffet breakfast for two adults at Blu Bar & Grill
A one-time dinner for two adults at Chantara Thai Restaurant with a main and your choice of a vegetable or rice side dish (exclusions apply)
*Price is indicative and based on sample return fares (inclusive of booking fees on Low Cost Carriers). To view live pricing, conduct a full search. Luxury Escapes full Terms and Conditions apply