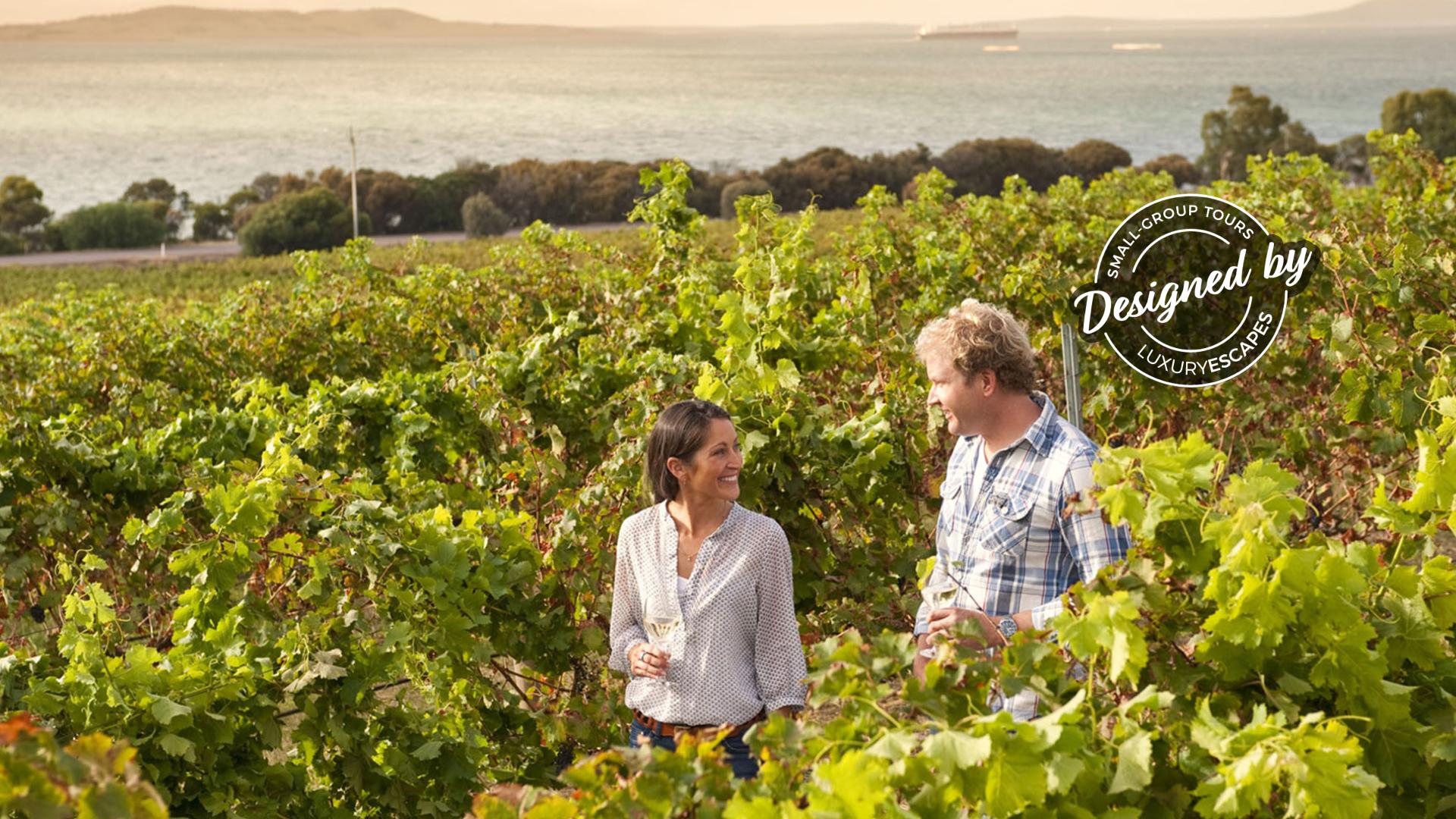 Port Lincoln & Coffin Bay: 5-Day Small-Group Gourmet Tour with Oyster Shucking & Wine Tastings
Discover the rich local produce, fine wine and exquisite fresh seafood of South Australia on a five-day small-group tour (max. 16 travellers) of Port Lincoln and Coffin Bay. Take an epicurean discovery through stunning natural scenery – from lush national parks to pristine coastline dotted with tranquil sheltered bays – as you visit the region's best restaurants and vineyards.
Learn the art of oyster farming during an unforgettable experience at Coffin Bay Oyster Farm, where you can try your hand at shucking and taste delectable oysters fresh from the ocean. Sample the region's finest wines at Boston Bay Wines and the family-run Lincoln Estate, nestled within the Glen Forest farm. Satisfy your inner gourmand during incredible dining experiences at the region's best restaurants, from local seafood with waterfront views at the Marina Hotel to Eyre Peninsula delicacies at the award-winning Del Giorno's and a range of chef's favourites at the 1802 Oyster Bar.
Take in the delightful natural scenery and quintessential Australian wildlife with a tranquil cruise around Port Lincoln Marina, a visit to see the wild koalas at Mikkira Station, a gentle hike through the stunning Lincoln National Park and a visit to the pristine beaches of Coffin Bay National Park with morning tea at scenic Yangie Bay.
This gourmet tour of fine wine, food and breathtaking natural beauty includes four nights of accommodation – including a night at Rydges Adelaide with a welcome drink and breakfast at the beginning and end of your tour, and two nights at Port Lincoln Hotel – return flights from Adelaide to Port Lincoln with airport transfers, daily breakfast and gourmet dining at award-winning restaurants per itinerary, local tastings of fresh oysters, wine, seafood and more, private luxury transportation throughout, the services of a knowledgeable local guide, and so much more.
Private departures available: Enquire about private touring for groups of two to six, available on request.
Your journey takes you to: Adelaide – Port Lincoln – Coffin Bay – Adelaide.
Interest-free payment options available 

package Options
5 Days From
Valued up to A$3,603
Sold out
Inclusion highlights:
Inclusions valid for one person (twin share) – you must purchase two packages
Four nights of accommodation – including a night at Rydges Adelaide with a welcome drink and breakfast at the beginning and end of your tour, and two nights at Port Lincoln Hotel
Return flights from Adelaide to Port Lincoln with airport transfers
Gourmet dining at award-winning restaurants per itinerary, plus local tastings of fresh oysters, wine, seafood and more
5 Days From
Valued up to A$4,472
Sold out
Inclusion highlights:
Inclusions valid for one person
Four nights of accommodation – including a night at Rydges Adelaide with a welcome drink and breakfast at the beginning and end of your tour, and two nights at Port Lincoln Hotel
Return flights from Adelaide to Port Lincoln with airport transfers
Gourmet dining at award-winning restaurants per itinerary, plus local tastings of fresh oysters, wine, seafood and more
PRIVATE TOUR TWIN SHARE – ON REQUEST ONLY
5 Days From
Valued up to A$3,603
Sold out
Inclusion highlights:
Inclusions valid for one person (twin share) – you must purchase two packages (on request only)
Four nights of accommodation – including a night at Rydges Adelaide with a welcome drink and breakfast at the beginning and end of your tour, and two nights at Port Lincoln Hotel
Return flights from Adelaide to Port Lincoln with airport transfers
Gourmet dining at award-winning restaurants per itinerary, plus local tastings of fresh oysters, wine, seafood and more
PRIVATE TOUR SOLO TRAVELLER – ON REQUEST ONLY
5 Days From
Valued up to A$4,441
Sold out
Inclusion highlights:
Inclusions valid for one person (on request only)
Four nights of accommodation – including a night at Rydges Adelaide with a welcome drink and breakfast at the beginning and end of your tour, and two nights at Port Lincoln Hotel
Return flights from Adelaide to Port Lincoln with airport transfers
Gourmet dining at award-winning restaurants per itinerary, plus local tastings of fresh oysters, wine, seafood and more