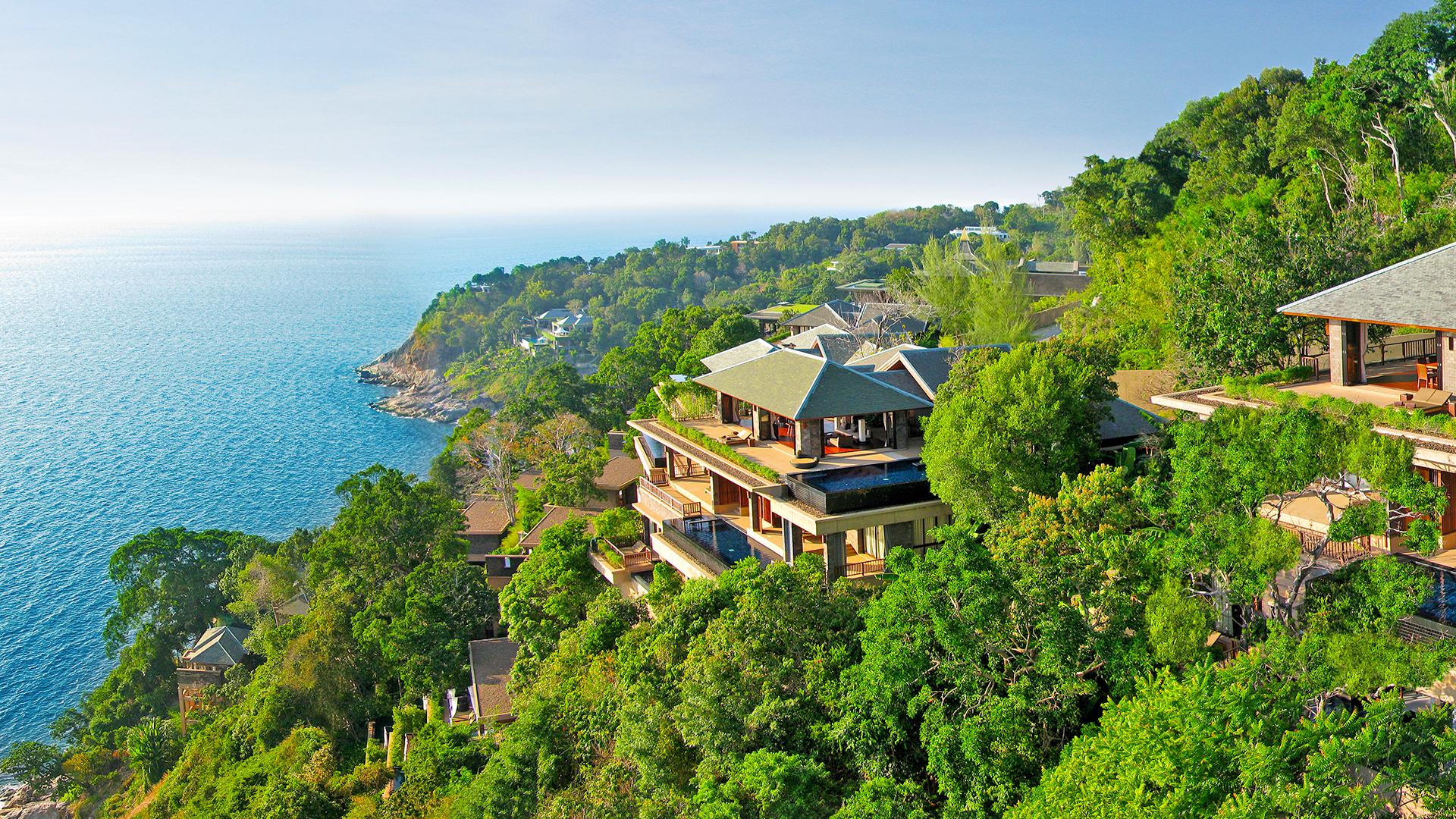 Luxe Private Pool Suite and Villa Seclusion for up to Eight Guests
Discover one of Phuket's most Instagram-worthy sunset locations at Paresa Resort, a collection of high-end suites and villas with their own private pools - the perfect romantic hideaway for a couple or group retreat. Set in a steep hillside and surrounded by lush banyan trees with picturesque panoramas of the sparkling Andaman Sea everywhere you look, this resort promises to deliver unrivalled luxury as you indulge in daily à la carte breakfast with sparkling wine, a nightly happy hour sunset cocktail per adult, a 60-minute aroma massage each and private return transfers from Phuket International Airport.

Book now. Pay Later.
package Options
VIP ANDAMAN SUITE
Ocean Pool Suite
Inclusion highlights:
Inclusions valid for two adults
One three-course set menu dinner at Talung Thai Restaurant
Daily à la carte breakfast with sparkling wine at Diavolo
Daily happy hour sunset cocktail per adult at your choice of Diavolo or Talung Thai
CLIFF POOL UPGRADE
Cliff Pool Villa
Inclusion highlights:
Inclusions valid for two adults
One three-course set menu dinner at Talung Thai Restaurant
Daily à la carte breakfast with sparkling wine at Diavolo
Daily happy hour sunset cocktail per adult at your choice of Diavolo or Talung Thai
SPA ROMANCE UPGRADE
Spa Pool Suite
Inclusion highlights:
Inclusions valid for two adults
One three-course set menu dinner at Talung Thai Restaurant
Daily à la carte breakfast with sparkling wine at Diavolo
Daily happy hour sunset cocktail per adult at your choice of Diavolo or Talung Thai
GROUP POOL VILLA UPGRADE
Two-Bedroom Ocean Pool Residence
Inclusion highlights:
Inclusions valid for four adults
One three-course set menu dinner at Talung Thai Restaurant
Daily à la carte breakfast with sparkling wine at Diavolo
Daily happy hour sunset cocktail per adult at your choice of Diavolo or Talung Thai
A-LIST RESIDENCE UPGRADE - THREE BEDROOM
Three-Bedroom Grand Residence Pool Villa
Earn 16,499 Qantas Points
Inclusion highlights:
Inclusions valid for six adults
Two floating sunset experiences – a bottle of wine alongside a small canapé delivered to your private pool
One three-course set menu dinner at Talung Thai Restaurant
Daily à la carte breakfast with sparkling wine at Diavolo
A-LIST RESIDENCE UPGRADE - FOUR BEDROOM
Four-Bedroom Grand Residence Pool Villa
Earn 19,999 Qantas Points
Inclusion highlights:
Inclusions valid for eight adults
Two floating sunset experiences – a bottle of wine alongside a small canapé delivered to your private pool
One three-course set menu dinner at Talung Thai Restaurant
Daily à la carte breakfast with sparkling wine at Diavolo
VIP ANDAMAN SUITE
Ocean Pool Suite
Inclusion highlights:
Inclusions valid for two adults
One three-course set menu dinner at Talung Thai Restaurant
Daily à la carte breakfast with sparkling wine at Diavolo
Daily happy hour sunset cocktail per adult at your choice of Diavolo or Talung Thai
CLIFF POOL UPGRADE
Cliff Pool Villa
Inclusion highlights:
Inclusions valid for two adults
One three-course set menu dinner at Talung Thai Restaurant
Daily à la carte breakfast with sparkling wine at Diavolo
Daily happy hour sunset cocktail per adult at your choice of Diavolo or Talung Thai
SPA ROMANCE UPGRADE
Spa Pool Suite
Inclusion highlights:
Inclusions valid for two adults
One three-course set menu dinner at Talung Thai Restaurant
Daily à la carte breakfast with sparkling wine at Diavolo
Daily happy hour sunset cocktail per adult at your choice of Diavolo or Talung Thai
GROUP POOL VILLA UPGRADE
Two-Bedroom Ocean Pool Residence
Inclusion highlights:
Inclusions valid for four adults
One three-course set menu dinner at Talung Thai Restaurant
Daily à la carte breakfast with sparkling wine at Diavolo
Daily happy hour sunset cocktail per adult at your choice of Diavolo or Talung Thai
A-LIST RESIDENCE UPGRADE - THREE BEDROOM
Three-Bedroom Grand Residence Pool Villa
Earn 25,999 Qantas Points
Inclusion highlights:
Inclusions valid for six adults
Two floating sunset experiences – a bottle of wine alongside a small canapé delivered to your private villa pool
One three-course set menu dinner at Talung Thai Restaurant
Daily à la carte breakfast with sparkling wine at Diavolo
A-LIST RESIDENCE UPGRADE - FOUR BEDROOM
Four-Bedroom Grand Residence Pool Villa
Earn 29,999 Qantas Points
Inclusion highlights:
Inclusions valid for eight adults
Two floating sunset experiences – a bottle of wine alongside a small canapé delivered to your private pool
One three-course set menu dinner at Talung Thai Restaurant
Daily à la carte breakfast with sparkling wine at Diavolo
*Price is indicative and based on sample return fares (inclusive of booking fees on Low Cost Carriers). To view live pricing, conduct a full search. Luxury Escapes full Terms and Conditions apply