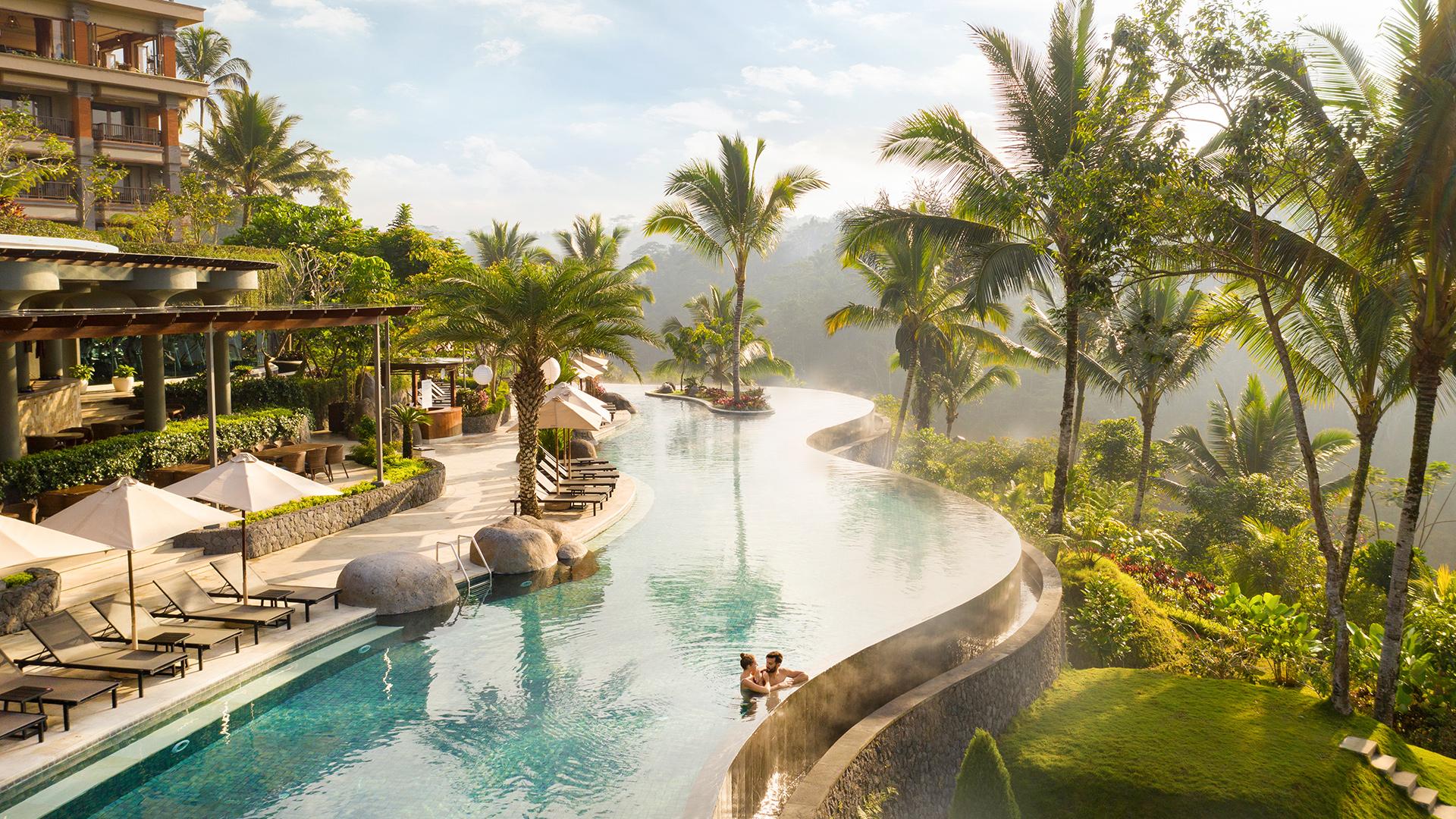 Hidden Ubud Retreat with One of Bali's Most Instagrammable Pools
Find complete serenity amongst the lush rainforest of Ubud, Bali's spiritual hinterland, staying at the breathtaking Padma Resort Ubud. Your escape includes daily buffet breakfast, daily buffet-style afternoon tea, your choice of two two-course set-menu lunches or dinners designed by Indonesian celebrity MasterChef Degan Septoadji, a complimentary cocktail each beside one of Bali's most Instagrammable pool, guaranteed 1pm late checkout, a 10% discount on food at any onsite restaurant and 10% off any spa treatment.

Book now. Pay Later.
package Options
Inclusion highlights:
Inclusions valid for two adults
Daily buffet breakfast at The Puhu Restaurant
Daily buffet-style afternoon tea
Your choice of two two-course set menu lunches or dinners designed by Indonesian MasterChef Degan Septoadji
PREMIER UPGRADE
Premier Deluxe Room
Inclusion highlights:
Inclusions valid for two adults
A 60-minute Balinese massage at The Spa each
A daily cocktail each at Sunken Bar or by the pool
Daily buffet breakfast at The Puhu Restaurant
VIP CLUB UPGRADE
Premier Club Room
Inclusion highlights:
Inclusions valid for two adults
Exclusive Padma Club Lounge access with nightly cocktails, canapés, all-day refreshments and more
A 60-minute Balinese massage at The Spa each
A daily cocktail each at Sunken Bar or by the pool
Daily buffet breakfast, daily buffet-style afternoon tea and your choice of two, two-course lunches or dinners
Inclusion highlights:
Inclusions valid for two adults
A 60-minute Balinese massage at The Spa each
Daily buffet breakfast at The Puhu Restaurant
Daily buffet-style afternoon tea
PREMIER UPGRADE
Premier Deluxe Room
Inclusion highlights:
Inclusions valid for two adults
A 60-minute Balinese massage at The Spa each
A daily cocktail each at Sunken Bar or by the pool
One-way airport transfer to the resort
VIP CLUB UPGRADE
Premier Club Room
Inclusion highlights:
Inclusions valid for two adults
Exclusive Padma Club Lounge access with nightly cocktails, canapés, all-day refreshments and more
A 60-minute Balinese massage at The Spa each
A daily cocktail each at Sunken Bar or by the pool
One-way airport transfer to the resort
Daily buffet breakfast, daily buffet-style afternoon tea and your choice of two, two-course lunches or dinners
Inclusion highlights:
Inclusions valid for two adults
A 60-minute Balinese massage at The Spa each
Daily buffet breakfast at The Puhu Restaurant
Daily buffet-style afternoon tea
PREMIER UPGRADE
Premier Deluxe Room
Inclusion highlights:
Inclusions valid for two adults
A 60-minute Balinese massage at The Spa each
A daily cocktail each at Sunken Bar or by the pool
One-way airport transfer to the resort
VIP CLUB UPGRADE
Premier Club Room
Inclusion highlights:
Inclusions valid for two adults
Exclusive Padma Club Lounge access with nightly cocktails, canapés, all-day refreshments and more
A 60-minute Balinese massage at The Spa each
A daily cocktail each at Sunken Bar or by the pool
One-way airport transfer to the resort
Daily buffet breakfast, daily buffet-style afternoon tea and your choice of two, two-course lunches or dinners
*Price is indicative and based on sample return fares (inclusive of booking fees on Low Cost Carriers). To view live pricing, conduct a full search. Luxury Escapes full Terms and Conditions apply