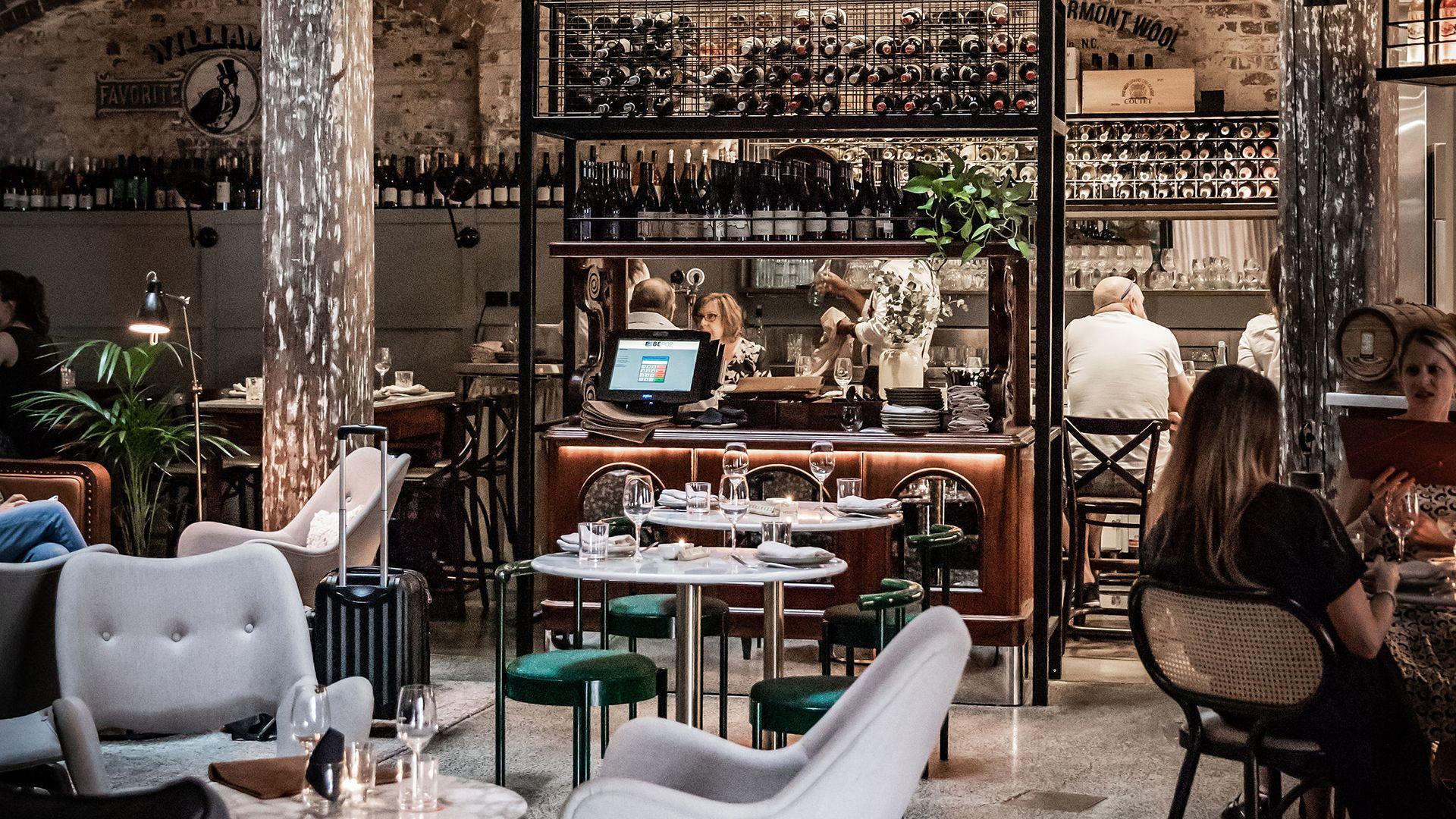 Designer Ovolo Escape Near Darling Harbour
You're invited to experience one of Australia's most glamorous boutique hotels with an escape at the iconic Ovolo 1888 Darling Harbour. Recognised as one of the best hotels in Australia, this former woolshed has been transformed into the Instagram-worthy destination of your dreams. You can enjoy daily continental breakfast, a carafe of wine and aperitivi every evening, a minibar stocked with beer, wine and soft drinks, loot bag filled with treats on arrival, an all-day lolly and water station, and more.

Book now. Pay Later.
Package Options
---
Inclusion Highlights:
Inclusions valid for two adults
Daily continental breakfast featuring pastries, fresh fruit and more
Carafe of wine and selection of aperitivi every evening at Mister Percy
Complimentary minibar with beers, wine and soft drinks, replenished daily
LUXE UPGRADE
King Deluxe Room
Inclusion Highlights:
Inclusions valid for two adults
Daily continental breakfast featuring pastries, fresh fruit and more
Carafe of wine and selection of aperitivi every evening at Mister Percy
Complimentary minibar with beers, wine and soft drinks, replenished daily
Inclusion Highlights:
Inclusions valid for two adults
Daily continental breakfast featuring pastries, fresh fruit and more
Carafe of wine and selection of aperitivi every evening at Mister Percy
Complimentary minibar with beers, wine and soft drinks, replenished daily
SHAKEN PENTHOUSE UPGRADE
Shaken Penthouse
Inclusion Highlights:
Inclusions valid for two adults
Daily continental breakfast featuring pastries, fresh fruit and more
Carafe of wine and selection of aperitivi every evening at Mister Percy
Complimentary minibar with beers, wine and soft drinks, replenished daily
STIRRED PENTHOUSE UPGRADE
Stirred Penthouse
Inclusion Highlights:
Inclusions valid for two adults
Daily continental breakfast featuring pastries, fresh fruit and more
Carafe of wine and selection of aperitivi every evening at Mister Percy
Complimentary minibar with beers, wine and soft drinks, replenished daily
JUNIOR SUITE UPGRADE
Junior Suite
Inclusion Highlights:
Inclusions valid for two adults
One child (aged 11 years and under) stays free on existing bedding with breakfast
Daily continental breakfast featuring pastries, fresh fruit and more
Carafe of wine and selection of aperitivi every evening at Mister Percy
Inclusion Highlights:
Inclusions valid for two adults
Daily continental breakfast featuring pastries, fresh fruit and more
Carafe of wine and selection of aperitivi every evening at Mister Percy
Complimentary minibar with beers, wine and soft drinks, replenished daily
LUXE UPGRADE
King Deluxe Room
Inclusion Highlights:
Inclusions valid for two adults
Daily continental breakfast featuring pastries, fresh fruit and more
Carafe of wine and selection of aperitivi every evening at Mister Percy
Complimentary minibar with beers, wine and soft drinks, replenished daily
Inclusion Highlights:
Inclusions valid for two adults
Daily continental breakfast featuring pastries, fresh fruit and more
Carafe of wine and selection of aperitivi every evening at Mister Percy
Complimentary minibar with beers, wine and soft drinks, replenished daily
SHAKEN PENTHOUSE UPGRADE
Shaken Penthouse
Inclusion Highlights:
Inclusions valid for two adults
Daily continental breakfast featuring pastries, fresh fruit and more
Carafe of wine and selection of aperitivi every evening at Mister Percy
Complimentary minibar with beers, wine and soft drinks, replenished daily
STIRRED PENTHOUSE UPGRADE
Stirred Penthouse
Inclusion Highlights:
Inclusions valid for two adults
Daily continental breakfast featuring pastries, fresh fruit and more
Carafe of wine and selection of aperitivi every evening at Mister Percy
Complimentary minibar with beers, wine and soft drinks, replenished daily
JUNIOR SUITE UPGRADE
Junior Suite
Inclusion Highlights:
Inclusions valid for two adults
One child (aged 11 years and under) stays free on existing bedding with breakfast
Daily continental breakfast featuring pastries, fresh fruit and more
Carafe of wine and selection of aperitivi every evening at Mister Percy
*Price is indicative and based on sample return fares (inclusive of booking fees on Low Cost Carriers). To view live pricing, conduct a full search. Luxury Escapes full Terms and Conditions apply