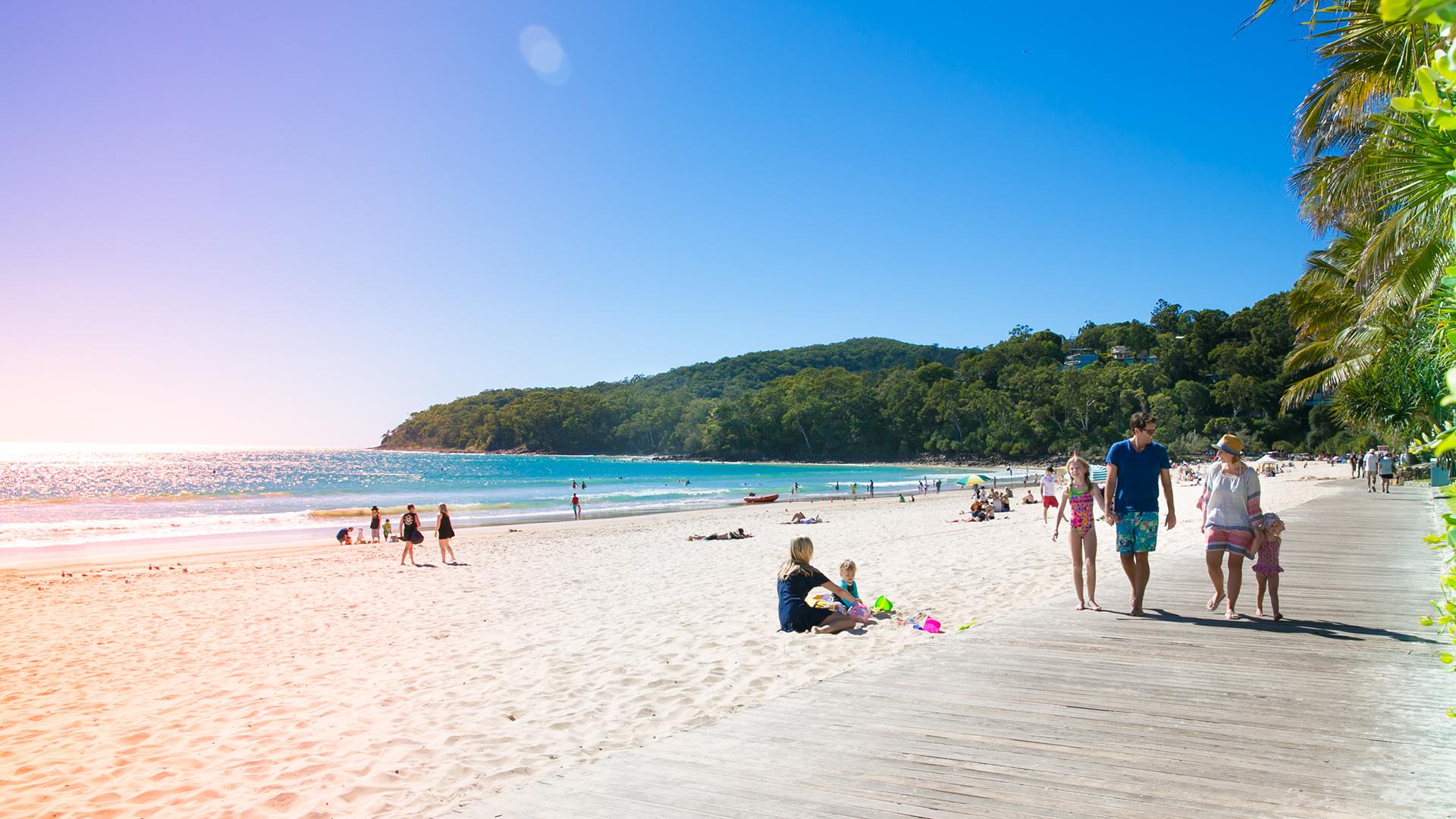 Affordable Noosa Getaway on Vibrant Hastings St
Embrace the laid-back lifestyle of one of Australia's favourite holiday destinations staying at Ocean Breeze Resort - ideally located on Noosa's vibrant Hastings Street. Relax in one of the resort's newly renovated apartments and enjoy an Acai bowl per adult at Acai Brothers Noosa Heads, a bottle of sparkling wine on arrival, complimentary one-way ferry to the local restaurant Noosa Boathouse, a beach pack with towels, toys and more. Your stay will also include a 10% discount when dining at Café Le Monde or El Capitano, complimentary undercover parking, free Wi-Fi and a leisurely 12pm late check-out.

Book now. Pay Later.
package Options
TROPICAL ESCAPE
One Bedroom Superior Apartment
Inclusion highlights:
Package valid for two adults
An Acai bowl per adult at Acai Brothers Noosa Heads
Complimentary one-way ferry trip to the local restaurant Noosa Boathouse
A beach pack with pool towels, beach toys and a beach umbrella
VIP UPGRADE
Two Bedroom Superior Apartment
Inclusion highlights:
Package valid for four people
An Acai bowl per adult at Acai Brothers Noosa Heads
Complimentary one-way ferry trip to the local restaurant Noosa Boathouse
A beach pack with pool towels, beach toys and a beach umbrella
GROUP UPGRADE
Three Bedroom Superior Apartment
Inclusion highlights:
Package valid for six people
An Acai bowl per adult at Acai Brothers Noosa Heads
Complimentary one-way ferry trip to the local restaurant Noosa Boathouse
A beach pack with pool towels, beach toys and a beach umbrella
TROPICAL ESCAPE
One Bedroom Superior Apartment
Inclusion highlights:
Package valid for two adults
An Acai bowl per adult at Acai Brothers Noosa Heads
Complimentary one-way ferry trip to the local restaurant Noosa Boathouse
A beach pack with pool towels, beach toys and a beach umbrella
VIP UPGRADE
Two Bedroom Superior Apartment
Inclusion highlights:
Package valid for four people
An Acai bowl per adult at Acai Brothers Noosa Heads
Complimentary one-way ferry trip to the local restaurant Noosa Boathouse
A beach pack with pool towels, beach toys and a beach umbrella
GROUP UPGRADE
Three Bedroom Superior Apartment
Inclusion highlights:
Package valid for six people
An Acai bowl per adult at Acai Brothers Noosa Heads
Complimentary one-way ferry trip to the local restaurant Noosa Boathouse
A beach pack with pool towels, beach toys and a beach umbrella
TROPICAL ESCAPE
One Bedroom Superior Apartment
Inclusion highlights:
Package valid for two adults
An Acai bowl per adult at Acai Brothers Noosa Heads
Complimentary one-way ferry trip to the local restaurant Noosa Boathouse
A beach pack with pool towels, beach toys and a beach umbrella
VIP UPGRADE
Two Bedroom Superior Apartment
Inclusion highlights:
Package valid for four people
An Acai bowl per adult at Acai Brothers Noosa Heads
Complimentary one-way ferry trip to the local restaurant Noosa Boathouse
A beach pack with pool towels, beach toys and a beach umbrella
GROUP UPGRADE
Three Bedroom Superior Apartment
Inclusion highlights:
Package valid for six people
An Acai bowl per adult at Acai Brothers Noosa Heads
Complimentary one-way ferry trip to the local restaurant Noosa Boathouse
A beach pack with pool towels, beach toys and a beach umbrella
*Price is indicative and based on sample return fares (inclusive of booking fees on Low Cost Carriers). To view live pricing, conduct a full search. Luxury Escapes full Terms and Conditions apply