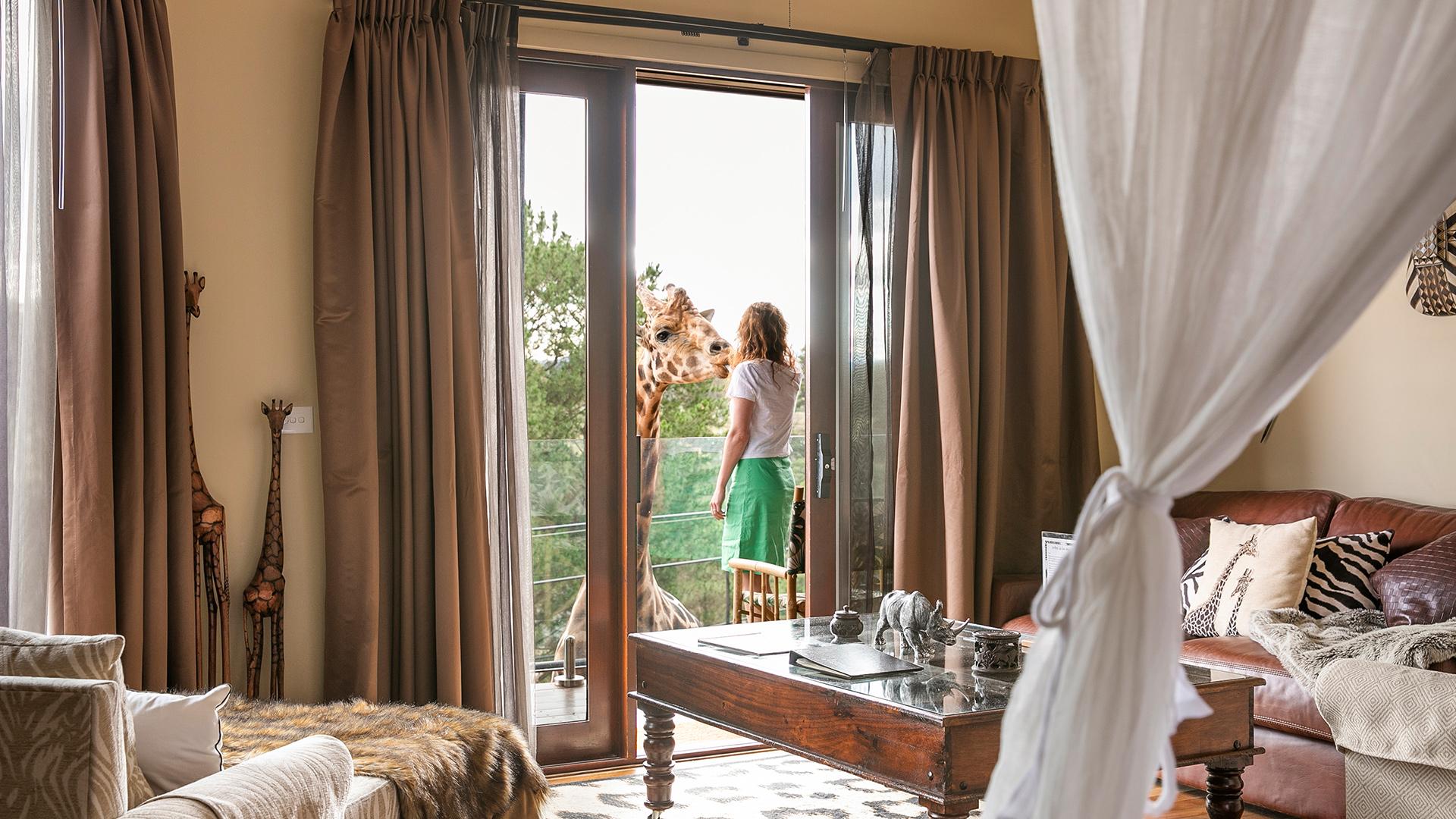 Five-Star All-Inclusive Zoo Wildlife Escape with Animal Introduction
Travel until
Buy now, choose dates later
Lock it in today, choose dates when you're ready
Experience five-star creature comforts alongside some of the rarest animals on the planet at Jamala Wildlife Lodge, hidden within Canberra's National Zoo & Aquarium. This African safari-style escape invites you to be part of the Lodge's efforts to help save some of the world's most endangered species from extinction while staying in luxury lodge accommodation, offering views over giraffes, meerkats, sharks, lions or pristine nature.
Go where the wild things are — a mere 10-minute drive outside Canberra's CBD — and enjoy an included animal introduction, which, depending on the day, could include meeting a tiger, lion, hyena or giraffe, having an owl perched on your arm or hanging out with playful meerkats. Your escape also includes all-inclusive dining (featuring a decadent dinner with Champagne and wine), a complimentary bottle of Moët & Chandon Champagne and one daily tour, including a morning guided zoo safari.
'Mix and Match' to extend your stay: why not switch up your stay with a second or third night of accommodation, perhaps spending each night in a new room with different animal views? You could wake up to giraffes one morning and meerkats and more the next — the ultimate wildlife experience. Simply book separate one-night packages to create your perfect escape.
Travelling with family? Additional guests can be added to the uShaka Suite, Giraffe Treehouse and Jungle Bungalow for a surcharge, see the Fine Print for details.

Book now. Pay Later.
package Options
CANBERRA WILDLIFE ESCAPE
uShaka Room
Inclusion highlights:
Inclusions valid for two adults
One-time animal introduction
All-inclusive dining, including a decadent dinner with Champagne and wine
Daily tour including a morning guided zoo safari
USHAKA SUITE UPGRADE
uShaka Suite
Inclusion highlights:
Inclusions valid for two adults
One-time animal introduction
All-inclusive dining, including a decadent dinner with Champagne and wine
Daily tour including a morning guided zoo safari
GIRAFFE TREEHOUSE UPGRADE
Giraffe Treehouse
Inclusion highlights:
Inclusions valid for two adults
One-time animal introduction
All-inclusive dining, including a decadent dinner with Champagne and wine
Daily tour including a morning guided zoo safari
JUNGLE BUNGALOW UPGRADE
Jungle Bungalow
Inclusion highlights:
Inclusions valid for two adults
One-time animal introduction
All-inclusive dining, including a decadent dinner with Champagne and wine
Daily tour including a morning guided zoo safari
*Price is indicative and based on sample return fares (inclusive of booking fees on Low Cost Carriers). To view live pricing, conduct a full search. Luxury Escapes full Terms and Conditions apply