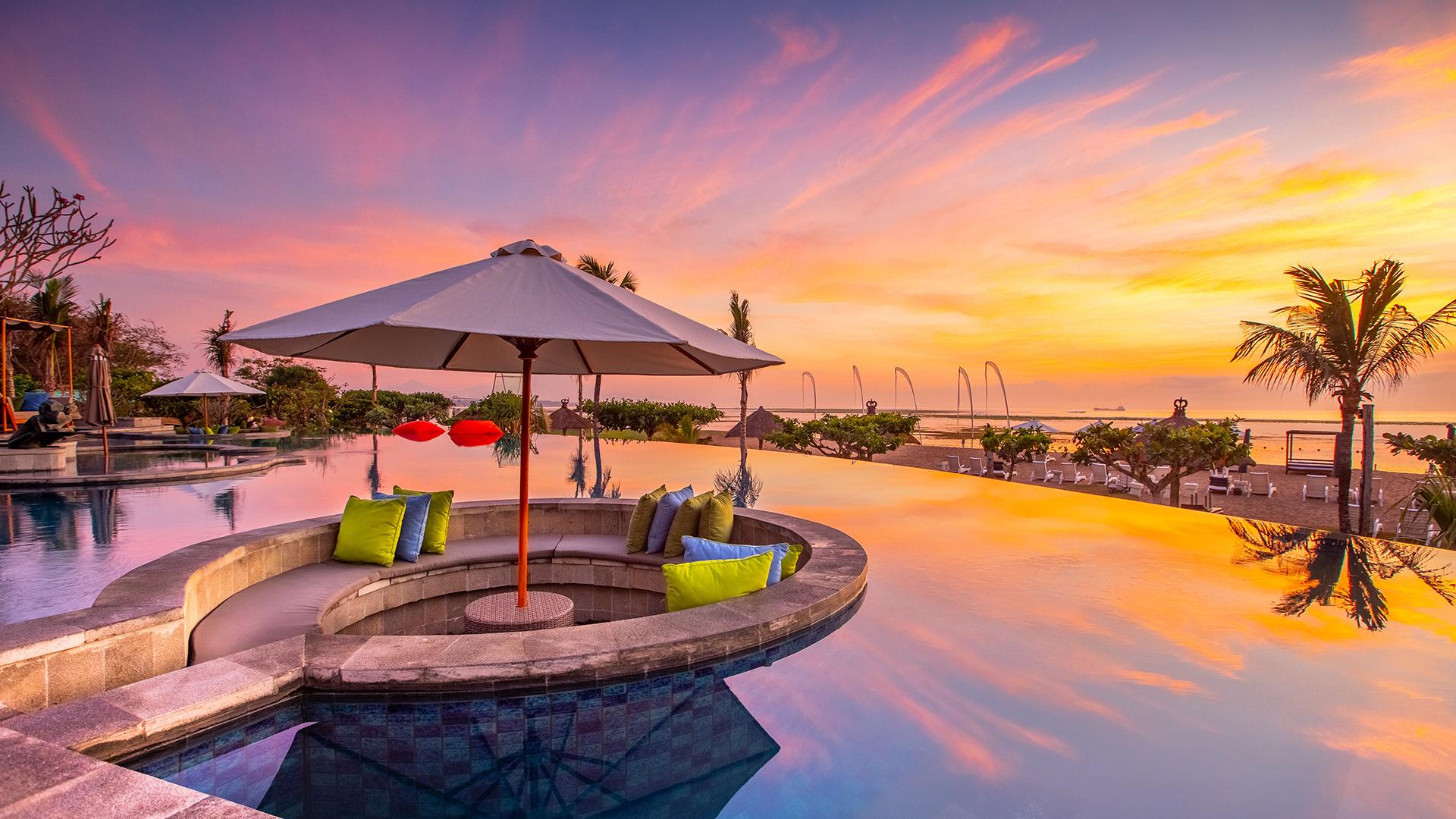 All-Inclusive Beachfront Bali with Aquatherapy Spa Treatments
Discover a high-end, family-friendly waterfront stay on the coast of Nusa Dua at the Grand Mirage Resort & Thalasso Bali. Home to one of the only Aquamedic Spas in Bali, the hotel was recently refurbished to include a stunning adults-only infinity pool and the brand-new Julie's Italian restaurant. Unwind with three 60-minute Aquamedic treatments per adult plus two US$30 spa credits per adult included in your package. Enjoy all-inclusive dining – meaning daily breakfast, lunch, afternoon tea and dinner – free-flow alcoholic and non-alcoholic drinks, a one-way private airport transfer, unlimited use of non-motorised water sports, two-for-one tickets to the cultural Devdan Show at the Bali Nusa Dua Theatre and more. Plus, one child (aged 11 years and under) stays free on existing bedding with Kids' Club access and all package inclusions.

Book now. Pay Later.
package Options
ALL-INCLUSIVE BALI
Premiere Garden Room
Inclusion highlights:
Inclusions valid for two people
One child (aged 11 years and under) stays free with Kids' Club and full package inclusions excluding spa treatments and credit
All-inclusive drinks and dining with daily breakfast, lunch, afternoon tea and dinner across eight restaurants, 24/7 room service and free-flow alcoholic and soft drinks between 11am and midnight
Three Aquamedic spa treatments per adult at the Thalasso Spa
OCEAN VIEW UPGRADE
Premiere Ocean Room
Inclusion highlights:
Inclusions valid for two people
One child (aged 11 years and under) stays free with Kids' Club and full package inclusions excluding spa treatments and credit
All-inclusive drinks and dining with daily breakfast, lunch, afternoon tea and dinner across eight restaurants, 24/7 room service and free-flow alcoholic and soft drinks between 11am and midnight
Three Aquamedic spa treatments per adult at the Thalasso Spa
FAMILY UPGRADE
Family Studio Room
Inclusion highlights:
Inclusions valid for two people
Up to two children (aged 11 years and under) stay free with Kids' Club and full package inclusions excluding spa treatments and credit
All-inclusive drinks and dining with daily breakfast, lunch, afternoon tea and dinner across eight restaurants, 24/7 room service and free-flow alcoholic and soft drinks between 11am and midnight
Three Aquamedic spa treatments per adult at the Thalasso Spa
SUITE UPGRADE
Ocean View Suite
Inclusion highlights:
Inclusions valid for two people
Up to two children (aged 11 years and under) stay free with Kids' Club and full package inclusions excluding spa treatments and credit
All-inclusive drinks and dining with daily breakfast, lunch, afternoon tea and dinner across eight restaurants, 24/7 room service and free-flow alcoholic and soft drinks between 11am and midnight
Three Aquamedic spa treatments per adult at the Thalasso Spa
ALL-INCLUSIVE BALI
Premiere Garden Room
Inclusion highlights:
Inclusions valid for two people
One child (aged 11 years and under) stays free with Kids' Club and full package inclusions excluding spa treatments and credit
All-inclusive drinks and dining with daily breakfast, lunch, afternoon tea and dinner across eight restaurants, 24/7 room service and free-flow alcoholic and soft drinks between 11am and midnight
Three Aquamedic spa treatments per adult at the Thalasso Spa
OCEAN VIEW UPGRADE
Premiere Ocean Room
Inclusion highlights:
Inclusions valid for two people
One child (aged 11 years and under) stays free with Kids' Club and full package inclusions excluding spa treatments and credit
All-inclusive drinks and dining with daily breakfast, lunch, afternoon tea and dinner across eight restaurants, 24/7 room service and free-flow alcoholic and soft drinks between 11am and midnight
Three Aquamedic spa treatments per adult at the Thalasso Spa
FAMILY UPGRADE
Family Studio Room
Inclusion highlights:
Inclusions valid for two people
Up to two children (aged 11 years and under) stay free with Kids' Club and full package inclusions excluding spa treatments and credit
All-inclusive drinks and dining with daily breakfast, lunch, afternoon tea and dinner across eight restaurants, 24/7 room service and free-flow alcoholic and soft drinks between 11am and midnight
Three Aquamedic spa treatments per adult at the Thalasso Spa
SUITE UPGRADE
Ocean View Suite
Inclusion highlights:
Inclusions valid for two people
Up to two children (aged 11 years and under) stay free with Kids' Club and full package inclusions excluding spa treatments and credit
All-inclusive drinks and dining with daily breakfast, lunch, afternoon tea and dinner across eight restaurants, 24/7 room service and free-flow alcoholic and soft drinks between 11am and midnight
Three Aquamedic spa treatments per adult at the Thalasso Spa
ALL-INCLUSIVE BALI
Premiere Garden Room
Inclusion highlights:
Inclusions valid for two people
One child (aged 11 years and under) stays free with Kids' Club and full package inclusions excluding spa treatments and credit
All-inclusive drinks and dining with daily breakfast, lunch, afternoon tea and dinner across eight restaurants, 24/7 room service and free-flow alcoholic and soft drinks between 11am and midnight
Three Aquamedic spa treatments per adult at the Thalasso Spa
OCEAN VIEW UPGRADE
Premiere Ocean Room
Inclusion highlights:
Inclusions valid for two people
One child (aged 11 years and under) stays free with Kids' Club and full package inclusions excluding spa treatments and credit
All-inclusive drinks and dining with daily breakfast, lunch, afternoon tea and dinner across eight restaurants, 24/7 room service and free-flow alcoholic and soft drinks between 11am and midnight
Three Aquamedic spa treatments per adult at the Thalasso Spa
FAMILY UPGRADE
Family Studio Room
Inclusion highlights:
Inclusions valid for two people
Up to two children (aged 11 years and under) stay free with Kids' Club and full package inclusions excluding spa treatments and credit
All-inclusive drinks and dining with daily breakfast, lunch, afternoon tea and dinner across eight restaurants, 24/7 room service and free-flow alcoholic and soft drinks between 11am and midnight
Three Aquamedic spa treatments per adult at the Thalasso Spa
SUITE UPGRADE
Ocean View Suite
Inclusion highlights:
Inclusions valid for two people
Up to two children (aged 11 years and under) stay free with Kids' Club and full package inclusions excluding spa treatments and credit
All-inclusive drinks and dining with daily breakfast, lunch, afternoon tea and dinner across eight restaurants, 24/7 room service and free-flow alcoholic and soft drinks between 11am and midnight
Three Aquamedic spa treatments per adult at the Thalasso Spa
*Price is indicative and based on sample return fares (inclusive of booking fees on Low Cost Carriers). To view live pricing, conduct a full search. Luxury Escapes full Terms and Conditions apply