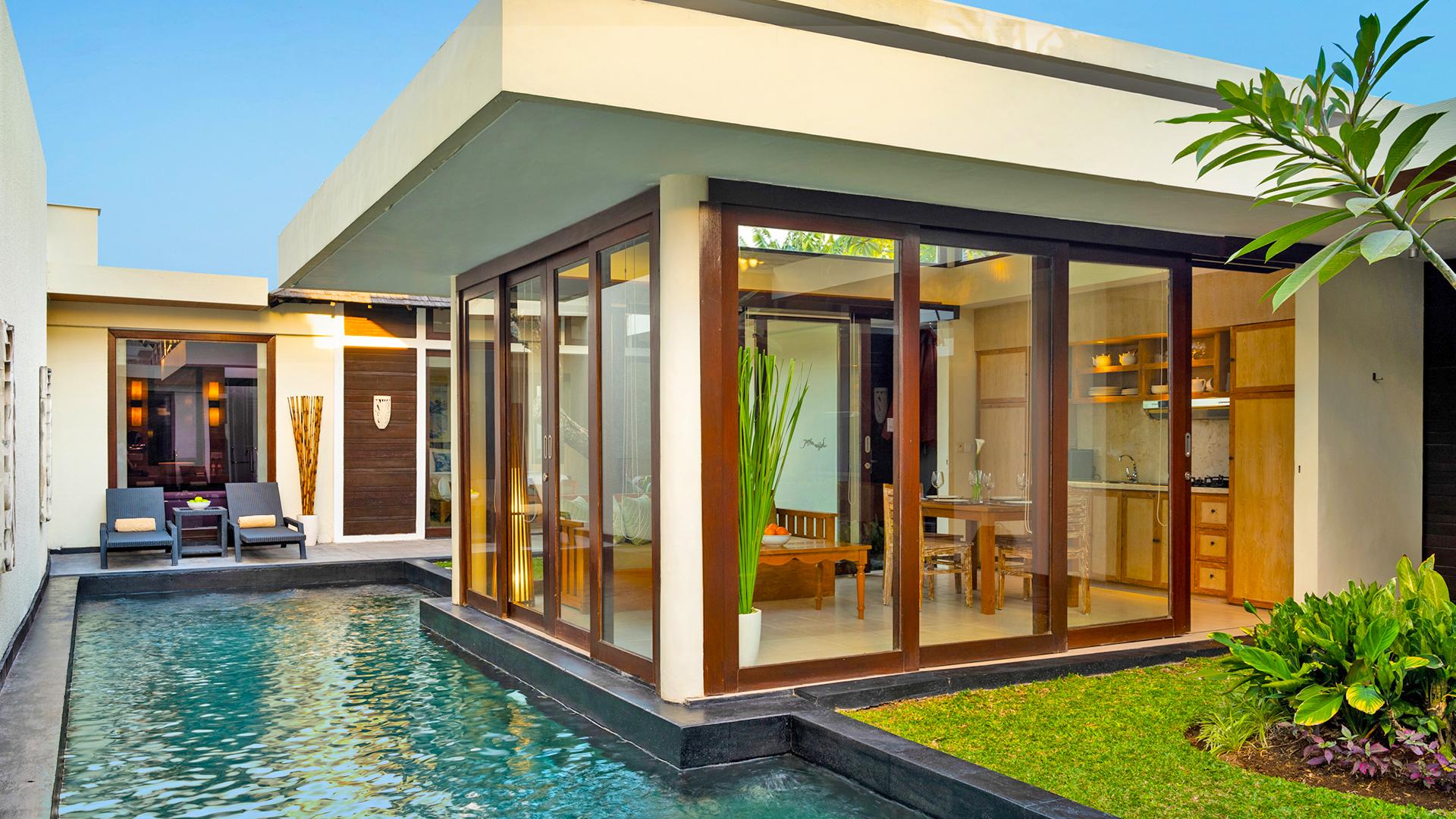 Grand Reopening: Luxury Suites & Private Pool Villas with Daily Dining Inclusions
Find your slice of Balinese paradise at the newly renovated Avani Seminyak Bali Resort: an oasis of tranquility in the heart of Bali's cosmopolitan Seminyak offering an intimate collection luxury apartments and private pool villas. Relax in a brand-new One Bedroom Apartment Suite with daily à la carte breakfast, daily afternoon tea with sweet and savoury treats, daily two-course set-menu lunch or dinner, a blissful 60-minute Balinese massage per person and return airport transfers included.

Book now. Pay Later.
package Options
SEMINYAK ESCAPE
One Bedroom Apartment Suite
Inclusion highlights:
Inclusions valid for two adults
Daily à la carte breakfast at Serai Restaurant
Daily two-course set-menu lunch or dinner at Serai Restaurant
Daily afternoon tea with sweet and savoury treats
FAMILY & FRIENDS UPGRADE
Two Bedroom Apartment Suite
Inclusion highlights:
Inclusions valid for four adults
Daily à la carte breakfast at Serai Restaurant
Daily two-course set-menu lunch or dinner at Serai Restaurant
Daily afternoon tea with sweet and savoury treats
POOL VILLA UPGRADE
One Bedroom Pool Villa
Inclusion highlights:
Inclusions valid for two adults
Daily à la carte breakfast at Serai Restaurant
Daily two-course set-menu lunch or dinner at Serai Restaurant
Daily afternoon tea with sweet and savoury treats
SEMINYAK ESCAPE
One Bedroom Apartment Suite
Inclusion highlights:
Inclusions valid for two adults
Daily à la carte breakfast at Serai Restaurant
Daily two-course set-menu lunch or dinner at Serai Restaurant
Daily afternoon tea with sweet and savoury treats
FAMILY & FRIENDS UPGRADE
Two Bedroom Apartment Suite
Inclusion highlights:
Inclusions valid for four adults
Daily à la carte breakfast at Serai Restaurant
Daily two-course set-menu lunch or dinner at Serai Restaurant
Daily afternoon tea with sweet and savoury treats
POOL VILLA UPGRADE
One Bedroom Pool Villa
Inclusion highlights:
Inclusions valid for two adults
Daily à la carte breakfast at Serai Restaurant
Daily two-course set-menu lunch or dinner at Serai Restaurant
Daily afternoon tea with sweet and savoury treats
SEMINYAK ESCAPE
One Bedroom Apartment Suite
Inclusion highlights:
Inclusions valid for two adults
Daily à la carte breakfast at Serai Restaurant
Daily two-course set-menu lunch or dinner at Serai Restaurant
Daily afternoon tea with sweet and savoury treats
FAMILY & FRIENDS UPGRADE
Two Bedroom Apartment Suite
Inclusion highlights:
Inclusions valid for four adults
Daily à la carte breakfast at Serai Restaurant
Daily two-course set-menu lunch or dinner at Serai Restaurant
Daily afternoon tea with sweet and savoury treats
POOL VILLA UPGRADE
One Bedroom Pool Villa
Inclusion highlights:
Inclusions valid for two adults
Daily à la carte breakfast at Serai Restaurant
Daily two-course set-menu lunch or dinner at Serai Restaurant
Daily afternoon tea with sweet and savoury treats
*Price is indicative and based on sample return fares (inclusive of booking fees on Low Cost Carriers). To view live pricing, conduct a full search. Luxury Escapes full Terms and Conditions apply