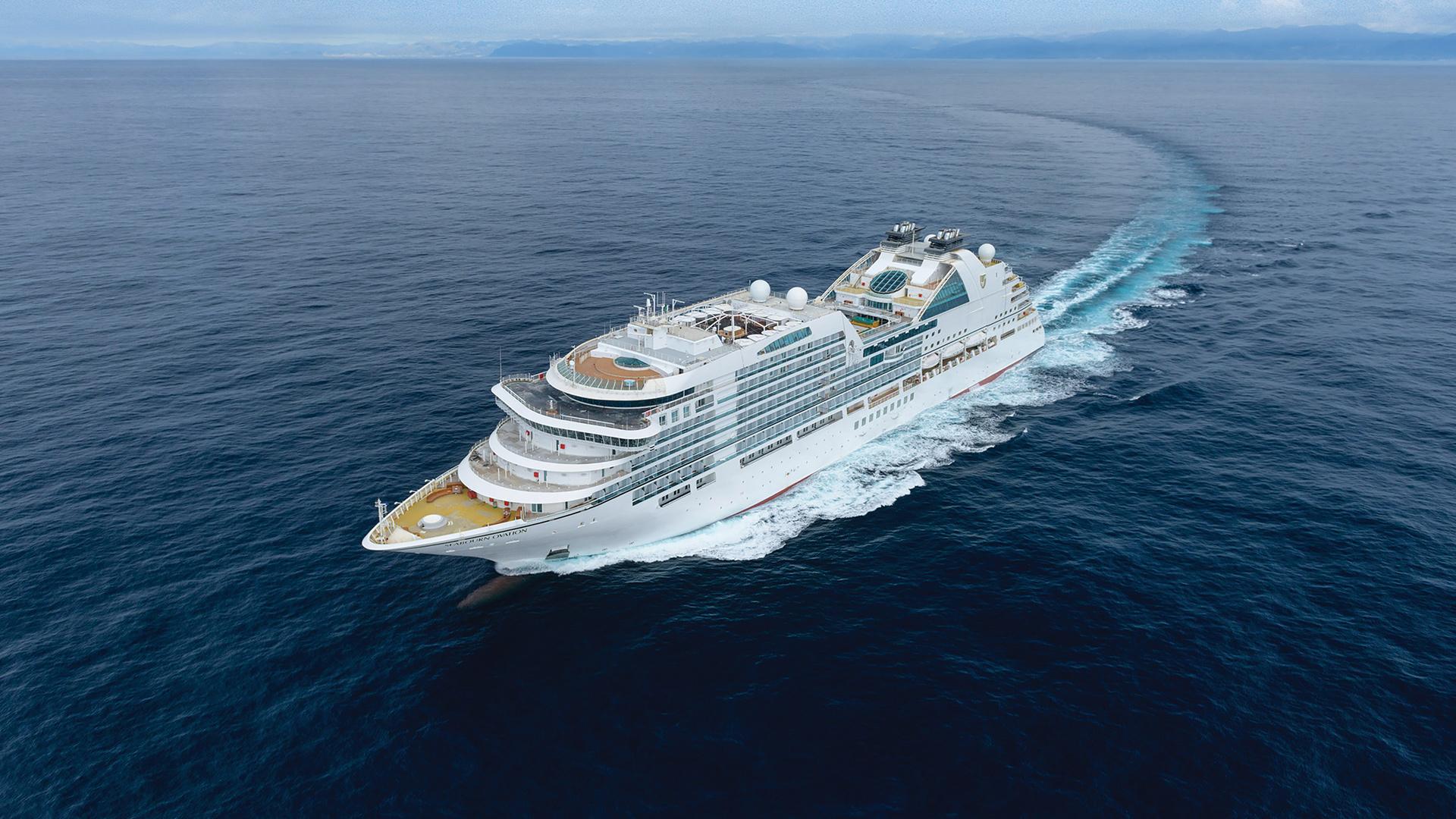 Auckland to Sydney: 15-Night All-Inclusive Luxury Cruise with Business-Class Flight to Auckland, A$1500 Credit & Pre-Cruise Stay
Discover the otherworldly beauty of New Zealand from North to South on a 15-night all-inclusive, luxury cruise like no other from Auckland, New Zealand, to Sydney, Australia, aboard the iconic Seabourn Ovation.
Your once-in-a-lifetime adventure begins on 6 February 2022 with a luxurious business-class flight from Sydney, Melbourne or Brisbane to Auckland, New Zealand, followed by an overnight stay at the five-star Hotel Grand Windsor Auckland — MGallery by Sofitel (or similar). Beginning on 7 February 2022 from Auckland, your cruise will deliver you to the geothermal wonderland of Tauranga (Rotorua), Wellington's foodie scene and the epic grandeur of Fiordland's Milford Sound. Arriving in Australia, you'll be swept up in Melbourne's cobblestone laneways, Phillip Island's coastal charm and Sydney's iconic landmarks, before returning home with an unbelievable A$1,500 Luxury Escapes credit per person to put towards your next escape.
Aboard this opulent cruise, you can expect to never lift a finger. Stay in a beautifully appointed oceanfront Veranda Suite with personal stewardess service, all-inclusive dining and unlimited premium spirits and fine wines, including welcome champagne and a complimentary in-suite bar stocked with your preferences.
Deck upgrades available: Elevate your stay onboard the Seabourn Ovation in a higher-level deck and receive an incredible A$2,000 Luxury Escapes credit per person when you choose the V3, V4, or V5 Suite.
Your journey takes you to: Auckland — Tauranga (Rotorua) — Nelson — Wellington — Akaroa (Christchurch) — Port Chalmers (Dunedin) — Oban (Halfmoon Bay) — Fiordland National Park — Milford Sound — Melbourne (Australia) — Phillip Island — Eden — Sydney.
Interest-free payment options available 

package Options
VERANDA SUITE (V1) — TWIN SHARE
18 Days From
Valued up to A$19,342
Sold out
Inclusion highlights:
Package valid for one person (twin share) — You MUST purchase TWO packages
15 nights onboard Seabourn Ovation in a Veranda Suite (V1), located on deck seven or nine
One-way business-class flight from Sydney, Melbourne, or Brisbane to Auckland, New Zealand
A$1,500 Luxury Escapes credit per person to put towards your next holiday retreat, opulent cruise, once-in-a-lifetime tour or experience
VERANDA SUITE (V2) — TWIN SHARE
18 Days From
Valued up to A$20,142
Sold out
Inclusion highlights:
Package valid for one person (twin share) — You MUST purchase TWO packages
15 nights onboard Seabourn Ovation in a Veranda Suite (V2), located on deck five
One-way business-class flight from Sydney, Melbourne, or Brisbane to Auckland, New Zealand
A$1,500 Luxury Escapes credit per person to put towards your next holiday retreat, opulent cruise, once-in-a-lifetime tour or experience
VERANDA SUITE (V3) — TWIN SHARE
18 Days From
Valued up to A$21,442
Sold out
Inclusion highlights:
Package valid for one person (twin share) — You MUST purchase TWO packages
15 nights onboard Seabourn Ovation in a Veranda Suite (V3), located on deck six, seven or 11
A$2,000 Luxury Escapes credit per person to put towards your next holiday retreat, opulent cruise, once-in-a-lifetime tour or experience
One-way business-class flight from Sydney, Melbourne, or Brisbane to Auckland, New Zealand
VERANDA SUITE (V4) — TWIN SHARE
18 Days From
Valued up to A$22,242
Sold out
Inclusion highlights:
Package valid for one person (twin share) — You MUST purchase TWO packages
15 nights onboard Seabourn Ovation in a Veranda Suite (V4), located on deck eight or nine
A$2,000 Luxury Escapes credit per person to put towards your next holiday retreat, opulent cruise, once-in-a-lifetime tour or experience
One-way business-class flight from Sydney, Melbourne, or Brisbane to Auckland, New Zealand
VERANDA SUITE (V5) — TWIN SHARE
18 Days From
Valued up to A$23,042
Sold out
Inclusion highlights:
Package valid for one person (twin share) — You MUST purchase TWO packages
15 nights onboard Seabourn Ovation in a Veranda Suite (V5), located on deck six or seven
A$2,000 Luxury Escapes credit per person to put towards your next holiday retreat, opulent cruise, once-in-a-lifetime tour or experience
One-way business-class flight from Sydney, Melbourne, or Brisbane to Auckland, New Zealand