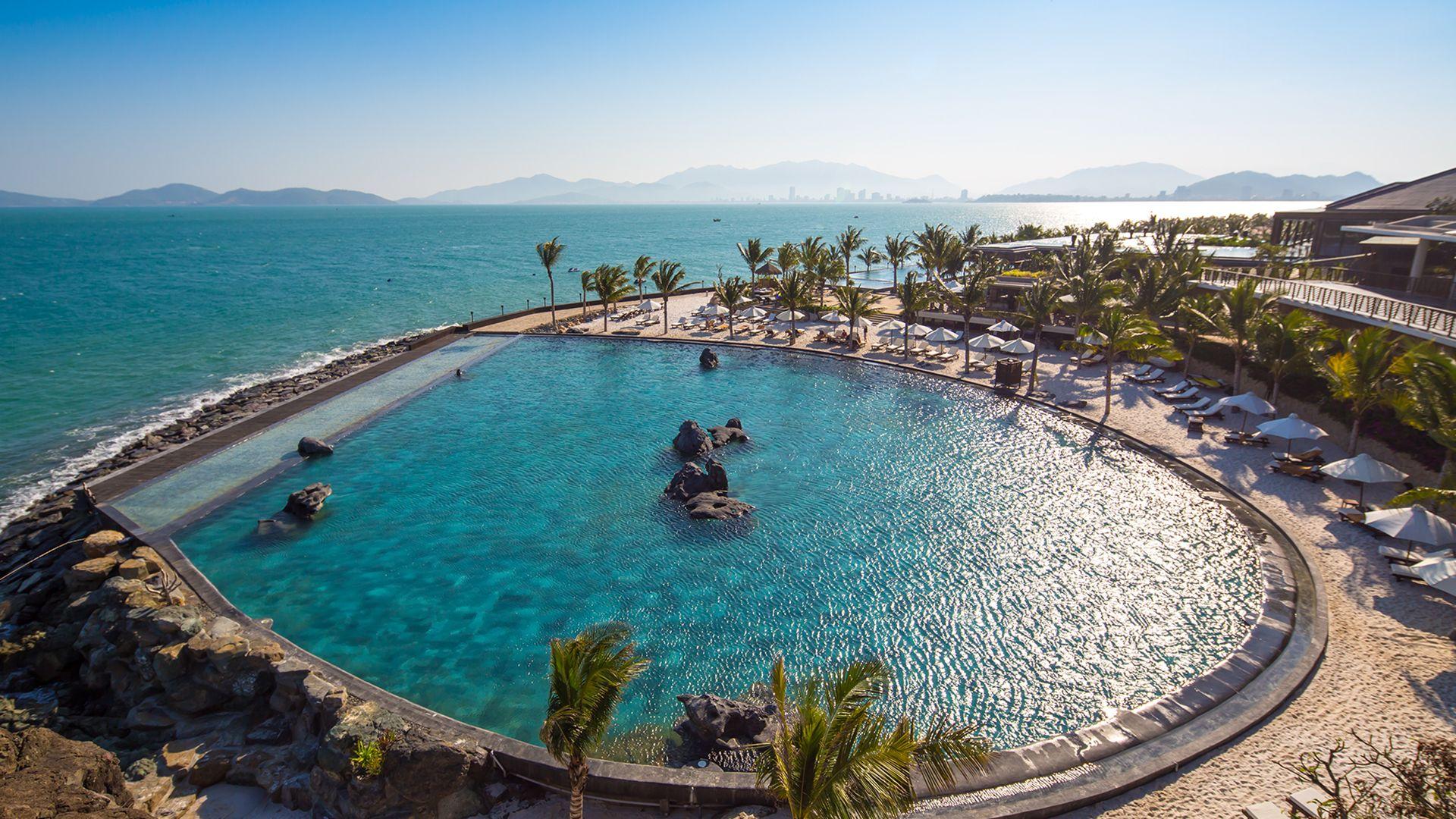 High-End Private Beach Escape in Vietnam with Daily Dining
Escape to Vietnam's beach capital, Nha Trang, famous for its breathtaking stretches of white sand and clear sapphire waters. Experience a spectacular oasis perched on a natural lagoon at the multi-award-winning Amiana Resort Nha Trang, featuring a 2,500sqm seawater infinity pool and private beach – with daily breakfast, your choice of daily lunch or decadent dinner (including one romantic dinner for two), nightly sunset cocktails, return airport transfers, spa treatments and more.

Book now. Pay Later.
package Options
BEACHFRONT ESCAPE
Deluxe Room
Inclusion highlights:
Inclusions valid for two people
Up to two children aged five years and under stay free of charge with breakfast included
Daily choice of three-course lunch or dinner at the chic Bacaro Restaurant, serving international classics and authentic local staples with ocean views
Daily buffet breakfast featuring a range of Western and Asian cuisine overlooking the lagoon waters at Bacaro Restaurant
OCEAN-VIEW UPGRADE
Ocean Deluxe Room
Inclusion highlights:
Inclusions valid for two people
Up to two children aged five years and under stay free of charge with breakfast included
Daily choice of three-course lunch or dinner at the chic Bacaro Restaurant, serving international classics and authentic local staples with ocean views
Daily buffet breakfast featuring a range of Western and Asian cuisine overlooking the lagoon waters at Bacaro Restaurant
GROUP UPGRADE
Family Villa
Inclusion highlights:
Inclusions valid for four people
Up to two children aged five years and under stay free of charge with breakfast included
Daily choice of three-course lunch or dinner at the chic Bacaro Restaurant, serving international classics and authentic local staples with ocean views
Daily buffet breakfast featuring a range of Western and Asian cuisine overlooking the lagoon waters at Bacaro Restaurant
BEACHFRONT ESCAPE
Deluxe Room
Inclusion highlights:
Inclusions valid for two people
Up to two children aged five years and under stay free of charge with breakfast included
Daily choice of three-course lunch or dinner at the chic Bacaro Restaurant, serving international classics and authentic local staples with ocean views
Daily buffet breakfast featuring a range of Western and Asian cuisine overlooking the lagoon waters at Bacaro Restaurant
OCEAN-VIEW UPGRADE
Ocean Deluxe Room
Inclusion highlights:
Inclusions valid for two people
Up to two children aged five years and under stay free of charge with breakfast included
Daily choice of three-course lunch or dinner at the chic Bacaro Restaurant, serving international classics and authentic local staples with ocean views
Daily buffet breakfast featuring a range of Western and Asian cuisine overlooking the lagoon waters at Bacaro Restaurant
GROUP UPGRADE
Family Villa
Inclusion highlights:
Inclusions valid for four people
Up to two children aged five years and under stay free of charge with breakfast included
Daily choice of three-course lunch or dinner at the chic Bacaro Restaurant, serving international classics and authentic local staples with ocean views
Daily buffet breakfast featuring a range of Western and Asian cuisine overlooking the lagoon waters at Bacaro Restaurant
*Price is indicative and based on sample return fares (inclusive of booking fees on Low Cost Carriers). To view live pricing, conduct a full search. Luxury Escapes full Terms and Conditions apply