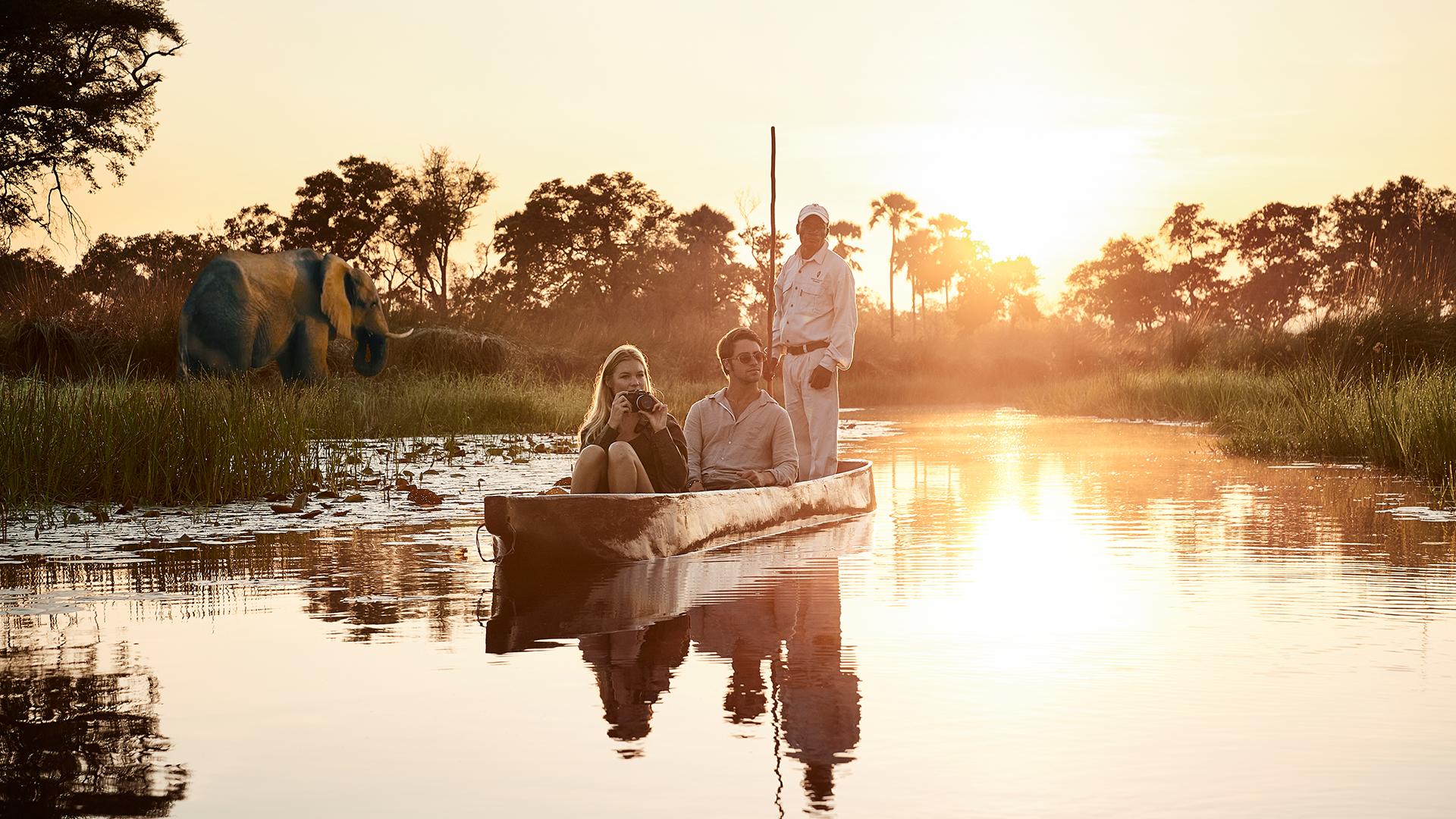 Botswana, South Africa & Victoria Falls: The Ultimate Luxury Safari with Game Drives and Scenic Helicopter Flight
Experience the ultimate in African luxury with Sanctuary Retreats lodges and camps throughout Botswana, South Africa and Victoria Falls. Enjoy the thrilling game drives and breathtaking scenery on this 12-day luxury private safari for two. Stay in award-winning luxury accommodation, ranging from fully furnished safari tents to breathtaking tree houses and plush resort-style safari lodges. Enjoy all-inclusive dining with spectacular inclusions like intimate game drives and mokoro excursions to see the Big Five, private dinners under the African sky matched with award-winning wines, a scenic helicopter flight over Victoria Falls, a night under the stars in the incredible Hide accommodation, a royal spa treatment, all internal airfares and transportation and so much more.

Book now. Pay Later.
package Options
Inclusion highlights:
Packages valid for one person (twin share - you must purchase two packages)
11 nights luxury accommodation in breathtaking tree houses, luxe safari tents and plush resort-style safari lodges
Daily breakfast, lunch, dinner and all beverages (alcoholic and non-alcoholic, excluding champagne and premium brands) while on safari
Multiple daily scheduled safari activities (shared) with knowledgeable guides, including morning and afternoon game drives, walking safaris, sundowner cruises, traditional mokoro excursions (seasonal), and sundowners
Earn 10,999 Qantas Points
Inclusion highlights:
Packages valid for one person (twin share - you must purchase two packages)
11 nights luxury accommodation in breathtaking tree houses, luxe safari tents and plush resort-style safari lodges
Daily breakfast, lunch, dinner and all beverages (alcoholic and non-alcoholic, excluding champagne and premium brands) while on safari
Multiple daily scheduled safari activities (shared) with knowledgeable guides, including morning and afternoon game drives, walking safaris, sundowner cruises, traditional mokoro excursions (seasonal), and sundowners
Earn 13,999 Qantas Points
Inclusion highlights:
Packages valid for one person (twin share - you must purchase two packages)
11 nights luxury accommodation in breathtaking tree houses, luxe safari tents and plush resort-style safari lodges
Daily breakfast, lunch, dinner and all beverages (alcoholic and non-alcoholic, excluding champagne and premium brands) while on safari
Multiple daily scheduled safari activities (shared) with knowledgeable guides, including morning and afternoon game drives, walking safaris, sundowner cruises, traditional mokoro excursions (seasonal), and sundowners
LOW SEASON - SOLO TRAVELLER
Earn 11,999 Qantas Points
Inclusion highlights:
Packages valid for one person
11 nights luxury accommodation in breathtaking tree houses, luxe safari tents and plush resort-style safari lodges
Daily breakfast, lunch, dinner and all beverages (alcoholic and non-alcoholic, excluding champagne and premium brands) while on safari
Multiple daily scheduled safari activities (shared) with knowledgeable guides, including morning and afternoon game drives, walking safaris, sundowner cruises, traditional mokoro excursions (seasonal), and sundowners
HIGH SEASON - SOLO TRAVELLER
Earn 13,999 Qantas Points
Inclusion highlights:
Packages valid for one person
11 nights luxury accommodation in breathtaking tree houses, luxe safari tents and plush resort-style safari lodges
Daily breakfast, lunch, dinner and all beverages (alcoholic and non-alcoholic, excluding champagne and premium brands) while on safari
Multiple daily scheduled safari activities (shared) with knowledgeable guides, including morning and afternoon game drives, walking safaris, sundowner cruises, traditional mokoro excursions (seasonal), and sundowners
PEAK SEASON - SOLO TRAVELLER
Earn 18,999 Qantas Points
Inclusion highlights:
Packages valid for one person
11 nights luxury accommodation in breathtaking tree houses, luxe safari tents and plush resort-style safari lodges
Daily breakfast, lunch, dinner and all beverages (alcoholic and non-alcoholic, excluding champagne and premium brands) while on safari
Multiple daily scheduled safari activities (shared) with knowledgeable guides, including morning and afternoon game drives, walking safaris, sundowner cruises, traditional mokoro excursions (seasonal), and sundowners