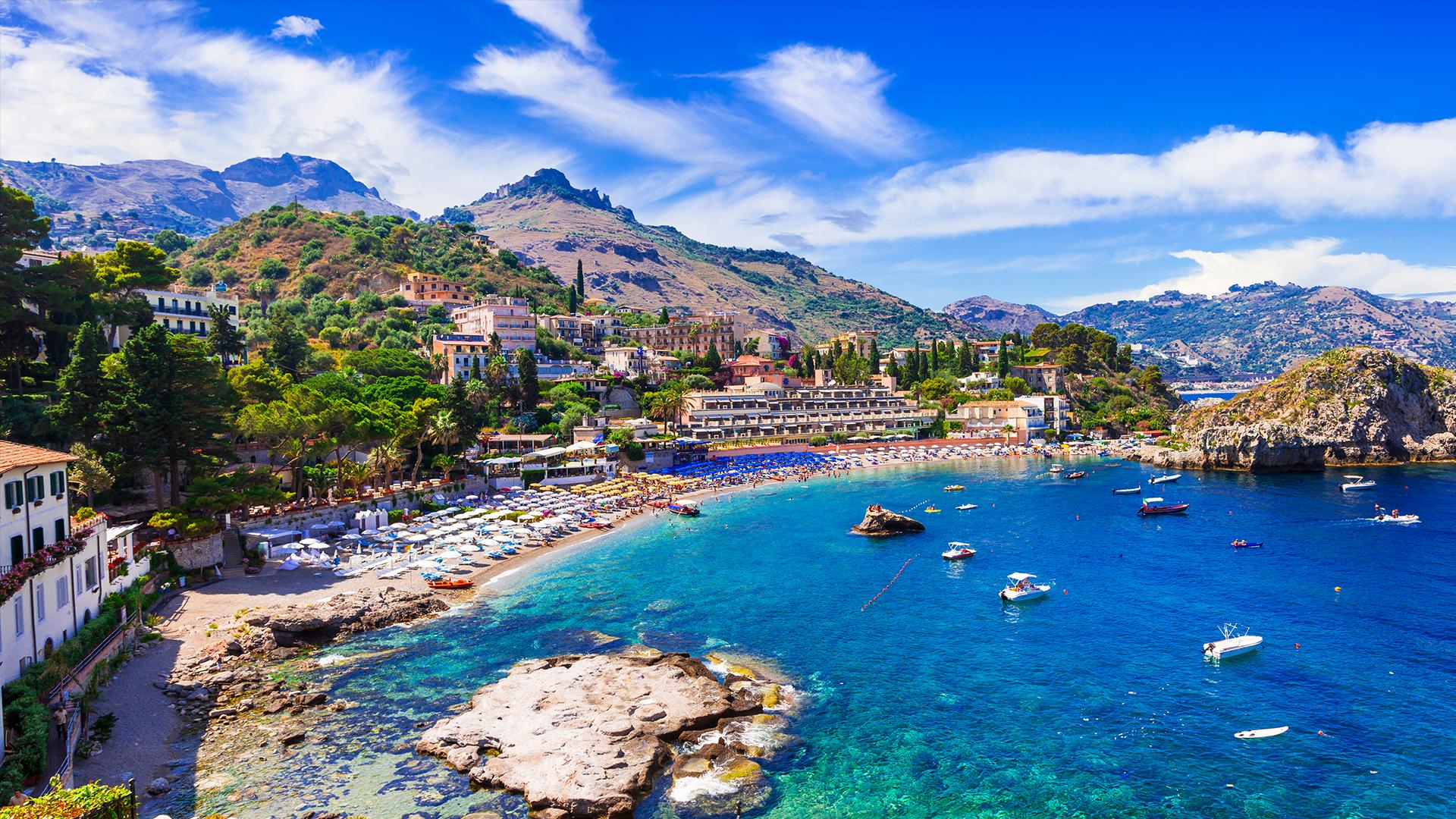 Wonders of Sicily: An Eight-Day Tour
Travel until
Buy now, choose dates later
Lock it in today, choose dates when you're ready
Discover the historic wonders and Mediterranean cuisine of Sicily, Italy, on an eight-day tour. Visit the stunning Norman Cathedral in Monreale, historic old city of Palermo, Agrigento's Valley of the Temples, Mt. Etna – the most active volcano in the world, the Greek Theatre in Taormina, the UNESCO World Heritage-listed Roman Villa del Casale and more. Includes premium nightly accommodation, 13 meals across the duration of the tour including daily breakfast and three dinners with wine, sightseeing in a modern, air-conditioned coach with an English-speaking tour manager, the services of local guides in major cities, entrance fees per itinerary and more.

Book now. Pay Later.
package Options
Inclusion highlights:
Packages valid for one person (twin share), you must purchase two packages or pay the single traveller surcharge - see the 'Fine Print' for details
Seven nights of premium hotel accommodation
13 meals across the duration of the tour, including daily breakfast and three dinners with wine
Sightseeing on a modern, air-conditioned coach
Experience the delights of historic Sicily, the largest island in the Mediterranean, where ancient ruins meet gorgeous beaches, fine food and wine. Enjoy an eight-day tour from Palermo (named Italy's 'Capital of Culture' for 2018) to Erice, Agrigento, Giardini Naxos and Mt. Etna, one of the most active volcanos in the world.
What You'll Love…
The Tour – Ancient ruins, volcanic remains, cobbled streets and local Mediterranean cuisine
Travel to the hilltop town of Monreale to visit the Norman Cathedral, an architectural masterpiece, with its interior of glittering 12th-century Byzantine mosaics.
Tour Palermo's ancient Old City with its incredible mix of architectural styles, including its magnificent Cathedral.
Drive the winding roads to mountaintop Erice, a wonderfully preserved medieval town with breathtaking views and a great historical presence. Walk along the cobbled streets lined with superb examples of Gothic, Baroque and Renaissance architecture. Savor the island's landmark windmills and salt mines before reaching a local farm. Your lunch will feature some of the area's local delicacies, including extra virgin olive oil and wine.
Discover Agrigento's celebrated Valley of the Temples, the largest and best-preserved temple ruins outside of mainland Greece. Tour this magnificent archaeological park that consists of eight Greek temples, built between 430 and 510 B.C., all majestically positioned in the same area on rocky crests south of modern day Agrigento.
Visit the lava-crusted slopes of Mt. Etna, which stands at 11,000 feet tall, dominates the scenery, and is the most active volcano in Europe. Ascend the mount to reach the Silvestri Craters; step carefully on the varied layers of lava which have solidified over the centuries.
View the intricate examples of Roman mosaics at the famous Roman Villa del Casale, a designated UNESCO World Heritage site. These extraordinarily vivid mosaics deal with numerous subjects, ranging from Homeric escapades and mythological scenes to portrayals of daily life.
Your Package Includes:
Seven nights of premium hotel accommodation
13 meals across the duration of the tour, including daily breakfast and three dinners with wine
Sightseeing on a modern, air-conditioned coach
Services of an English-speaking tour manager throughout
Services of local guides in all major cities
Entrance fees for destinations listed in the itinerary
Italian city hotel taxes, fees and service charges
Gratuities and hotel porterage
Why you should book with us