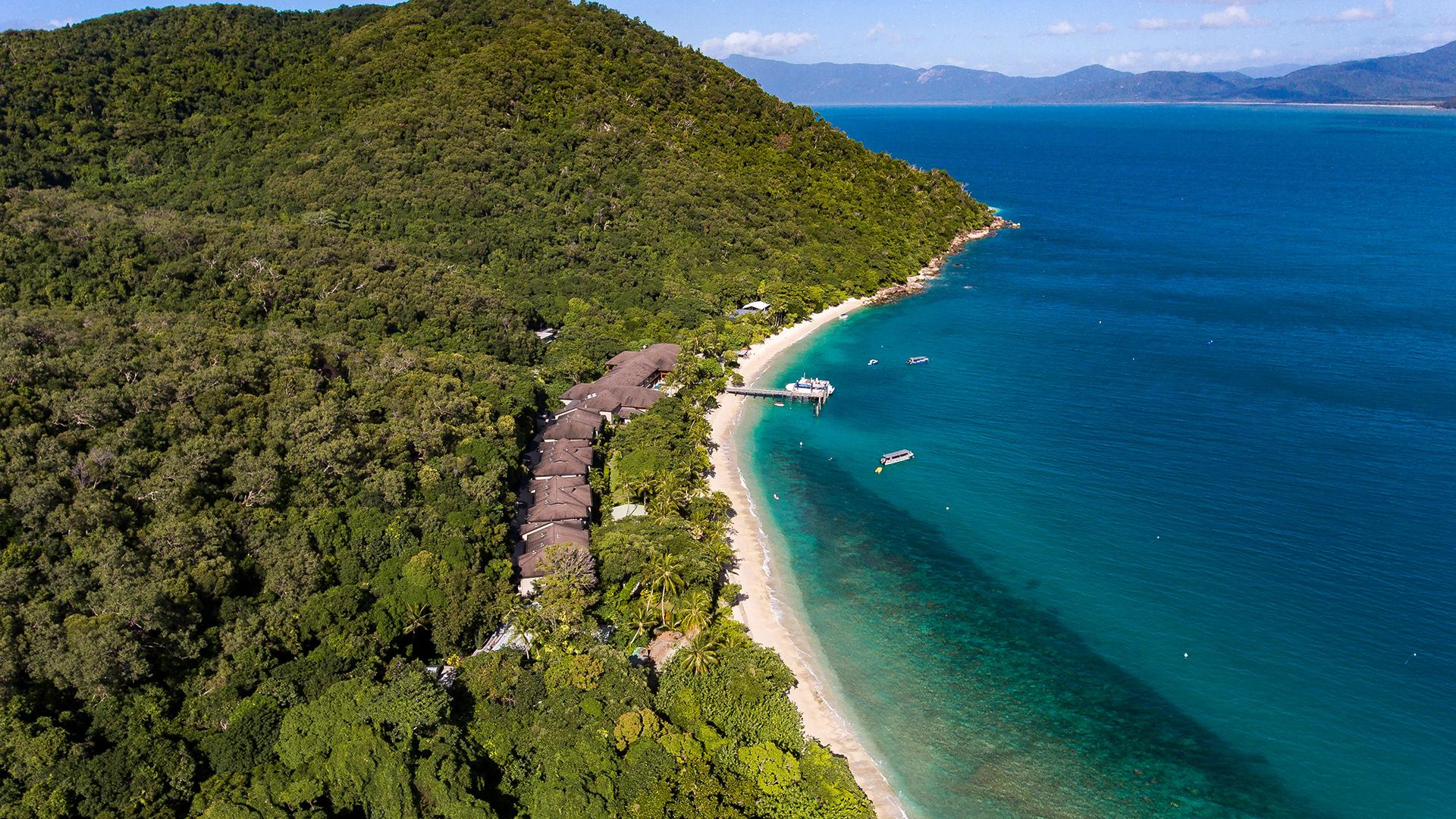 Tropical North Queensland: 6-Day Cairns & Fitzroy Island Adventure with Luxury Accommodation & Great Barrier Reef Cruise
Immerse yourself in the natural beauty of Tropical North Queensland on a six-day Cairns and Fitzroy Island package, combining luxury accommodation and fun-filled activities. Plunge into the magic of dazzling white sand and crystal-clear ocean, dive into a bucket-list-worthy sunken coral garden of the Great Barrier Reef and wind through picturesque rainforest, gorges and waterfalls on the Kuranda Scenic Railway. While in Cairns, stay in utmost luxury with two nights at Shangri-La Hotel, The Marina, a five-star oasis on The Pier, Cairns' waterfront shopping and dining precinct, only moments from the Esplanade's iconic restaurant scene.
Then, discover what laidback really means with three nights on Fitzroy Island. Set sail on the beautiful waters of the Coral Sea to the state-of-the-art Moore Reef pontoon, trek some of Queensland's spectacular bushwalking tracks and relax on an unspoilt secluded stretch of beach lined with coconut trees sloping gently into calm sheltered waters.
Your package includes:
Five nights of luxury accommodation including two nights in Cairns at Shangri-La Hotel, The Marina and three nights at Fitzroy Island Resort — a peaceful oasis set within the waters of the Great Barrier Reef
Daily breakfast and additional dining experiences as specified in the itinerary, including a dinner at Waterbar & Grill Steakhouse and a two-course dining experience at Zephyr Restaurant
Half-day Kuranda Scenic Railway pass
Full-day Great Barrier Reef cruise with morning and afternoon tea on board, tropical lunch, snorkelling equipment and more included
Return Fitzroy Island ferry ticket
Return airport transfers and transfers between the hotels and scheduled activities
Your journey takes you to: Cairns — Kuranda — Fitzroy Island — Cairns.
Book with confidence: If you are unable to travel as a result of Government travel restrictions, Luxury Escapes will assist you with a date change, provide you with a credit or process a refund for your booking less any non-recoverable costs. See Fine Print for details.
Interest-free payment options available 

package Options
6 Days From
Valued up to A$1,876
Inclusion highlights:
Package valid for one person based on twin share – you must purchase two packages
Five nights of luxury accommodation including two nights in Cairns at Shangri-La Hotel, The Marina and three nights at Fitzroy Island Resort — a peaceful oasis set within the waters of the Great Barrier Reef
Daily breakfast and additional dining experiences as specified in the itinerary, including a dinner at Waterbar & Grill Steakhouse and a two-course dining experience at Zephyr Restaurant
Half-day Kuranda Scenic Railway pass
6 Days From
Valued up to A$3,110
Inclusion highlights:
Package valid for one person
Five nights of luxury accommodation including two nights in Cairns at Shangri-La Hotel, The Marina and three nights at Fitzroy Island Resort — a peaceful oasis set within the waters of the Great Barrier Reef
Daily breakfast and additional dining experiences as specified in the itinerary, including a dinner at Waterbar & Grill Steakhouse and a two-course dining experience at Zephyr Restaurant
Half-day Kuranda Scenic Railway pass