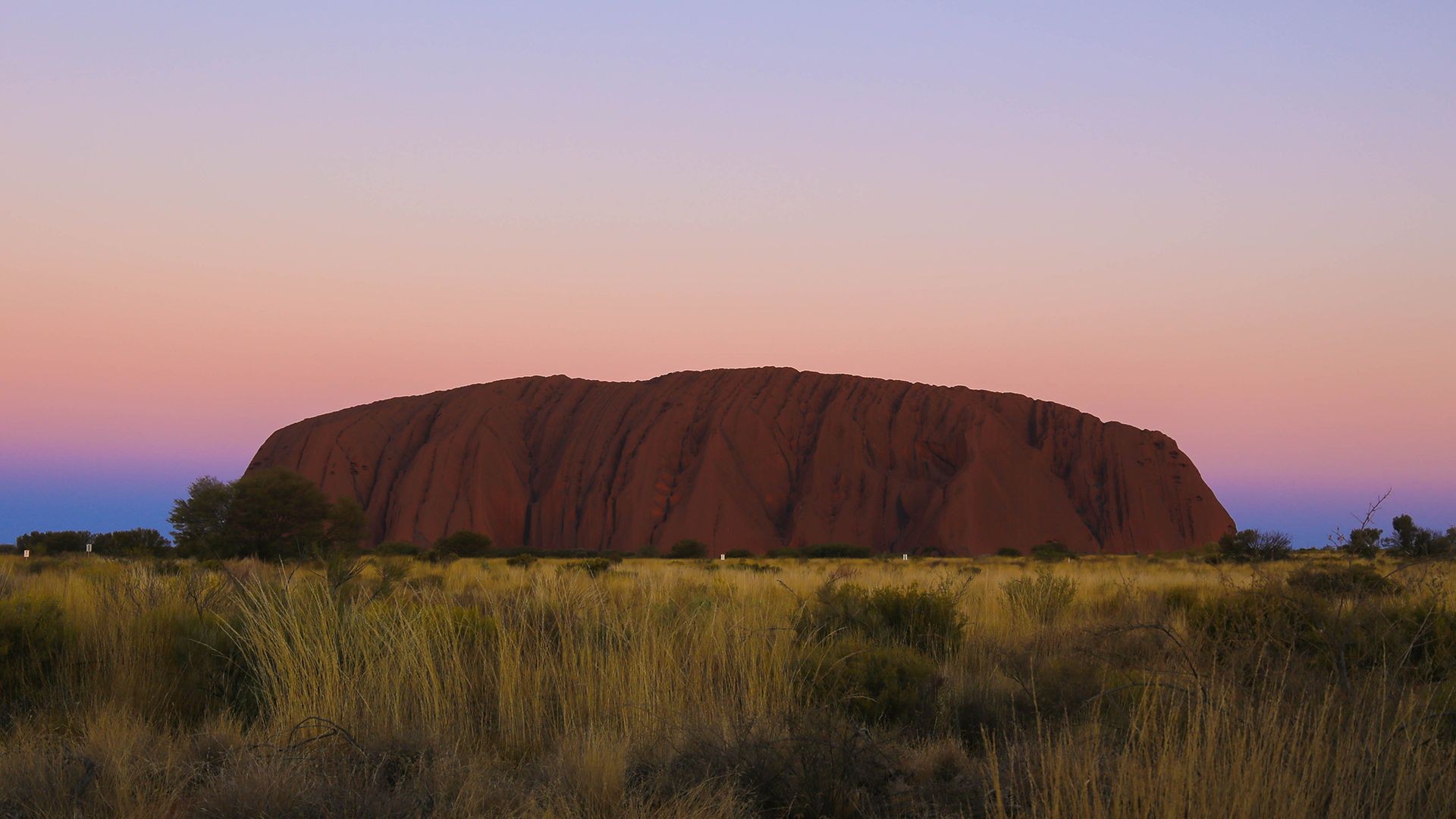 Red Centre 2022: 5-Day Small-Group Tour from Alice Springs to Uluru with All Meals, Field of Light & Sounds of Silence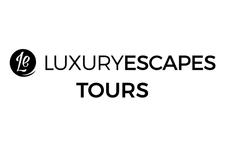 Crack open the heart of Australia's sun-scorched Red Centre on this once-in-a-lifetime, five-day small-group tour (max. 16 travellers). Travel into the Northern Territory's ethereal core and discover its rich Indigenous history and geological wonders, from Alice Springs to Kings Canyon and Uluru.
Hike the Kings Canyon Rim Walk — 440 million years in the making — and find a new appreciation for the breathtaking magnitude of your own backyard. A powerful and ancient experience awaits as you connect with the spiritual land of Uluru-Kata Tjuta and watch the sunrise over Bruce Munro's Field of Light art installation — made up of 50,000 spindles of light, breathing and swaying in beautiful ochre, deep violet, blue and gentle white. Discover the sacred sites of Uluru (Ayers Rock) and admire 15,000-year-old Aboriginal rock art on the banks of the Mutitjulu Waterhole. Then, as a sparkling, star-filled canopy rolls across the outback sky, dine on the striking red earth with a Sounds of Silence dinner accompanied by the unmistakable sound of the didgeridoo.
Over five days, this phenomenal adventure welcomes you to enjoy daily gourmet dining and stay in handpicked, premium accommodation. This includes two nights at Uluru's five-star Sails in the Desert, where you can plunge into the lavish gumtree-lined swimming pool or choose to lull yourself into complete relaxation at the Red Ochre Spa, all with a striking desert backdrop.
Your tour includes:
Four nights of handpicked accommodation, including one night at the DoubleTree by Hilton Hotel Alice Springs, one night at Kings Canyon Resort and two nights at the five-star Sails in the Desert
Daily breakfast, three lunches (one with wine), and four dinners with wine, including a BBQ lunch and paper tour at Curtin Springs Station and an unmissable Sounds of Silence gourmet BBQ dinner in Uluru
Guided Alice Springs tour, including visits to the Flying Doctor Service, School of Air Telegraph Station, Reptile Centre and Anzac Hill, where panoramic vistas await
Watch the sunrise over Uluru and Bruce Munro's Field of Light art installation
Tour the base of Uluru and learn about Aboriginal culture and art
Hike the Kings Canyon Rim Walk at sunrise
Experience Kata Tjuta (The Olgas) and Walpa Gorge
Create your own masterpiece with an Aboriginal dot painting workshop hosted by local Anangu artists
Roundtrip airport transfers as per the itinerary
The services of expert insider guides/drivers
Admission and sightseeing fees as per the itinerary
Your journey takes you to: Alice Springs — Kings Canyon — Uluru.
Book with Confidence: We work directly with our trusted partners and provide 24/7 customer service to ensure that no matter what happens, we're here to help. If your escape is affected by Covid-19 restrictions, we will do our best to assist you with a date change or provide you with a Luxury Escapes credit for another Limited Time Lux Exclusive accommodation, tour or cruise offer, less any unrecoverable costs; excludes flights. Find out more.
Interest-free payment options available 

package Options
5 Days from
Includes taxes & fees
Sold out
Inclusion highlights:
Inclusions valid for one person (twin share) — you must purchase TWO packages
Includes private room with ensuite throughout tour with king or queen bed, or two bed options
Four nights of handpicked accommodation, including one night at the DoubleTree by Hilton Hotel Alice Springs, one night at Kings Canyon Resort and two nights at the five-star Sails in the Desert
Daily breakfast, three lunches (one with wine), and four dinners with wine, including a BBQ lunch and paper tour at Curtin Springs Station and an unmissable Sounds of Silence gourmet BBQ dinner in Uluru
Guided Alice Springs tour, including visits to the Flying Doctor Service, School of Air Telegraph Station, Reptile Centre and Anzac Hill, where panoramic vistas await
Watch the sunrise over Uluru and Bruce Munro's Field of Light art installation
Tour the base of Uluru and learn about Aboriginal culture and art
Hike the Kings Canyon Rim Walk at sunrise
Experience Kata Tjuta (The Olgas) and Walpa Gorge
Create your own masterpiece with an Aboriginal dot painting workshop hosted by local Anangu artists
Roundtrip airport transfers as per the itinerary
The services of expert insider guides/drivers
Admission and sightseeing fees as per the itinerary
5 Days from
Includes taxes & fees
Sold out
Inclusion highlights:
Inclusions valid for one person (twin share) — you must purchase TWO packages
Includes private room with ensuite throughout tour with king or queen bed, or two bed options
Four nights of handpicked accommodation, including one night at the DoubleTree by Hilton Hotel Alice Springs, one night at Kings Canyon Resort and two nights at the five-star Sails in the Desert
Daily breakfast, three lunches (one with wine), and four dinners with wine, including a BBQ lunch and paper tour at Curtin Springs Station and an unmissable Sounds of Silence gourmet BBQ dinner in Uluru
Guided Alice Springs tour, including visits to the Flying Doctor Service, School of Air Telegraph Station, Reptile Centre and Anzac Hill, where panoramic vistas await
Watch the sunrise over Uluru and Bruce Munro's Field of Light art installation
Tour the base of Uluru and learn about Aboriginal culture and art
Hike the Kings Canyon Rim Walk at sunrise
Experience Kata Tjuta (The Olgas) and Walpa Gorge
Create your own masterpiece with an Aboriginal dot painting workshop hosted by local Anangu artists
Roundtrip airport transfers as per the itinerary
The services of expert insider guides/drivers
Admission and sightseeing fees as per the itinerary
Solo Traveller – Low Season
5 Days from
Includes taxes & fees
Sold out
Inclusion highlights:
Inclusions valid for one person (solo traveller)
Includes private room with ensuite throughout tour with king or queen bed, or two bed options
Four nights of handpicked accommodation, including one night at the DoubleTree by Hilton Hotel Alice Springs, one night at Kings Canyon Resort and two nights at the five-star Sails in the Desert
Daily breakfast, three lunches (one with wine), and four dinners with wine, including a BBQ lunch and paper tour at Curtin Springs Station and an unmissable Sounds of Silence gourmet BBQ dinner in Uluru
Guided Alice Springs tour, including visits to the Flying Doctor Service, School of Air Telegraph Station, Reptile Centre and Anzac Hill, where panoramic vistas await
Watch the sunrise over Uluru and Bruce Munro's Field of Light art installation
Tour the base of Uluru and learn about Aboriginal culture and art
Hike the Kings Canyon Rim Walk at sunrise
Experience Kata Tjuta (The Olgas) and Walpa Gorge
Create your own masterpiece with an Aboriginal dot painting workshop hosted by local Anangu artists
Roundtrip airport transfers as per the itinerary
The services of expert insider guides/drivers
Admission and sightseeing fees as per the itinerary
Solo Traveller – High Season
5 Days from
Includes taxes & fees
Sold out
Inclusion highlights:
Inclusions valid for one person (solo traveller)
Includes private room with ensuite throughout tour with king or queen bed, or two bed options
Four nights of handpicked accommodation, including one night at the DoubleTree by Hilton Hotel Alice Springs, one night at Kings Canyon Resort and two nights at the five-star Sails in the Desert
Daily breakfast, three lunches (one with wine), and four dinners with wine, including a BBQ lunch and paper tour at Curtin Springs Station and an unmissable Sounds of Silence gourmet BBQ dinner in Uluru
Guided Alice Springs tour, including visits to the Flying Doctor Service, School of Air Telegraph Station, Reptile Centre and Anzac Hill, where panoramic vistas await
Watch the sunrise over Uluru and Bruce Munro's Field of Light art installation
Tour the base of Uluru and learn about Aboriginal culture and art
Hike the Kings Canyon Rim Walk at sunrise
Experience Kata Tjuta (The Olgas) and Walpa Gorge
Create your own masterpiece with an Aboriginal dot painting workshop hosted by local Anangu artists
Roundtrip airport transfers as per the itinerary
The services of expert insider guides/drivers
Admission and sightseeing fees as per the itinerary
Sign up for instant access
Exclusive hand-picked offers
1,315,267 followers
---