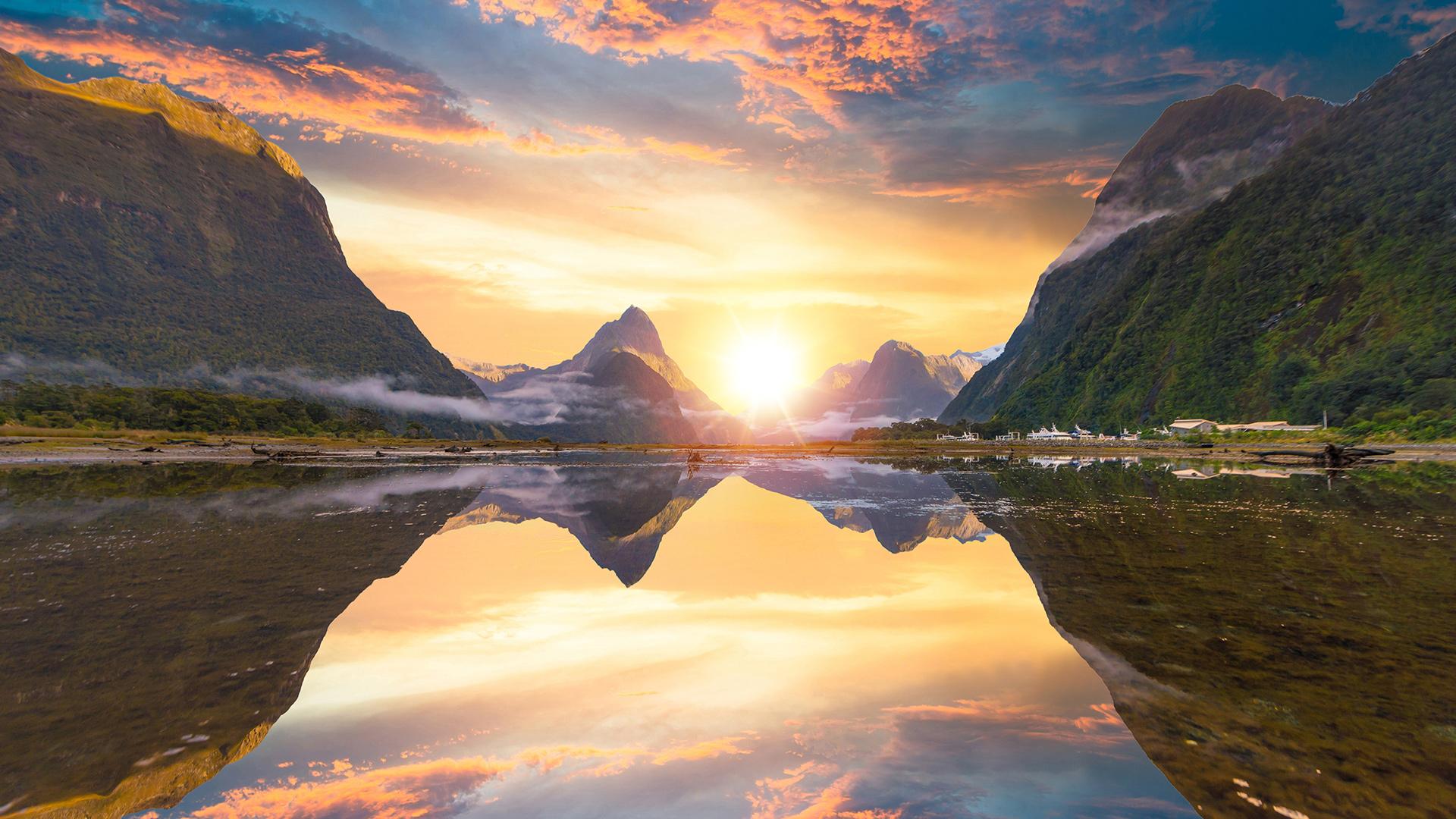 Amazing 11-Day Tour of New Zealand including Eight-Day Cruise and One-Way International Flight
Travel until
Buy now, choose dates later
Lock it in today, choose dates when you're ready
Experience the best New Zealand has to offer on this incredible 11-day tour that will take you from the bustling cities of Wellington and Auckland to the quiet serenity of Milford Sound and Doubtful Sound, and everywhere in between. Get the best views of the country's spectacular natural landscape with an eight-day cruise onboard the luxe Explorer Dream, with stops in Dunedin, Wellington and Gisborne, plus all-inclusive dining and entertainment while on board. Choose from a tour beginning in Sydney on 8th December and ending in Auckland, or a tour beginning in Auckland on 30 January 2020 and ending in Sydney. Enjoy seven-nights in an elegant Balcony Stateroom, three nights in Sky City Hotel in Auckland plus a one-way economy flight between Australia and Auckland.

Book now. Pay Later.
package Options
Inclusion highlights:
Packages valid for one person, based on twin-share – you must purchase two packages, or else refer to Solo Traveller option listed in 'Fine Print' below
A one-way cruise on the Explorer Dream ship from Sydney to Auckland
A day cruising through New Zealand's iconic Milford Sound and Doubtful Sound
A visit to Dunedin, a charming city with strong Scottish influence
New Zealand is an amazing country, home to majestic mountains, tranquil blue waters and charming towns with fascinating cultures. In this diverse land, there is a new surprise around every corner and spectacular views in every direction. Explore this incredible country during this fantastic 11-day tour, featuring an eight-day cruise through New Zealand's most iconic destinations and three days in the lively city of Auckland. Choose from a tour beginning in Sydney on 8th December and ending in Auckland, or a tour beginning in Auckland on 30 January 2020 and ending in Sydney.
What You'll Love…
The Tour – Journey through awe-inspiring fjords, picturesque towns and vibrant cities
Immerse yourself in New Zealand's stunning landscape, unique history and rich culture during this 11-day tour, with an eight-day cruise and three nights in Auckland, plus a one-way flight.
Explore New Zealand's picturesque towns and cities and learn what makes this country so enchanting. Spend a day in Dunedin, a city full of historic Scottish influence, where you will admire unique landscapes with rolling green hills and well-preserved Victorian architecture. You will also stop in Gisborne, the easternmost tip of the country. Famous for its rugged coastline, lush forests, surfing, fishing and fantastic wines, you'll have plenty to do in this charming town. You will have the chance to see Wellington, a harbourside capital city that effortlessly combines nature with city life. Though small in size, Wellington offers fantastic food, wine, art and architecture, so it's sure to be a highlight of your journey.
You will also be able to soak up the spectacular coastline and natural wilderness of New Zealand, one of the most beautiful countries in the world. Spend a day cruising through Milford Sound, a breathtaking fjord carved by glaciers during the ice ages. Here you will see majestic mountains, jaw-dropping clifftops, deep indigo-blue waters and magnificent waterfalls. You will then cruise though Doubtful Sound, a serene fjord that offers even more spectacular views and wildlife like seals and penguins.
You will spend several days exploring Auckland, a city unlike any other. Within easy reach of the city centre are volcanic islands, world-class vineyards, lush rainforests and dramatic black-sand beaches. Here, you can do some souvenir shopping in chic boutiques, dine in cosmopolitan restaurants, sip on a craft beer in a local bar and see stunning natural wonders, all in one day.
The Ship – A stylish cruise ship with chic staterooms and fantastic facilities
The highlight of your adventure in New Zealand will be your cruise on board the state-of-the-art Explorer Dream. This stylish ship offers all-inclusive dining at select venues and nightly entertainment. Sit down in the elegant surrounds of the Pavilion Restaurant and dine on fabulous Chinese cuisine, or feast on delicious buffets at The Lido & Lido Grill where you can indulge in dishes from all over the world. During the day, you can relax by the Roman-themed Parthenon Pool or take in sweeping ocean views in the sophisticated Palm Court. Catch a Broadway-style show at Zodiac Theatre or for something a little different, why not try an augmented-reality experience at ESC EXPERIENCE LAB.
During your time onboard the Explorer Dream you will be able to kick back and relax in your Balcony Stateroom. This beautiful room offers a plush queen bed or two twin beds, a private en suite and a private balcony so you can step out and enjoy fresh ocean breezes from the comfort of your room.
Your Package Includes:
A one-way cruise on the Explorer Dream ship
A day cruising through New Zealand's iconic Milford Sound and Doubtful Sound
A visit to Dunedin, a charming city with strong Scottish influence
A stop in Wellington, New Zealand's beautiful capital
A stop in Gisborne, the easternmost tip of New Zealand
Accommodation in a stylish Balcony Stateroom while on the cruise
All meals and entertainment included while on the cruise
Three nights' accommodation in Auckland
A one-way economy class airfare from Auckland to Sydney, Melbourne, Brisbane or the Gold Coast OR from Sydney, Melbourne, Brisbane or the Gold Coast to Auckland (see 'Fine Print' for details)
Why you should book with us